A movie that I tried to eat in "Golden Foil Donut" shining gold by 1 million yen in 1 pc in New York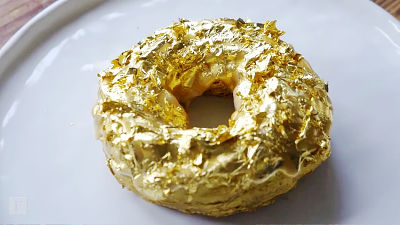 In Brooklyn next to New York / Manhattan, a surprisingly expensive donut of 100 dollars (about 12,000 yen) is on the topic. On the donutGiltForbes' article has reported on what the donuts are made for and what they taste like, which is topped with luxury and the fabric is finished in a very rare color.

The Priciest Part Of The $ 100 Golden Donut Is not The Gold - Forbes
http://www.forbes.com/sites/katiesola/2016/01/12/golden-doughnut

Mr. Katie Sora of Forbes came to eat luxurious gilt donuts. The state at that time is included in the movie.

The $ 100, 24K Gold Cristal Donut - YouTube


Mr. Sora who also seems to be feeling a little tension elevated. I am going to visit the shop in Williamsburg, Brooklyn.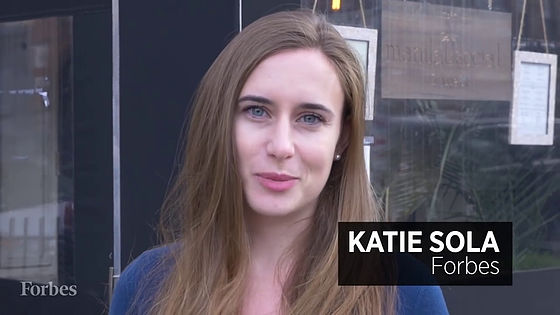 And this is golden gold leaf donut. It seems that donut fabric itself is not much different from ordinary one, but on the fabric it was made with champagneIcing, And there are plenty of toppings gilt shining with sparkling on it.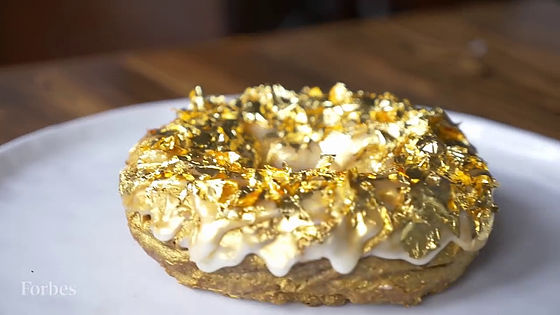 A golden donut, if you hear it, you may have imagined something glittery, but it may be that the land pattern called New York · Brooklyn is doing it in a casual atmosphere and finished elegantly.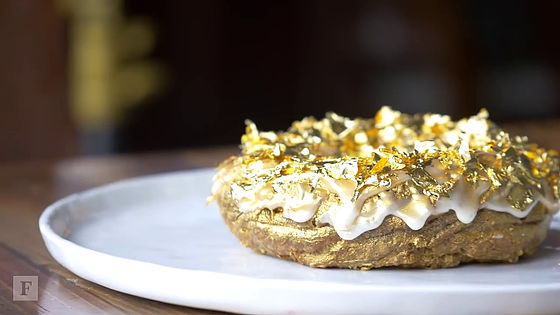 The man on the left is Björn Delacruz who made this gold leaf donut. Delacles's family is a high-class Filipino restaurant in Brooklyn "Manila Social ClubIt is said that they are managing.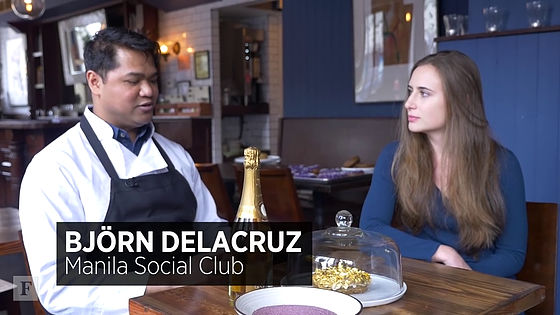 Mr. Delacruz first made a gold leaf donut when I made a special donut for an event. After that, when I made a gold leaf donut as a gift sent to the shop staff and family for the New Year 's celebration and posted it to Instagram, it seems that the voice to sell has started to arrive.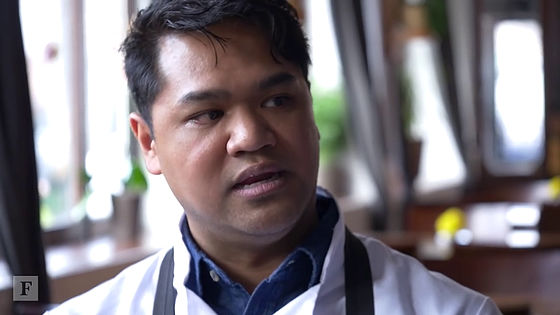 Mr. Delacles seemed to want to make a crazy and expensive donut anyway, devised a donut that toppings champagne icing on a purple donut fabric and finally decorates with gold foil.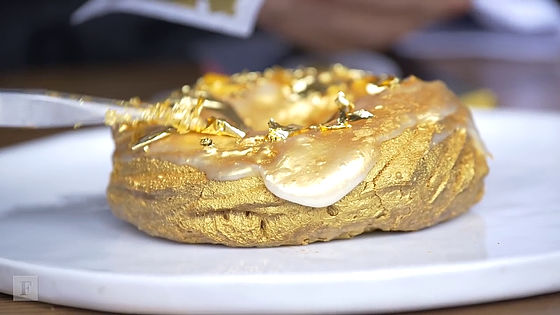 However, on the other hand, it seems that it could not be any material as long as it was high.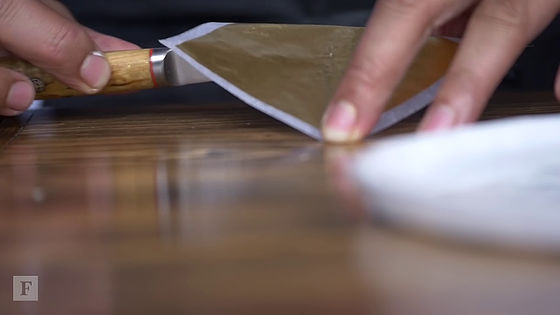 I use 'Ube' like Red Potato used in the Philippines as a material of the fabric, but I chose to champagne 'CRISTAL' which goes well with it. You can find as much champagne as you can, but it seems that you dare to taste the choice of this brand dare.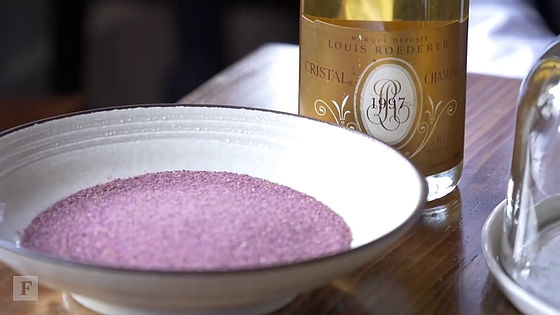 The doughnut dough is made from flour-ground beef. Ube is a type of potato,DajoThere are things sometimes called something. It is characterized by vivid purple.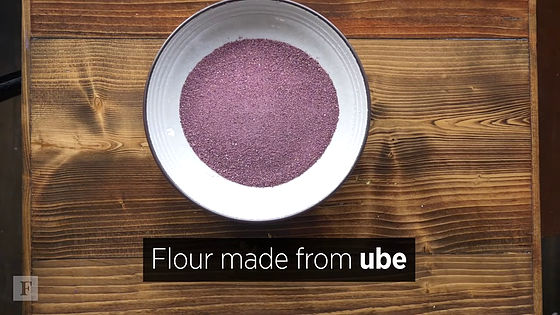 Baked Ube powder to Kuruler type donut, inject mousse made from Ube, put champagne icing from above ......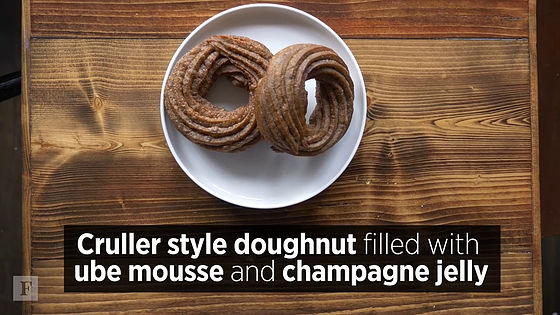 Finally topping with gold foil, finished gold leaf donuts.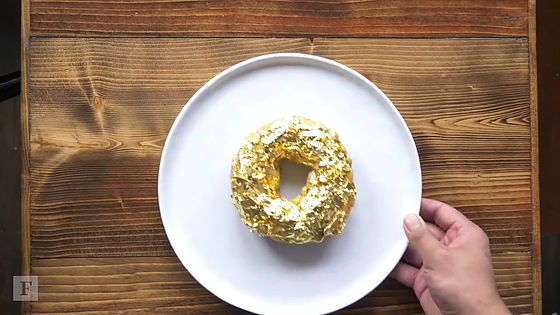 That's why Sora's tasting time started.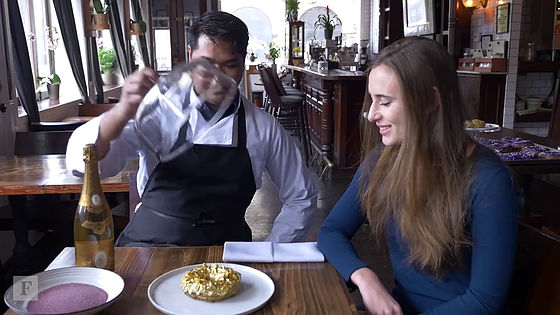 Sora who eats a gold leaf donut with a state of laziness. I am telling you that "It's amazing", but I feel I understand that feeling.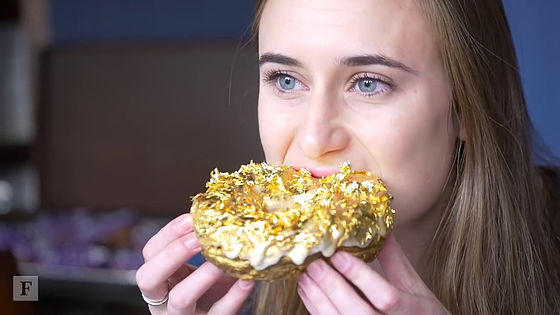 Vivid purple section. The feeling that I ate was as if it was a texture like Eclair, and it looks like a creamy filling that is cold and crispy is contained in the crispy fabric. The icing of champagne also seems to give the sparkle to the flavor which also has vanilla-like feel, leaving the feeling of the soil held by Ube. The appearance of gold and the contrast of purple of cross section also gives a pleasant surprise to those who actually eaten.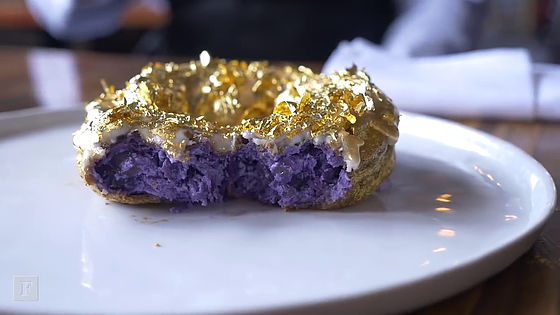 By topping the gilt with fingers, the golden appearance that glows three-dimensionally makes the gorgeous feeling even more prominent.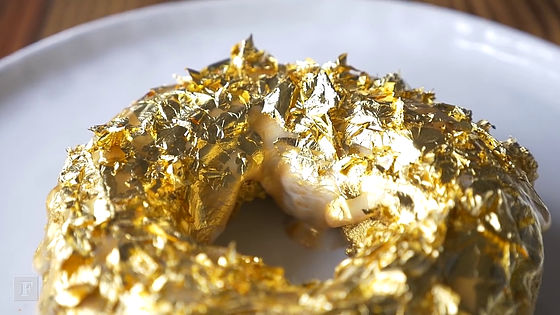 This gold leaf donut,New York TimesWas picked up in an article on December 31, 2015, spreading on the occasion that it was published in "First We Feast" in the year 2016.

Meet the Mastermind Behind The $ 100, 24-Karat Gold, Cristal Ube Donut | First We Feast



Some people seemed to have criticism as "gimmicks" among those who saw the article, Delacruz said, "Well, it's gimmicky to put gold leaf on food in the first place, It seems that I did not attend so much. Because the origins of the original are for special gifts, "Critics are ... .... For example, it may be that you have not planned something, never thought of making a special gift for someone "I tell you.

In fact, there are many people who buy this donut at Delaroles' shop. Donut's sale is only once a week, on Saturdays, it seems that they will be making donuts by collecting orders for one week. Although it seems that we did not tell you the specific number of sales, we are accepting orders from 20 pairs of customers in one week, of which some are about 10 orders. When you get 10 donuts of 100 dollars each, the price is 1000 dollars, that is, about 120 thousand yen, you can see that the amount paid to the donut reaches an unprecedented level.

Even the highest donut sold in the area around New York is $ 2.5 per piece (about 300 yen) so Delaroles' gold leaf donut is 40 times its price. However, in reality it is not necessarily saying that it is "40 times tasty", so the point where you most care about where to find its value. It seems that it seems to be expression of feelings that it wants to give a special gift to someone, and among those who bought gold leaf donuts, people who use for marriage proposal and visit New York for the first time Some who buy it as a surprise to mother, some who buy as a sister 's 60 - year - old birthday gift, etc.

As a special day gift for special people, the choice of gold leaf donut may be pretty much "ant".