ASUS Announces "SIM Fleece Maho" ZenFone Zoom with Optical 3x Zoom Camera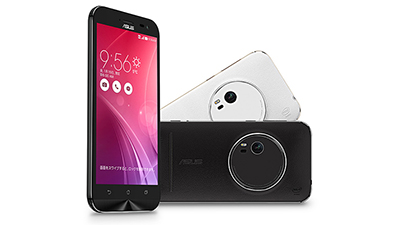 ASUS January 25, 2016, the world's thinnest SIM free smart phone with optical 3x zoom camera mounted "ZenFone ZoomWe announced that it will be released on February 5, 2016 (Friday). This model is a model that eliminates lens protrusion at the time of shooting by mounting the optical zoom lens unit sideways inside the main body, making it possible to take full-fledged photography with the convenience of the smartphone as it is It is that.

ZenFone Zoom is a model that incorporates an optical 3x zoom lens in the body of a typical smartphone. Looking at the front with the display is an ordinary Android smartphone itself, but a large camera unit is showing on the back. 4 grade · 8 models with different processors, storage capacities, back panel materials and main body color are available.



Hoya's optical zoom lens unit is built in the camera part, enabling optical three times zooming with the rear camera without having to push the lens out from the main body. In addition, the optical image stabilization function is also equipped, it is possible to correct camera shake when zooming. Unlike traditional digital zoom done with software, it is said that you can shoot vivid zoom pictures with a sense of resolution. Furthermore, with the rear camera, it is possible to take macro shots with an overwhelmingly close range of about 5 cm, and it is possible to shoot a powerful picture by approaching the limit to the subject. The installed LED flash is designed to shoot in natural colors by combining two colors, white and yellow.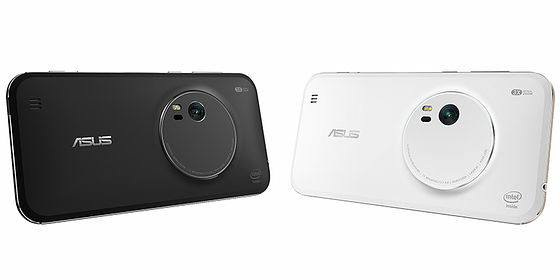 On the right side of the main unit is equipped with a shutter button and a video recording button. Since you can perform the zoom in / zoom out operation with the volume control button, you can shoot like a normal camera. The shutter button also supports autofocus operation with half press. In addition, even by pressing the shutter button or movie recording button from the sleep state, the camera function is activated and it is possible to shoot immediately, and the rear camera is equipped with ultra-fast autofocus at the fastest speed of 0.03 seconds "laser auto focus "Function is carried.

The installed liquid crystal display is a 5.5-inch wide liquid crystal with a resolution of 1920 × 1080 dots. All 8 models are available in processor and storage capacity, Intel Atom processor "Z3590" operating at 2.5 GHz with quad-core for processor of higher model is installed, and Intel Atom processor "Z3580" with 2.33 GHz operation is installed for lower model doing. The main memory has 4 models (LPDDR 3) common to 8 models, the built-in storage can choose 3 models of 32 GB / 64 GB / 128 GB, and OS adopts Android 5.0.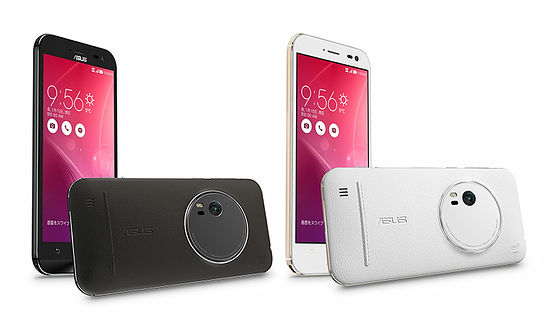 Since the main body has a microSD memory card slot supporting a maximum of 128 GB, for example, 128 GB models can realize a total capacity of 256 GB by adding a 128 GB microSD memory card. It also comes with a 5GB ASUS WebStorage (online storage) that you can use for free and permanently and a 100GB Google Drive usage right for 2 years free.

ZenFone Zoom adopted the first metal frame in the ZenFone series, realizing high rigidity and texture. Diamond cut is given to the edge part, and it is said that it realizes beautiful shine and luxury. In addition to the usual model, the "premium leather model" which used this cowhide to the back panel has been lineuped, you can enjoy a high-quality feel and at the same time you can obtain a stable hold feeling when used as a camera . For the product, genuine leather strap manufacturers are included with all models, and it is also available to pass through the strap hole equipped at the bottom left of the main unit.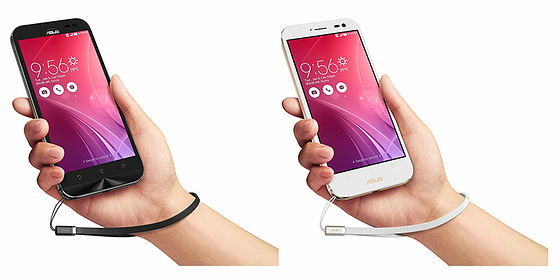 The main specifications of ZenFone Zoom are as follows.
·processor:Intel Atom Processor Z 3590 (Quad Core · 2.50 GHz) / Intel Atom Processor Z 3580 (Quad Core · 2.33 GHz)
·platform:Android 5.0
Main memory:4 GB (LPDDR 3)
· Storage capacity:32GB / 64GB / 128GB
· Liquid crystal display:5.5-inch wide TFT color 10-point multi-touch screen IPS liquid crystal (LED backlight) Corning · gorilla glass 4
· LCD Resolution:1920 × 1080 dots (full HD)
· Rear camera:13 million pixels Web camera Optical 3 × zoom compatible Optical camera shake compensation Laser auto focus Dual color LED flash
· Onboard sensor:GPS, acceleration sensor, proximity sensor, electronic compass, optical sensor, magnetic sensor, gyroscope, NFC
· Battery capacity:3000 mAh
· Body size:About 158.9 mm in height × about 78.84 mm in width × about 5 mm to 11.95 mm in depth
· Main body weight:Approximately 185 g

As mentioned above, ZenFone Zoom has 8 models with different processor, storage capacity, main body material and so on. In ASUS 's online shop, reservation acceptance has been started and price tags of 57,384 yen to 74,044 yen are listed.

ASUS ZenFone Shop