What is the possibility of VR that the production staff of "Kyary Pamyu Pu XR Ride" the virtual reality fused with USJ attractions?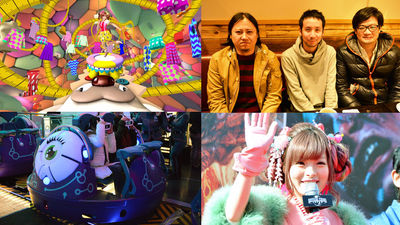 Universal Cool Japan 2016 of Universal Studios Japan, which started on January 15, 2016,Attack on TitanYaEvangelion,Monster HunterAttractions that have the theme of Japan's world-class content as the theme has appeared for a limited time, and among them the most noteworthy is the fusion of ride and VRKyary Pamyu Pamyu XR Ride"is. Since XR Ride is a completely new attempt which has not been so far to wear a VR headset and get on a ride, this time I am in charge of the picture of XR Ride and a large number of Kyary Pamyu Pamyu's music videos We interviewed digging and digging in the production staff including Mr. Jun Tayuki who is working on it.

Kyary Pamyu Pamyu XR Ride | Universal · Cool Japan 2016 | USJ
http://www.usj.co.jp/universal-cool-japan2016/kpp/

※ Since there is a description about the contents of "Kyary Pamyu Pamyu XR Ride" in the interview, those who want to avoid spoiler absolutely recommend reading after experiencing the ride first.

Three people who asked the story are Masataka Usui producer (left), Mr. Jun Tayuki (middle) and Mr. Yoshimasa Takahashi producer (right), who produced the "Kyary Pamyu Pamyu XR Ride".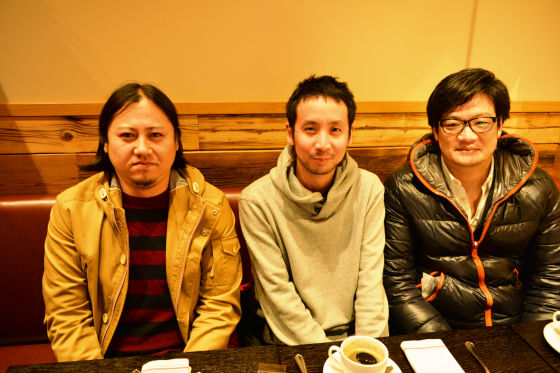 GIGAZINE (hereinafter, G):
I think that the fusion of VR and attraction has become an unprecedented challenge in the world, but please tell us the impression when you first heard about "Kyary Pamyu Pamyu XR Ride".

Mr. Jun Tayuka (hereinafter Tanuki):
I usually have the directing of the image, but the project involved in the attraction and the production of the VR image were the first experience so it was amazingly surprised when I got a story. But, I heard the outline of "Kyary Pamyu Pamyu XR Ride" I thought it was very interesting, I thought that it seemed fun to say that I could do something completely new than never before.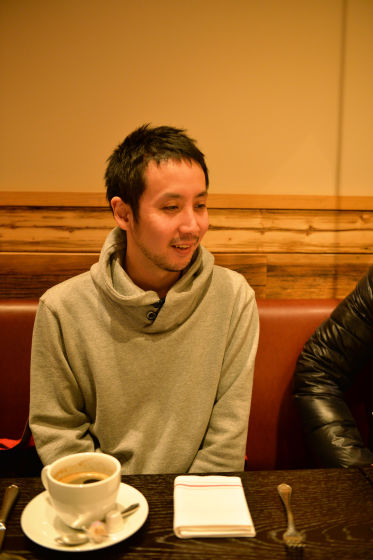 G:
What kind of place should we pay attention to the guests who actually experience "Kyary Pamyu Pamyu XR Ride"?

Tayuki:
I am directing to see nature eyes, so I think that you should ride without thinking anything. There are several surprising points and I think that I would appreciate it if you could ride with Kariba-World enjoying it.

G:
I myself enjoyed "Kyary Pamyu Pamyu XR Ride" and I enjoyed the pretty world view, but there are also intense movements, there is a sense that I have exceeded expectations.

Usui Masataka Producer (Usui)
I see.

G:
The most surprising experience is that the images of ride and VR were perfectly matched. Even if I am an amateur of the image, I was worried that "how are you making?"

Takahashi Yoshiaki Producer (Takahashi)
Regarding that part, it is a feeling that we could realize it by making planning, production, and directing, using the special technology developed by USJ.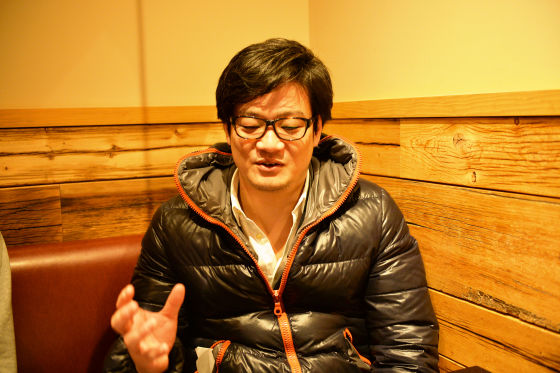 G:
So, how was it when you actually experienced the completed "Kyary Pamyu Pu - XR Ride"?

Tayuki:
Trying to try it, in fact it got dozens of times while making the version up a little bit ... (lol)

Takahashi:
That's right. At first, I tried Kyly's dummy like a wax doll, a dummy of a triangle shaped character like a circle or a triangle, and a clay-like world made of a building dummy over and over again and the director's " While this part reflects the desire to do this ", it ridden dozens of times and the XR ride was completed.

G:
Does that mean "get on a ride" actually take a ride?

Takahashi:
That's right. I brought some materials that I made in Tokyo and repeatedly checked with the ride after closing the USJ and actually went back to Tokyo the next morning.

G:
Oh, that is a tremendously tough task ....

Tayuki:
Today there are opportunities for people who experienced XR ride besides the production staff to have an opportunity to hear their impressions, as we mentioned earlier, there were quite a lot of opinions that "I was scared unexpectedly" "There was a thrill." However, we do not have thrills or hidden tens of times so we do not have much experience of experiencing for the first time. So when I heard the impression of the person who experienced for the first time today, I really got a thrill! I felt happy.

Takahashi:
I am thankful for the impression that there was a thrill. Thanks to having taken over and over, I can see the course that is not actually visible in my head (laugh)

Tayuki:
In the VR we go straight on the course and there are courses that can not be seen in the future, but there are parts where the actual ride rails are going round to the left. I think that the person riding for the first time is surprised to be surprised because he is conscious of "go straight" from the video of VR, but since we are riding a number of times, we know that the course turns to the left Is not it (laugh)

G:
It is like a remembrance game.

Takahashi:
That's right! So, what kind of reactions people take for the first time can not be imagined to date to date.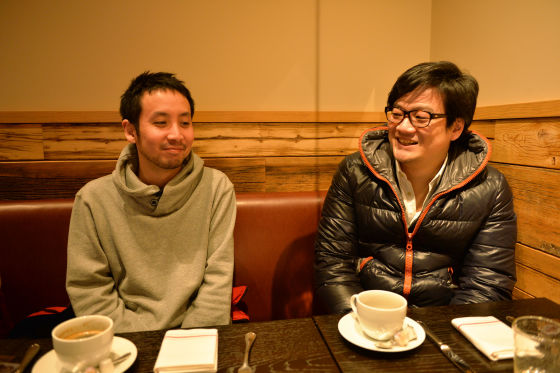 Tayuki:
Today I am happy that I could listen to people's experiences actually experienced and see the reactions.

Takahashi:
I was truly happy today.

G:
As a comment on the actual ride, I felt that "Kyary Pamyu Pu - XR Ride" is a world where cute and thrill fused. What is the design concept of the "Karate Factory" which is the main XR ride in the first place?

Tayuki:
The design concept is a factory for Kiriya own owner himself. There is a make room, a costume room, a studio, and it is a factory only for Kyary to make herself cute, and there is also a character called the factory manager in the other.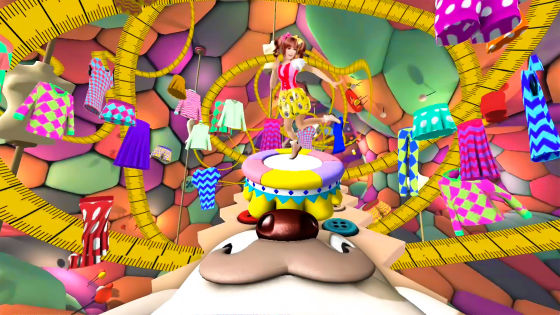 G:
Compared to movies and music videos, VR seems to be totally different video content, but how about trying to create it for the first time in the world?

Tayuki:
In ordinary video production, I design a square 16: 9 "picture", but do you say that VR designs an event, a person who designs "events" occurring around you and experiences I was surprised and it was important that I could get into that world, so I felt it was fundamentally different. I have done this work in the picture field, but I was wondering if it would be interesting to incorporate it into the stage production. What you are doing is close to the stage director. Later, I usually work on music videos and commercials, but basically it is basically editing after shooting, so I am careful not to miss out on Talent's good expression when editing. There are times when people make facial expressions that can not be produced by CG like "I feel like this!", So I try to avoid missing such expressions by editing, but this time it is full CG editing There is no concept itself. Therefore, I thought that VR is totally different from normal video content.

G:
Is there any possibility that VR can be video or content other than games?

Tayuki:
I think that it is a new technology that VR can not be made to be a game or video in the first place, I think that a fusion of this attraction and VR is also a new attempt, but since there are other developments elsewhere, It is very funny.

G:
I think that the depth of the image becomes important to make it realistic in VR, but is there anything devised to express the depth?

Tayuki:
By waking up events occurring around us, waking up in the nearby or raising it far away, we are expressing the depth by drawing near and far. If you think that you are looking at the nearby, suddenly the wall that was in the back breaks suddenly, or the hand hits you from the back, it is such a use of the perspective.

Takahashi:
After that, I noticed it in the middle of the work and asked the director for a point. If things do not happen somewhere in my direction of traveling, I do not notice it even if I actually ride. Even if something happens in a place that is not the direction in which you are progressing, there were quite a few patterns of "do not look". When the ride feeling gravity and the VR come together, things first happen in the direction of traveling, and if we do not induce the consciousness of the person riding from there, it is not clear what is going on. The easiest thing is the last part of the XR ride, but ....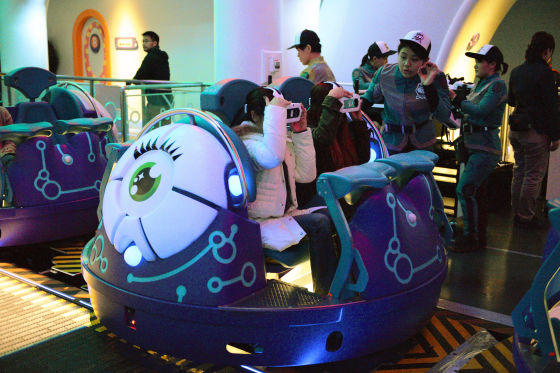 G:
That is what you actually enjoy from the ride.

Takahashi:
We devise such a depth as to bring out such a depth or to devise such a way that we can properly recognize the events occurring in the world of VR.

G:
Well, did you ask Kyary Pamyu Pamyu himself 'want to like this!'

Takahashi:
The first time I told Mr. Kyary about this project is when I shoot motion capture, but when I told that "I make a factory that reproduces the view of Kyly's world and merge it with the ride" , "I am asking the director not only to cuteness but also to make thrills feelable," he asked.

Tayuki:
"Thrill" was also a request of USJ. It is a production that the pretty world view suddenly breaks and is attacked at the end.

G:
Although it became a big wall on the production, did you manage to overcome it somehow?

Tayuki:
There were various things that became big walls, but the biggest thing was the last scene of XR Ride. That is a climax scene, so I tried and error to get the customer to feel the most thrill.

Takahashi:
The last scene is a "falling" direction, but the real ride falls a little, it is a course that draws a glute and a curve after a little fall. However, when you show that it falls straight in the video of VR, it seems that the rider keeps falling just by "slightly falling" as the first trigger.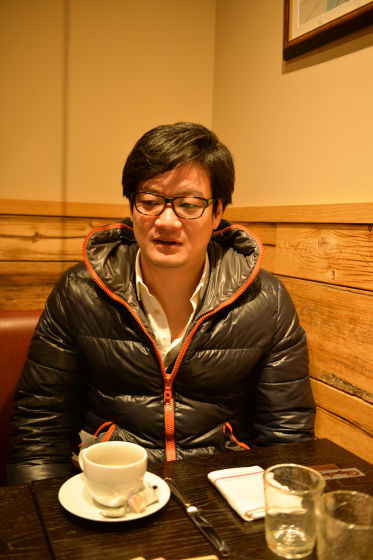 G:
I see.

Tayuki:
There is a place where it falls sharply in the first part of the XR ride, but it is a "cute" area which is the beginning of the Kyary Factory. Since I wanted to bring the part that feels the most crisis as an attraction at the end, the last scenes made considerable efforts to produce a thrill and directed.

G:
"Did you just fall a bit, is it a picture that drops the VR's picture, the person who is riding will get an illusion" Is it what you have seen by experiencing over and over again?

Tayuki:
Well (laugh)

Takahashi:
Sensually it seems like "you can go further (drop it!)"!

Tayuki:
Even though I am running on the same course, the feeling of floating when I fall by the visible image is completely different.

G:
That is very interesting. This time for the first time, I tried to produce a VR image and what kind of place did the VR unique difficulty feel?

Tayuki:
Unlike regular video production, it is a part that you can not escape by editing. Since you can not cut parts that you do not want to show, you have to make it so that you can see everywhere.

G:
I see.

Tayuki:
As for the place I do not want to show so much, I think that it is VR-specific to induce a gaze so that people do not turn their eyes.

G:
Do you want to challenge VR in the future?

Tayuki:
of course! I felt it very fun to be still developing while having VR done for the first time this time. Is not the history of the video going to be reached as the method of shooting and production is being discovered? In such a meaning, the image can be said to be mature content. But VR still has interesting discoveries, and such an unexplored field is very interesting.

G:
Thank you for today.

In addition, what kind of attraction the "Kyary Pamyu Pu - XR Ride" produced by Mr. Tayuki created is available from the following article.

I have experienced USJ's world-class ride "Kyary Pamyu Pamyu XR Ride" which allows you to experience Kyorie World with 360 degrees with VR headset - GIGAZINE