SoftBank announces new service "SOFTBANK Eiko" & electricity gathering "Okayama"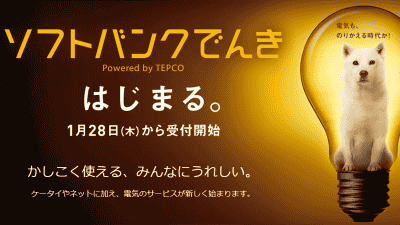 As SOFTBANK CORP. Liberalizes electricity retailing, new power service "SoftBank MobileWe are planning to start from April 1, 2016. Along with this, set discount service which summarizes smartphone & Internet & electric "OtomariSome of the contents of this book have also been revealed.

SOFTBANK 's Easy Welcome | SOFTBANK
http://www.softbank.jp/energy/electricity/

Together if you put together in SoftBank! Started offering "Otomachi" in January 2016 | Notice to individual customers | Information | Mobile | Softbank
http://www.softbank.jp/mobile/info/personal/news/cm_campaign/20151224a/

SOFTBANK MOBILE
SOFTBANK MOBILE will collaborate with Tokyo Electric Power Company to form three plans of "Standard (S / L / X)", "Value Plan" and "Premium Plan" from Tokyo Electric Power Company, Tokyo Electric Power Company, Chubu Electric Power Co., Service scheduled to start in the Kansai Electric Power Area. We will gradually expand the service area.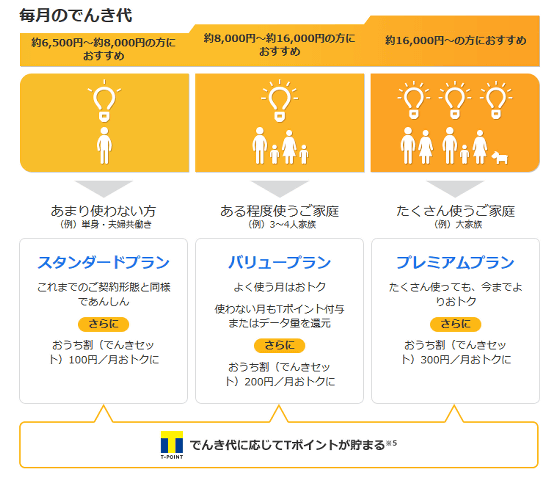 Contents of each plan are the ampere breaker contract with standard S up to 60 amperes, the contract with standard L over 6 kVA, and the usage history every 30 minutes measured by standard X by smart meter, Contract to determine basic charge from. The value plan is a joint plan with Tokyo Electric Power Company, a plan for people with a large usage fee, where the electricity charge is fixed up to 300 kWh, when it exceeds 300 kWh it becomes cheap. The premium plan is planned for fixed amount of electricity charge up to 400 kWh, less expensive when it exceeds 400 kWh, for two-family house with high use fee.

In addition, the SOFTBANK frequent flyer usage fee can be paid in conjunction with SoftBank communication service, and a tie point of 5 points will be awarded for each 1000 yen according to the amount paid in TEPCO affiliation plan.

Application for SOFTBANK ECONOMIC will begin on January 28, 2016.

◆ Okazumi
With SOFTBANK MOBILE, we announced a discount plan called "Osamaru" that contracts mobile phones and the Internet together.

· Household split brush set
When you contract with SOFTBANK MOBILE and fixed communication services such as SoftBank mobile phone or SoftBank light, you can get discounts on monthly basis from the usage fee of mobile phone · fixed communication service. The discount amount is 100 yen / month for standard (S / L / X), 200 yen / month for value plan, 300 yen / month for premium plan, and the charge plan of target mobile phone is all-you- All-you-can-eat light, white plan, target fixed communication service is SoftBank light, SoftBank Air, Yahoo! BB ADSL, Yahoo! BB Value Plan, SoftBank Broadband ADSL.

In addition, the house case of a family house divided by 3 households who is a single family household and all employees use SoftBank mobile phones at home and average electricity consumption per month is 392 kWh, selecting the value plan is like this.

For TEPCO area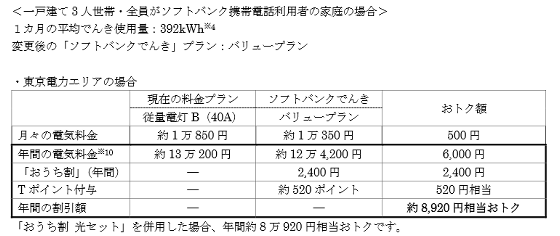 In case of Chubu Electric Power Area




In the case of the Kansai Electric Power Industry Area




Incidentally,Even when a family uses multiple mobile phones, this benefit applies to only one lineBe careful that it is. further,Even if you are subscribing to both mobile phone and fixed communication service, discount will be applied to either onePoints also need attention.

The acceptance application for the household discount set starts on January 28, 2016, and the service is scheduled to start from April 1, 2016. In addition,Smart discount"Was changed from January 28, 2016 to" Household Optical Sets "and seems to be a form of diving service.

◆ Giga Student Discount
We will also start a new school discount service "Giga Study Discount". The terms of the offer are to subscribe to the FREE SMA / Summa Wrestling Light (Basic Plan + Private 2 Year Contract + Data Flat Pack) or White Plan + Packet Flat-rate Service.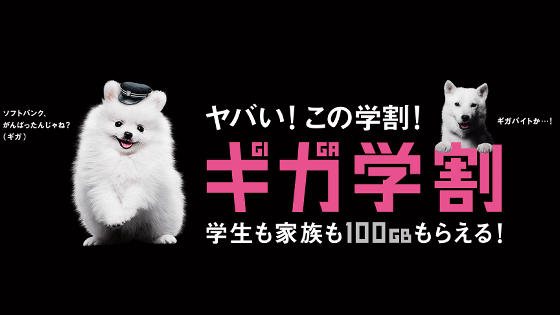 Dangerous! This school discount! Giga Student Discount | Features | Mobile | Softbank
http://www.softbank.jp/mobile/special/gakuwari/

Giga Student Discount is a service that users who are under 25 years old can obtain benefits, it is a method of selecting from the following two types.

1: Discount
By choosing a discount plan, you can receive discounts for the White Plan's monthly basic charge of 1008 yen for 36 months (maximum of 36,288 yen) or 24 months of summa 1620 yen (maximum of 38,880 yen).

2: Packet increment
If you select the Packet Increase Plan, you can receive high-speed communication capacity up to 3 GB per month, up to 36 months, total of 108 GB.

The application period for Giga Student Discount is from January 15, 2016 to May 31, 2016.

◆ 2015/01/12 20:30 additional recording
Initially, the Giga Student Discount, which was singing 3 GB of data increment, was changed to increase 6 GB during the day of presentation. Against this background, on the same day a5GB gift to new student discount announced by u to 25 years oldIt is clear that there is. However, as SoftBank 's Giga Student Discount data capacity gift is limited to 3 years, it seems that opinion will be divided as to whether or not it simply won the capacity and it exceeds service.

Expand SoftBank, "Giga Student Discount" privilege every month from 3 GB to 6 GB! To total 200 GB! | SOFTBANK CORP. | Group Companies | Corporate · IR | SOFTBANK Group
http://www.softbank.jp/corp/group/sbm/news/press/2016/20160112_04/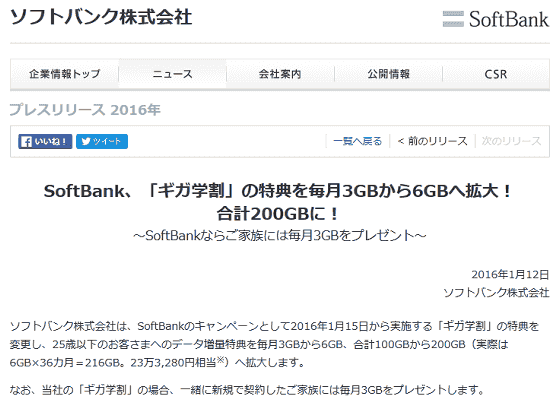 in Mobile, Posted by darkhorse_log