"Crayon Shin chan" and "Karahage kun" can be read for free "Manga Leaf"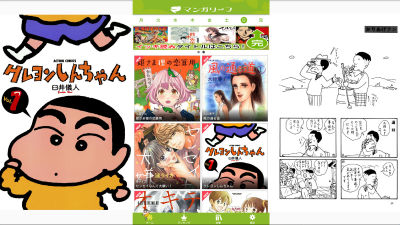 Manga application which all popular manga in Futabasha such as "Crayon Shin chan" and "Karia no Kun" can be read for freeManga Reef"Has been released. It is said that not only popular works but also works that have already been serialized and can be read in full volume for free, so I tried it at once.

Manga Reef - An application that can read comics free of charge everyday - Android application on Google Play
https://play.google.com/store/apps/details?id=jp.co.futabasha.mangaleaf

Manga Reef - Apps that you can read comics free of charge every day on the App Store
https://itunes.apple.com/jp/app/mangaleaf-mei-ri-wu-liaode/id1058844727

Download the Android version and iOS version applications from the above link destination. Since it is browsed on Android terminal this time, the application "Manga Reef"And tap" Install ".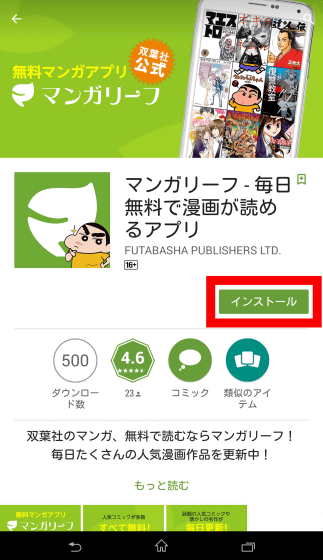 Tap "I agree".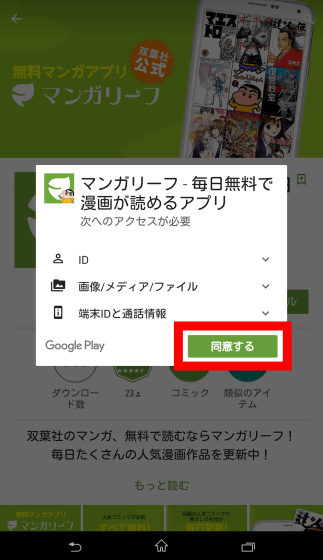 Tap "Open" to launch the application.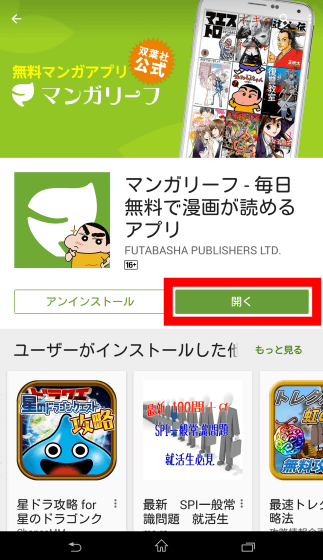 Manga companies' comics such as "cartoon action", "manga town", "Jour nice housewives", etc. can all be viewed free of charge.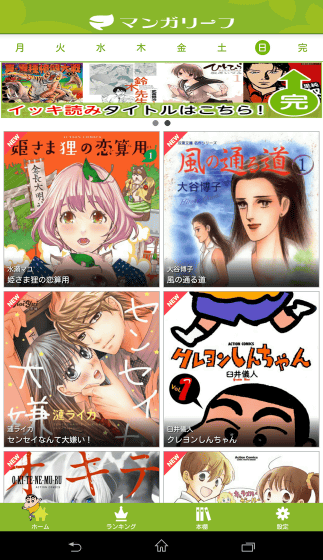 If you tap the work you want to read, it is OK and no member registration is necessary. First, tap the four-panel cartoon "Karahage Kun", representative of Masashi Ueda.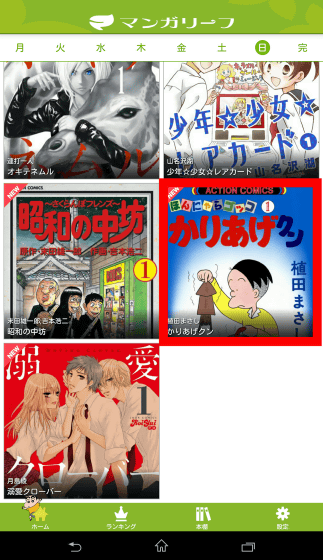 Under the explanation of the manga, the works being published are lining up. Tap "1 volume 1 episode" ......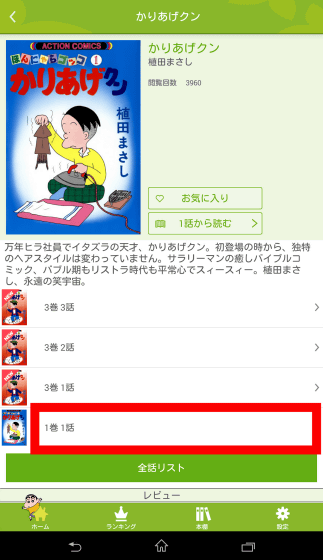 Start downloading data.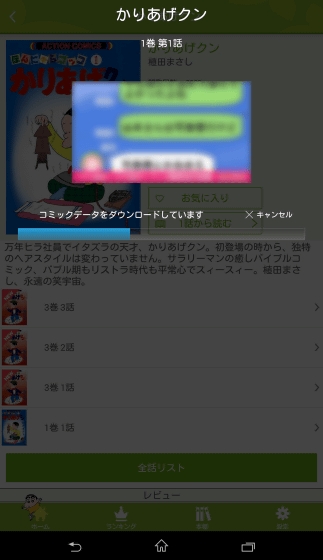 Tap "Read Comic" which appears when the download is completed ... ....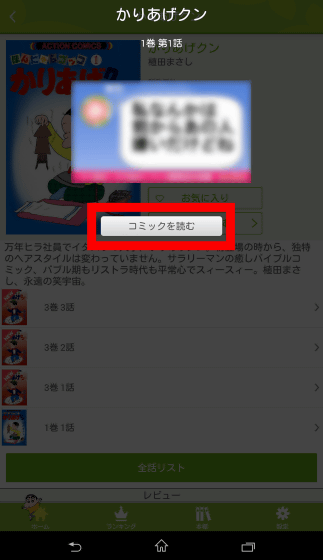 The cover of the comic will appear. Swipe left and right and turn the page OK.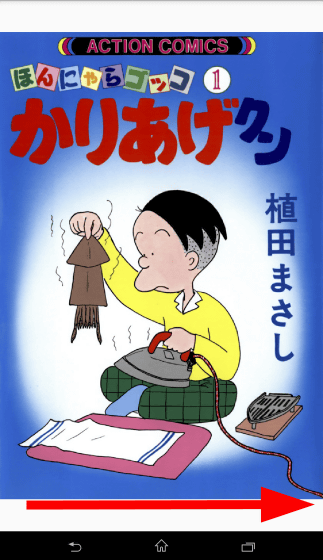 With such a feeling, you can browse manga in comic street. In addition, it seems that the screen of the manga leaf can not be browsed in the spreading state with the smartphone facing sideways only with the vertical display.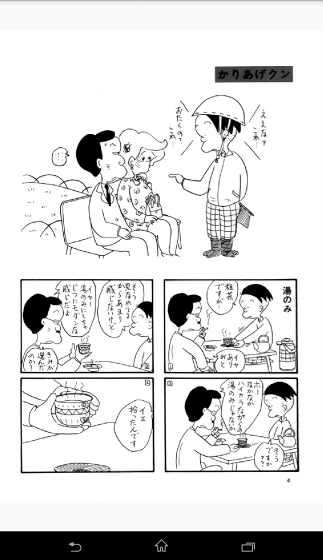 On page 30, the first volume of the first volume ends. Tap "Read more" ... ...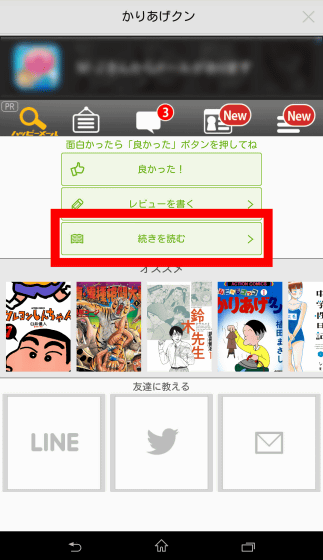 It seems that you can browse further by seeing video advertisement. Tap "Watch ad".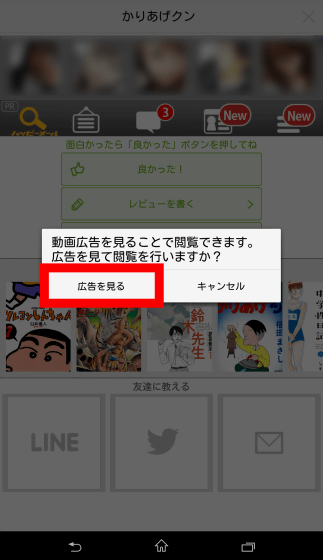 The advertisement movie of the application has started. Incidentally,Movie will be played automatically with audioSo be careful.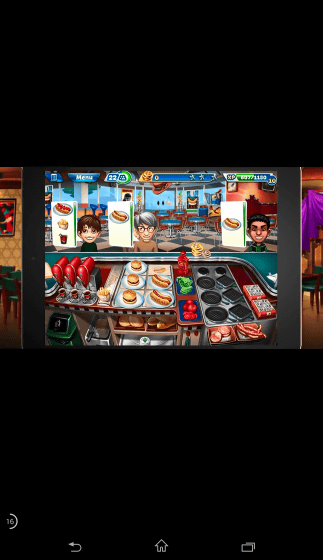 When the movie of about 30 seconds ends, the application installation screen will be displayed. Tap the "×" icon or the "back" icon in the upper right ... ...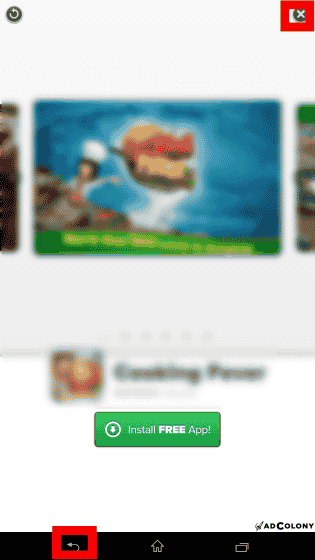 Continued 1 volume 2nd episode appears, so tap "Read Comic".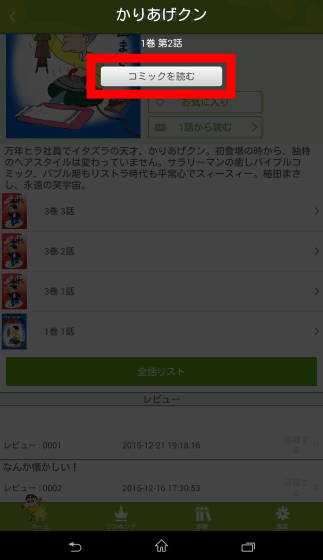 Resume from page 31 of comic volume 1.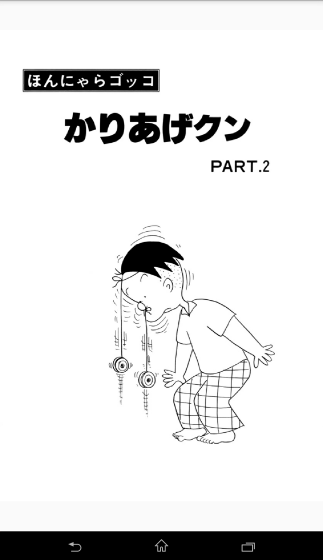 Karahage Kun Volume 1 was made available for free viewing while advertising video entered every 30 pages to 40 pages.



Next, I will look at the action signboard cartoon "Crayon Shinchan."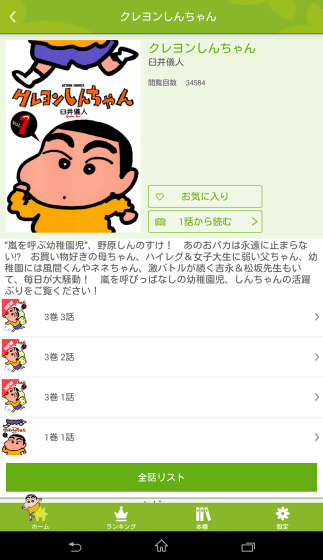 The cover of Volume 1 looks like this.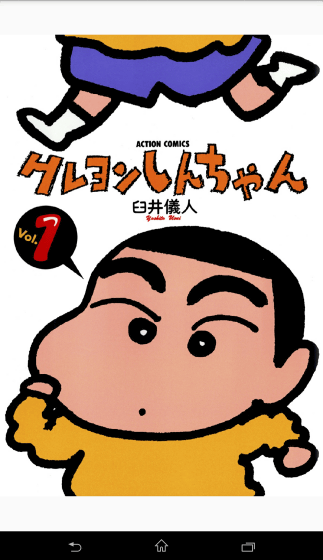 Crayon Shin-chan was in color.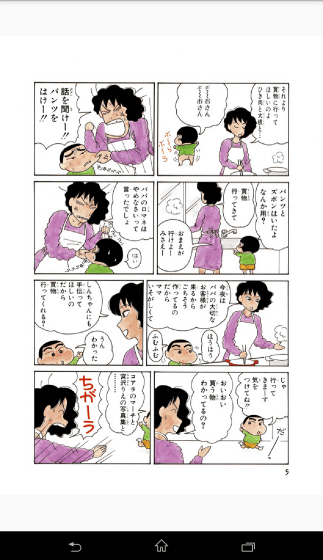 Manga leaf can tap a certain work on each day by tapping the icon at the top of the screen. In addition, if you tap the "complete" icon, you can display only works that you can read in one story free of charge.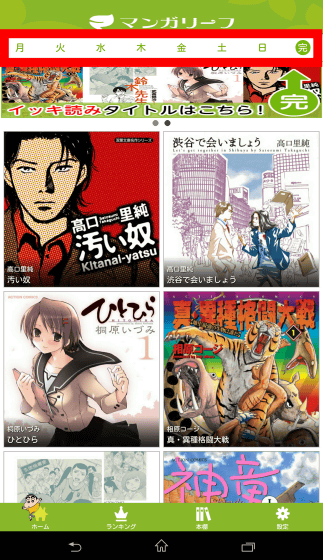 Also, by tapping "ranking" at the bottom of the screen, you can display popular manga rankings for one day and one week.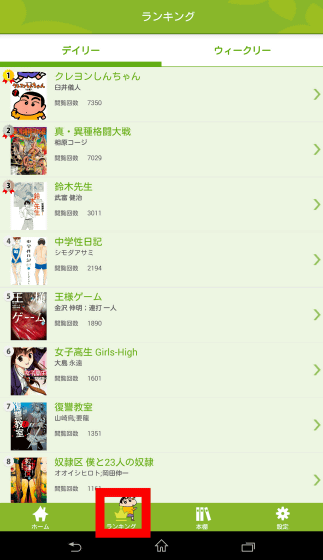 By tapping "Bookshelf", you can check comic books you have viewed and manga that you registered in favorites.