Name and appearance of Yoichi Hotusui as co-starring of the movie "Ryuichi"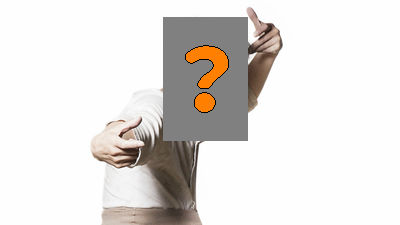 In the movie "Ryuichi" released on Saturday, February 27, 2016, performers who are going to rampage with the leading character Kenichi Matsuyama playing, Taro Yamada, were announced. This time there will be six people to be announced, but each will be pre-published on a separate site, GIGAZINE posted visuals and comments by Yasuyuki Nakamura, Yoichi Hotaru in it.

Additional notes:A visual with all six characters was announced at 10 o'clock on 25th.

Movie "Ryuichi" official website
http://chinyuuki.com/

Announced todayTaizo Nakamura, Yoichi HotaruiThe visual of this is like this.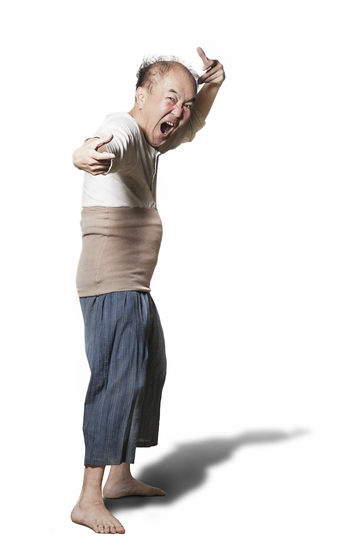 It looks like a red face, a character that is the world's strongest martial artist though you drink it. It seems that Mr. Taizo Nakamura of Shueisha, who served as a model, edited "Ryuui - Taro and the fellow friends". Mr. Hotaru who plays is an individualist actor who is active regardless of stage, drama, movie, variety show and genre, and in this work he plays a lot of action, such as drilling drunk while drinking.

The comments from Hotaru are as follows.

· Receive the offer
It was a pleasure to be honest and a pleasure to be given to Professor Dotaro. I am looking forward to shooting because it is the third time for Yamaguchi.

· Playing Taizo Nakamura
I tried it as close as possible to the original! If Director Yamaguchi absolutely believes that you can make a fantastic live action shaking "Ryuui"! The shooting of the action scene at midnight was difficult as expected, but I enjoyed it with Mr. Matsuyama. Achoa!

· For fans looking forward to it
That "Ryuichi" is it! I think that it is becoming a wonderful feces shanko work everyone expects, so please look forward to it!

Director Yamaguchi who offered such hot water, said, "Since we had already played the title role with a short story called" Hadie Hendrix Story "in the painter Tarou work, it was one of the casts that I wanted to appear absolutely this time Or, it is almost a picture of Mr. Dotaro, this person (laugh), I'm getting comments that this time I play a familiar character in a drunk state with early painting Taro work.

Regarding the appearance other than Mr. Taizo Nakamura and Mr. Hotaru, "Genkai" (Kuraki Kana) is ORICON STYLE, "Ryu Xi" (Tsubouchi Junpei) is CINRA.NET, "Jijiya" ) Is an animate TV, "Baka" (Takashi Sasano) is comic natalie, "Taro Yamada before transformation" (Pierre Taki) has been pre-published at movie.com, those who care are going searching Please.

· 2015/12/25 10: 00
All 6 cast visuals were announced at once.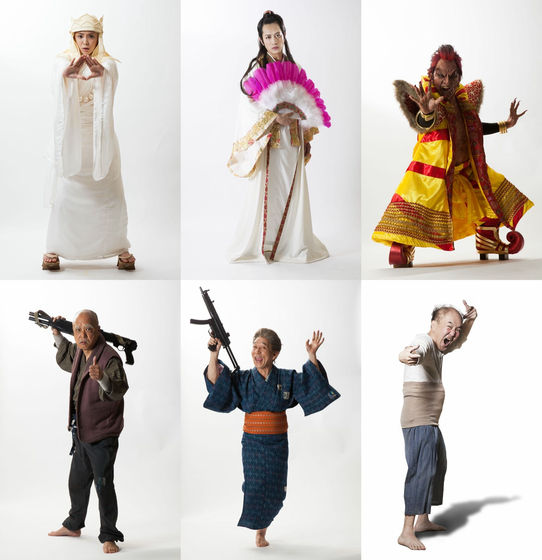 The question and answer to the cast and the comments to each cast heard by the director Yamaguchi are as follows.

◆ Gen Xuan: Mr. Kura Kana
· Receive the offer
"Mr. Kurasaki, a movie offer is coming ..." At first, I remember very well that the office handed over to the scary script of Ryuichi Sorry for me. Fairly sloppy dialogue on parade This story. Against the manager's worry, I'd like to participate obediently if this is a stubborn somewhere but my heart grows somewhere, if it is with director Yamaguchi, Mr. Matsuyama and other dark personality actors " I thought. Surely it's a bad guy ... I guess this miracle will happen somewhere in this team! I accepted such a wish.

· Try playing Genki
A little while ago I played Xuan, I am .. What kind of story did you say Harenchi? Mr. Kenichi Matsuyama who is barely next to me ...... It is the site on the verge of neglect. I thought that I participated in a wonderful work again .... I thought.

· For fans looking forward to it
Genku in the movie is different from the original and the character, but I think that the relationship with Taro is also new and very funny. I'd appreciate it if you laugh a lot in the theater.

◆ Dragon Shoko: Mr. Junpei Mizoguchi
· Receive the offer
I thought that there is no work that I can not imagine realizing this live (laugh) But that is why I think it is worthwhile and I think that it is also a big challenge. I wanted you to do it soon after I got a story!

· Play Ryu Xiang
Ryu Xiang, who is a self-proclaimed Taro rival, has a grudge that is not ordinary to Taro, was performing and was very rewarding. As the role of the original, the task of discussing with the director and the screenwriter everyday and embodying it on the spot was fulfilling. How far can you get out ??? Every day I keep challenging the limits was fun.

· For fans looking forward to it
As this is the only deep and impactful original, I think that there are many people who are strongly hoping for fans, but I decided to take pictures as finished in a work not to be defeated by Mr. Gotaro Denta's professional skill It was. I would appreciate it if you could see a lot of people!

___ ___ ___ 0
· Receive the offer
Looking at Yamaguchi's name
Because he always makes me rejuvenate.

· Play the priest
Really, I was amused with stupid (transcendental acting) again. The role was obvious, but the heart was 20 years old. Hahaha!

· For fans looking forward to it
Now, all the Japanese funny actors that are conceived are enjoying "fool"! Thank you.

◆ Baha role: Takashi Sasano
· Receive the offer
I longed to play the old woman as a woman in the image. However, it did not come true. Thank you very much for your time, thank you very much for your help at this time. I am happy. I express respectfully with the director's favor.

· Try playing the rabbit
Mr. Tayama's role as an owl, thanks to the rich sex appeal, I managed to do it.

· For fans looking forward to it
I heard that the original huge band is very popular. While keeping the image of the original, I also played it while following the side of the two grandmothers. What did you think.

◆ Taro Yamada before transformation: Taki Pierre
· Receive the offer
It is an honor to be able to appear in the movie making of Potaro work.

· Try Yamada Taro before the transformation
To be honest, I saw myself who made a special makeup, and thought "This is not necessarily me ..." (lol)

· For fans looking forward to it
For everyone who read the series in the jump magazine at that time, I think that it will inevitably feel that I will appear in Electric Groove for Ryuichi. It can also be said to be a causal response (lol)

◆ Director Yuuto Yamaguchi
· Genki (Kurasina Kana) About
I thought that Genka wanted to be a refreshing agent in the Potaro work, which tends to be a male on parade, but he was thinking with a woman from the beginning, but the important thing was the actress who suits the skinhead. Kurasaki 's name got up, and when I looked at the composite photograph, I saw it at Don Pissha. There is only she! I fell in love with him. Although broadcasting terminology etc. are also roles, it was able to perform without hesitation. Are not you mad? (Lol)

· About Yong Xiang (Mizo Terabeda)
Ryu Xiang was the original character of the movie, the character to lead the story not in the original work, and the handsome character that does not suit Gotaro work, so we had to carefully cast it. A person with a range of swing that can drop it into the ground in a matter of course, not to mention the glamorous and luxurious appearance. Mr. Michibata was a person with vitality, he brought out various ideas on the spot, inflated himself, and acted seriously around the magnificent character.

· About じ じ い (Takeyama 涼 成)
Mr. Tayama has been with me for several times, so far I have embodied Ezurika deity, gay governor and eccentric character, so this time it is called "jijiri". There was not any problem (lol)

· Baba (Takashi Sasano) About
Originally I was thinking about casting an actress, but I could hardly meet a person who could perform actively without feeling sick and it was in a difficult plane. However, Mr. Sasano told me that "I want to play a rabbit", it was scaly from the eye that "That tea was there!" I also played the bed scene (?) With Mr. Tayama with plenty of trouble.

· About Taro Yamada (Pierre Taki) before transformation
Speaking of Potaro work, Ms. Taki was a person who wanted to appear absolutely. Because I remembered that he was a criminal actor in "Haye Hendrix Story", but after returning to the preview, he went home leaving behind the slogan "I thought the role was more successful!" , I answered from "I am a good role" (laugh). It was a special makeup that covers the face and I had almost taken a picture of the greenback, but I was amazed by the richness of the expression and I was trying to reproduce the Potaro work exactly, such as a distinctive way of laughing.

Synopsis
Buddhist · Gen X who was traveling with aiming for the Tenjiku, was asked to rebuild the bad boy · Yamada Taro in the heaven and gamba of the house that he casually stopped, seal the awesome eno force with the power of the treasure However, they will take over Taro unwillingly and will be traveling together with what cause ...... Will they be able to get to India without fail? (No, it is impossible!)?

◆ Work information
Matsuyama Kenichi, Kurasaka Kana, Mizotabuchi Junpei, Tayama Ryosei, Sasano Takashi, Hotaru Yoichi, Pierre Taki
Director: Yuuto Yamaguchi
Original: Momotaro Gotaro "Junichirou - Taro and Yukaii Fellows" (published by Shueisha)
Screenplay: Oogata / Hideo Matsubara
Planning · comprehensive producer: Zairi Itaya
Production Production: DLE
Distribution: Toei
© Mangaro / Shueisha · "Ryuuyo" production committee