Holder for protecting iPad Pro and notebook PC with carbon fiber Various photo reviews


"RC Fibers" which manufactures and sells carbon fiber products for minimalist men has sent samples to GIGAZINE editorial department every time a new product comes up, but this time, iPad Pro and notes We have newly released holders that can protect PC with carbon fiber and money clip that succeeded in ultra-thin design. I tried to thoroughly check the real thing that arrived as to how much the first large carbon fiber product is finished tickling man's heart.

RC Fibers: Carbon fiber products for men.
http://www.rcfibers.com/

A huge cardboard box arrived in the editorial department.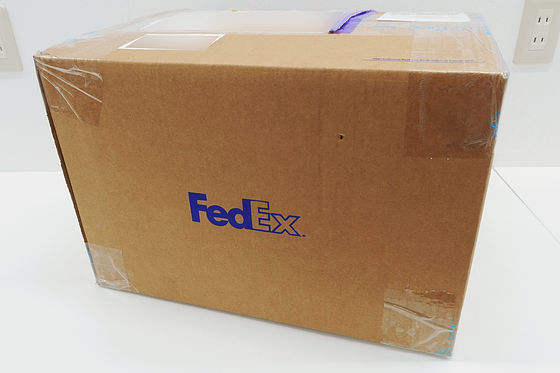 Some of them included iPad holders and notes made from carbon fiber which are larger than usual money clip.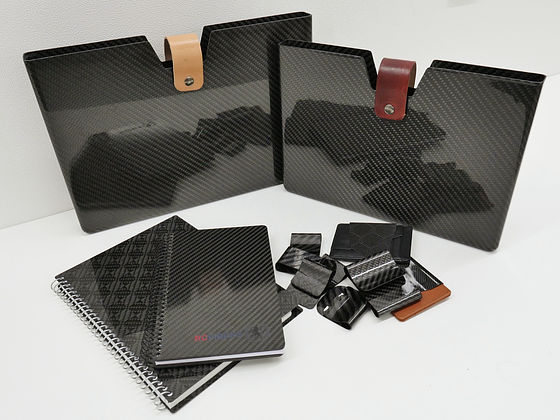 ◆ Holder protecting iPad Pro · notebook PC with solid carbon fiber "Cason"
Two sizes for the iPad and the notebook PC were prepared as "Cason" designed as if the document was made with a certain carbon fiber.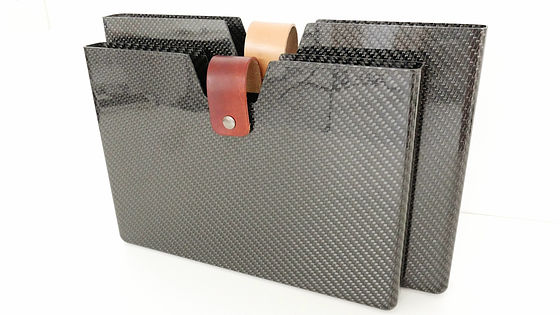 Leather fasteners at the entrance. The terminal put in it does not protrude.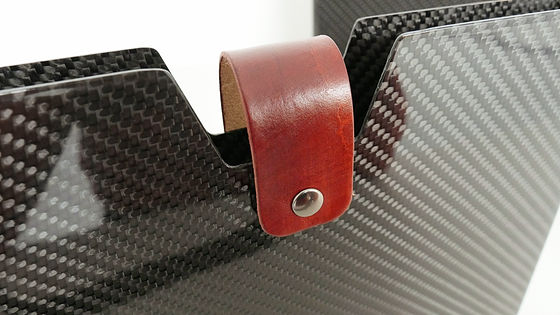 Protective material that protects the terminal is pasted on the inner surface, even if the terminal moves, it absorbs a certain amount of shock, and depending on the size it will not move perfectly.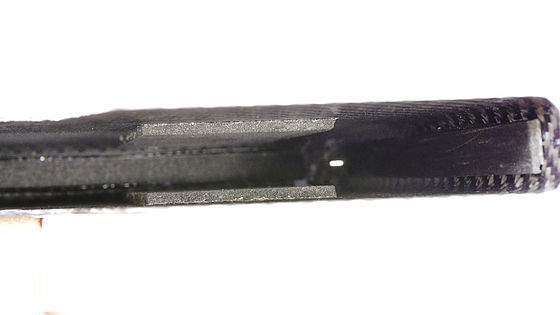 The corner is rounded curved.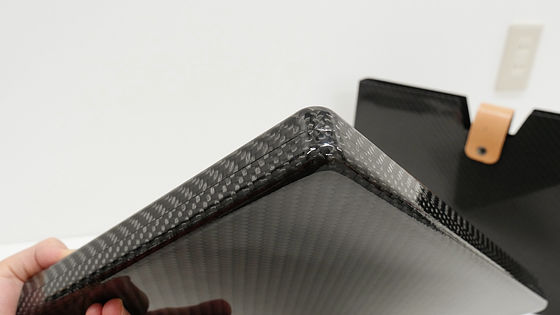 Looking up on the surface and like this, the texture of the carbon fiber is cool.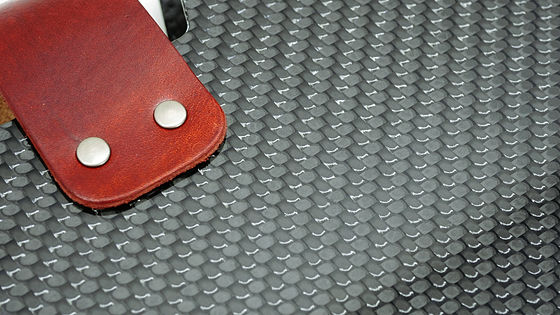 Weight is 396 g by Cason actually measured for iPad.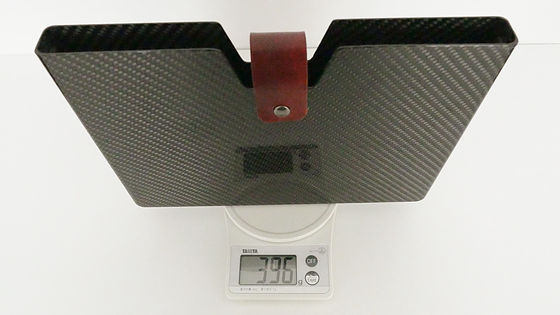 Cason for notebook PC was actually measured 498 g.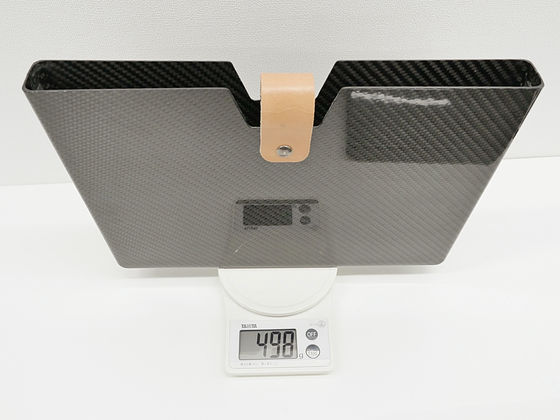 So I will put iPad in Cason on iPad. The item page is written only as "for iPad" and there is no designation as to which model it is, but it is too small a pattern with iPad mini 2.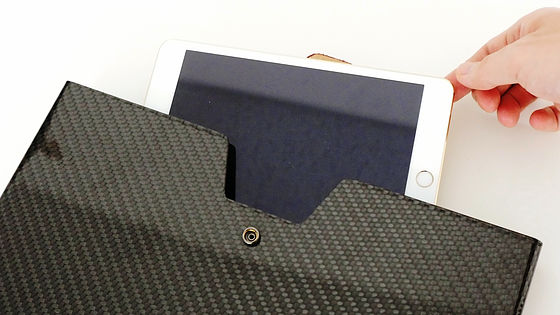 So when you insert it with "Smart Keyboard" attached to "iPad Pro" of iPad series maximum size, it is perfect for both length and width.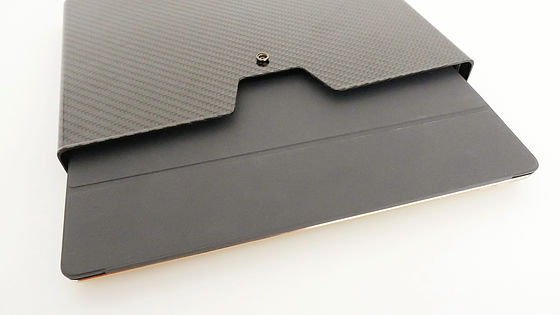 It seems like this from the top, there is a little gap ... ...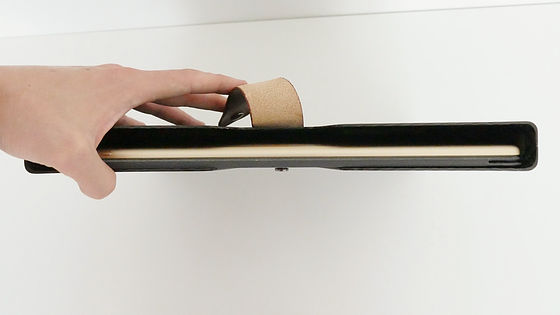 By attaching leather fasteners, you can firmly fix the body of the iPad Pro and excellent stability.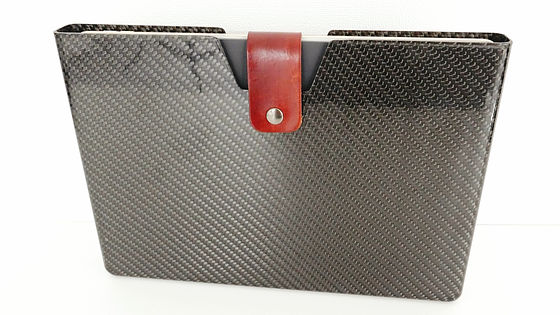 There is no fear of rattling or falling even if it is upside down. It is made of carbon fiber boasting ten times the strength of iron, so it seems to be safe to carry iPad Pro with confidence.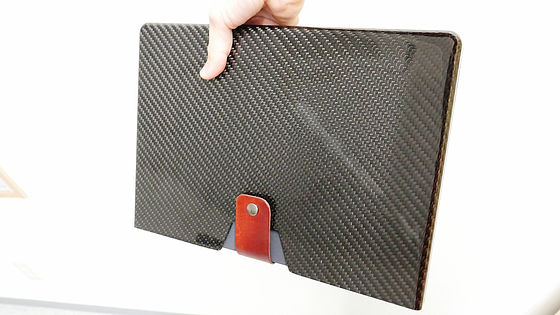 IPad Pro of 30.57 cm × 22.6 cm × 0.69 cm was perfect, so I will try it on MacBook 28.5 cm × 19.65 cm × 0.35 - 1.31 cm.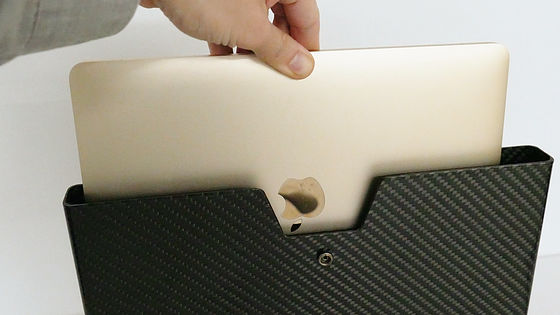 Although it seems that there is no problem in terms of size, because the height is lower than the iPad Pro, it can not be fixed firmly even if the leather belt is fastened. It seems to be able to use it as a MacBook holder if you can make some rattling.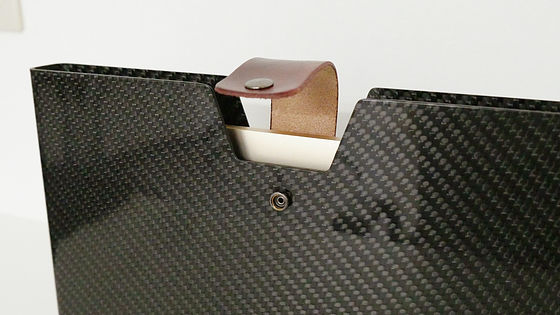 I tried putting Surface Pro 4 of about 29.21 cm × 20.14 cm × 0.84 mm, but ...



It seems that it can not be fixed as firmly as iPad Pro. However, because there is a cushion material inside, there should be no problem as a case for carrying.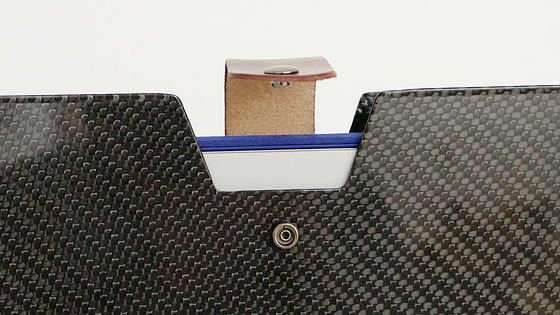 If you hold the iPad Pro in your hand, it looks something like this.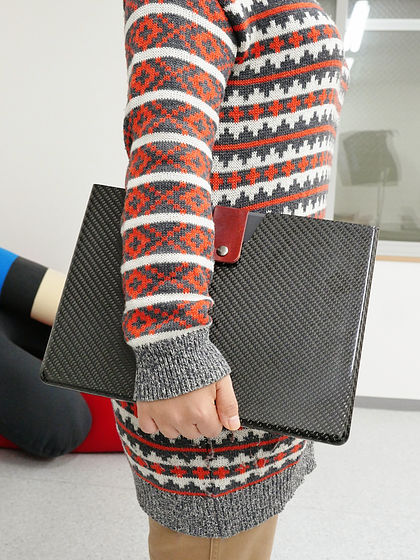 Then I tried 13 inches Let 's Notes in Carson for laptop PC.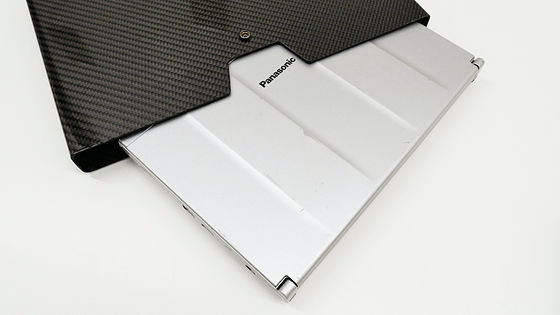 Although there is quite a gap in the width, it is firmly fixed inside because there is a thickness.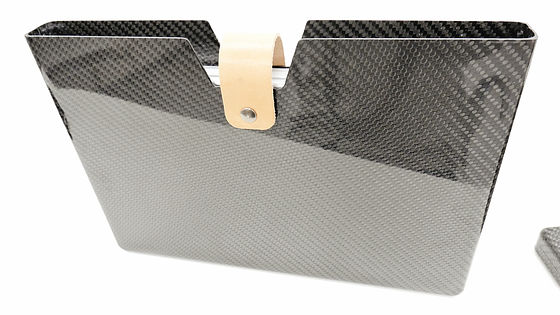 Taking it in my hand, it was like this, "It's a little big for women."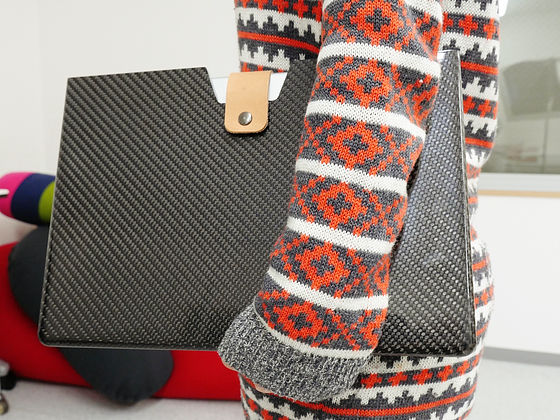 ◆ Note that the cover is made of carbon fiber "Thesis"
This is a note series that uses a rare carbon fiber for cover. Two sizes, A4 size and notebook size, arrived.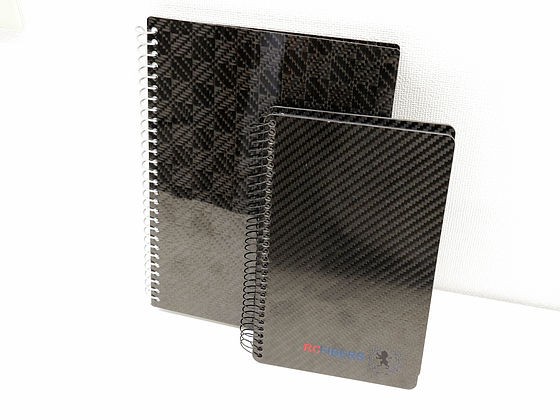 Thesis of notebook size has "RC FIBERS" logo printed on it.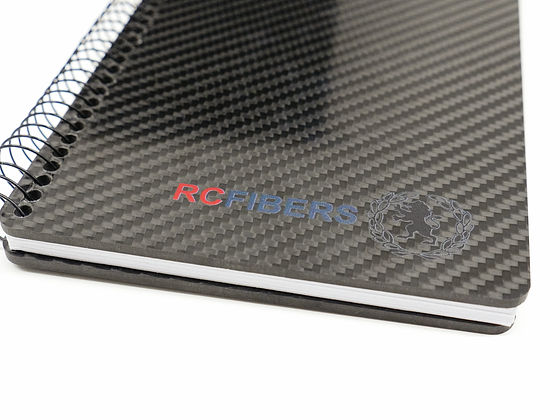 The cover boasts an amazing thickness, and outstanding durability is outstanding.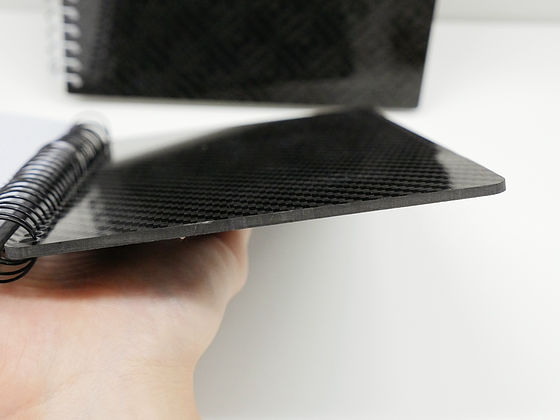 It seems to repel even bullets when 2 pieces are combined.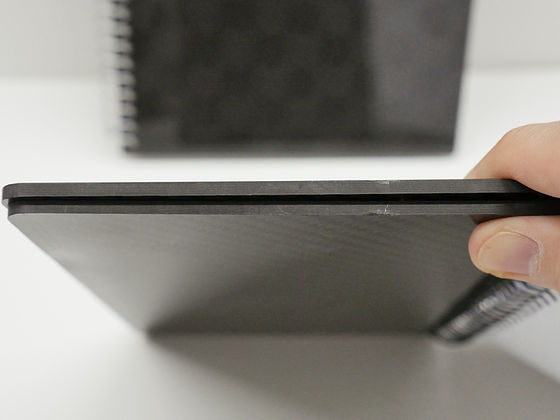 The cover of A4 size Thesis has a diamond texture pattern.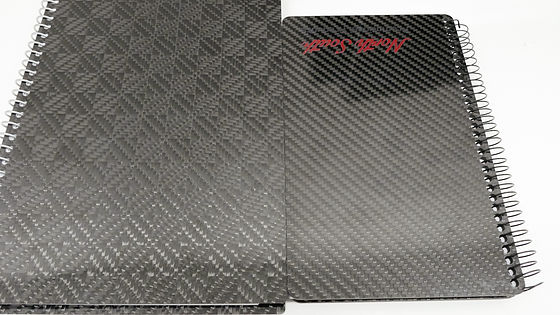 To-Do list etc. were printed on the paper in the middle.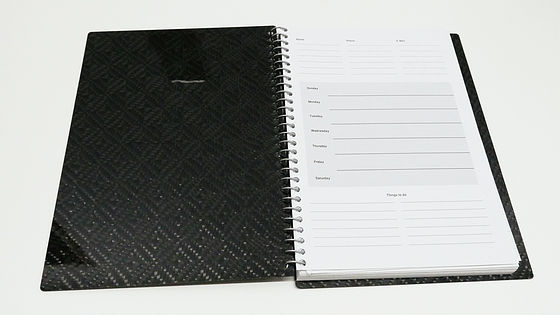 The cover is a thinner finish compared to the Thesis of notebook size.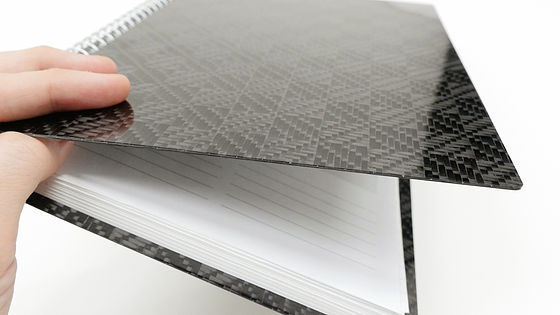 Weight is 406 g in actual measurement of notebook size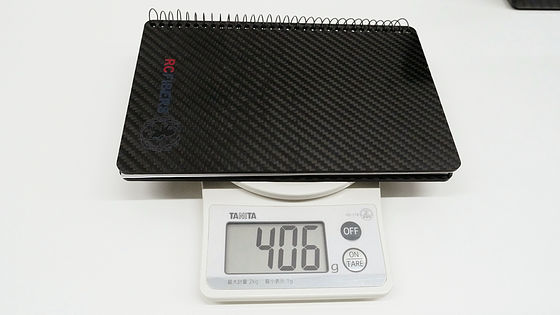 A4 size is 432 g. Although it is quite heavy as a note, it may be Ali to have one as a stylish and durable note. Since it is not a binder type, the editorial department asked "What if you run out of content notes?", But since the product page says "you can use standard size refill paper" It seems that it will be impossible to replenish the paper if it is removed.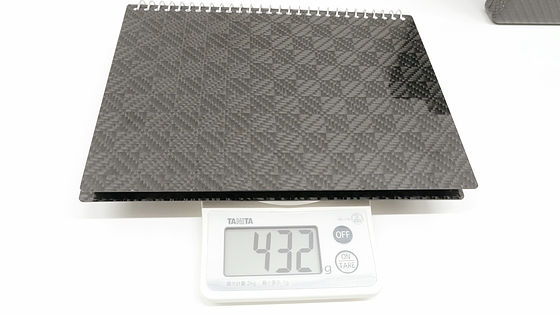 ◆ Very thin leather wallet × carbon fiber made money clip "B15 Wallet"
Those who practice living without it are called "minimalist", but it is made of a wallet made for a minimalist who stores 4 to 5 cards and banknotes and is not bulky even if they are in the front pockets of the pants There is a B15 wallet.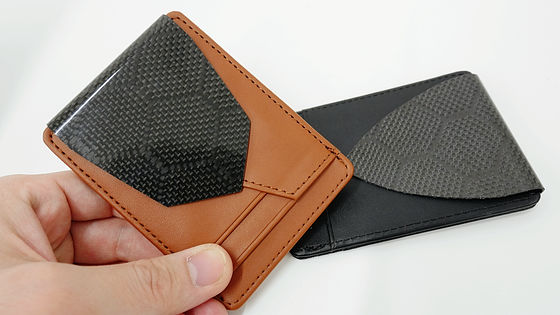 When banknotes and cards are stored, it looks like this.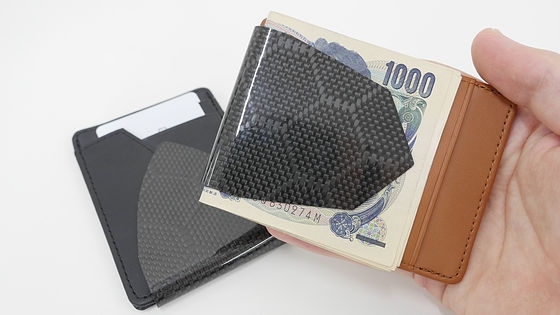 Tilted, the thickness is very thin, impression that it is slimmer than a business card holder etc.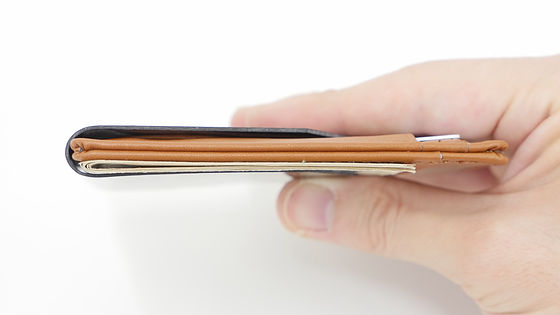 Weight is only 30 g with wearing money clip.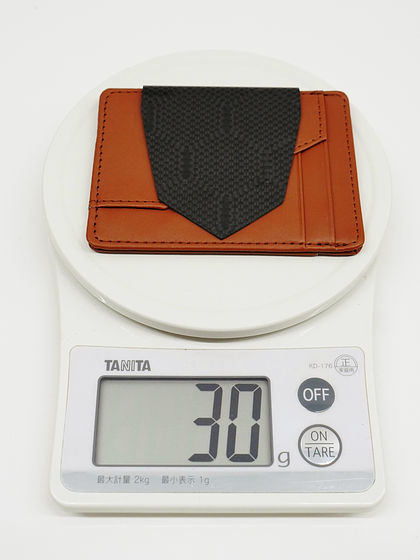 As I put it in the front pocket, it seems like I forgot to put a wallet. Ideal for carrying some credit card, IC card and some money with a little shopping. There is no coin insertion, but if you put it in your jeans pocket OK.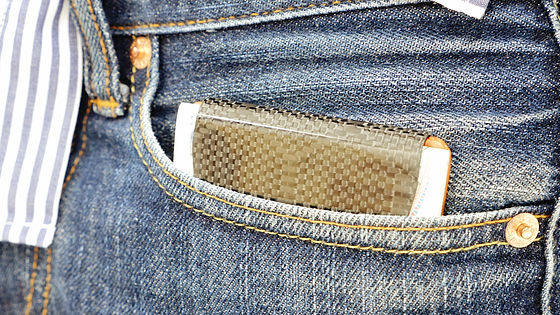 ◆ Ultra-thin, lightweight money clip that carries paper money stylishly "El Hefe"
Although RC Fibers sells carbon fiber made lips of various shapes, it also received a money clip "El Hefe" which was thinner and lighter than past products.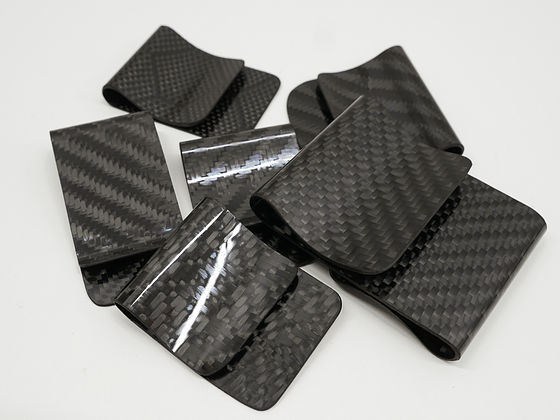 The thinness looks like this. It should be able to sense the level improvement of processing technology of RC Fibers that it became possible to make thin carbon fiber which is difficult to process so far. Because it is a lightweight, thin but wide type money clip, it is possible to hold bills firmly. The pattern of carbon fiber is woven into a slightly elaborate pattern that seems to be hexagonal.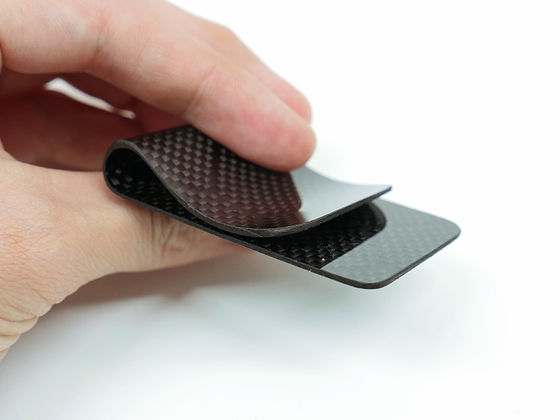 Weighs only 5 g, light like feathers. It was a perfect item for a wild person who said "When you go out, no longer need a card, just a banknote in your pocket".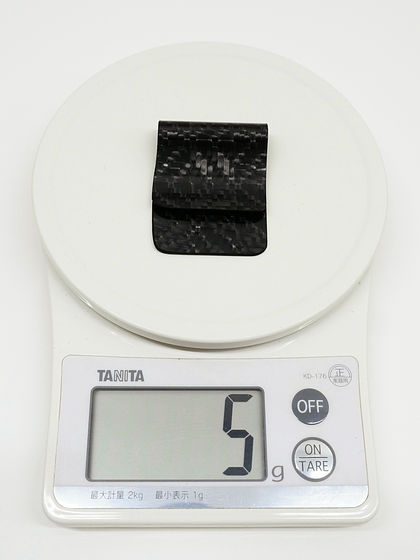 All products reviewed this time can be purchased on RCFibers website. The price of "Cason" for iPad is $ 325.99 (about 39,000 yen), for notebook PC it is $ 374.99 (about 45,000 yen)

Cason - RCFibers
http://www.rcfibers.com/products/cason

The cover note made of carbon fiber "Thesis" is $ 199.99 (about 24,000 yen)

Thesis - RCFibers
http://www.rcfibers.com/products/thesis

Minimalist wallet x money clip "B15 Wallet" price is $ 39.99 (about 4800 yen)

B15 Wallet - RCFibers
http://www.rcfibers.com/products/b15-wallet

"Extra thin carbon fiber money clip" El Hefe "has a sale price of 23.99 dollars (about 2900 yen) at the time of article creation.

El Hefe - RCFibers
http://www.rcfibers.com/collections/products/products/el-hefe