Microsoft misrepresented details of extensions for the first time as a new browser "Edge"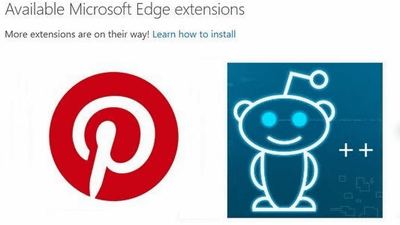 Extended function support of Microsoft 's new Web browser "Edge" installed in Windows 10,Easily ported from Chrome and Firefox extensionsAlthough it will become something, the extension itself is expected to be launched when distributing major updates in 2016. Meanwhile, it turned out that Microsoft had misrepresented a site describing the details of the extension to be distributed in the next update of Edge, and it became clear what the extended function to be installed will be.


Oh look! Edge extensions!https://t.co/i8FkCTbzsLPic.twitter.com/7 LZv 8 Lh 0 Rh

- WalkingCat (@ h 0 x 0 d)2015, December 10
Developer Resources: Microsoft Edge Dev
http://webcache.googleusercontent.com/search?q=cache:https://msedgeissuetracker-extensions.azurewebsites.net/extensions/

It was discovered by tweet of Twitter user WalkingCat that Microsoft published the site on Edge extensions. The screenshot of the site posted by WalkingCat certainly says "Extensions are here!" It seems there was even a link to download destination and API document.



Two edges of the published Edge are "Pin It Button" and "Reddit Enhancement Suite (RES)". "Pin It Button" is a photo sharing servicePinterest"Reddit Enhancement Suite" is a function that allows you to use convenient functions such as preview and new comment function when browsing Reddit and is already released in other browsers It is being done.




Besides the place introducing the extended function, there was a description that carefully explained how to download the extended function.




In addition, WalkingCat posts impressions about the extended functions that were published "Edge's extension is basically the same as Chrome's same extension, except for a few differences."

Comparing Edge version vs. Chrome version of same extension, basically substitute "chrome" with "msBrowser", add few minor changes, done.

- WalkingCat (@ h 0 x 0 d)2015, December 10

· Additional notes 2015/12/11 11:00
Adblock Plus has announced that it will provide the same extension to Edge on official website.

Adblock Plus - Surf the web without annoying ads!