Momotaro's "Ryuichi" is a live-action movie decision with Matsuyama Kenichi starring, released in February 2016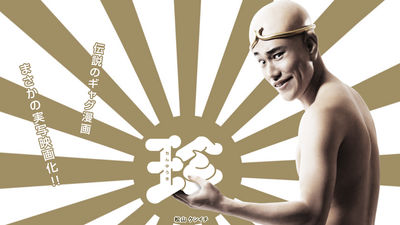 Mr. Kotaro Kotaro 's "Ryuui - Taro and the Yukaii friends", which was serialized in the Weekly Shonen Jump from 1990 to 1992,Rare gold medal"It was decided to be filmized with the title of. Masayama Kenichi, the director is Kenichi Yamaguchi who has made numerous gag cartoons such as "Jigoku Koshien" "Sakigake !! Cromartie High School THE ☆ MOVIE" "Furious Express Edition Elite Yankee Saburo".

Movie "Ryuichi" official website
http://chinyuuki.com/

Movie Junichi (@ chinyuuki_movie) | Twitter
https://twitter.com/chinyuuki_movie

Movie "Zenki"
https://www.facebook.com/chinyuukimovie

Movie 'Ryuichi' (@ chinyuuki_movie) • Instagram photos and videos
https://www.instagram.com/chinyuuki_movie/

Mr. Matsuyama has a fearless smile on the toeser visual. Mr. Matsuyama said, "Because I did not have a work that naked me for a while, I accepted it, I think that I am well off as myself."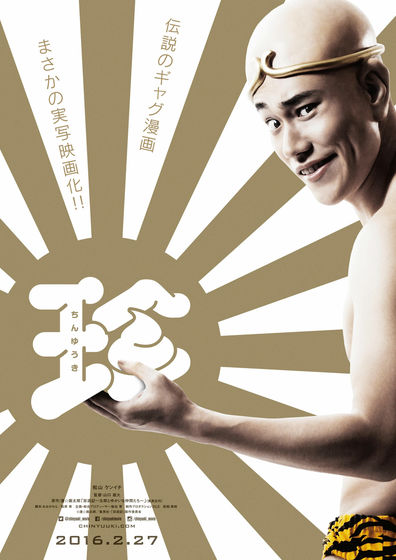 Comment by Mr. Kotaro Otomo, the original author, is as follows.

Although I told you to make the least expensive movie ever,
Why did you make it so funny? It is!
Let's overwrite the director of ◯◯ 's giant! It is! It is!
Just asking for the plot of the work, "Buddies · Gen Xu who continued the journey aiming for Tenjiku, was asked to wish the rebirth of a bad boy · Yamada Taro in the universe under the unexpectedly hoarse and grumble of the house he casually stopped, Seal the awesome eno force with power, but can you get to India without trouble by taking over Taro and doing a journey together with what cause (no, can not!)? Although it sounds legitimate, it is a gag cartoon whose content is fantastic to play as if it were a manga painter's work, and it is a work that I think as "if you really read it as a movie" if it is original reading.

Even at Yamaguchi who cooked Yumekutaro 's work "Geki Koshien" and Short Story Omnibus' s "Mangaro Pentaro SHOW Baba Zone (Others)" so far, I thought that this work is too hard to touch It is said that it was decided to do. The full text of the director's comment is as follows.

Anyway, even though I thought that only "super rhetorical" Ryuichi "among the Ryotaro works, I thought that it would not touch, but I was supposed to be sneakily laid by a paper producer DLE (laugh).
But if you do anything, I'd like to take a different approach from what I have been and I am talking with two of the screenwriters, but it is different from the original visual image, but I can capture the essence and act Matsuyama The name of Kun rose. Mr. Matsuyama used to work before "Yume ten night", I knew it was a Peter Taro from that time, and I thought that I wanted to do a bit of work again in a feature film, so my wish has come true .
I think that the live-action version "Ryuuikei" captures the essence of Ryotaro's work more. Generally, the paintings of Ryutaro are prone to being deprived of dogitsui patterns and eccentric depictions, but the real contents have pureness at elementary school level. That's why Potaro work is not an underground, but a boy jump.
While I told the staff what "dark Pixar" was by joke (laugh) what can elementary and junior high school students enjoy. I made it as a theme. Elementary school students go to school in Bangkok and go to school so if they become prohibited from PTA "ryuuiki", I am still happy.
Screenplay is a broadcast writer Masahara Matsuhara who is involved in the leader and small bokeu of Ogasima that is advancing to the finals with "King of Cont 2011" and "King of Cont. 2013", and "Gintama ゜" "Osomatsu-san" etc. Production is "Secret Society Hawk's Claw" DLE.

Film release is on February 27 (Sat) 2016. To commemorate the live-action filming decision, "Weekly Shonen Jump +"The first volume of" Ryuichi - Taro and Yukai 's Friends ~ "is delivered free of charge limited only to December 24th (Thursday) 23th 59th in 2015.

Shonen Jump + Jump cartoons can be read for free in the comic magazine app on the App Store(IOS version)
https://itunes.apple.com/jp/app/shao-nianjanpu+/id875750302

Shonen Jump + Jump cartoon free manga magazine app - Google Play Android application(Android version)
https://play.google.com/store/apps/details?id=com.access_company.android.sh_jumpplus

· Work information
Starring: Matsuyama Kenichi
Director: Yuuto Yamaguchi
Original: Momotaro Gotaro "Junichirou - Taro and Yukaii Fellows" (published by Shueisha)
Screenplay: Oogata / Hideo Matsubara
Planning · comprehensive producer: Zairi Itaya
Production Production: DLE
Distribution: Toei
© Mangaro / Shueisha · "Ryuuyo" production committee