Compared to Wii U · Xbox One, this graphic shows the pace of sales of PS 4 that exceeded 30 million units sold at the fastest speed in PS history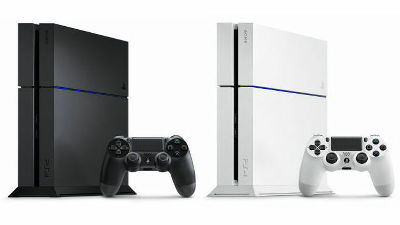 Sony Computer Entertainment (SCE) game machine "PlayStation 4 (PS 4)"Was the fastest in historical PS history, and it became clear that sales volume exceeded 30 million units. It is clear from sales data that PS4 is overwhelming rival game machine with sales power.

PlayStation® 4 (PS 4 ™) Sales Surpass 30.2 Million Units Worldwide - TOKYO, Nov. 25, 2015 / PRNewswire / -
http://www.prnewswire.com/news-releases/playstation4-ps4-sales-surpass-302-million-units-worldwide-300184370.html

PS4 sales officially pass 30 million | Ars Technica UK
http://arstechnica.co.uk/gaming/2015/11/ps4-sales-officially-pass-30-million/

According to SCE, as of November 22, 2015 PS4 worldwide sales exceeded 30.2 million units. The PS 4 that exceeded 30 million units in about two years from the launch in November 2013 has updated the record of PS 2 which had the fastest sales record of 30 million units of PS series for about 2 years and 2 months I will.

Ars Technica UKI graphed how much PS4 is selling. This is a comparison of the sales volume of Microsoft's Xbox One, a rival machine and the Wii U of Nintendo from Q3 (July to September) in 2015. It is estimated since Microsoft has not announced accurate figures on unit sales since 2014, but it is obvious that PS 4 greatly outperformed rival aircraft.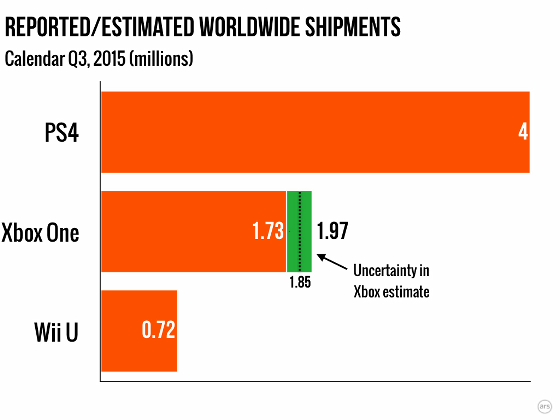 The cumulative sales volume until September 2015 is PS3 29.3 million units. Even if you estimate a lot, you can see that 17.3 million Xbox One and 10.74 million Wii U are overwhelming with cumulative sales volume.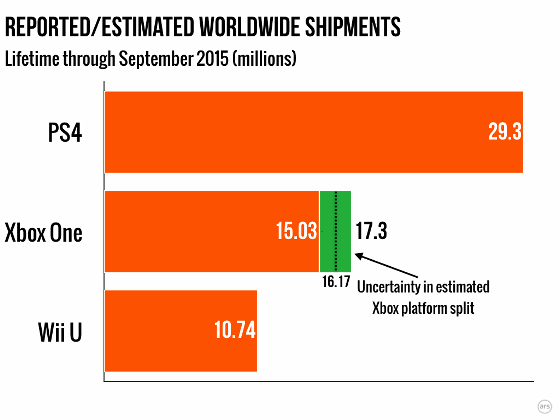 Comparing the pace of sales volume from the start of sale is like this. The sales pace of all three models has remained almost constant from the launch, and it seems that PS4 has expanded the difference since the first place in 2013, when the number of sales figures went up to the top.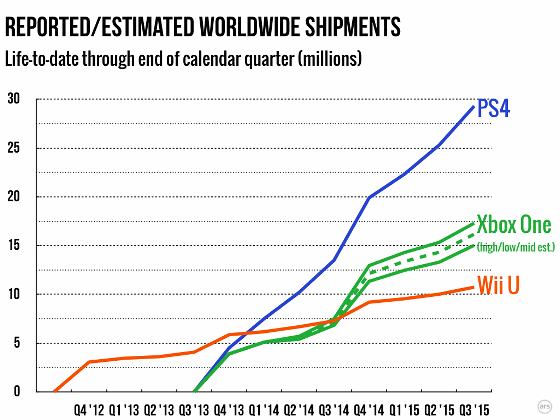 It shows such a market share with three models only. Wii U loses market share with PS 4, which increases tension and market share, and Xbox One seems to tend to maintain its current barely status.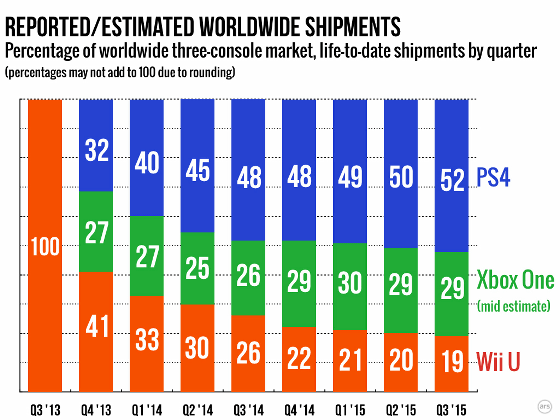 This is a graph showing the relative improvement in unit sales from the previous year. The sales situation of Xbox One seems to be getting better than PS 4.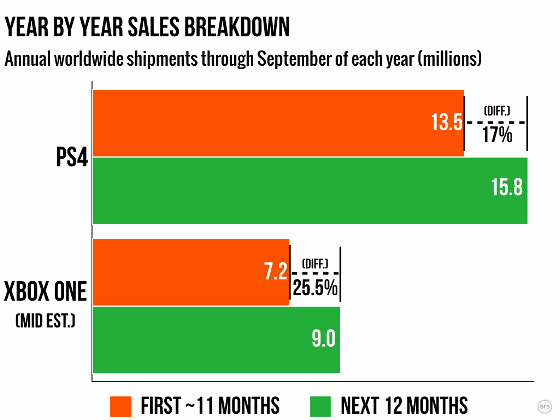 However, when comparing year-to-year sales figures starting in September for the first two years after launch, Xbox has expanded to PS 4 by the unit sales in the most recent year.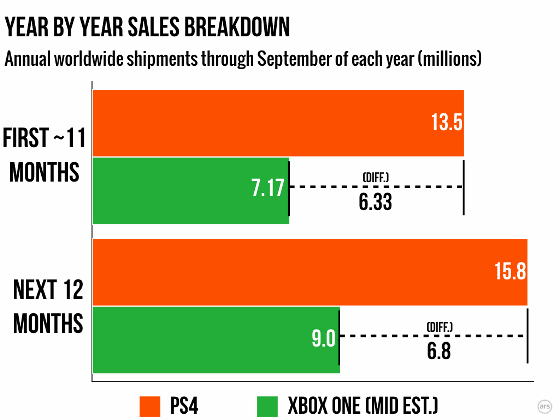 In addition, supposing that the improvement trend of current sales volume continues at exactly the same pace in the future, it is 2024 that Xbox One will overtake PS 4. Of course, since PS4 leverages sales and there is also enough that new hardware appears, it seems not to be very helpful.



It is PS 4 that has exceeded 30 million units in the fastest two years in PS history, but when looking at successive game machines not only in the PS series, the largest number sold in 2 years is Nintendo · Wii about 45 million A thing with a stand.

By the way, PS2, which had the fastest record of 30 million units so far, has cumulative sales of 155 million units.Price cut of 5000 yenIt is expected that PS 4, whose sales pace is accelerating further, will exceed PS 2 in cumulative sales volume as well.