Win32 application also works in "Windows 10 Mobile"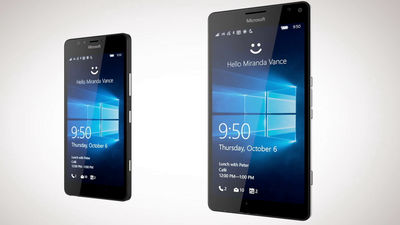 As a function of Windows 10 Mobile,"Continuum" that can handle smartphones like a PCDeveloped. actuallyNext flagship machine "Lumia 950" "Lumia 950 XL"Then,"Continuum" allows you to operate in-terminal applications with interfaces like Windows 10 loaded PCsWe also have a demonstration called.

In addition to this, on Windows 10 Mobile, using ContinuumWin32 applicationIt has become clear that moving one is a goal.


Kevin Gallo says it's something they're looking at.# Connect 2015

- Ginny Caughey (@ gcaughey)2015, November 18

Microsoft investigating Win32 app support for Continuum on Windows 10 Mobile | Windows Central
http://www.windowscentral.com/microsoft-investigating-win32-support-continuum-windows-10-mobile

This is said that Kevin Gallo, the developer of the Windows Phone application, said it in Connect 2015, and the developer Twin Coey is also tweeting in a way that quotes that word.

Continuum is one of the featured features of Windows 10 Mobile. For example, when connecting an external display to a Windows 10 Mobile-equipped terminal, instead of simply enlarging the screen of the smartphone, it automatically converts it to a look that looks like when using a Windows 10 PC .

For now it is considered to be a function that only applies to universal applications delivered on the Windows Store, while Win32 applications are still used by many people around the world, non-universal applications Although it is not delivered on the Windows Store, it may be registered in the Windows Store in the future so that it can be used with Continuum.

By the way, although Windows 10 Mobile can upgrade many terminals from Windows Phone 8.1, Continuum can use only a few terminals. A review of Lumia 950 which is "a small part of terminal" is released one after another.

Please refer to this article for specs etc.

Microsoft announces Windows 10 Mobile equipped flagship model "Lumia 950/950 XL" - GIGAZINE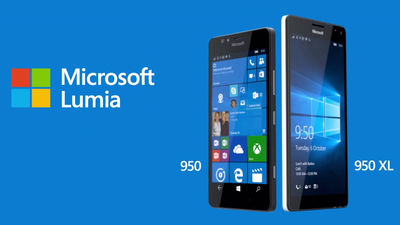 When Ars Technica tried several benchmarks, it roughly resulted in iPhone 6S · iPhone 6S Plus> Nexus 6P · Nexus 5X> Lumia 950.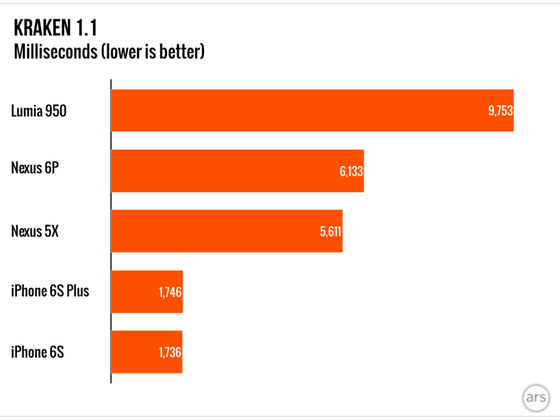 In the JavaScript benchmark test Sunspider, the Lumia 950 has better results than the Nexus 6P Nexus 5X.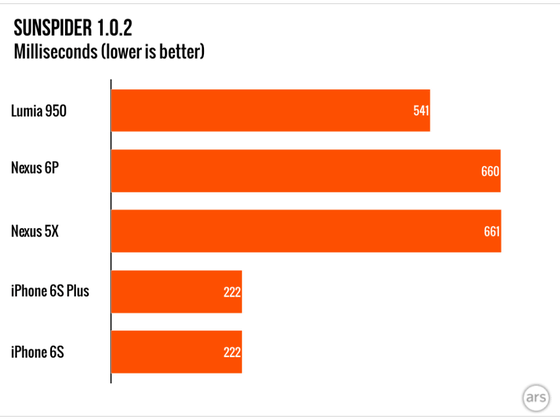 The point that Windows Phone 8 is smooth not only in high-end terminals but also in low-end terminals has been highly appreciated, but this is said to have been taken over in Windows 10 Mobile. However, in terms of 3D performance, it is pointed out that the hardware may be equivalent to Nexus 5X, but performance may be low, so there may be problems with the Direct 3D driver.

Regarding camera performance, Lumia 1020 with a 40 megapixel camera took a long time from shooting to the next shooting, whereas Lumia 950 has made significant improvements with high evaluation. However, there seems to be a part that Windows 10 Mobile itself has not yet reached.

Lumia 950 review: Windows Phone finally has a new flagship? Will anyone care? | Ars Technica
http://arstechnica.com/gadgets/2015/11/lumia-950-review-windows-phone-finally-has-a-new-flagship-will-anyone-care/

Video: Microsoft Lumia 950 in action | Ars Technica
http://arstechnica.com/gadgets/2015/11/video-microsoft-lumia-950-in-action/

Even at The Verge camera performance, its performance and display are highly appreciated. Meanwhile, as with the cheap texture and design common to the Lumia series, as well as Ars Technica, "Windows 10 Mobile itself is underestimated by" the lack of feeling in the OS part is not very much filled in others ". It is appreciated that there is no reason just to bother to choose Lumia 950.

Microsoft Lumia 950 review | The Verge
http://www.theverge.com/2015/11/20/9767266/microsoft-lumia-950-review-windows-10-continuum