The Google application is compatible with search display of other companies 'applications, and can be displayed directly without any other companies' applications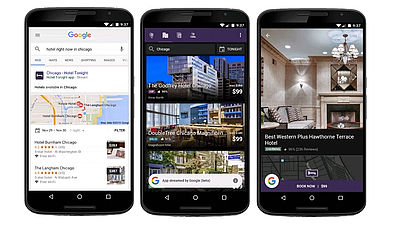 Applications provided by Google "GoogleIs an application that allows users to view the information they want with Google Now or search them on the web. Google displays not only the web but also the information of another application in the result displayed when searching with the same application, and if you open the link as it is, there are two functions that can display the UI of the corresponding application even if it is not installed Added.

Inside Search: New ways to find (and stream) app content in Google Search
http://insidesearch.blogspot.ca/2015/11/new-ways-to-find-and-stream-app-content.html

One of the new features added to the Google app has been provided two years agoApp IndexingIt upgraded version. When the developer sets App Indexing to the application, the information from the application is also displayed in the Google App search results, so the developer can gain new users.

Another function is application streaming function. When searching the web with the Google application, information obtained from another application besides the information obtained from the web is displayed, but in order to view that information, until now you have to install the corresponding application, It was necessary to start the corresponding application installed on the server. The new function of this time is that if you open the link of another application displayed in the search result, the application UI will be displayed as it is in the Google application, even though installing the corresponding application.

For example, when searching "hotel right now in chicago" in the Google application, for example, in addition to the conventional search results, "Hotel TonightInformation from the application named "It is displayed. Tap "Chicago - Hotel Tonight" from this state ......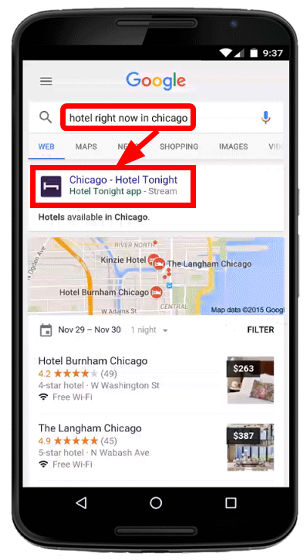 It displays search results at Hotel Tonight. The point is that the application installed on the terminal is not opened, but it is displayed in the Google application. As displayed as "App streamed by Google (beta)" at the bottom of the screen, Google is running Hotel Tonight in the cloud and streaming its content to the Google app.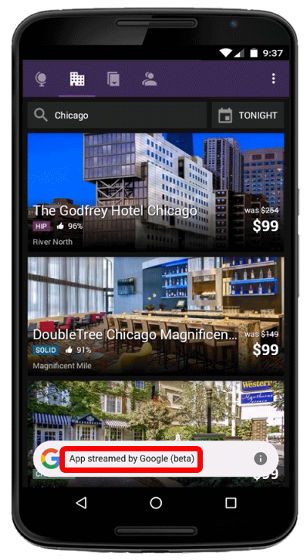 In addition, it is possible to reserve a hotel from the Google application without opening any corresponding application.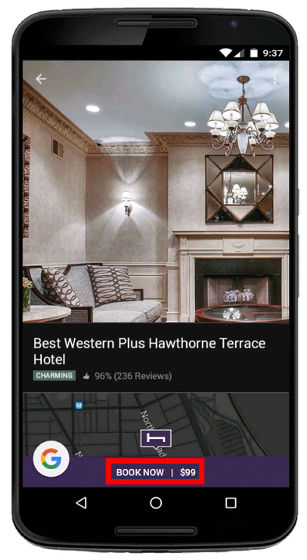 When the information of the third party application was displayed in the search result of the Google application, it became useless to install it if it does not have the corresponding application and it was necessary to start the application even if you have the corresponding application But with new features you can skip troublesome steps in a while.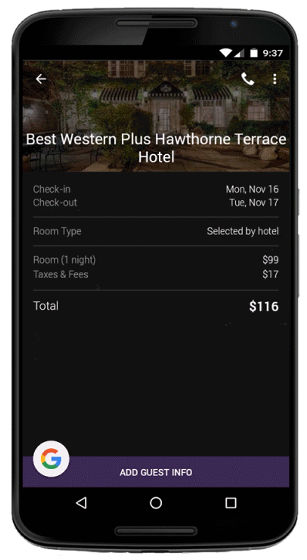 However, applications that support streaming are only 9 applications, "Weather" "New York Subway" "My Horoscope" "Daily Horoscope" "Visual Anatomy Free" "Useful Knots" Gormey "" Chimani " Increasing it seems to be quite convenient.