It is reported that realization of "inter-personal remittance service for iPhone", Apple is in consultation with the bank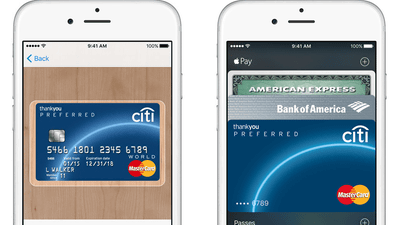 The payment service like PayPal starts not only the company of the main business but also the SNS like Facebook and Twitter to the friends etc and can easily exchange money between the individuals from the smartphone "P2P remittance service (inter-personal remittance service)We are embarking on. In this trend, Apple also gave a new name and reported that it will develop an inter-personal remittance service that can be used with iPhone and Apple Watch.

Apple, Banks in Talks on Mobile Person-to-Person Payment Service - WSJ
http://www.wsj.com/articles/apple-in-talks-with-u-s-banks-to-develop-mobile-person-to-person-payment-service-1447274074

Apple in Talks to Offer Mobile Person-to-Person Payments | Re / code
http://recode.net/2015/11/11/apple-in-talks-to-offer-money-transfer-system-to-rival-paypal-venmo/

Apple is negotiating with several major US banks to develop a new digital payment service, the Wall Street Journal reports. According to several sources involved in the negotiations, I do not know details such as using a credit card / network like Apple Pay or using another process, but I do not know how to transfer remittances from iPhone or other device We are assuming services like PayPal that we can. In response, Apple spokespeople declined to comment.

Re / code explains that it is a service of "money-eating insects" for companies because most intermediary remittance services that multiple companies have started to provide are available, but most are free to use. Nevertheless, many companies are beginning inter-personal remittance services because they are regarded as a way to raise the utilization rate of the platform regardless of new or existing users. Similarly, Apple is expected to aim to spread the iPhone as a more convenient "part of life" through a new personal remittance service.

Jennifer Bailey, chief of the ApplePay division, said the ambition to "replace existing wallets with mobile terminals" by June 2015WWDCAlthough I was talking about, with the implementation of Apple Pay, the iPhone can become a substitute for credit card · debit card · gift card · point card etc. If a new intercompany remittance service is started, Apple users will be able to transfer bank accounts from the iPhone and Apple Watch, so it is said that plans are steadily planning to steadily replace the iPhone with a wallet.



In addition to PayPal in the United States "Venmo"Personal remittance service under PayPal affiliation accounts for the share. Venmo is a free service that you can remit from a bank account or debit card linked through a mobile application to a phone number, e-mail address or Facebook's friend, and feel free to send it to friends and family as "I will return $ 10" I am popular because I can do it.

In Japan, due to the enforcement of the funds settlement law in 2010, registration of 'money transfer agent' is required for remittance among individuals other than banks. As a result, PayPal temporarily suspends the inter-personal remittance service in Japan and is not resumed as of 2015, which has already been registered with the fund transporter. Meanwhile, as domestic LINE Pay provides inter-personal remittance service as a money transfer agent, there is a possibility that Apple's inter-individual remittance service will come to Japan ... ... .