I tried doing it because the method to search for missing mails from garbage / spam mail in Gmail became easier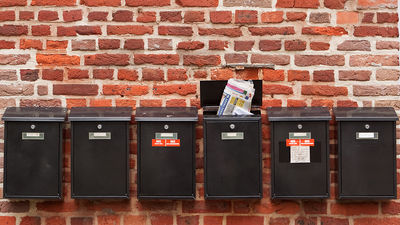 ByJeroen François

Since Gmail's search box is set to default settings, it will not search spammers and trash boxes, so you had to change the advanced settings to locate one somewhere in the search box A new function has been added to display a message to that effect on the screen when messages matching the contents are in the trash can. I actually tried using the change as to how I was able to search.

Google Apps update alerts: Find 'missing' emails more easily in Gmail
http://googleappsupdates.blogspot.jp/2015/11/find-missing-emails-more-easily-in-gmail.html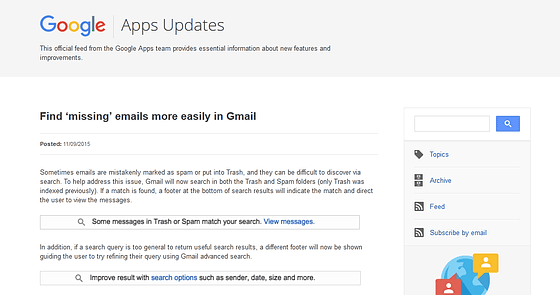 When entering keywords in the search box and searching, the message "The mail in [Trash] or [Junk mail] matches the search condition" appeared at the bottom of the mailbox. Click on the link "Display mail" ......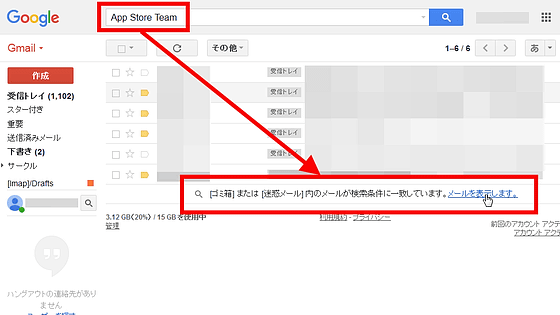 I was able to display the mail lurking in junk mail right away. Since the mail is not opened, it is also possible to check whether it matches the mail you were looking for from the displayed list.




In addition, if the contents of the mail are not found successfully, such as a misspelled word in the search word, "A mail matching the search criteria was not found. Using a search option such as sender, date, size Please see "message is also to be displayed.




When clicked, detailed setting screen opened based on input search word.



By the way, the search method of spam mail and trash can by the conventional method is still available. First, click the arrow at the right end of the search box ... ...




When the detailed setting screen opens, click "All Mail".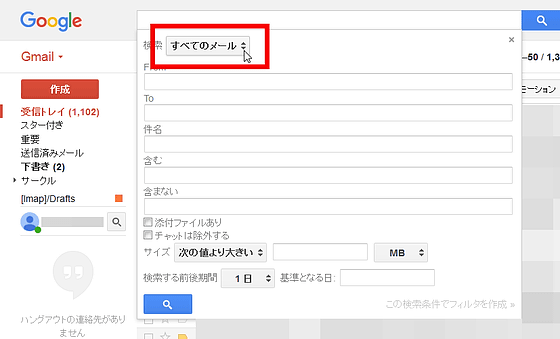 Then, since folders that can be searched are expanded, if you select "All mails (including spam mails and trash can mails)", searching was possible even from spammers and trash boxes. With this new feature, it is now possible to obtain similar results without prior setting.