I tried "Cup Noodle · Pasta Style Japanese Tarako" which is excellent with soy sauce butter and Taraco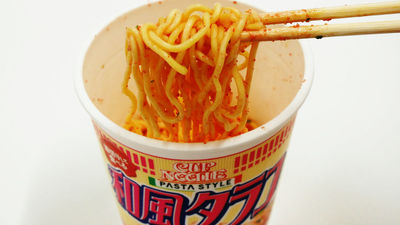 Nissin, which is offering pasta of "Nissin Spa King", is making cup noodle style style more "Cup noodle · pasta style"is. From the beginning, I was using a challenging catch phrase "pasta that the Italians did not recognize", but in addition to this, I was not familiar with Italy "Japanese style Tarraco"Taste is newly added to the lineup,"BologneseIt was said that it became more delicious by renewal, so I actually poured hot water and waited for 5 minutes and tried it.

Pasta that Italians did not admit. Cup noodle · pasta style
http://www.cupnoodle.jp/pastastyle/

"Cup Noodle Pasta Style Japanese Style Taraco / Bolognese" (November 2 Release) | Nissin Food Group
https://www.nissin.com/jp/news/4782

"Cup noodle · pasta style" like a cup noodle-like package design looks something like this. "Boronese" which was renewed on the right, with a new Japanese "Tarako" on the left.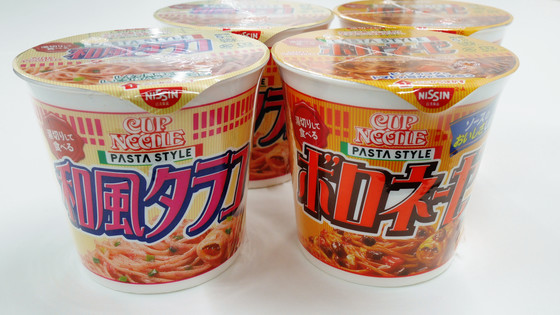 So, let's eat "Japanese style cod roe" first. As "hot water 5 minutes", cooking time is longer than cup noodle.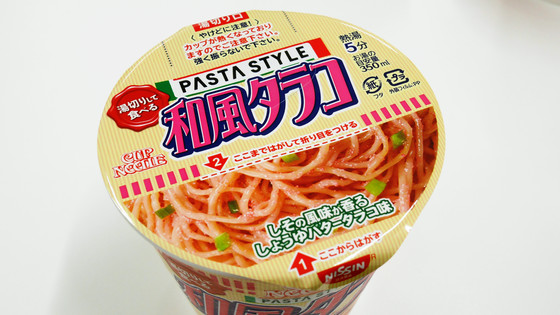 Vinyl covering the cup was also familiar with cup noodle "lid stopper" was attached.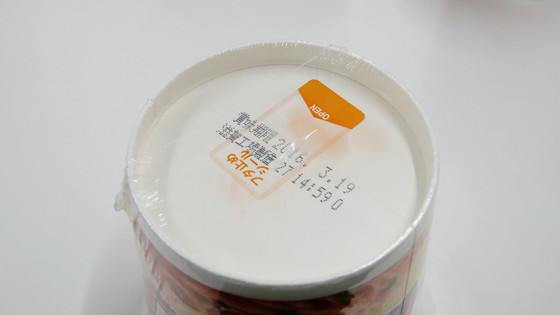 Package design is similar to cup noodle, but it is distinctive that there is "hot water cut out". Also, the containers are harder than those of cup noodles.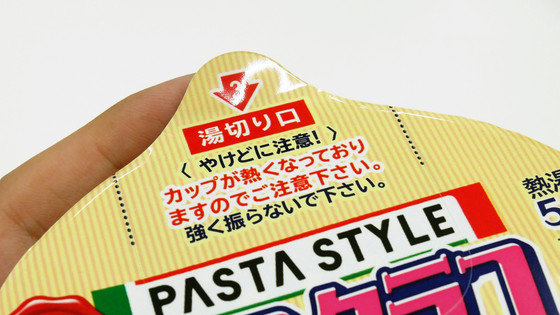 Since the cooking method is written in the package, it is OK if it cooks according to this.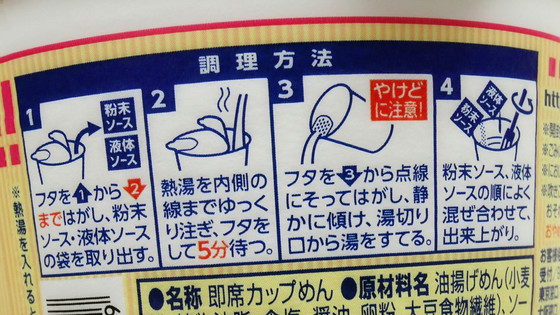 Raw materials include Hatarako, soy sauce, mentaiko, seafood extract and so on.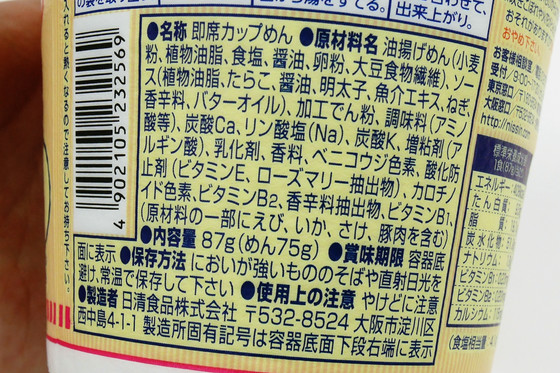 "Japanese style tara" has 408 kcal of calories per meal (87 g), 51.9 g of carbohydrates. Allergic substances include wheat · egg · milk ingredients · pork · squid · salmon · soybeans.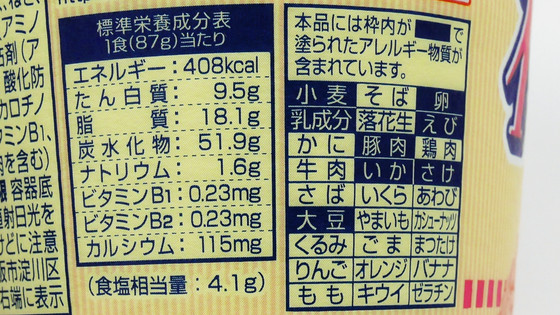 As you open the lid, something is in it, so let's take it out.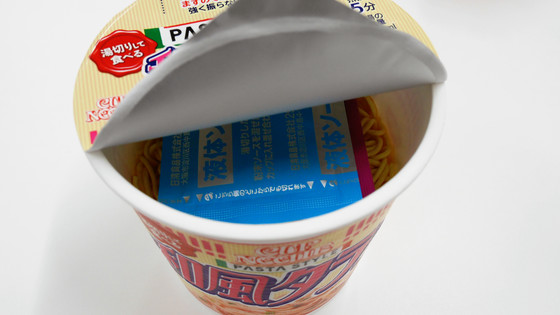 Inside was liquid sauce and powder sauce. Since these are thrown in after sprinkling, leave them for the moment ...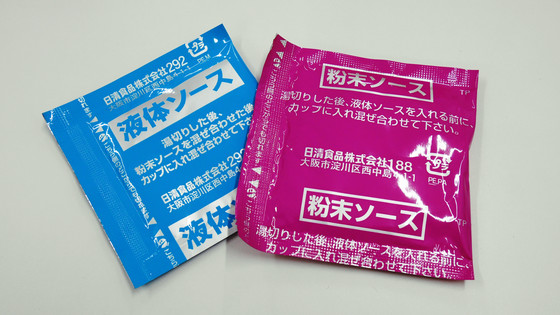 Pour boiling water to the inner line ......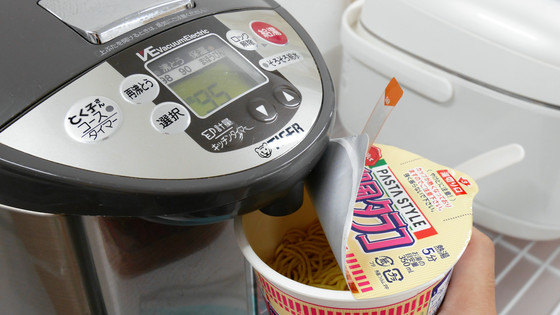 Wait 5 minutes.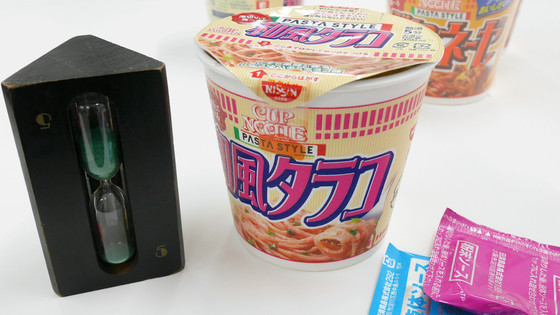 Peel off the hot water inlet after 5 minutes ...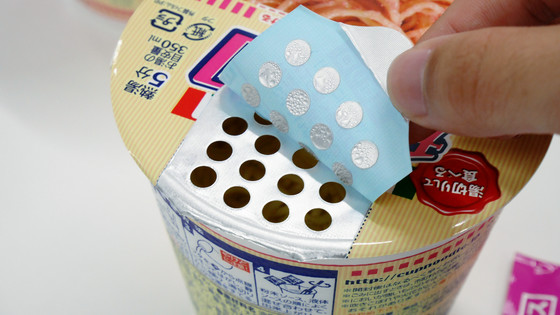 Discard the hot water.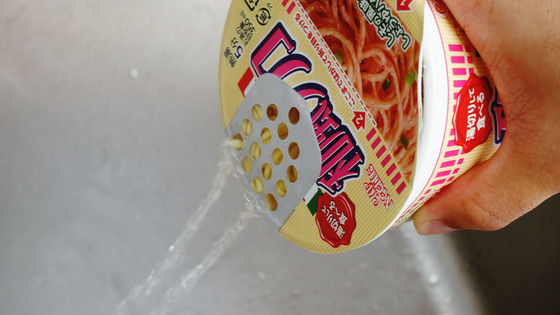 And first put the powder sauce ... ...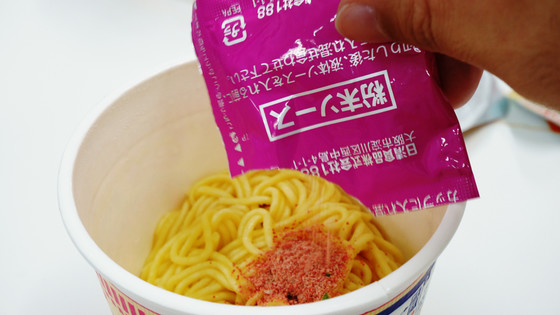 Mix well.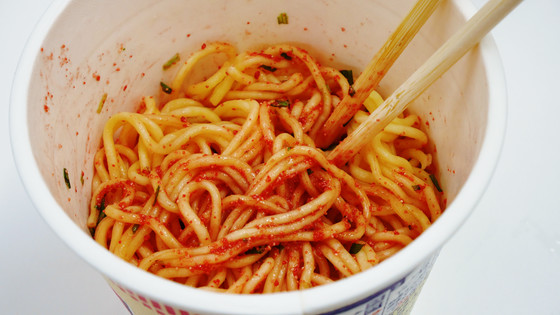 Then add a liquid sauce and mix them ... ...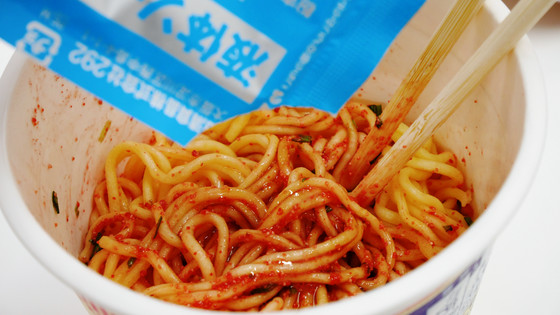 done.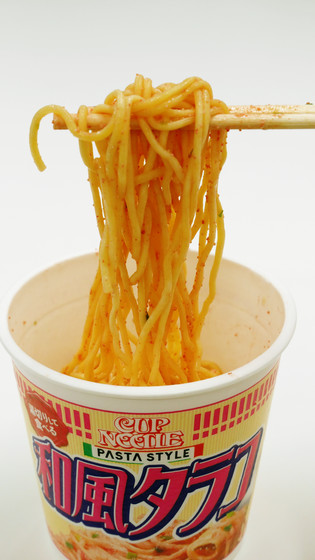 Turaco and soy sauce Butter scent inspires appetite. Green grains that are visible in places are bamboo grass.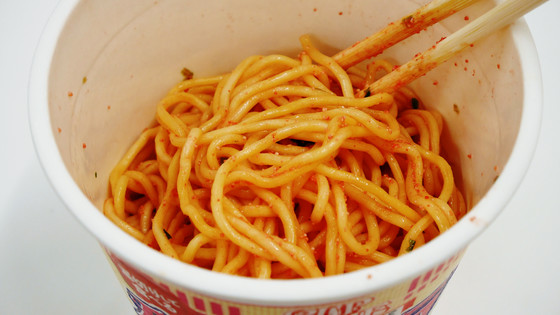 That's why Pakuri is at once. I thought whether the noodles are similar because the package is cup noodle style, and cup noodle · pasta style noodles are big bread noodles and eat more than cup noodles' counterparts. I put hot water and wait for 5 minutes, but the noodle has a good texture. The noodles are "noodles of a cup noodle firmly crunchy like a pasta", just a pasta-style cup noodle noodle perfect for the name "cup noodle pasta style". The taste is the royal Tarako spaghetti, the compatibility of soy sauce butter and Taraco is outstanding. There are accents in that flavor, but it does not mean that there is actually a sashiru. If you want an accent of taste, you can eat deliciously even if you add a step or shreds yourself.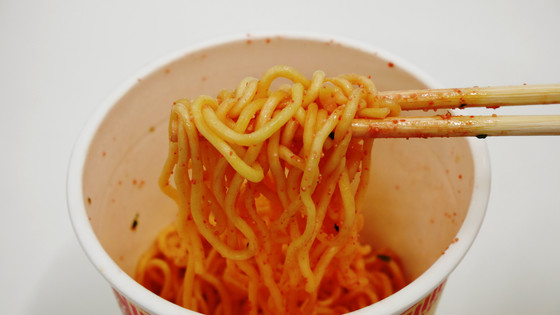 Next I will eat "Bolognese".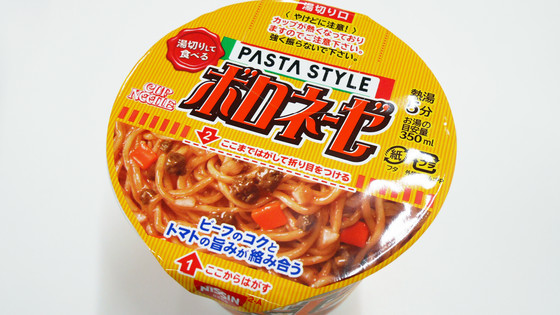 Raw materials of "Bolognese" are tomato powder, flavored meat tidrow etc.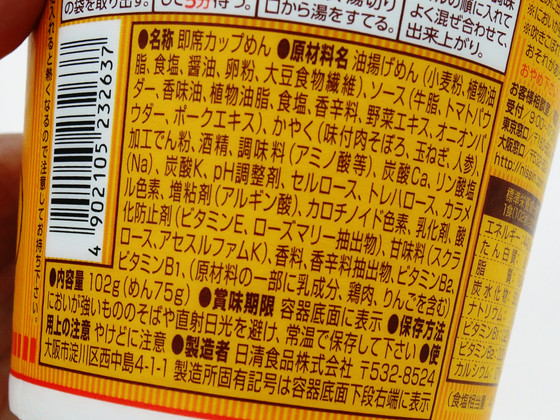 The renewed "Bolognese" has a calorie per meal (102 g) of 440 kcal and slightly higher than "Japanese style tara". However, it decreased by 7 kcal from before renewal. Allergic substances are wheat · egg · milk ingredients · pork · chicken · beef · soy · apple.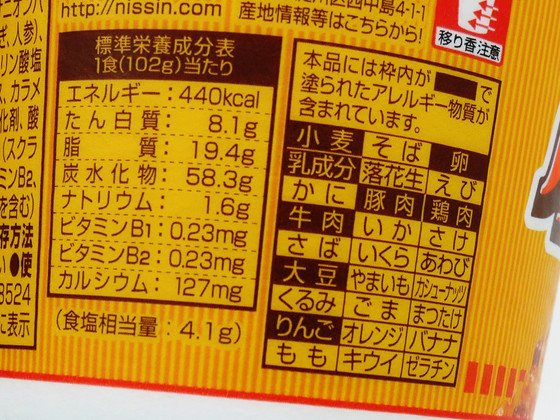 Liquid sauce and seasoning oil are contained in the container ... ....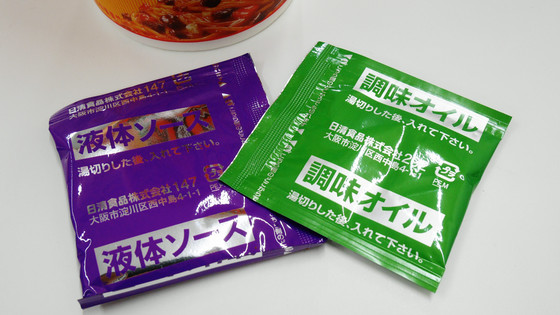 It is also included in advance.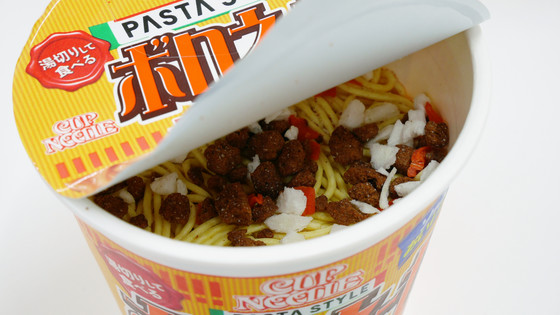 In the "Bolognese" before the renewal, the ingredients had fallen from the hot water cut at the time of hot water cutting, but after renewal, such worry became unnecessary at all.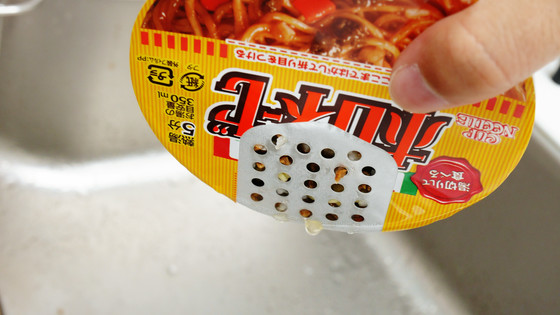 After cutting down the hot water, first introduce a liquid sauce. Even though it is written as a liquid, it is solid and it is a little troublesome to mix with noodles.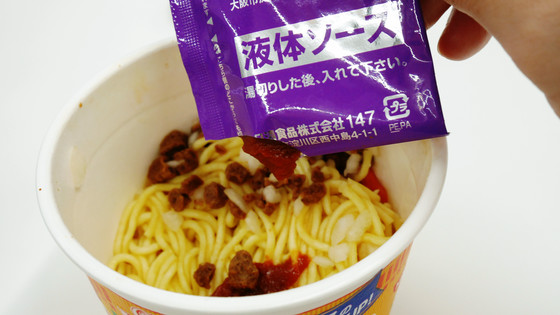 Then put the seasoning oil ......



Completion.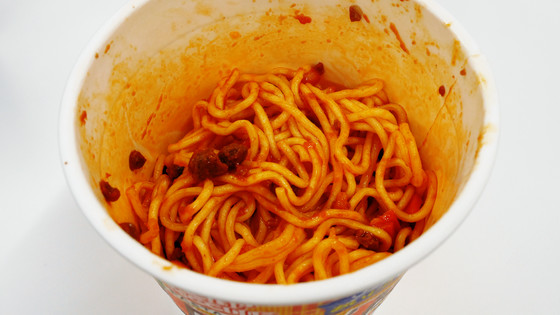 Ingredients in it are beef ......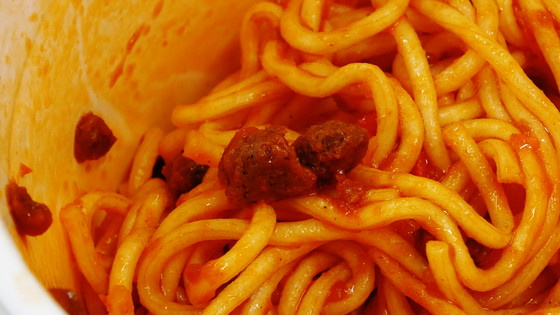 carrot.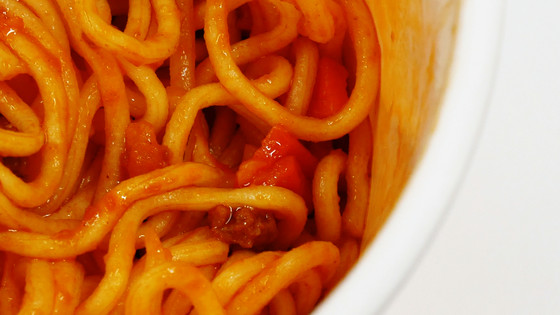 That's why I actually eat it, the taste is sweet and sour tomatoes, and the richness of beef is working well and good. In "Bolognese" before the renewal we used a powder sauce, but it seems that the tomato feeling has been improved by changing this to a liquid sauce. Although the ingredients are small, if the sauce is thoroughly mixed, the tomato and beef taste will spread throughout the whole noodles so that the response to eating is higher than "Japanese style tarako".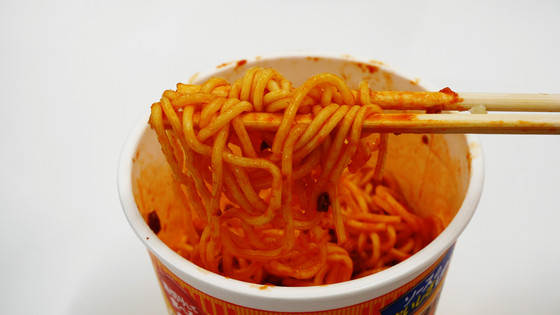 In addition, the newly released "Japanese style Tarako" and the renewed "Bolognese" will be released on November 2, 2015, suggested retail price is 198 yen per tax.