Motorcycle exhibited at Tokyo Motor Show 2015 Almost all models 112 photos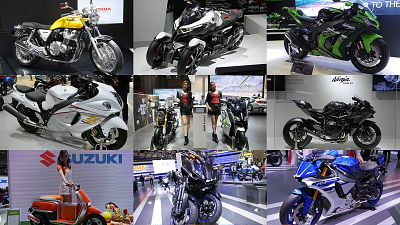 It is held at Tokyo Big Sight from Thursday, October 29, 2015 to November 8 (Sun)Tokyo Motor Show 2015Many four-wheeled vehicles as well as two-wheeled vehicles are exhibited a lot. From a number of concept models Kaya Racing Model to Commercial Vehicles, we have shot bikes that color the venue.

TOKYO MOTOR SHOW WEB SITE
http://www.tokyo-motorshow.com/

◆ Honda
Many bikes are exhibited at the Honda booth. Among them, the sports hybrid three-wheel concept model's "NEOWING". It has a front two wheels and one rear wheel, and it has become a model that achieves a cornering feel like a large motorcycle and a sense of stability at low speed at a high level.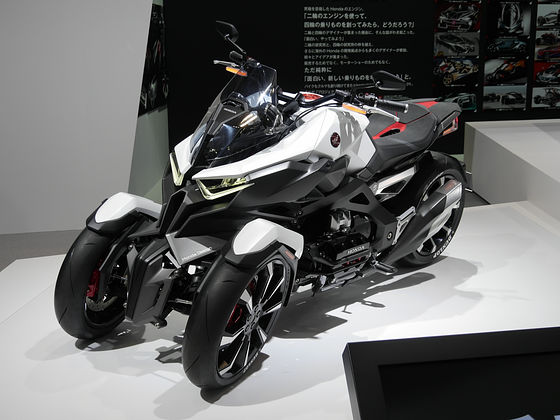 The front wheel suspension adopts a double wishbone suspension like a four-wheel sports car, and it has a completely different mechanism from Yamaha's three-wheel model to be described later.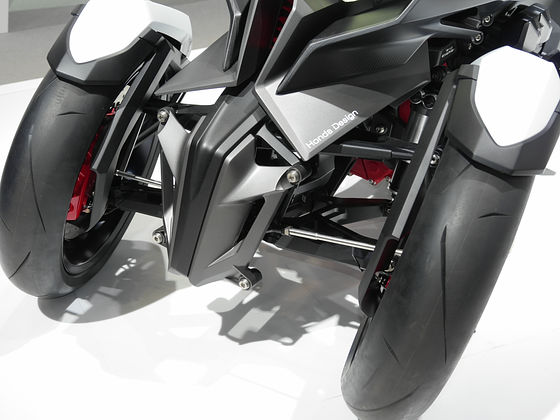 The power train has a hybrid system that combines a horizontally opposed 4 cylinder engine and a motor. By adopting a horizontally opposed engine, we are now transmitting power to the rear tire through a drive shaft.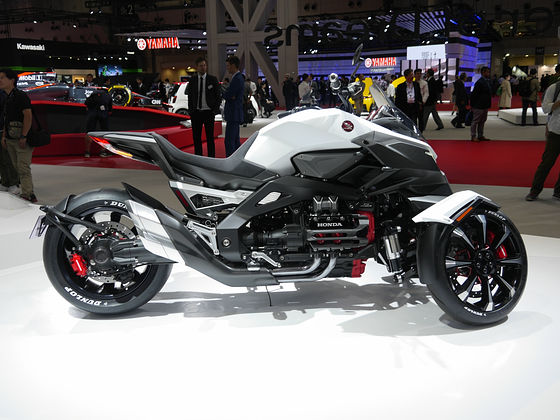 The impression that sporty exhaust pipe which super fatt rear tire and jumped up after the step is sporty.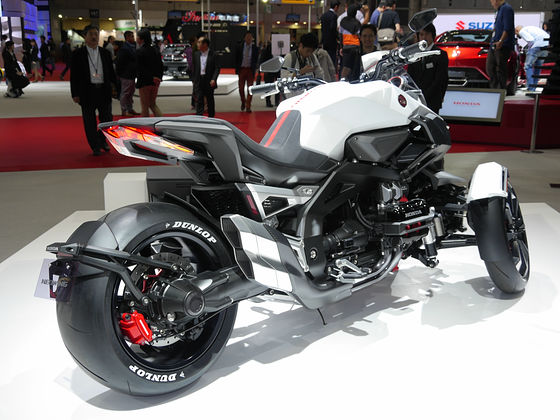 Suspension arm with complicated shape and mechanism of the front with a damaging damper. It is said to be a trike (a three-wheeled motorbike) that is compatible with the sporty cornering feel similar to a large two-wheeled vehicle and a sense of stability during low-speed driving.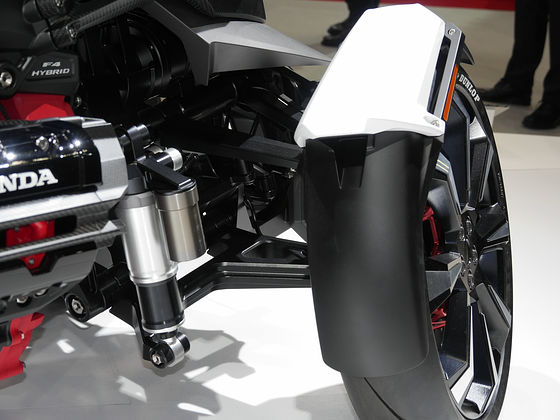 Honda's Works Machine was made public road specification as it is "RC 213 V-S"The actual cars are also being exhibited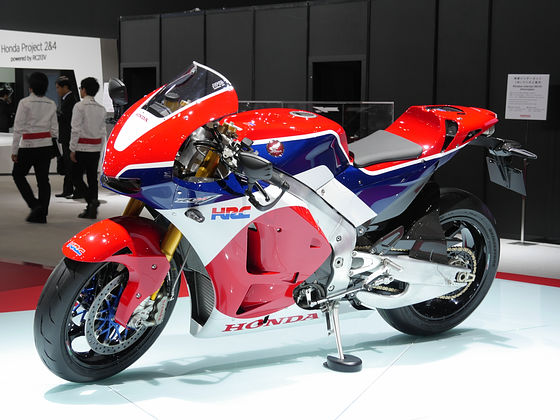 "A machine that runs fastest in the world" is a "machine that is easiest to manipulate in the world" "that is a motorcycle handed down from Honda that embodies Honda's idea, and its price is tremendous, 21.9 million yen.



At the venue, engine strip models were displayed side by side.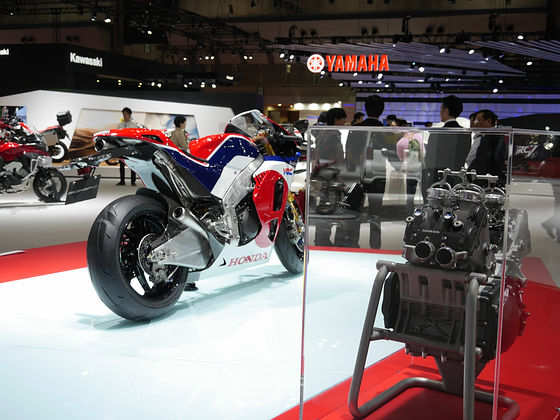 Rumored to be "the next CBR design"Light Weight Super Sports Concept(Lightweight Super Sports Concept) ".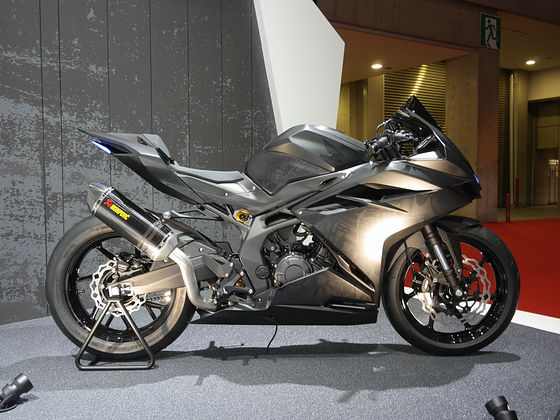 According to the concept of Honda's "next-generation super sports with a feeling of speed with a crowching style that was set low at the long nose, it is a speedy feeling", comfort has been designed in a secondary order as it is a motorcycle devoted to being sporty anyhow And that.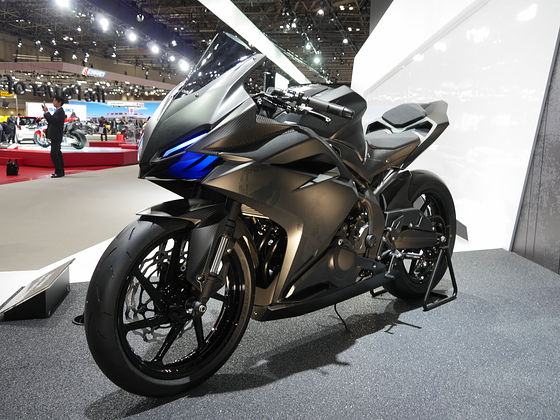 As usual the seat also has to be called the "pad" level. In exchange for comfort, it was a motorcycle that made us feel pretty light and comfortable running.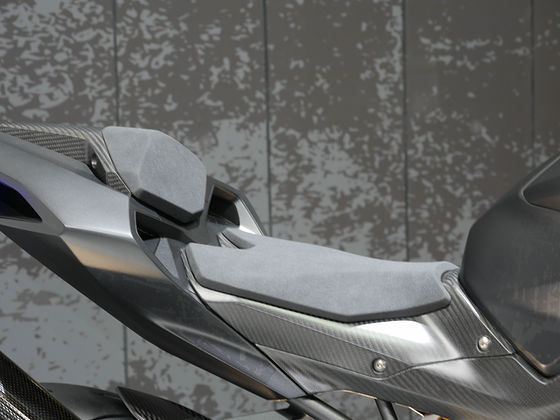 Speaking of a Honda-rich bike, I can not forget the CB series. "Concept CB"It is a model that deepened its charm.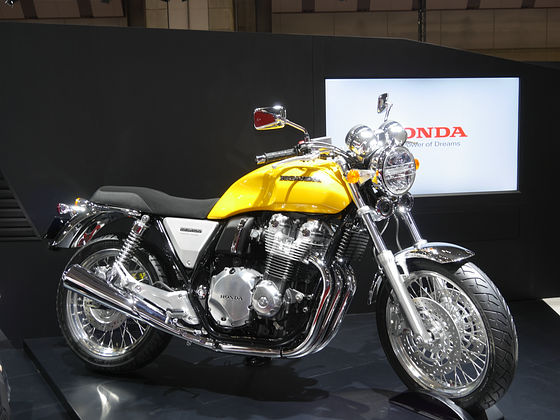 Based on CB 1100, it is a model deepening "tradition · advanced · air cooling" with keyword, round eye one-eye headlight which adopted LED, short muffler with deepness of light feeling and sound quality, model beauty by flangeless manufacturing method It is said that it is a model that fascinates adult riders, such as a fuel tank pursuing.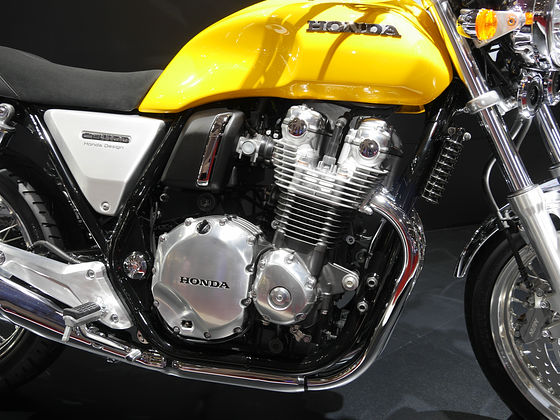 Based on CB 1100CB 1100 customization concept"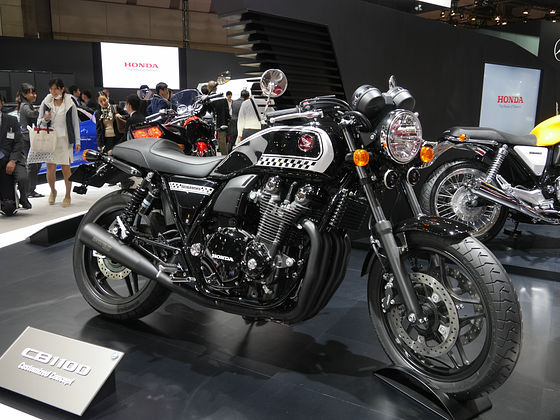 CB 1300 SUPER BOL D 'OR customization concept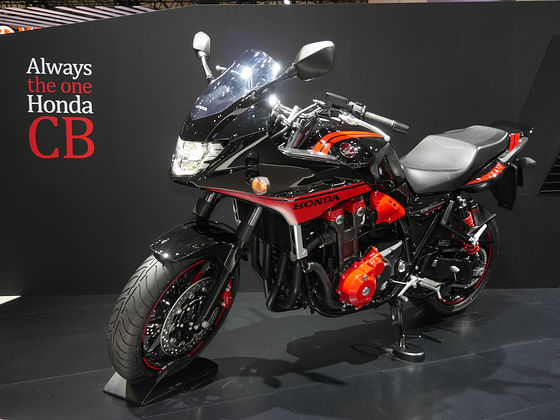 CB 400 SUPER BOL D'OR Customization Concept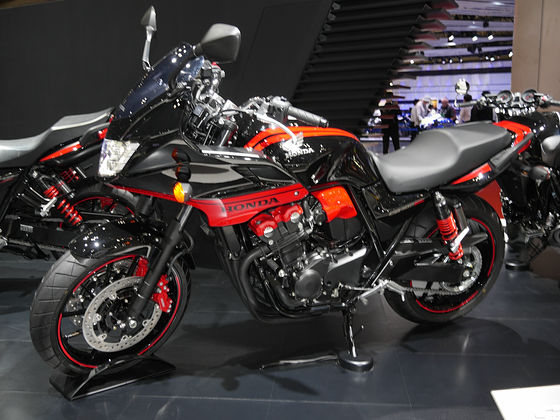 "Dakar Rally 2014 (Argentina, Bolivia, Chile)" participated in the actual race vehicle "CRF 450 RALLYAlso exhibited.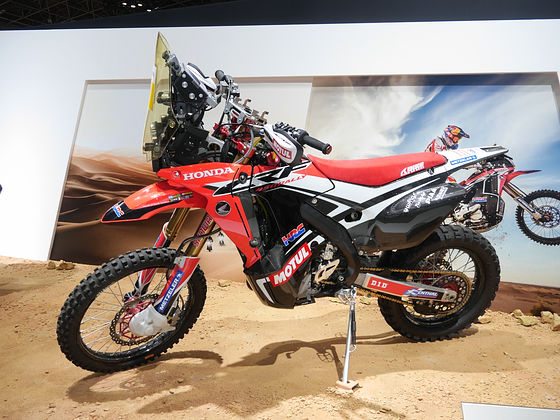 Holder for the map etc is also left as it is.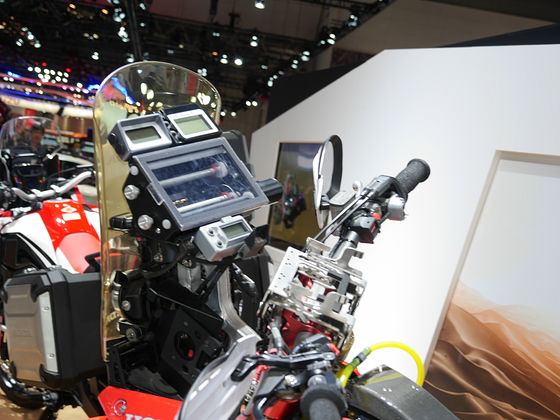 To inherit the lineage of Honda's rally raid bike "CRF 1000 L Africa Twin"Is a model scheduled for future release.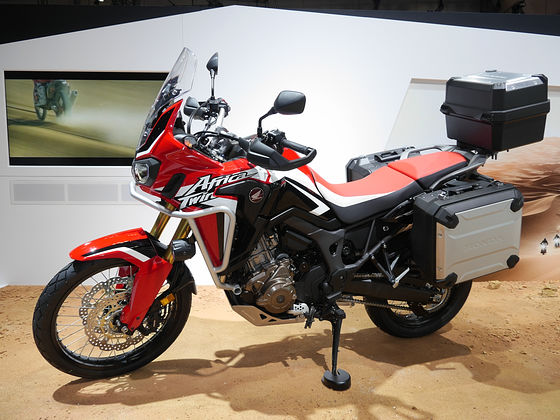 A model to be launched that will revolutionize the appearance and embody the crossover concept that combines different values ​​of on-road and off-road in a high dimension "NC 750 X".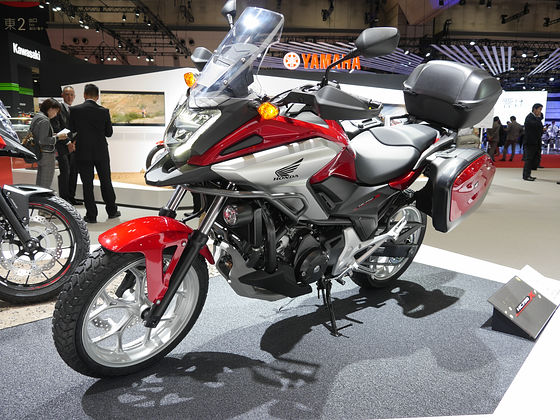 Become brother car "400XAlso exhibited.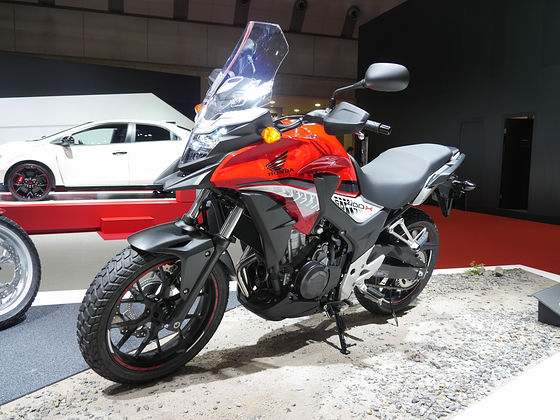 The figure of "VFR 800X" already on the market is also.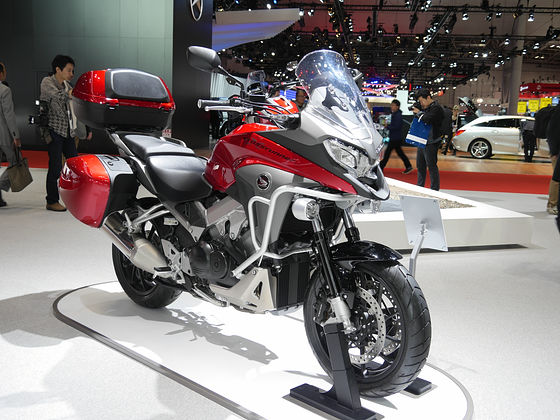 Concept bike that can taste the enjoyment of GROM even with mopeds "GROM 50 Scrambler Concept - One"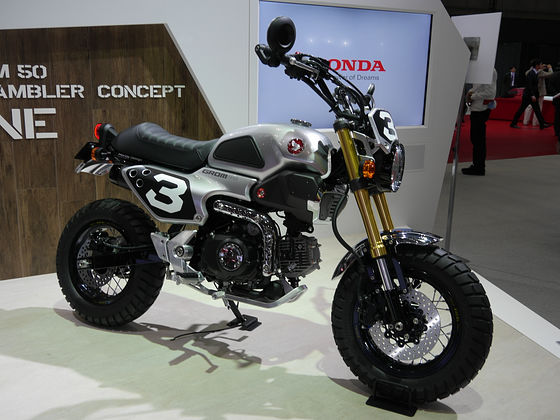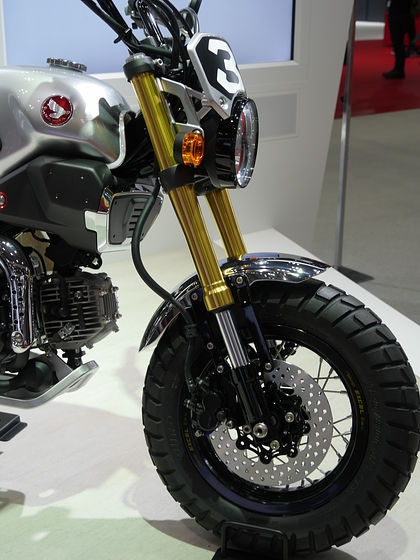 "GROM 50 Scrambler Concept - Two"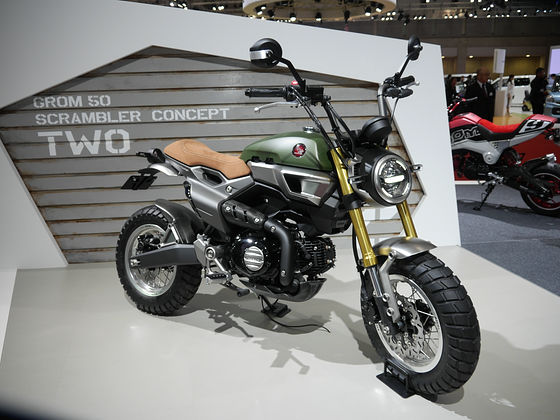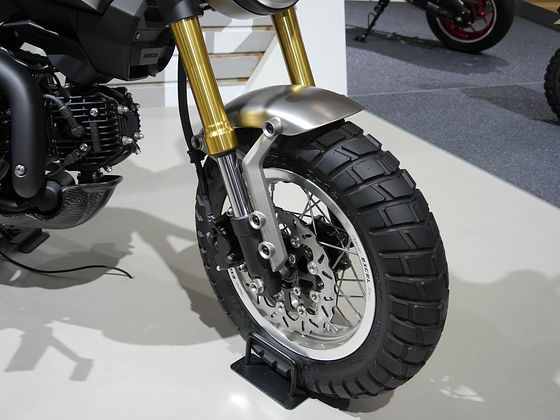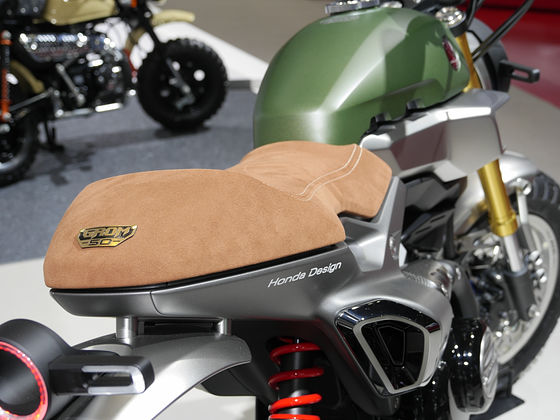 Customized concept of 125cc road bike "GROM" which is current vehicle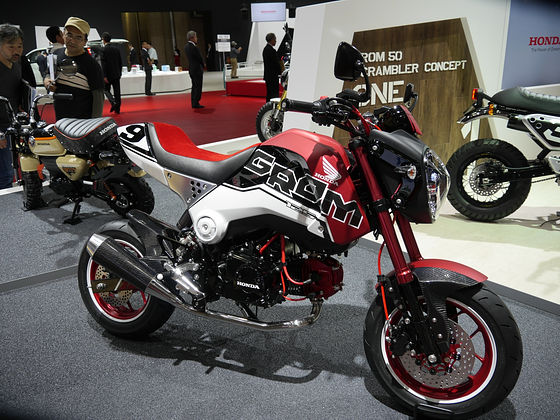 "MonkeyScheduled market model of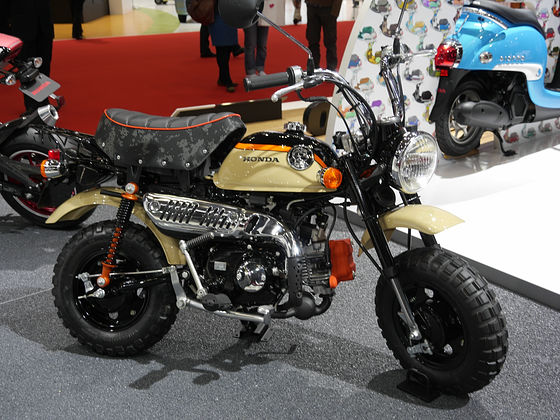 Personal commuter for short-distance movement that inherited the idea of ​​"easy-to-handle and economical motorcycle" continued from the first Super CubEV-Cub Concept"And the engine model"Super Cub ConceptTwo units.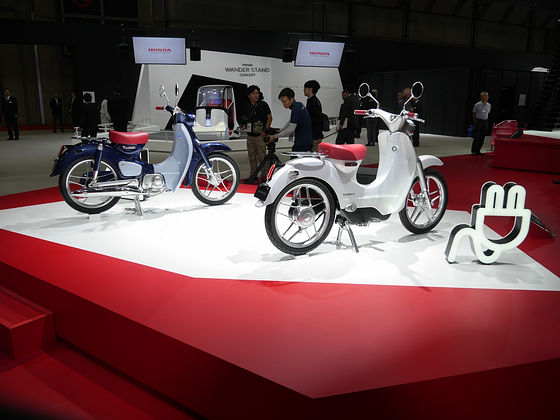 The EV - Cub Concept places the battery, which is a heavy component, at a low position in the center of the car body, ensuring excellent getting - on and getting - off and pursuing ease of handling, concentrating the mass and lowering the center of gravity.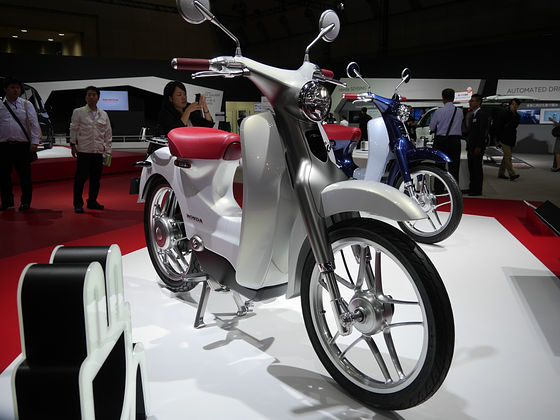 In addition to being able to charge with a household outlet, the battery itself is removable, it seems that it is considering usability in a wider situation.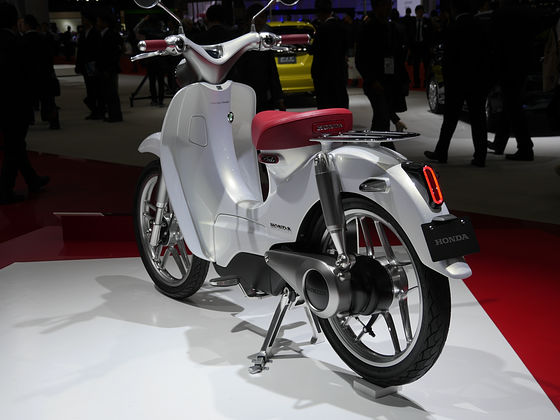 Rear adopts cantilever suspension.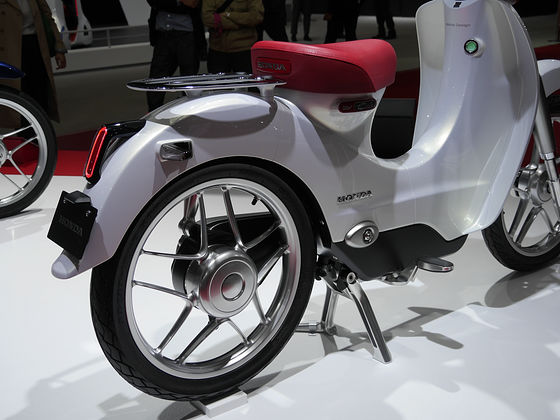 Super Cub Concept is a model with a design that goes back to the origin of successive "Super Cub".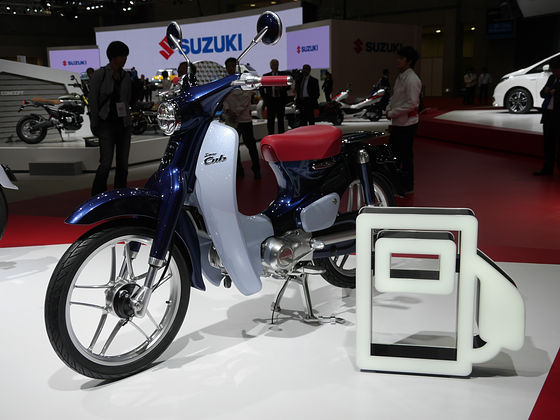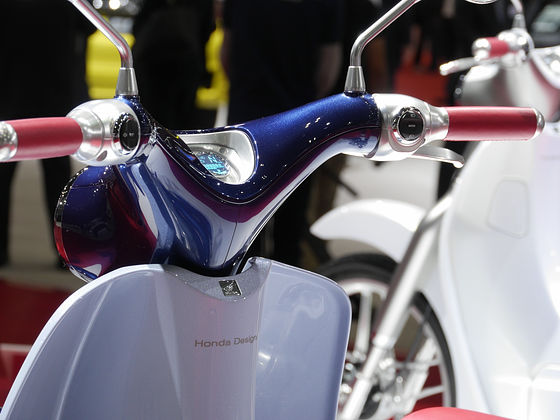 It is a design that recognizes it as "Super Cub" at a glance, with a motif of gentle curved surface keynote like the first Super Cub.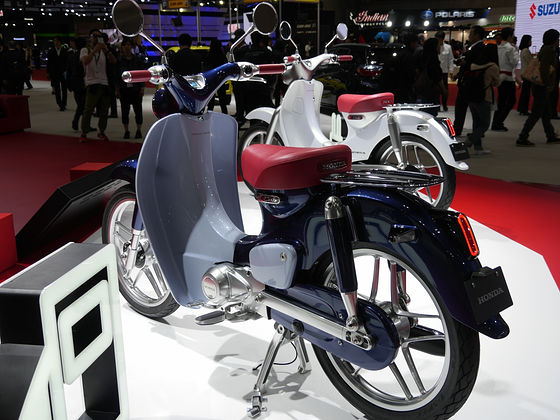 "PCX 125 customization concept"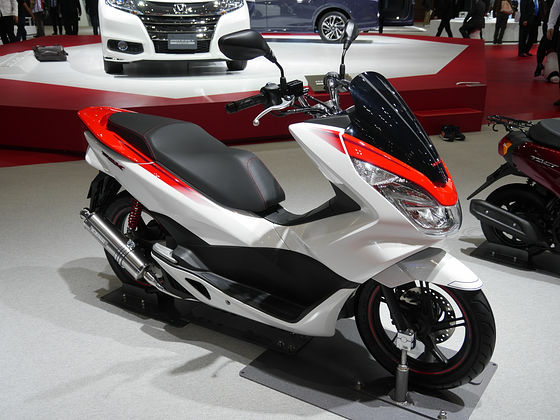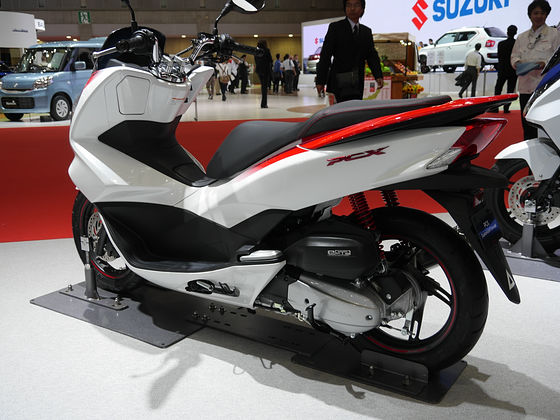 "Overseas sales model"FORZA 125"(Reference exhibition)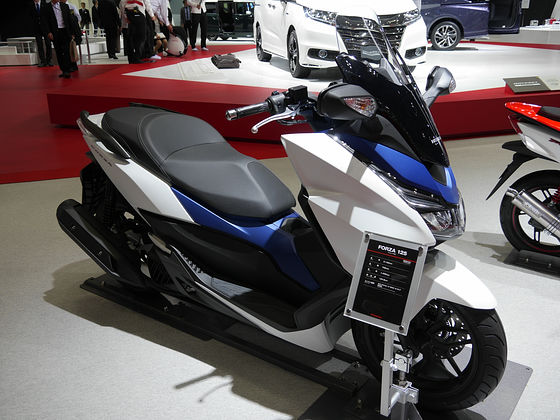 "GiornoThe exhibition of "Jorno" is unusual.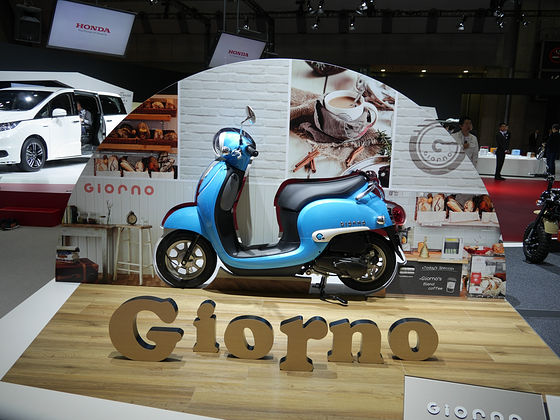 Half of the car body painted on "Pearl Mermaid Blue" is embedded in the panel ... ...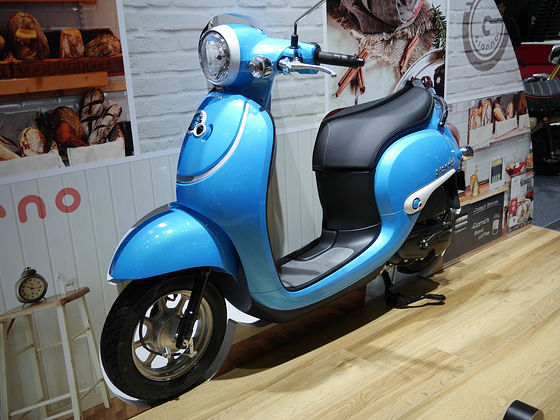 The opposite side is like this.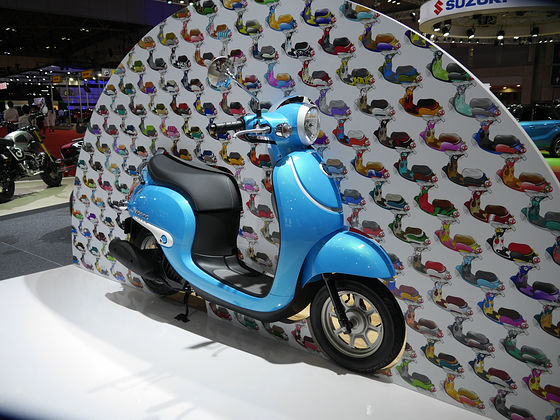 "Pearl Jasmine White" color body was displayed as usual.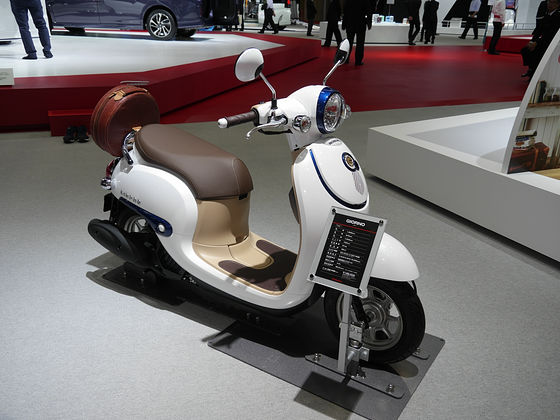 ◆ Kawasaki
At the last show of the motor show in 2013Mitsubishi Electric Vehicle "J" too Future-OrientedKawasaki who brought in the supermarket with a supercharger this time "Ninja H2RExhibit such as.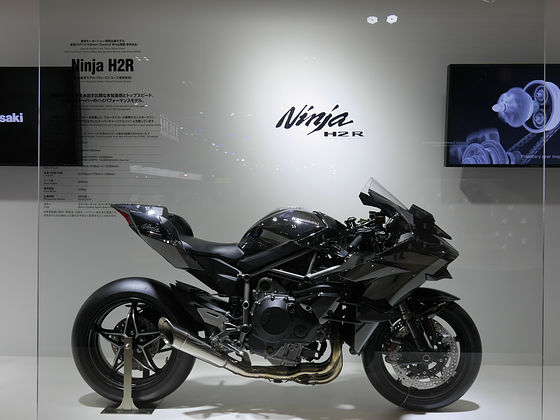 This model has become a closed-track exclusive vehicle that can not run on public roads, and the manufacturer's suggested retail price is supermarket with 5,720,400 yen including tax.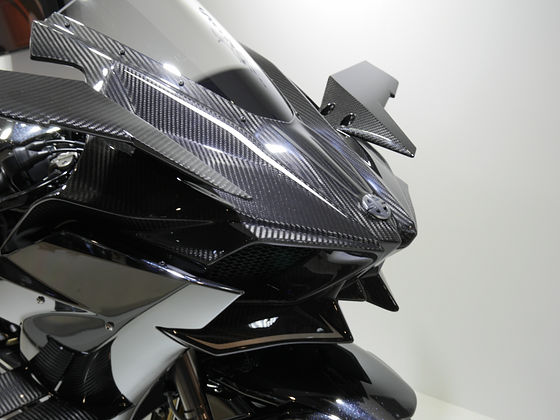 The cowlside is equipped with a wing aiming at aerodynamics.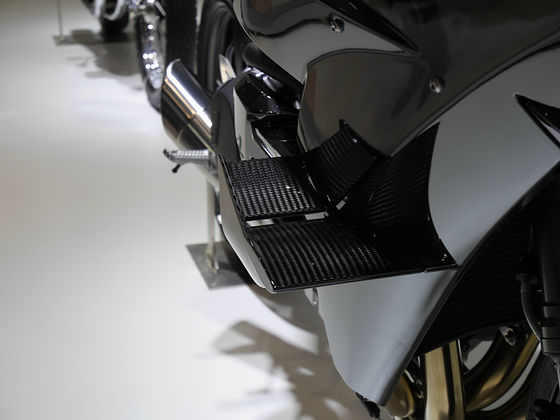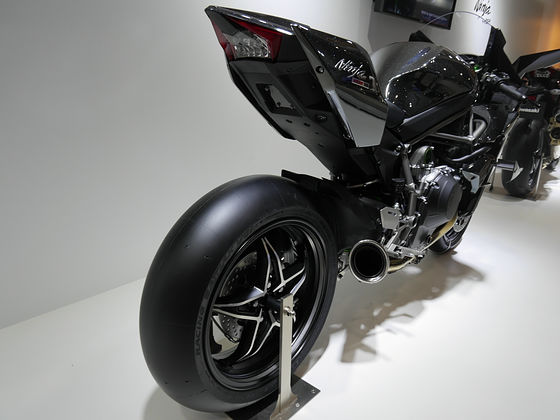 Ultra fat rear tire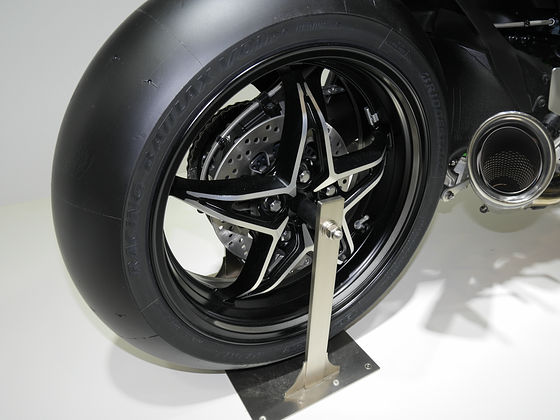 "SUPER CHARGER" character indicating that supercharger is mounted to demonstrate super power. At the time of addition + ram charge, it is the engine which squeezes the power of the super class of 326 ps at the maximum.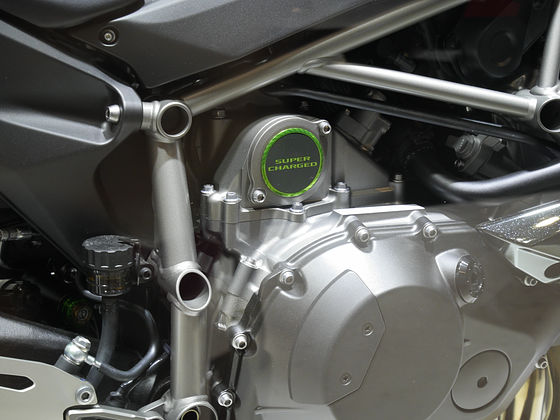 An engine model showing the movement of the supercharger was also placed.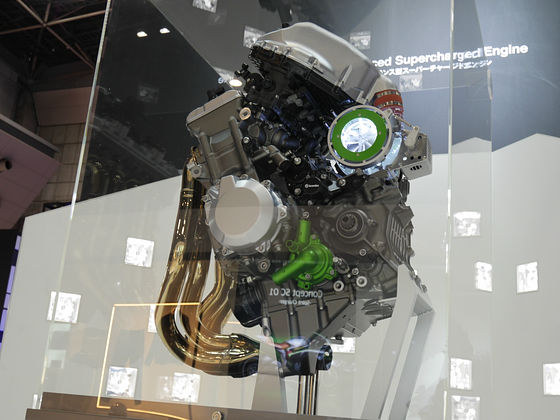 Next to that is "Ninja H2Also the figure of. Domestic specifications are not line up, it is a super bike that can be purchased with a re-import car.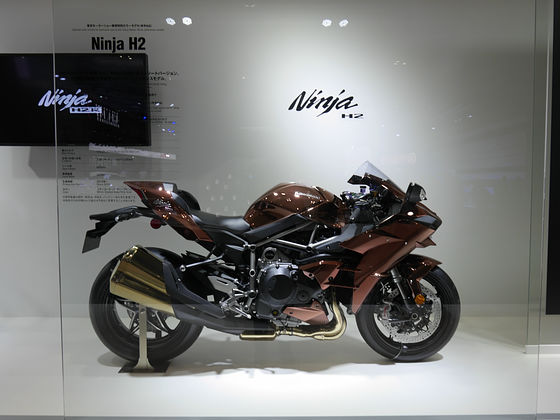 Add the lights to the public road specification, keeping the H2R molding. Coloring is also in a state where painting has been carried out beautifully from the state where the carbon ground is exposed.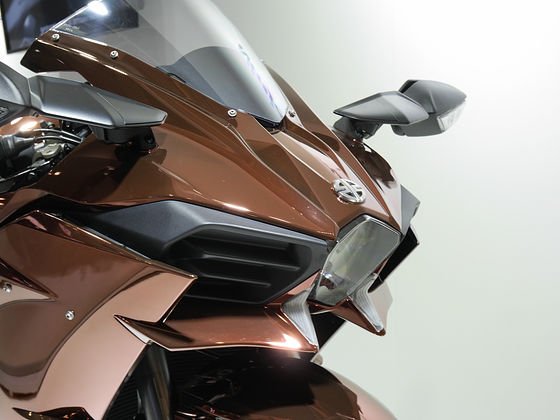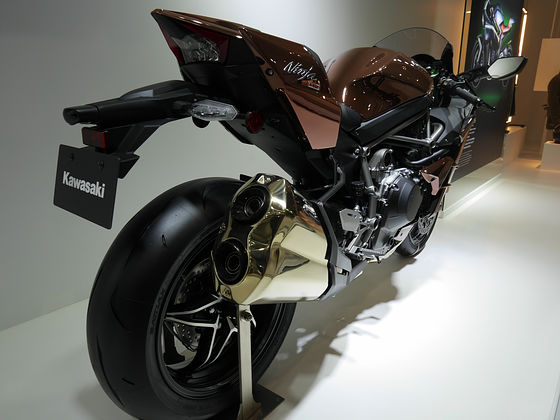 Next to H2R and H2, the famous car of the former year of Kawasaki "Z1(Oversea name: 900 Super Four) "was also placed.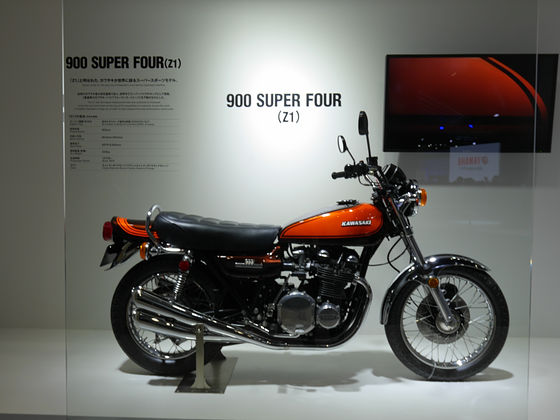 In addition, as a proposal of a lifestyle that the motorcycle forms, collaboration jackets with the magazine "LEON" and the fashion brand "junhashimoto" and leather items by collaboration with "Somes Saddle" are also exhibited.



"Japan's first public exhibition at this show"Ninja ZX - 10 R ABS (KRT Edition)". Based on know-how at the Superbike World Championship which won the annual champion of 2015, it is a model pursuing high circuit performance even in commercial models by improving the engine, chassis, electronic control function.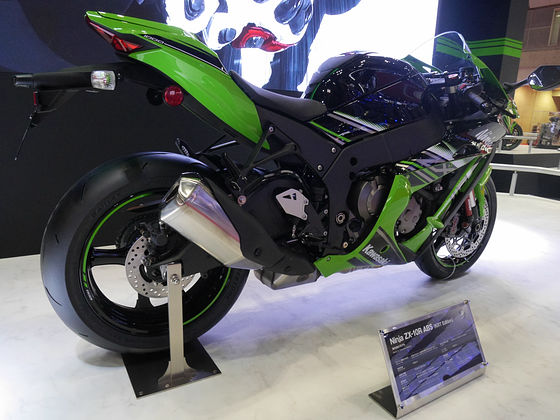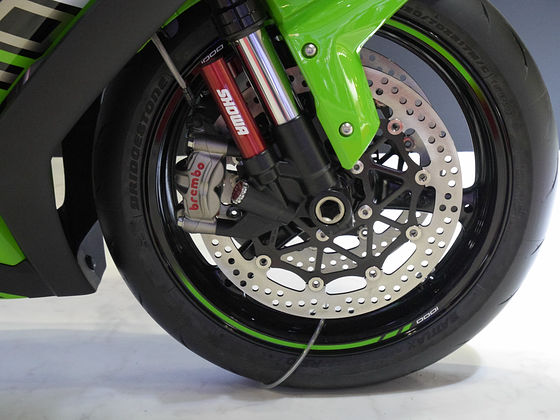 The model which stripped down the cowl is also exhibited.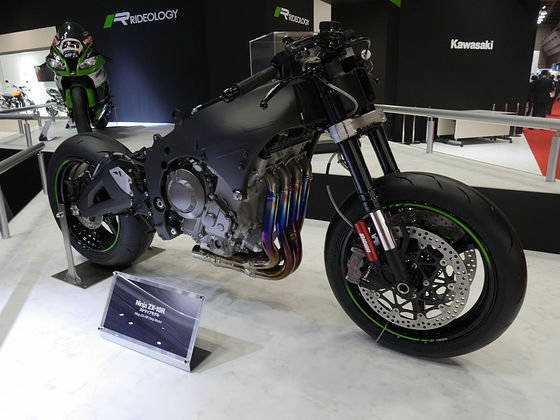 You can see the rear dampers etc offset to the right from the center of the car body.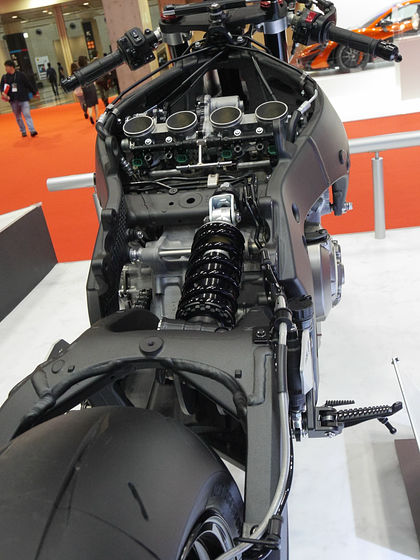 Flagship model which becomes maximum displacement amount of Ninja series "ZX - 14 R ABS (High Grade)". This is also the first public exhibition in Japan.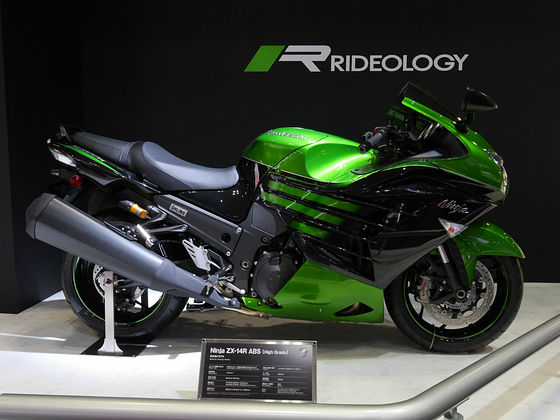 Anyway wherever I looked it was styling full of power.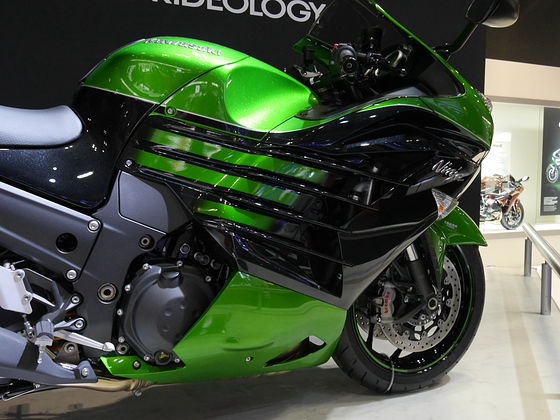 And the machine that won the championship at the Superbike Championship "Ninja ZX-10R"Is also exhibited.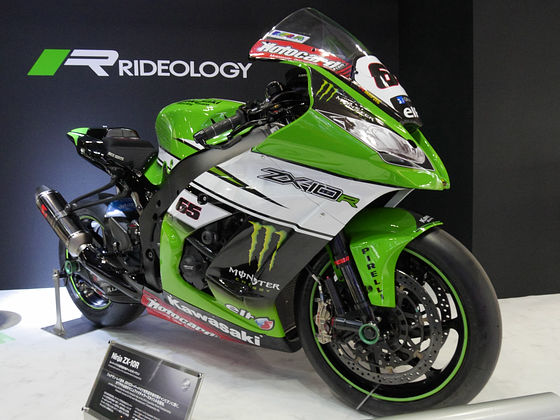 The headlight was reproduced with a decal.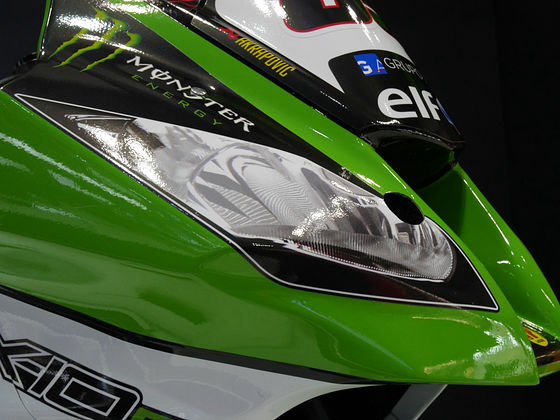 In addition, the third Japan's first public release "Z125 Pro". It is a model that is suitable for street riding which can run through the city with equipment such as high tension steel pipe backbone frame, inverted front fork, front and rear pedal disc brake, etc., as the Z series's minimum displacement model bike.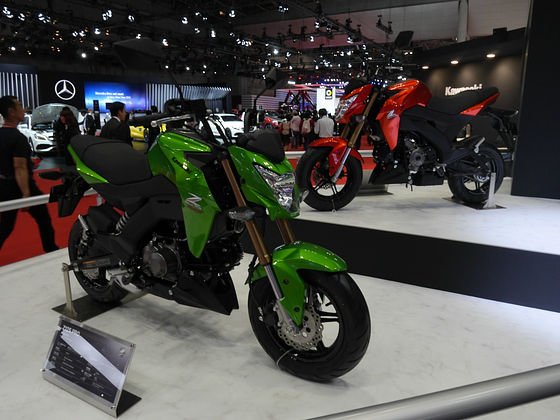 ◆ Suzuki
In the Suzuki booth, the concept object expressing the spirit of Suzuki two-wheeled sports "Concept GSX"Is placed.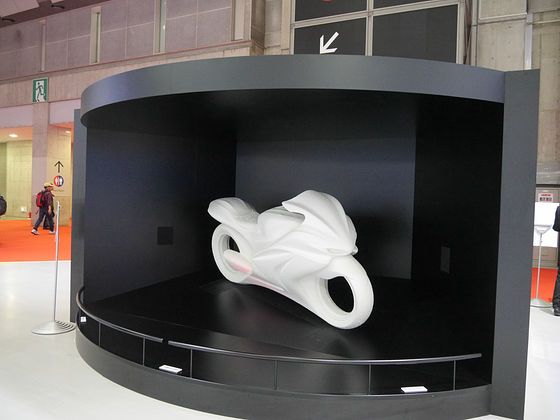 With molding like texture like Japanese paper, the light that stuffs inside it makes me feel like a living heart.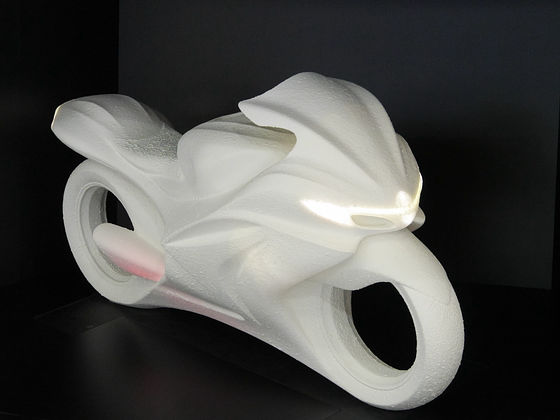 Behind such an object, Moto GP machine which becomes the highest peak of Suzuki two wheel sports "GSX-RR"Is on display. Not only is GSX - RR placed, but it is also possible to see how far it straddles it, so it is essential to check it when you visit the site.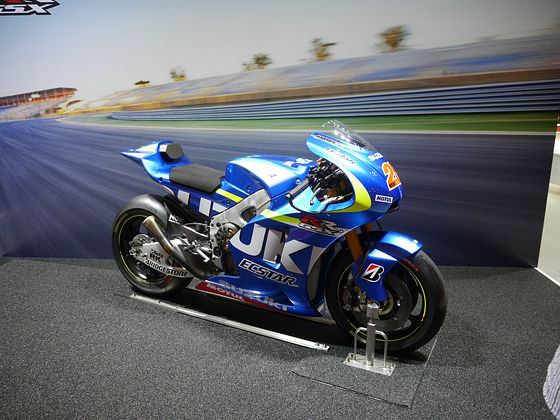 Speaking of Suzuki's sports bike, "GSX-R1000 ABSThe 30th anniversary color of the exhibition.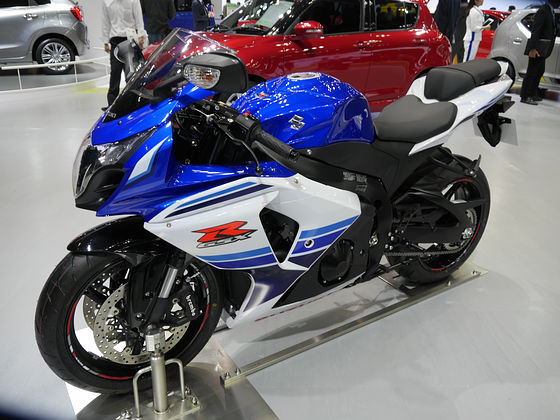 And, aiming at "the ultimate" of public road bike "Faint(Hayabusa) "is also exhibited.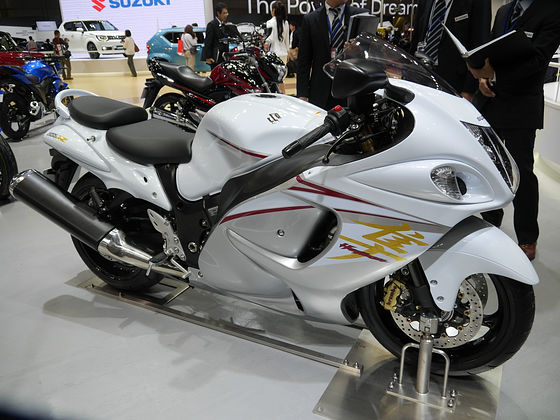 In a slightly different place, the 150cc road sports bike which was awarded 13 Indian bike of the year, which was released in India in August 2014 "GIXXER(Dixer) "as well.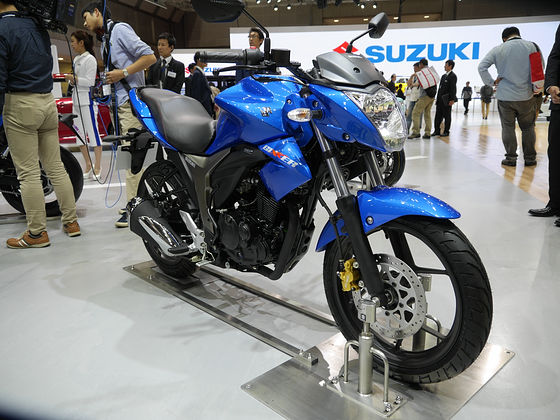 There are two kinds of concept bikes exhibited by Suzuki. Here is a scooter that you can play without feeling unlikely, you can easily carry baggage, "HUSTLER SCOOT(Hustler Scoot) "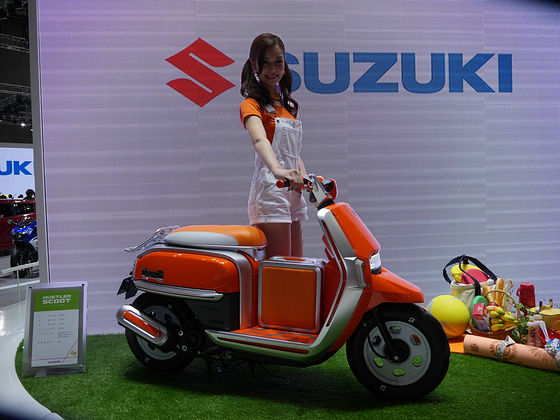 In addition to the conventional storage space under the seat, it is also equipped with a storage case that can be removed and carried also in the foot space before the seat. Besides this, ingenuity that loads can be loaded also on the rear carriers and the car body is given. Furthermore, if you remove the storage case, you can also load long items like tennis rackets.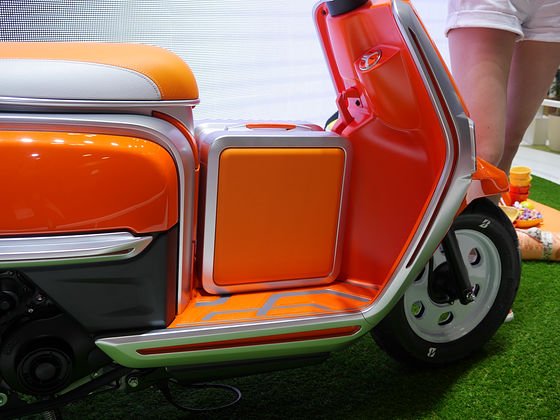 In Hustler Scoot, meaning that it means a model that stimulates playful spirit along with "Hustler" hit by four-wheeled vehicles. Pop coloring like "Hustler" also takes over that image.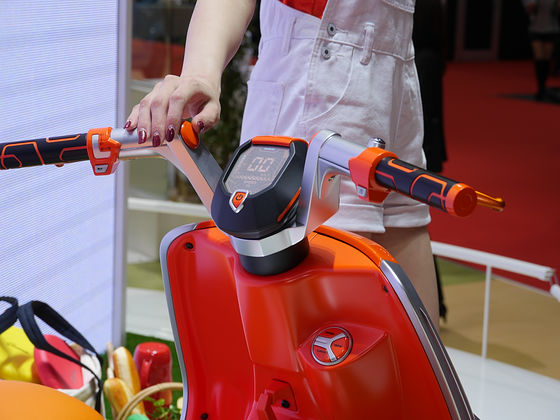 Another concept bike, 50cc moped cross bike of 50cc form that made it easy to rideFeel Free Go!(Feel Free Go!) ". It is a proposal of moped cross bike which made the form of pleasure which can ride freely with light style of styling with motif of cross bike of bicycle form.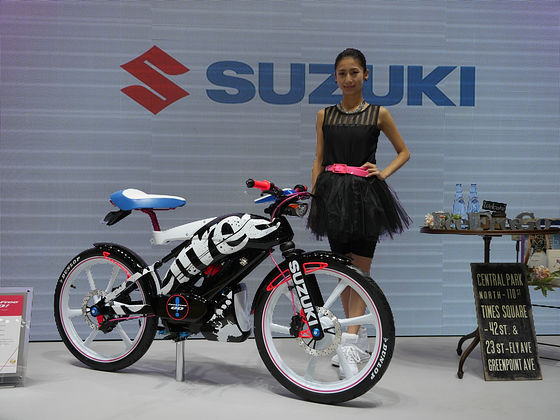 In the commercial model, the adventure tourer modelV-Strom 1000 ABSYa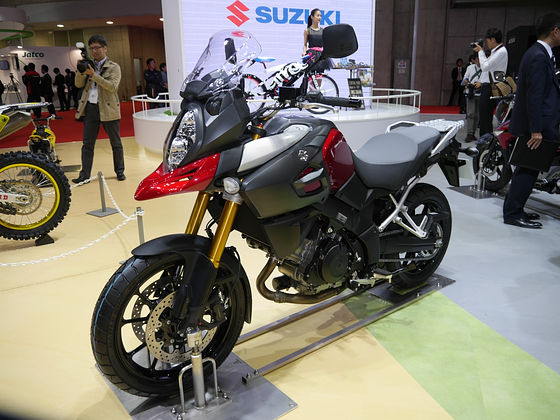 Street bike born from circuit-born GSX-R1000 "GSX-S1000FExhibit such as.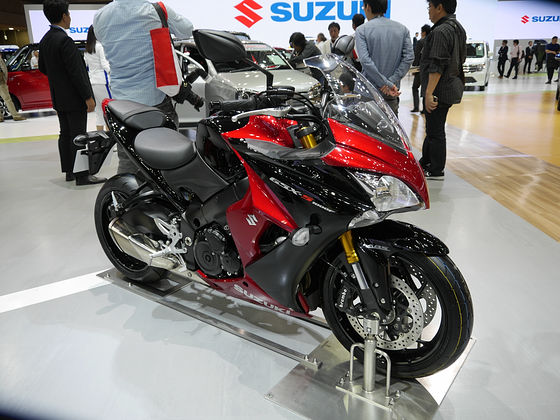 Also, at the All Japan Motocross Championship in FY2015, the machine which won the first ranking and second place in the year "RM-Z"Is displayed.



RM-Z children's competition car "DR-Z50"Was also exhibited.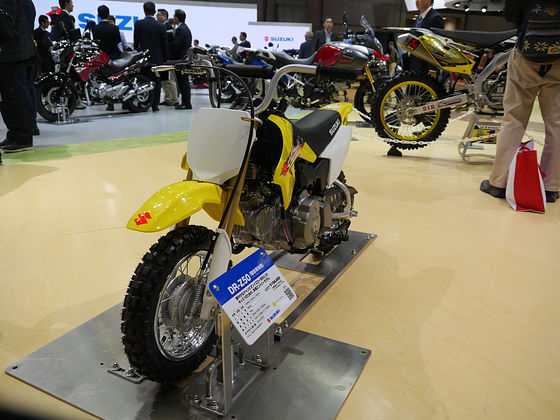 ◆ Yamaha
It is no exaggeration to say that you opened up the genre of 3 wheel bikes In Yamaha's booth, the learning multi-wheel which creates a new category of sports mobilityMWT-9"Is displayed.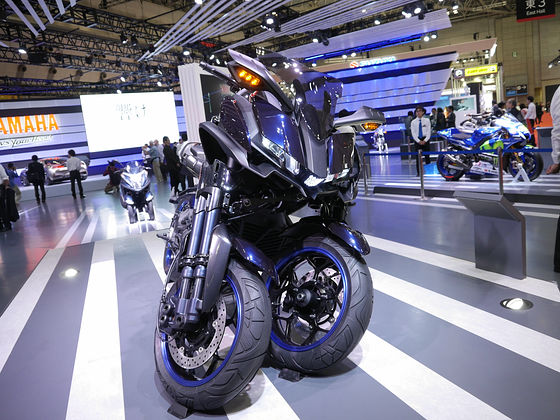 This motorcycle is a model created aiming at "Cornering Master" to redefine cornering in sports driving, pursuing high sports property that freely runs on winding road where tight corner continues one after another, changing circumstances And that.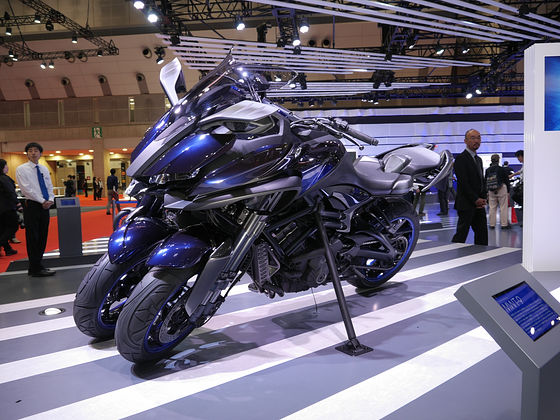 Looking diagonally from behind, the form feels what goes with the sports bike.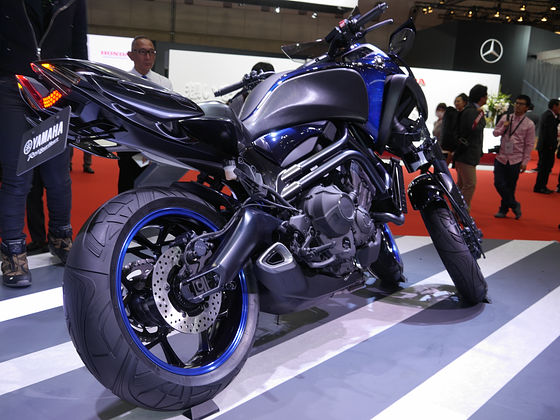 Having two shock absorbers per wheel, making it compatible with the road surface by making it two front wheels, achieving overwhelming cornering at the tight turn-in from braking and front tire feeling at cornering, He said that he can experience the ease of driving ever.



This is a road sports model based on the concept of "late fusion"Resonator 125. It is a car body pursuing a lightweight, slim, compact sports property called the Yamaha tradition, and it is said to be one unit that a wide range of bike fans can enjoy.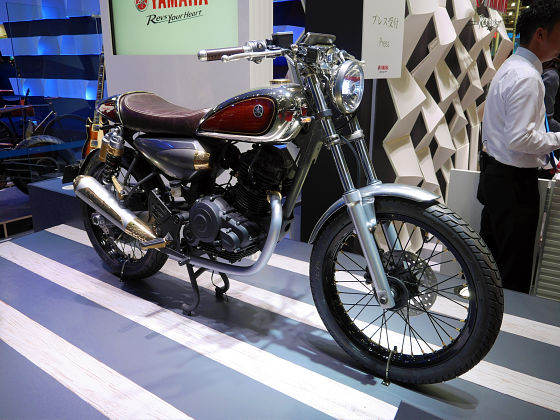 As another concept model, the concept model of the electric motorcycle "PES 2And ...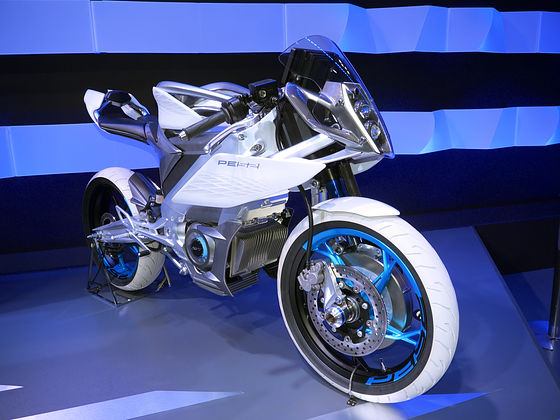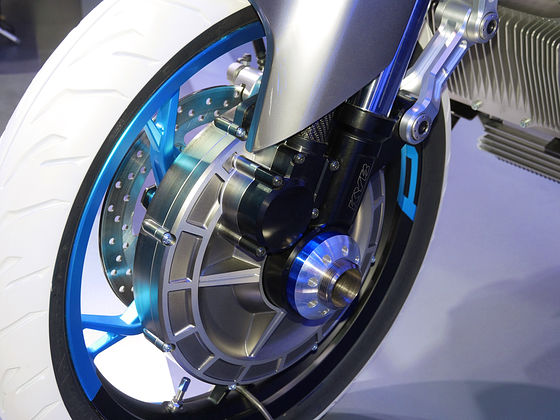 Off-road type "PED 2" is exhibited.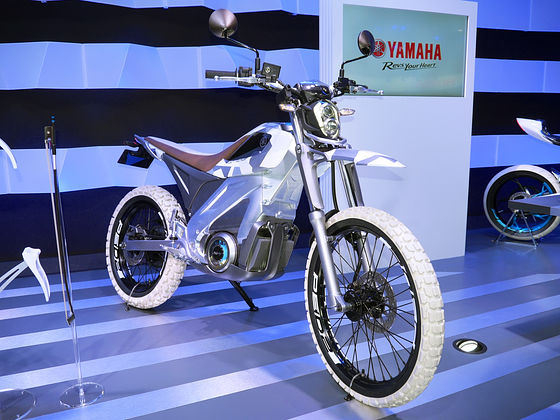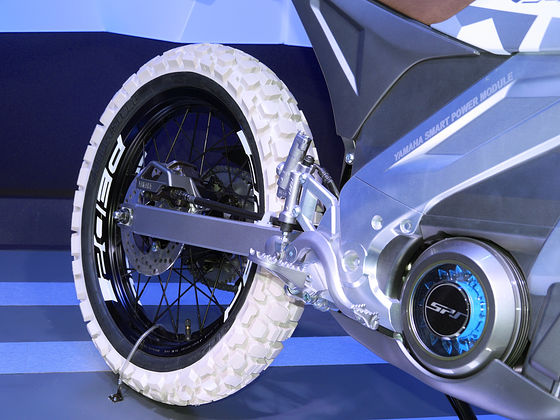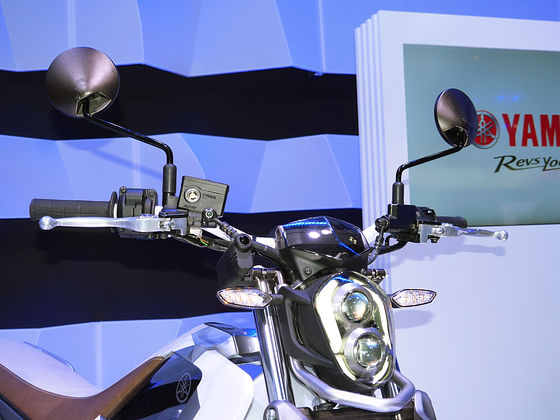 In a more unusual place, a human type autonomous riding robot capable of manipulating a motorcycle across "YZF - R1M"MOTOBOT"Is on display.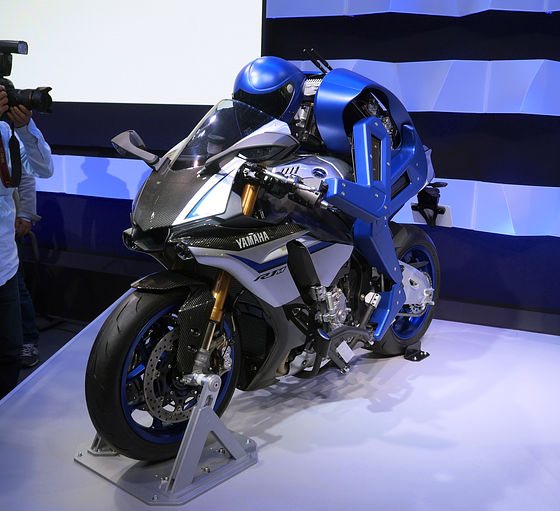 In addition, many commercial bicycles were exhibited. This is Yamaha's flagship sports,YZF-R1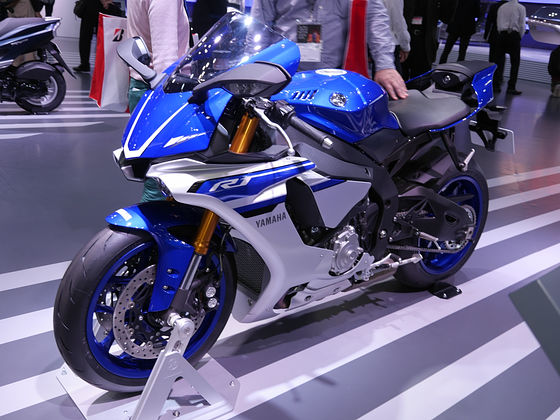 YZF-R3 ABS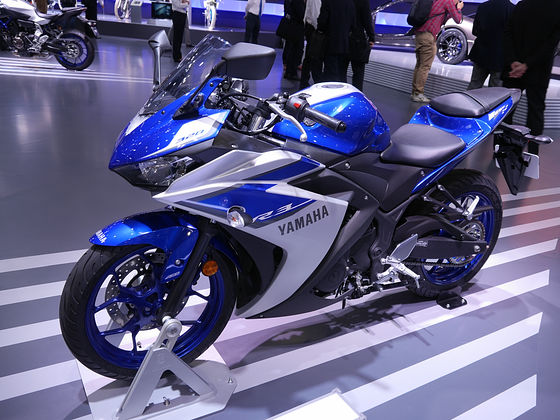 VMAX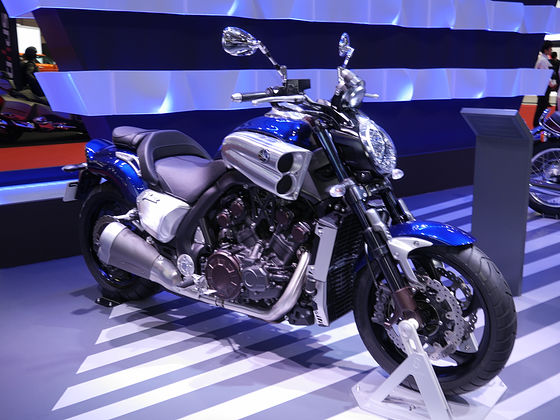 MT-09 TRACER ABS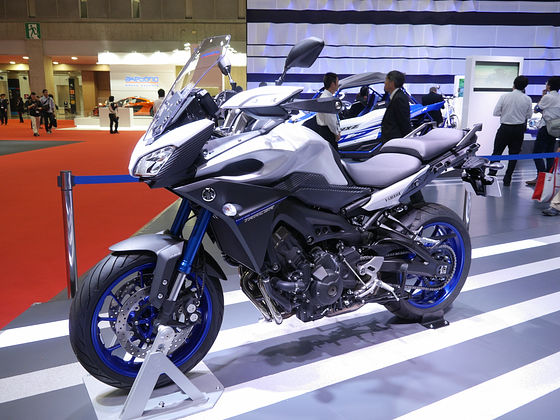 MT-07 ABS



MT-03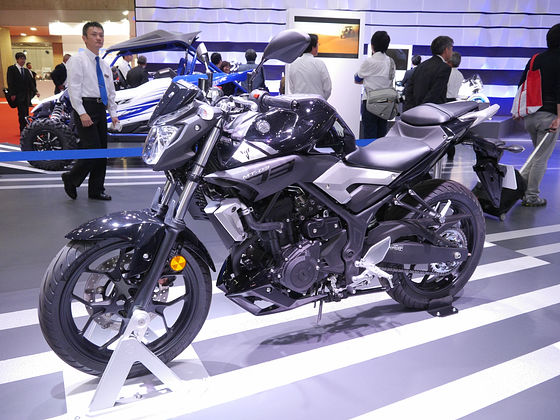 TMAX 530 ABS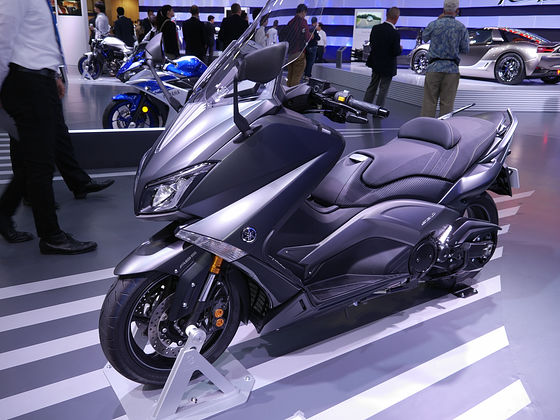 NMAX 125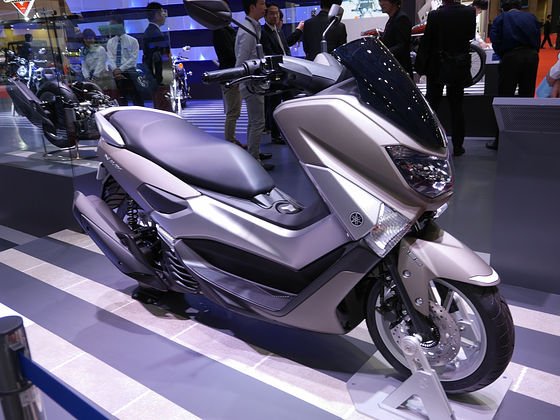 In addition, in front of the Yamaha booth, Valentino Rossi's real machine which fought Moto GP was also exhibited, and since Rossi can actually cross the machine that fought GP, the bike lover came It seems to be said that you need to keep it.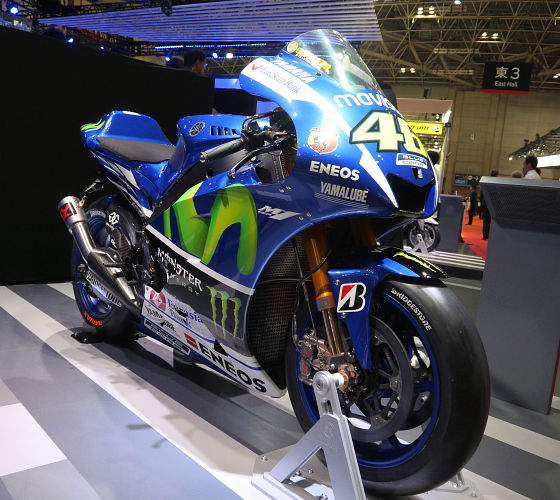 ◆ BMW
At BMW's booth, three commercial models and one reference exhibition car are exhibited.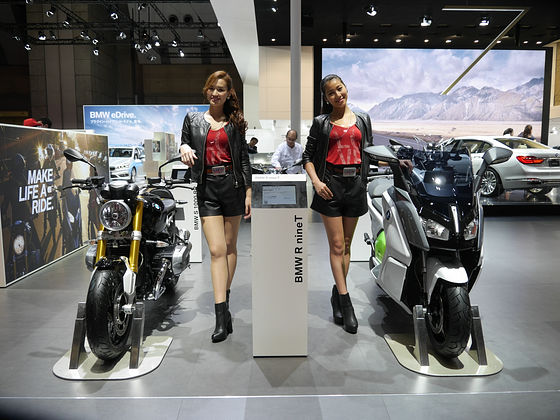 The reference has been exhibited, the company's first electric scooter "BMW C EVOLUTION". It has a motor with constant output of 11 kW and maximum output of 35 kW, with a maximum speed of 120 km / h.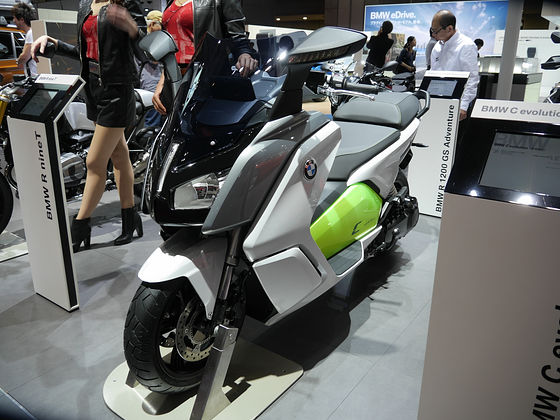 It looks like an ordinary scooter, but it is fresh that there is no muffler on either side of the car body.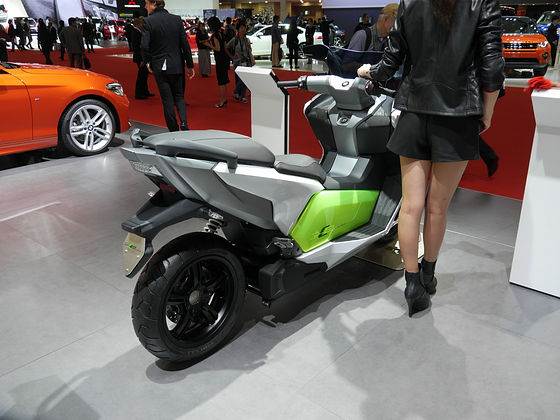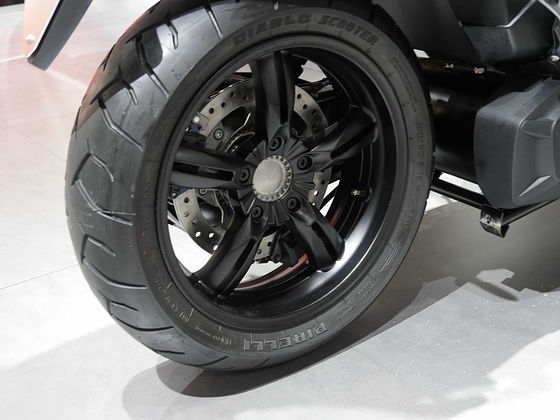 It is possible to travel up to 100 km with one charge and that full charge is completed in 3 hours even from the battery empty state. Charging at the household power source and charging station is enabled.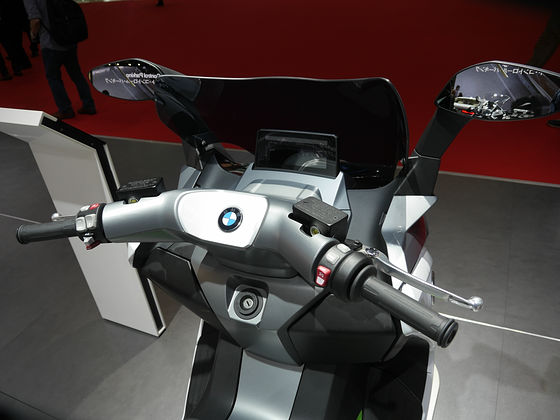 The two colorful inverted dampers gather an eye 'R nine T". The cylinder head of the engine which protruded beside makes a distinctive force.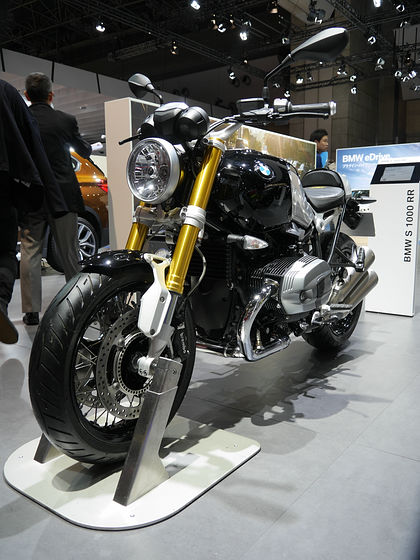 Body with mixed old and new atmosphere called thick muffler and tire in the frame full of classic feeling assembled by pipe.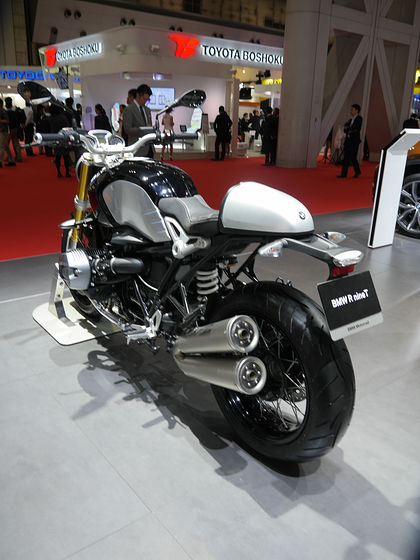 The rear tire is driven by a drive shaft.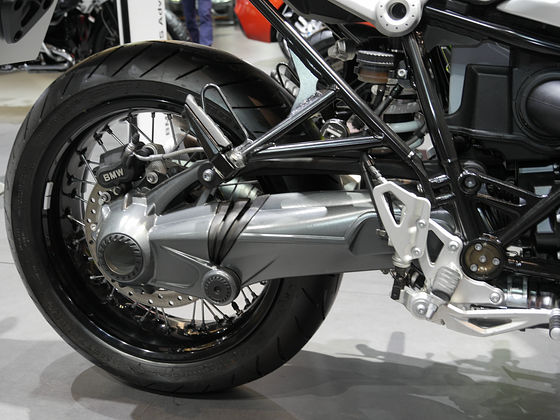 From around a simple meter based on a 2 meter meter of speedometer and tachometer, the old-fashioned retro atmosphere drifts ... ...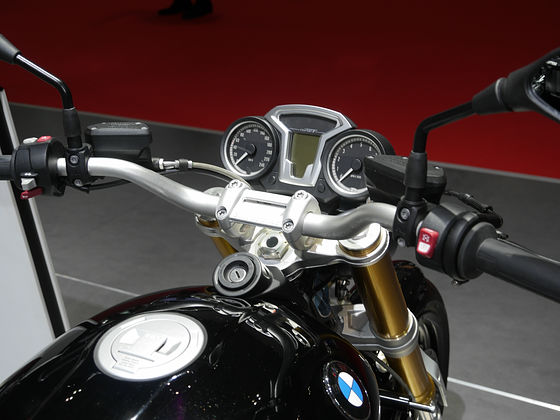 On the inverted suspension of the buzzing front, equipment equipped to make the Brembo caliper and large diameter disc running feeling was sought.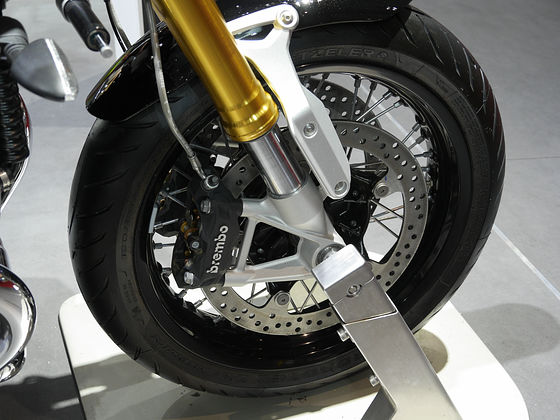 BMW has entered the 1000cc super sports class "S 1000 RR"Model changed to the 2nd generation in February 2015.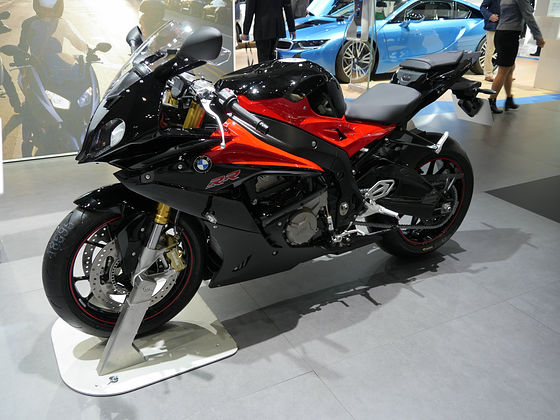 One unit that stuck to performance even though I abandoned the identity of the BMW motorbike, which is a horizon opponent, Tadasuma was super sports itself.



"R 1200 GS AdventureIs a model that carries out all on-road and off-road.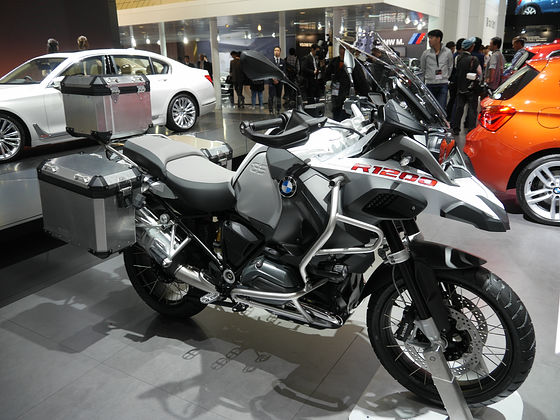 If equipped with an optional luggage system, it can be used as a large capacity luggage of 112 liters.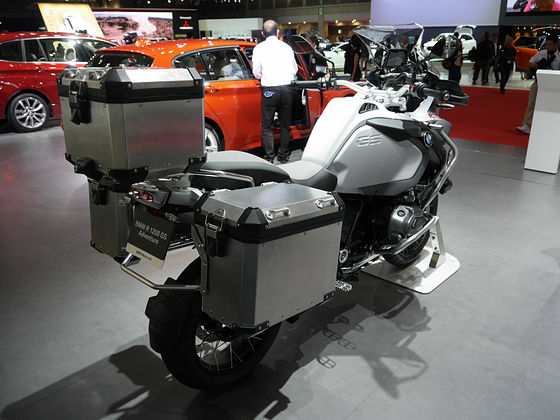 Rear suspension is cantilevered type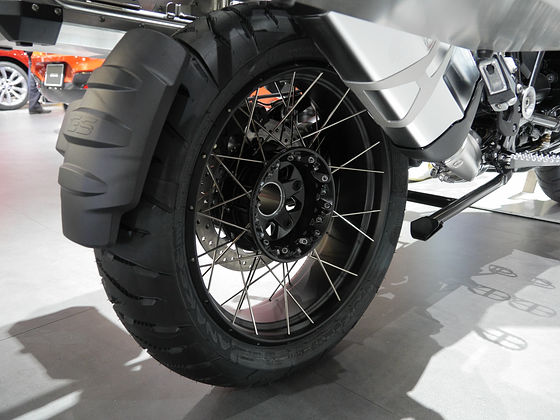 Using LEDs, it became a distinctive front mask, including lights of × 2 rows, × 2 highs, and lights of position × 2.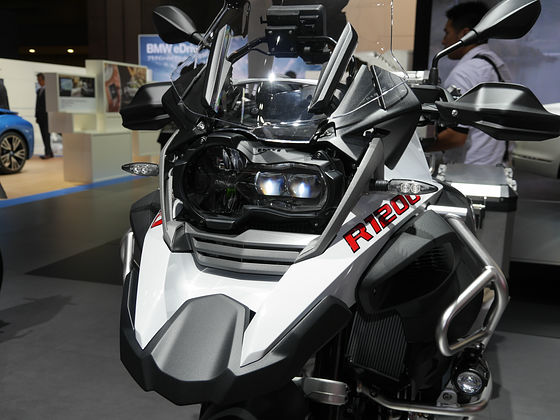 Like this, at the Tokyo Motor Show 2015 venue there are about 60 bikes on display. Not only those who want to see the bike, but also the main car was able to see lots of interesting car bodies.