While trying to eat Halloween limited "Donbobi Black Curry Udon" and "Nissin Yaki Soba U.F.O. Ikasumi Yakisoba" full of black drifting while full of black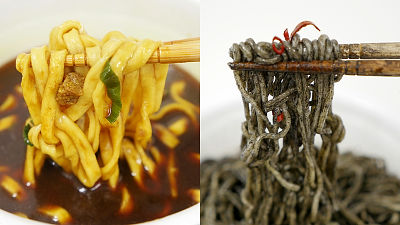 I think many people are surprised that Halloween events have penetrated in Japan, but Halloween limited items are also appearing from Nikki in accordance with such Halloween season. In GIGAZINE already "Cup noodle pumpkin potage noodlesSo I tried two kinds of noodle menu "Ninsei's Donburi Black Curry Udon"When"Nissin-burnt soba U.F.O. Ikasumi yakisobaI decided to try eating.

Nissin's Donburi Black Curry Udon | Nissin Food Group
https://www.nissin.com/jp/products/items/7110

Nissin Yaki soba U.F.O. Ikasumi yakisoba | Nissin Food Group
https://www.nissin.com/jp/products/items/7111

So I bought Black Curry Udon and Ikasumi Yakisoba. Both have a clearly black design compared to ordinary donbu and yakisoba U.F.O.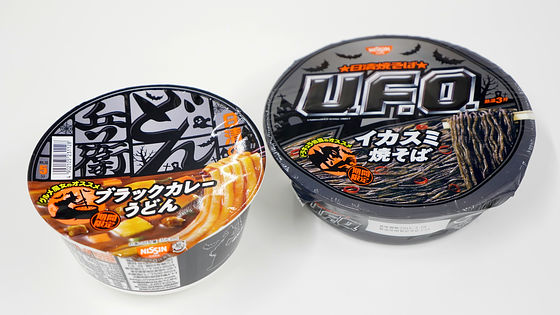 The blackness is reversed fresh Donburi Black Curry. The curry drawn in the illustration seems to be getting more black.



Black curry udon is "recommended gourmet witch".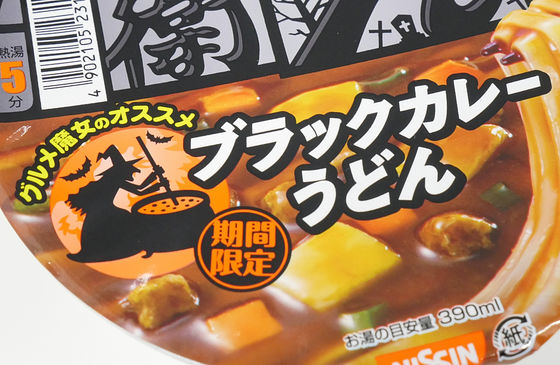 Looking at raw materials,Regular "Curry Udon Curry Udon" WestThe character of "coconut milk" which is not in it jumped into my eyes.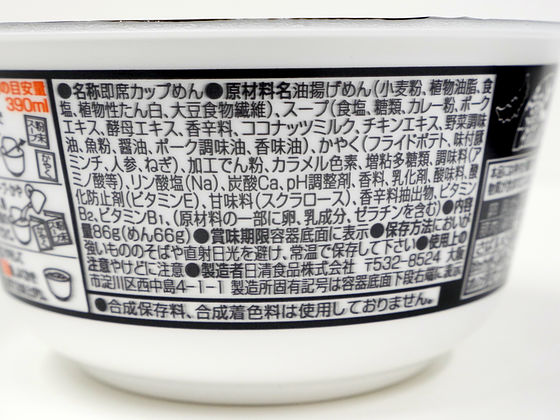 "Indeed, this is the point of black curry udon" and thinking carefully, it will be shipped to the Kanto regionDonbune Curry Udon [East]It turns out that coconut milk is contained. It was a moment that I could not hide surprises in the fact that the raw materials of Donbudai curry udon are so different in the east and west than black curry udon.

While calming down, the energy of one serving is 379 kcal, the salt equivalent is 5.6 g and the average value as cup noodles.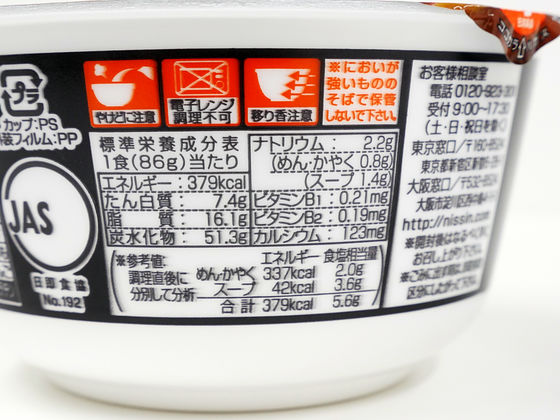 In the cup, the figure of a witch mixing suspicious soup is printed. This doubtful soup is curry udon soup ... ... It might be a bit too much thought.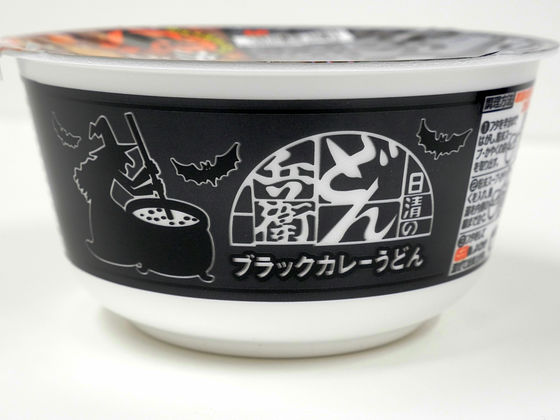 Inside it was powder soup and quick, which is no different from ordinary curry udon.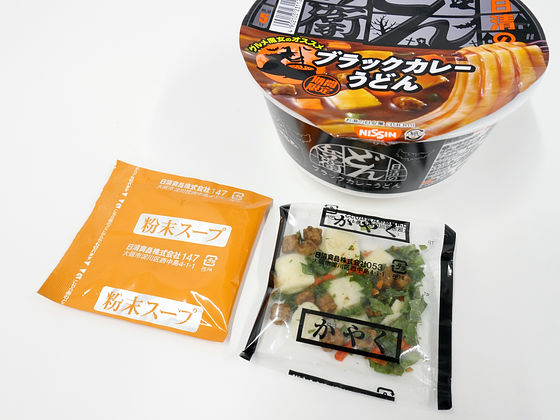 When I opened the powder soup, it was a color that made me feel dark blackness.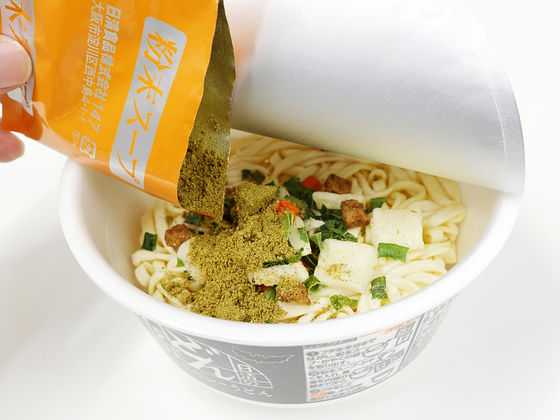 After waiting for 5 minutes with hot water, preparation is OK.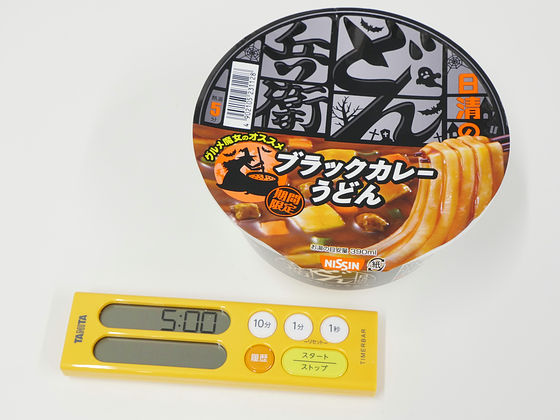 When I opened the lid, it was supposed to be a little hard. Although the powder soup was not well dissolved in hot water, it is strikingly outstandingly apparent impact.



Completion of black curry udon by mixing the whole well. It is becoming a soup which obviously feels blackness than general curry udon.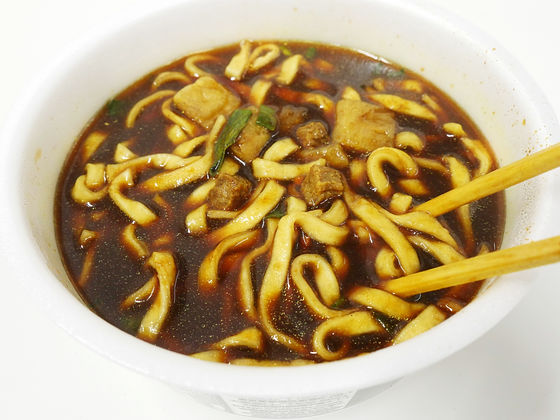 Anyway, first of all when you drink only soup, the appearance of the impact is unexpectedly irritating to the touch. It seems to be different in the east and west, but if you say curry udon, "Thoromi" is a person who thinks it is beneficial and may be touched a bit. The taste seems to have been finished in a mild flavor, which makes you feel less spicy.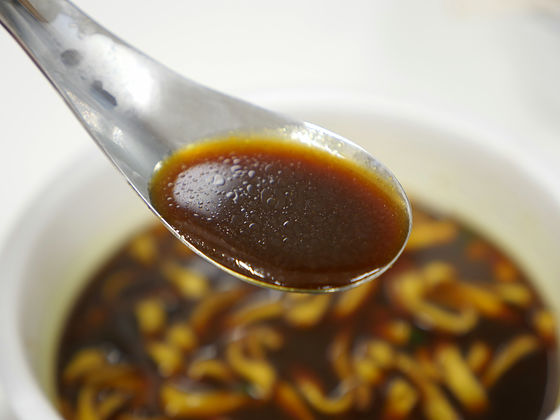 When I try to squeeze noodles with shreds, the overall taste also seems to make me feel mild, and although it can be said that it is easy to eat, depending on the person, you may feel unsatisfactory. I think there are individual differences, but I thought that when I imagined "curry soup udon" and eat it rather than "curry udon", it would come true.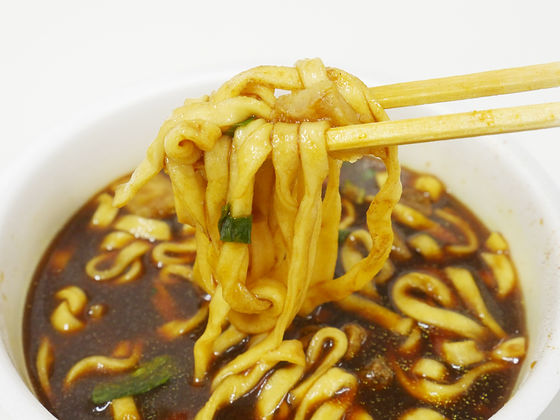 Nonetheless, the overall finish is exactly what is called "Donbira quality". It was a taste that you can eat with confidence, such as small onions while leisurely, spicy potatoes, and classic "mystery meat".



Next, I will eat "Nissin Yaki soba U.F.O. Ikasumi yakisoba". This is also a design full of blackness.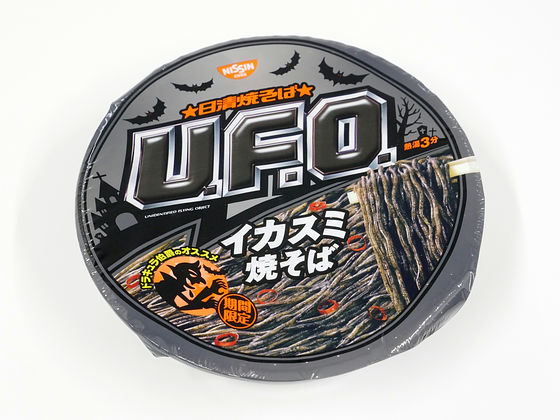 Ikosumi yakisoba is "Recommendation of Earl of Dracula". There was also an editorial staff who asserted that "the nail of the hawk drawn on the package represents" blood "that Dracula sucks!" By looking at this package.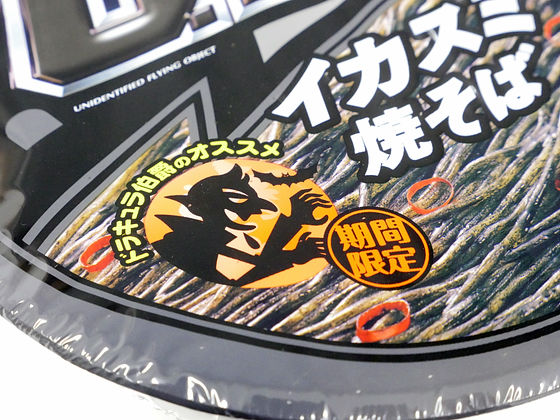 Raw material is like this. Ikasumi and squid powder are distinctive.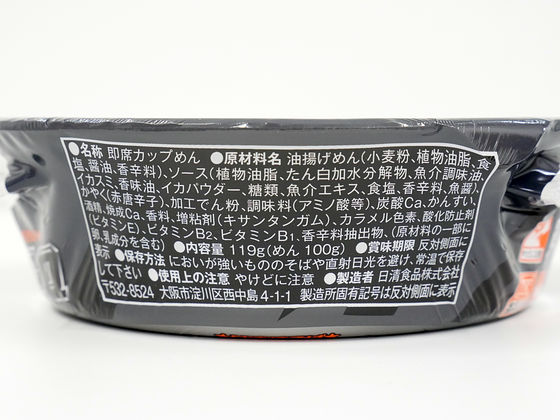 The energy per meal is 562 kcal and the salt equivalent is 4.6 grams.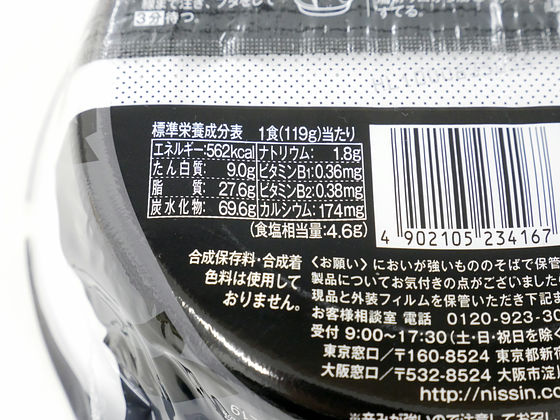 On the top of the noodles, only the claws of hawk are on top, but there are no other items that seem to be ingredients. There is probably a black sauce in the front "liquid sauce" ... ....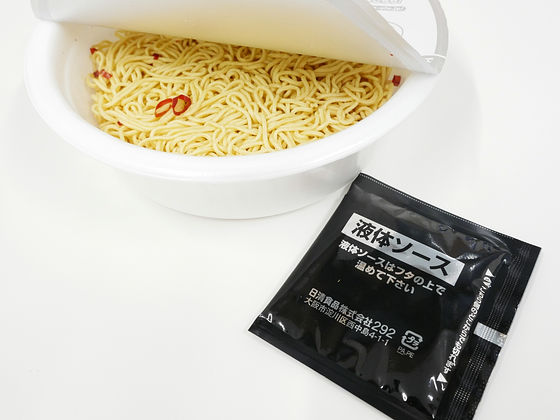 Wait for 3 minutes while warming the liquid soup with hot water.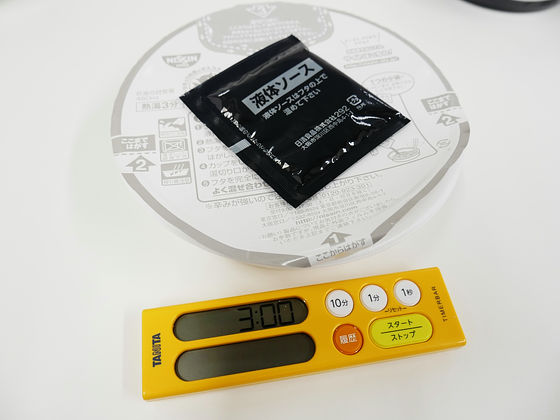 Discard the hot water, take the lid and throw the liquid soup. When a black soup that came out a little "Dorori" came out, I cried out in the mind that there was no point in "Ya!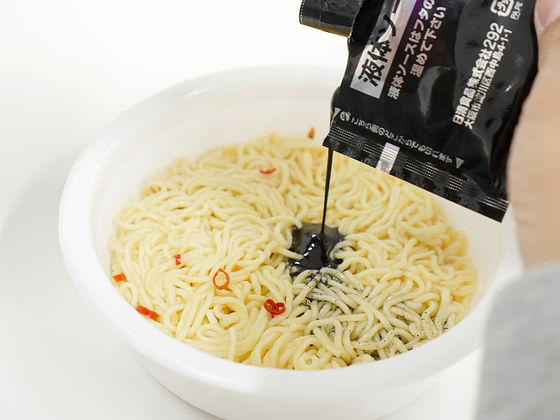 The appearance of the source is exactly black Ikasumi. Look at this state and also the appearance of rude editorial staff who misses "coal tar".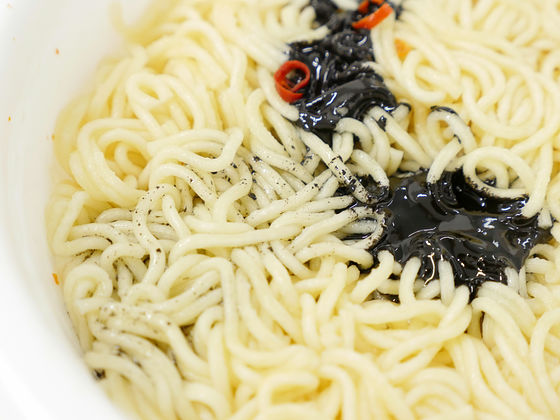 Mix the whole with chopsticks and paddle with chopsticks. When the source came in familiar, a mellow somewhat smell drifted and I felt the feeling "Oh, it looks pretty okay ...".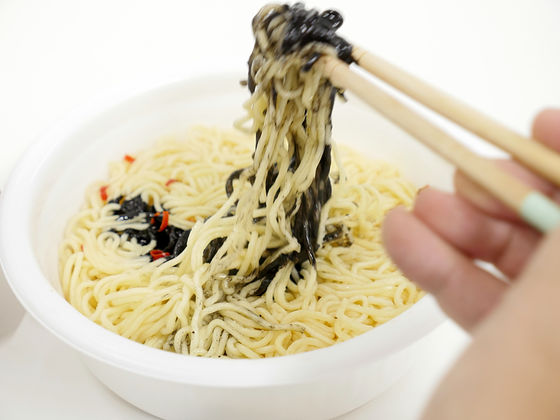 Completed when source is involved throughout. It will become fried noodles with squid all over, together with the red falcon nails poking appetite.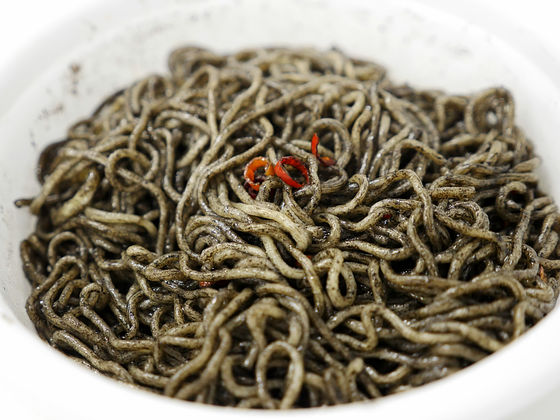 When I tried eating with a single snapshot, I felt the taste of Ikasumi, it was finished in a surprisingly authentic taste. Together with a smooth texture, it was a dish that made you feel like a dandruff pasta while being fried noodles.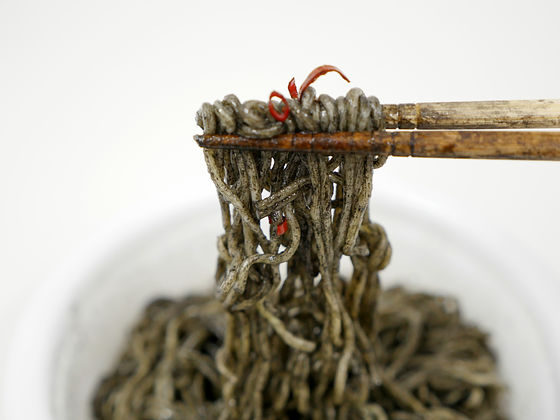 There is a high possibility that the nail of the hawk is gathered at the bottom of the cup, so it is better to mix well before eating. Otherwise, you will encounter sorrow that spicyness will go up as you eat.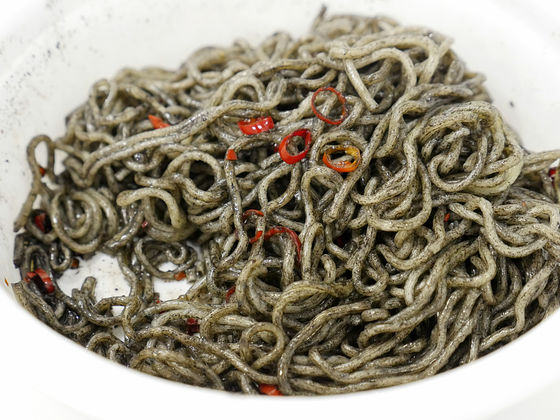 Also, while eating, chopsticks will turn black. It is probable that the inside of the mouth will become "Oharuguro" state by the fate of Yukasumi at the end of eating, so those who are doing business before the important business negotiation or customer service should be careful It seems to be.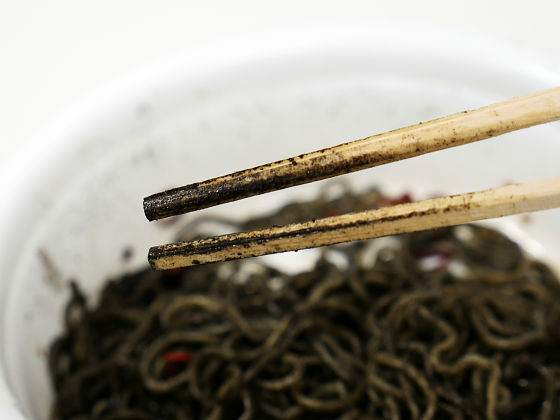 "Donburi Black Curry Udon" and "Nissin Yaki Soba U.F.O. Ikasumi Yakisoba" are both on sale at a suggested retail price of 180 yen (excluding tax). It is said that it is a limited-time product, so it seems better to check the person you care about as soon as possible.