Android 6.0 Marshmallow installed - Fingerprint authentication compatible "Nexus 5X" appeared from Wy Mobile, haste photo & movie review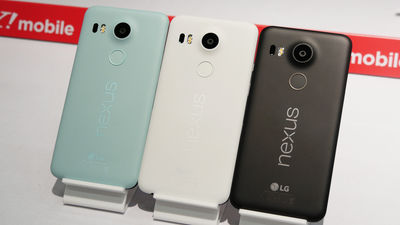 The latest smartphone made by Google "Nexus 5X"NTT docomoIt is now clear that we will handle Wyomobile as well. New features of Android 6.0 Marshmallow including fingerprint authentication function and ice of main body color which was not found in docomo are described as "Softbank 2015-2016 Winter Spring New Products / New Service PresentationI actually touched it with a touch & try done after the end.

Nexus 5X | Smartphone | product | Y! Mobile
http://www.ymobile.jp/lineup/nexus5x/

Arrived at the Nexus 5X booth.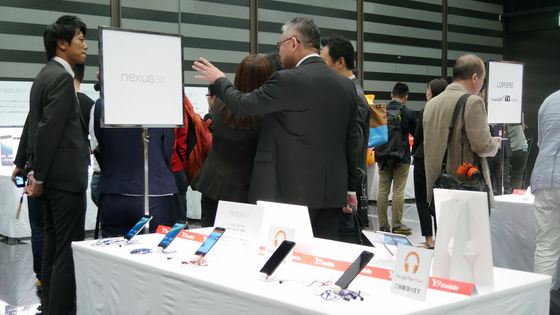 This is Nexus 5X. The size is width 73 × length 147 × thinness 7.9 mm, weight is about 136 g. It is equipped with a full HD (1920 x 1080) display of about 5.2 inches and is easy to grasp with one hand and lightness.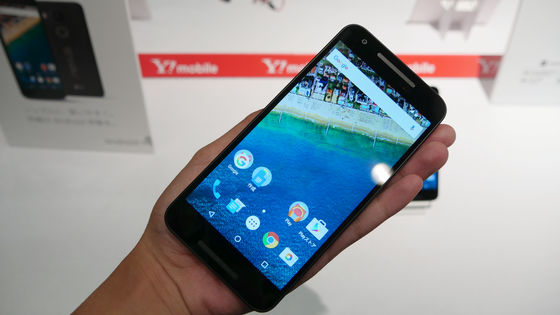 The back color has three colors of ice, quartz and carbon, which is the same as the color expansion sold at the Google Store.



The bezel part around the display is all black color and black one color.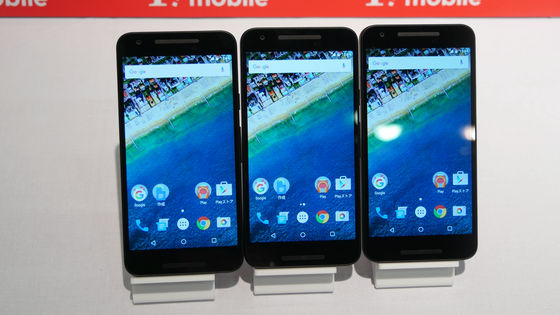 The OS is equipped with the latest Android 6.0 Marshmallow. Snapdragon 808 of Hexacore (1.8 GHz × 2 + 1.4 GHz × 4) is adopted as CPU, RAM is 2 GB. Two models of 16GB and 32GB memory are prepared.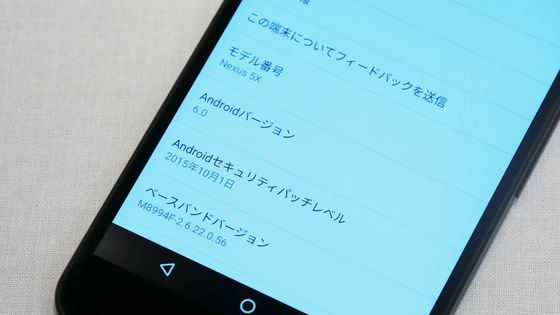 On the top of the display is a sub camera and speaker with about 5 million effective pixels.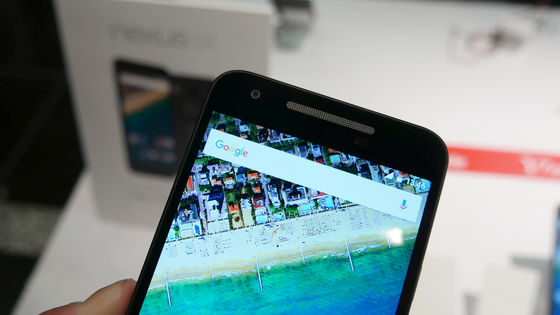 A wide microphone at the bottom of the display.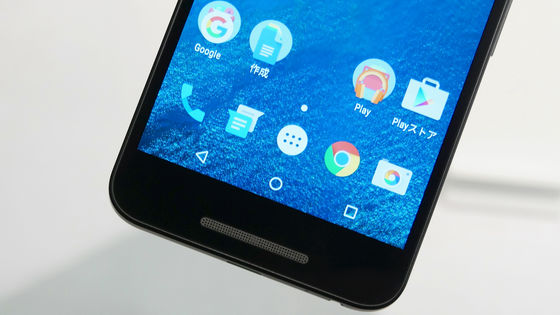 Matte material on the back is highly gripy, making fingerprints and dirt is hard to care. There is a large "nexus" logo in the center and a logo of the manufacturer's LG Electronics at the bottom.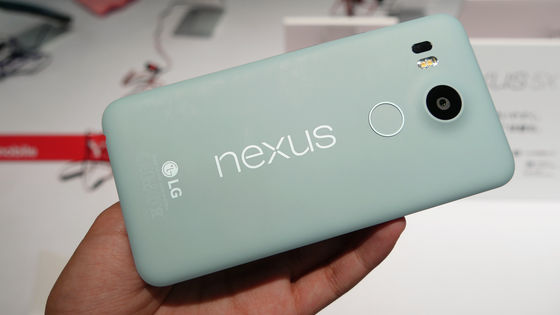 The main camera and the flash with the effective pixel number of about 12.3 million pixels on the back upper side are lining side by side, and the circular fingerprint authentication sensor is attached under the camera.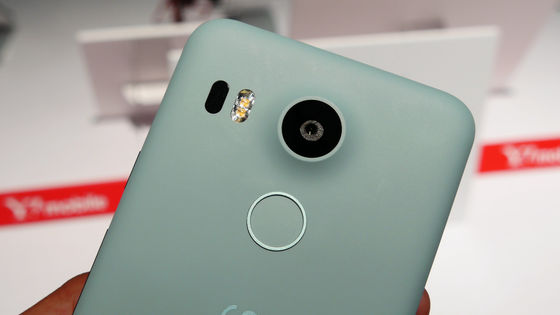 The flash is a dual flash with two LED lights side by side. The part of the camera is making a little swollen and swollen.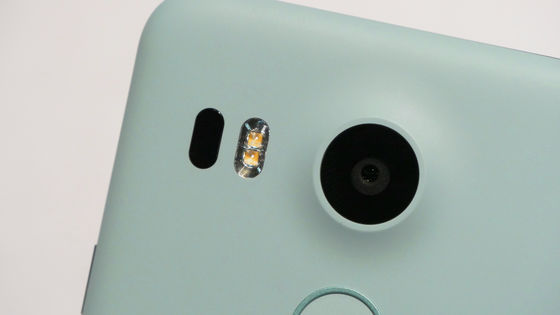 There is a microphone hole for noise canceling on the top.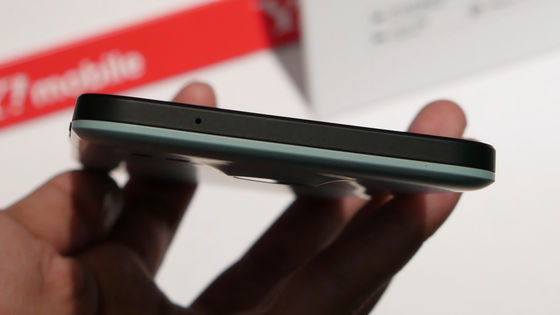 USB Type - C port and earphone jack on the bottom. When purchasing Nexus 5X, it comes with a USB type-C cable for charging and an AC adapter as accessories.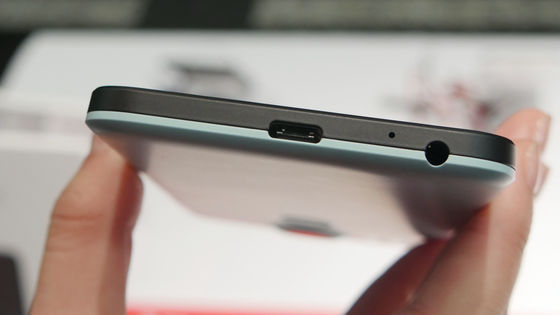 There is a SIM card slot on the left side that uses a pin for taking out.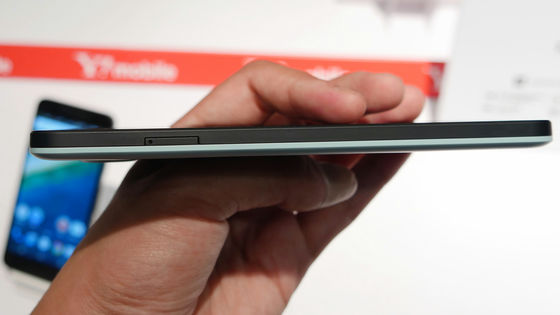 The volume adjustment button and the power button are on the right side. Furthermore, in order to realize a thinness of 7.9 mm, for wireless chargingincompatibleIt has become.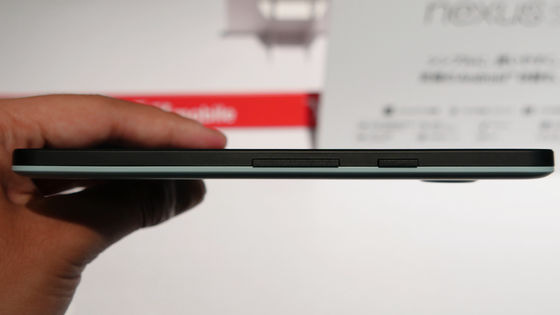 Nexus 5X can operate with one touch using the fingerprint authentication sensor on the back when unlocking the screen or purchasing the application. By just touching the fingerprint authentication sensor with your fingertip, you can see how to quickly start up the home screen from the screen off state in the following movie.

How to unlock screen lock with explosive speed using "Nexus 5X" fingerprint authentication - YouTube


In addition, Nexus 5X has pre-installed Google made applications such as Gmail and Google Play Music.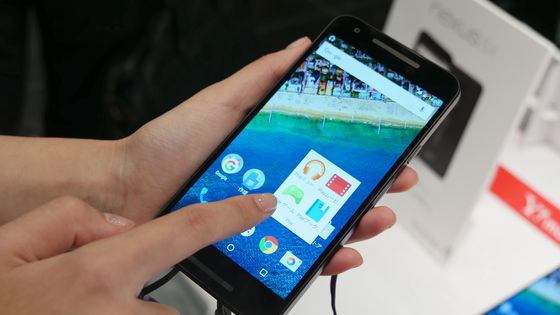 "Hajimemashou! Google Play Music Campaign" that you can use the Google Play Music application free of charge for 90 days for SoftBank and Wy mobile Android phones and tablet users is scheduled to start from October 28, 2015, and Nexus 5X also It is a target terminal for the campaign.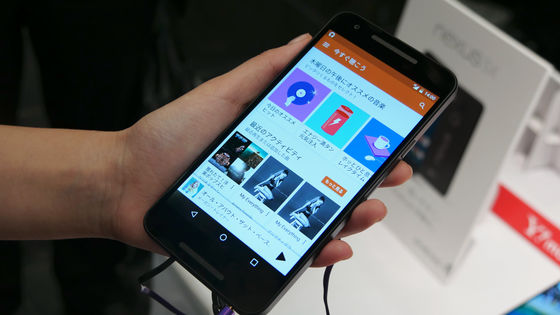 At the time of writing the article "Google Now on Tap"Is not compatible with Japanese, so you can not use Now on Tap with Nexus 5X, but Japanese version will be coming soon. In addition, Nexus 5X is scheduled to be booked on October 9, 2015, scheduled to be released late October.