"Curry and Mr. LITTLE SHOP" tasting review which can eat delicious hot curry of ingredients · rice · roux rice supermarket at 1000 yen or less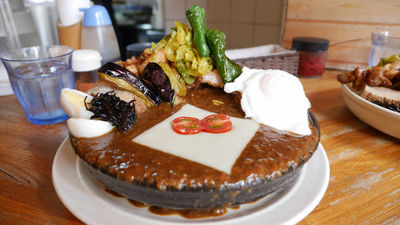 In the curry shop, you can choose toppings such as pork cutlets, rice dishes, cheese, boiled eggs, deep fried eggs, but what I'm thinking is "as much as I want a kore!" As when my stomach is pecopeco. Such a "curry toppings entered" desire can be fulfilled, even if rice and roux are made into a bottleneck, curious shop of wonder that can be eaten under 1000 yen is "Curry and Mr. LITTLE SHOP"is. Whether you can win the super deluxe curry that can spill from the dish, I actually went to the shop and challenged.

Curry and Mr. LITTLE SHOP (Kareyasan Little Shop) - Shin spring / Curry Rice [Eat Log]
http://tabelog.com/tokyo/A1303/A130301/13008321/

Curry and Mr. LITTLE SHOP's address is located "10-15 Muyama-machi, Shibuya-ku, Tokyo 1F". It is 4 minutes on foot from Inokashira Line Shimizu Station, and each line from Shibuya Station can be reached in about 10 minutes on foot.


I arrived at curry and Mr. LITTLE SHOP around noon around noon. It is a shop that is like a cute little woodhouse that is unlikely to be a shop offering super deluxe curry.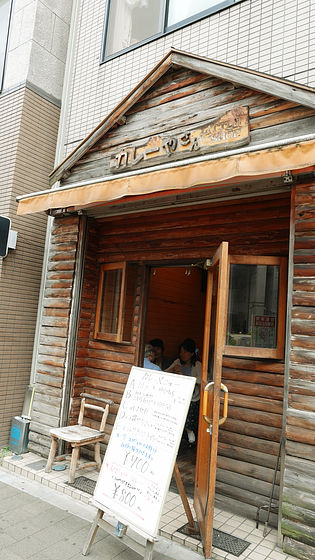 A matrix was already formed at the time of arrival.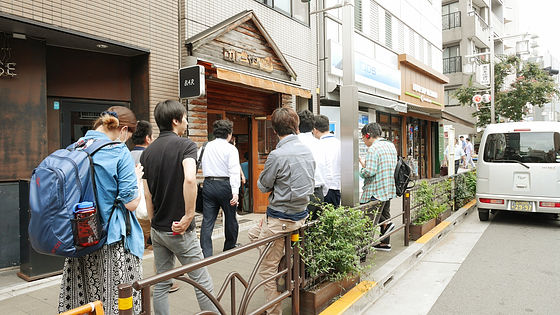 It is possible to enter in about 30 minutes.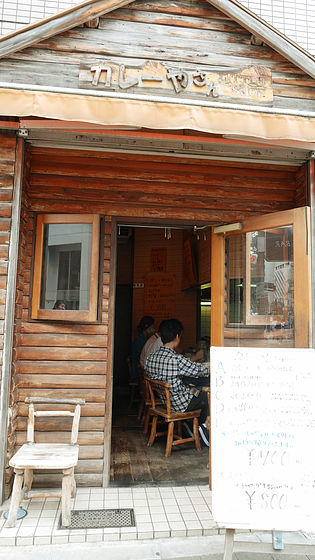 There is a signboard with a menu written in front of the store, but there is only curry. There is neither a dry nor sweet mouth, and it is possible to choose with either one of toppings "and + boiled eggs" "karugake + boiled egg", "whimsical", "mountain ridiculous" "torori cheese tomato" (700 yen each tax included) "Special curry" (800 yen including tax) only. Furthermore, because the rice Dai Sheng increases 100 yen, it is cheaper price setting of 900 yen at maximum.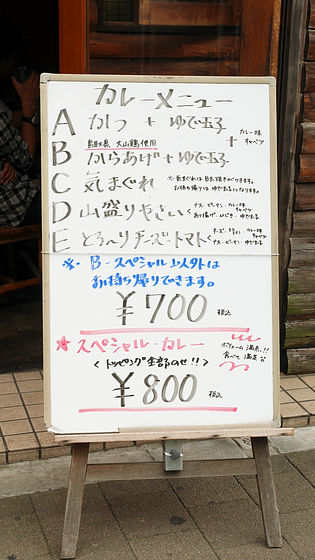 That's why I entered a shop and ordered "special curry large bowl" "special curry ordinary prime". Then I got a confirmation from the shopkeeper "There are so many violets, can you eat them?", But since this time they were visiting by two editorial staff, "If two people are worst, they should be able to complete normal heap and huge bowl" I decided to challenge.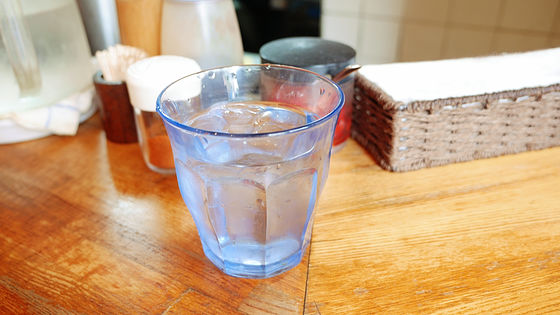 In the store everything is written about stuff related to cooking, and it seems that there are sticking to use Oyama chicken from Tottori Prefecture, Tonkatsu from Ibaraki / Chiba prefecture, and using various domestic vegetables.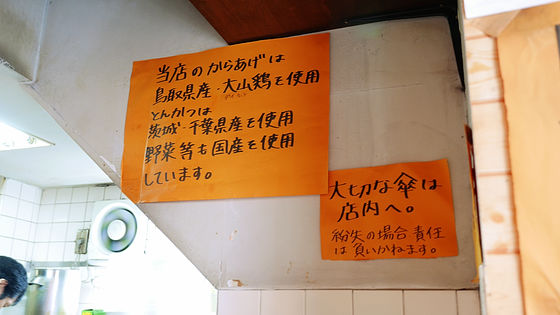 Waiting It was delivered in about 5 minutes "Special Curry Omori" is this. It is a huge super delicacy that I can not understand what is going on ....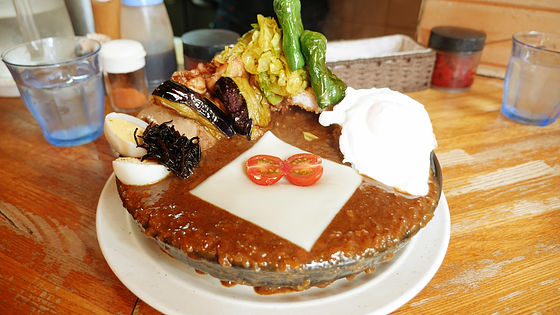 Curry which does not fit from the dish is overflowing as a falls.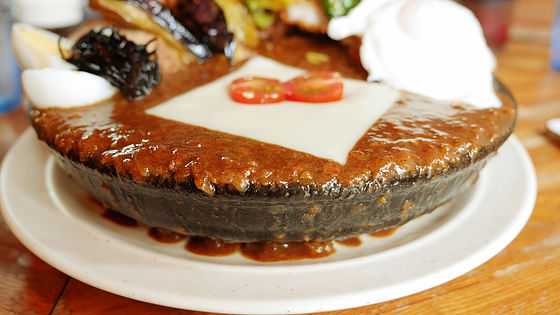 The power of the whole topping is not the half amount, but when you stand up the iPhone 5s, you can see that the topped ingredients are stacked higher.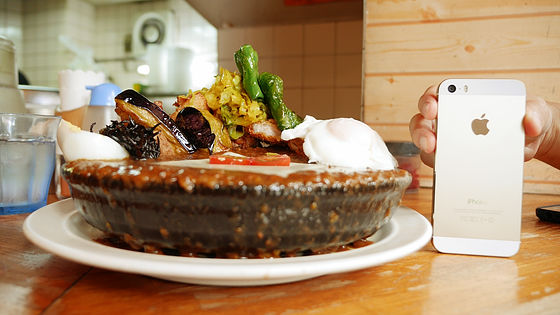 Contents of all passages are hijiki, boiled egg, 1 fried eggplant, 2 slices of deep-fried tofu



Six teaspoons, stir-fried cabbage curry, fried green peppers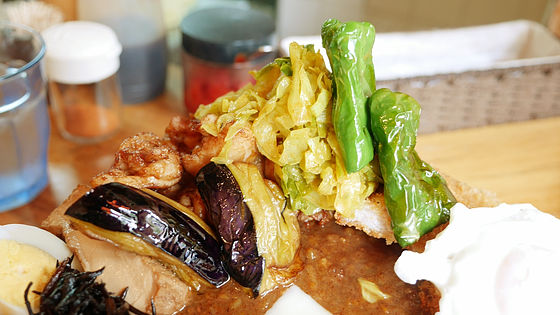 One more fried egg and a pork cutlet below it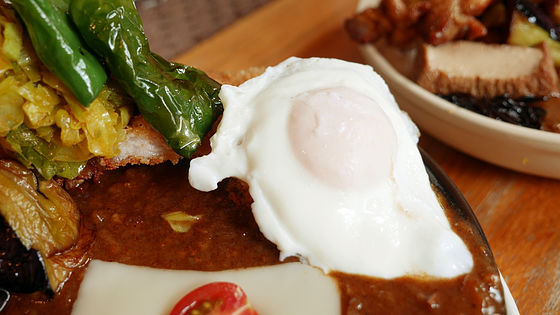 And it is sliced ​​cheese and petit tomato.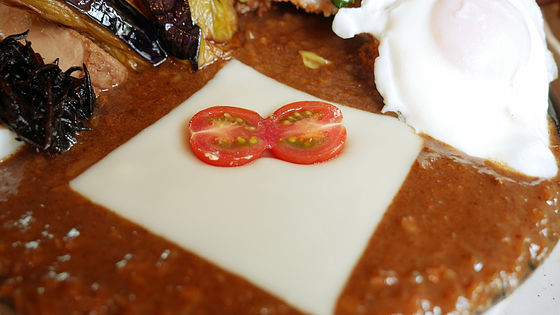 The special curry of ordinary prime is like this. Even in ordinary prime, there are volumes as large as the other shops. When I was watching the scenery making a special grill of special curry, it was as thought that "that is a huge ...".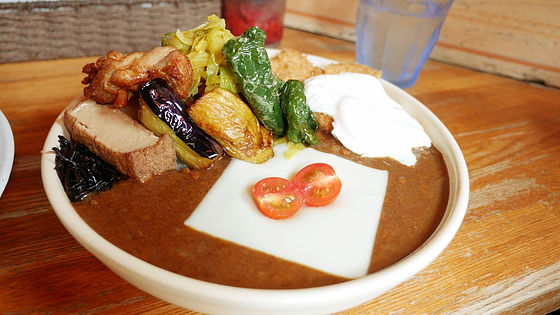 When you look side by side like this, you can see that it is a super-explosive prime like alchemy just by adding just 100 yen to the ordinary prime.



First of all, try eating only curry, the taste of sushi is felt firmly with Japanese style seasoning, and in retort curry it is the spicy about "medium spicy". Since it is not a shaba shaba like a soup of curry udon, it was getting entangled with rice.



Hijiki cooked in soy sauce goes well with Japanese style curry.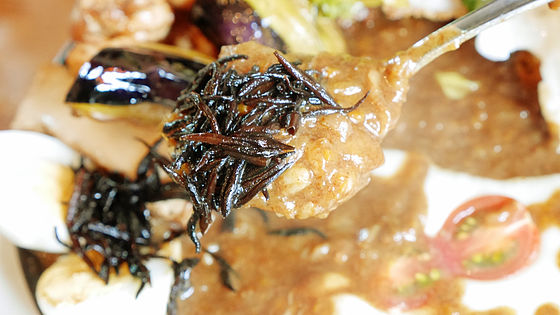 Fried eggs are juicy and juicy, which also goes well with Japanese style curry, but since you are sucking plenty of oil, it is better for you to eat early.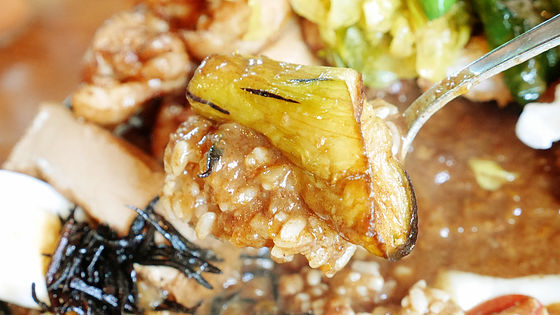 Boiled eggs are also the royal road topping of curry, but since they are deprived of moisture by the yolks, I ate early.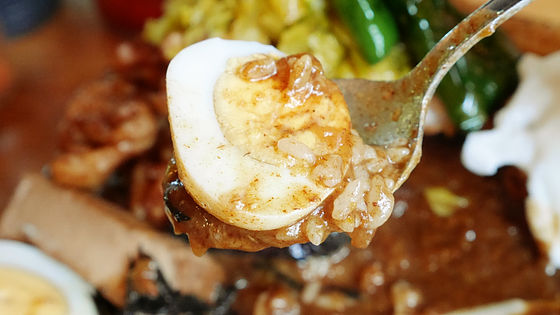 Since there are as many as 5 or 6 spoonfuls, the strategy of decreasing one by one on a regular basis.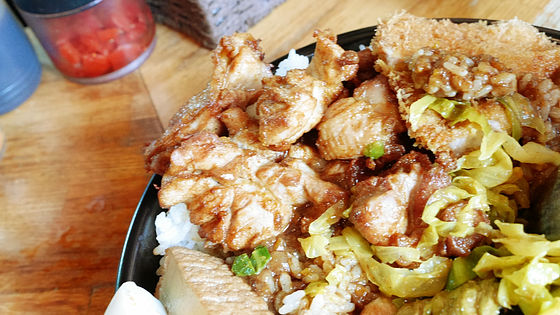 Because the clothes are seasoned so as not to disturb the taste of curry, it is rather a feeling to eat chicken thigh meat as ingredients.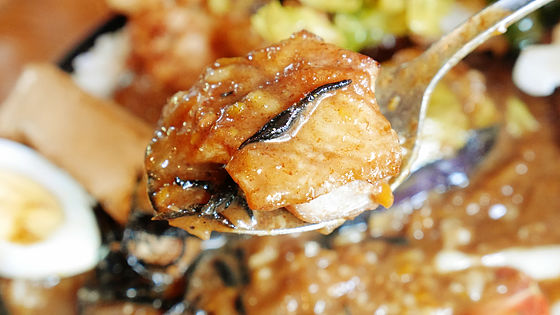 It is said that the rice is nearly 2 kg when it is huge. Curry is a Japanese style but its own flavor with spice effect, both rice is very well suited, but even if you eat it somehow you fall into an illusion that rice does not decrease at all.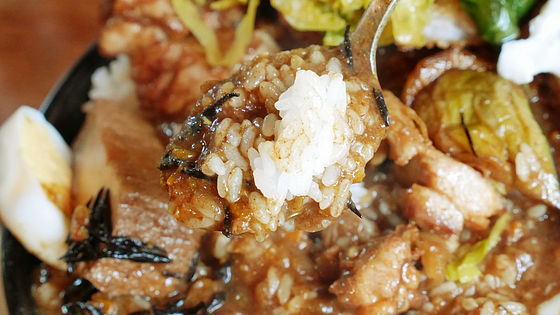 When I ate cheese and tomato around here, of course the taste of the cheese is delicious, but of course the freshness of tomato is like an oasis in the desert in this super deluxe curry. Since it has been cut in half, I decided to preserve it in the last boost.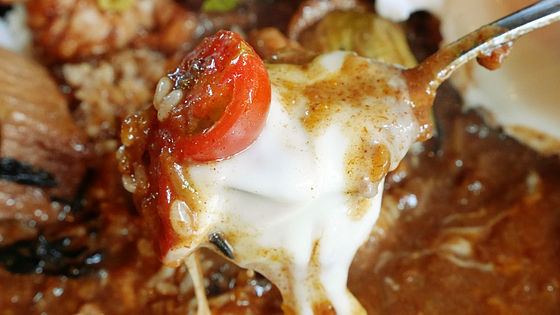 Popular topping pork cutlet in curry. It is fried crisply and the wall thickness is enough. Since the same amount as in the picture is hidden beneath other ingredients, it is OK if you think that there is one general tanpa.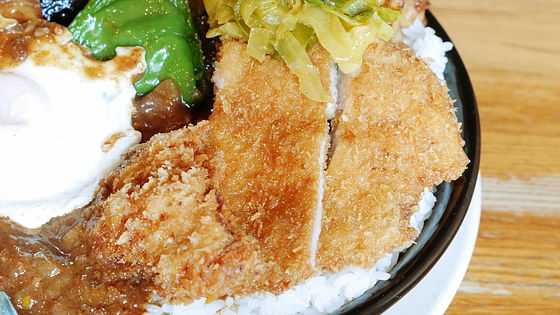 Moderately juicy pork cutlets are tastefully tasty and are delicious when eating with curry · rice. If you make a single type of topping, you will find a boneless pork cutlet.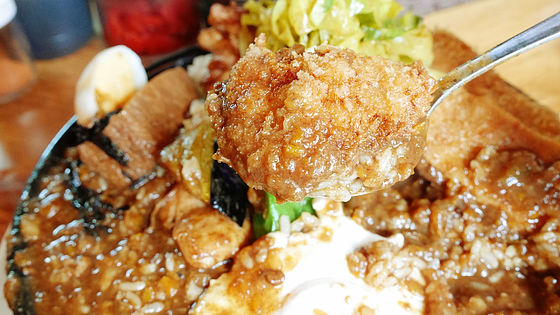 The bowl of green peppers is finished to the extent that a good texture remains.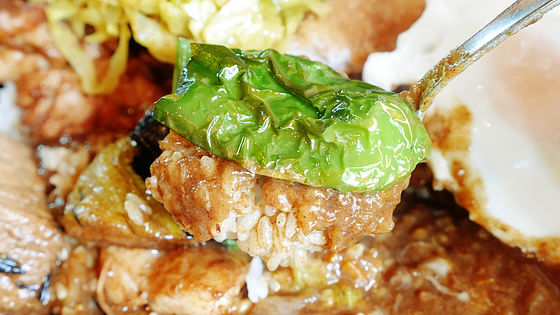 Crispy cabbage is full of spicy and curry powder and is one of valuable ingredients not fried with a few oils.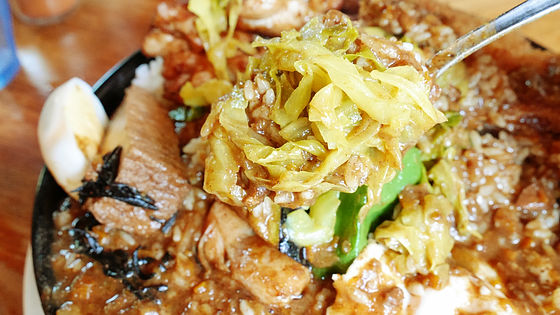 When putting a spoon in fried eggs, it was an exquisite semi-aging condition where flavor and yolk flowed out.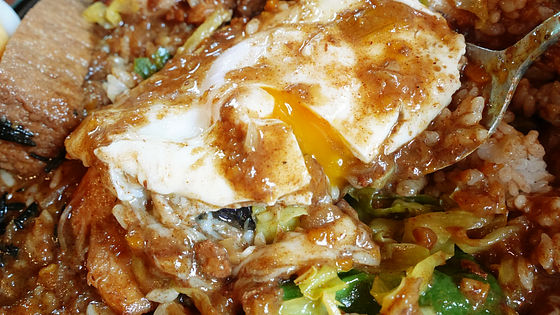 When trying to eat ingredients of unusual topping, "Deep fried in curry?", Stewed fried fish braised in simmered dishes coincided with Japanese style curry more than expected. Because I put on a chilled item, a fresh feel through the throat has also healed.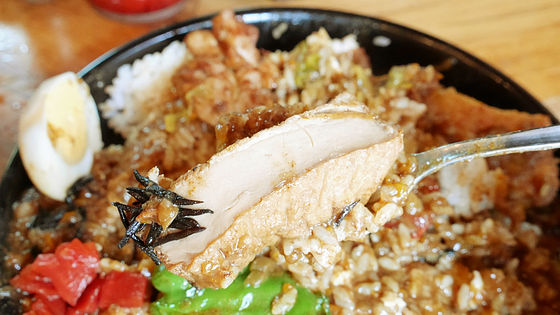 When you want to change the taste, there are spice, sauce, Fukumake pickles etc on the table.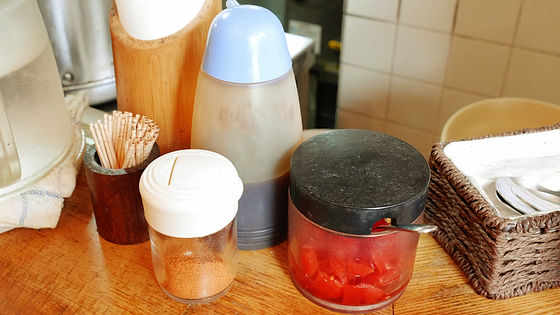 At last we ate half of the ingredients while eating a piece of ingredients, but at this point "a half of what is not reduced?", As if the stomach is in a difficult situation. The stomach screamed with a large amount of fried toppings, a curry with a lot of oil, and a total attack of a half amount of 1 kg of rice. Special curry The editorial staff who requested ordinary heights finished eating long ago and watching here.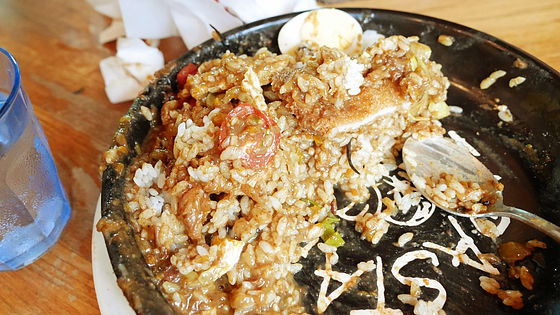 Since it came out to a mysterious fat sweat here, we pounded the last hope petit tomato. The sour taste of tomatoes are refreshing in the mouth. From here I finally managed to eat up to three more but suddenly I felt a sharp pain from the stomach and it seemed that not a metaphor but a stomach was about to break ...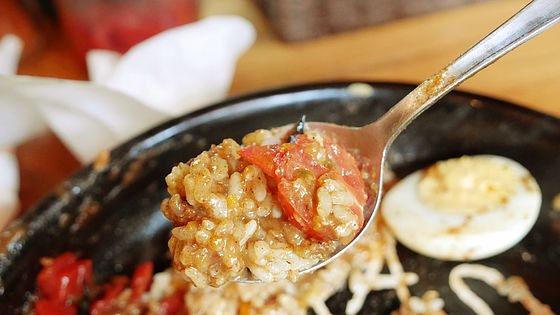 The rest were two editorial staff who managed to complete the work at the limit. The shop owner said "Oh, you can eat them all! That's amazing, it's quite hard," and after eating, both of you are in a glocky state. If you are not confident enough to eat big, it seems better to stop asking for a huge bamboo. Of course, the curry shop which has a reputation for its taste so much that you can have a row, you can also cook rice to a lesser extent, so if you like curry please try and there is no loss.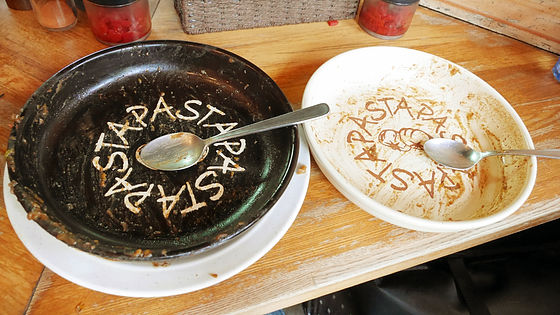 In addition, the opening hours of curry and Mr. LITTLE SHOP are around 2 hours from 11 o'clock to 13 o'clock in Monday, Saturday, Sunday and public holidays. As soon as sold out, the day we visited arrived at 12 o'clock and started to line up, so it was just barely eaten, so anxious people need to go early.