Things to know before Greeks rush to Turkey ATM with fighter plane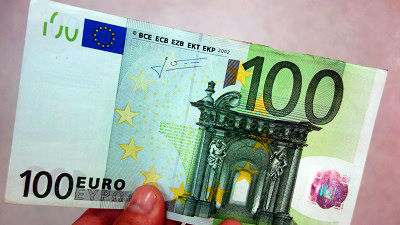 In mid-July 2015 "Greek pilot, fighter plane F - 16 fly to Turkey and withdraw money with ATMThe news that became a hot topic on the Internet. If you are interested and reading it, there are unnatural descriptions by any means. I thought that, after all, it turned out that it was a joke site's story.

Hello,Takuya Sudo @ circle around the world bicycle @ CharridermanI leave my bicycle in Singapore and become a backpacker and it is traveling around unvisited countries. Just the other day I landed in Istanbul, Turkey, from New Delhi, India on a flight. In Turkey, I got US dollars necessary for my future trip. I also attracted the euro. For Turkish ATMs, travelers around the world have enough mechanisms to get out of throat.

◆ ATM with fighter plane
It is a coverage of the Greek crisis that is repeated over and over several years, but this year it was different from the normal year. The Greek citizens who were exhausted by a series of painful reforms rebounded against further fiscal austerity measures the international creditors wanted. Ask about its pros and consReferendumIs done. A series of confusion whispered to the possibility of default (default), domestic ATM withdrawal also entered a limit of 60 euro per day (about 8100 yen). The news that took place at such a time was here.

Greek pilot fly to Turkey with fighter plane F - 16 and withdraw money with ATM | Xinhua News China Business Information
http://www.xinhuaxia.jp/social/75150

Turkish media "BGN News" quoted an article on the French site "radicorcpit.fr" on 18th and the pilot Homere Sipostopoulos of the Greek fighter F - 16 headed for Turkey secretly with a fighter plane, and Turkish ATM After withdrawing money, I also flew back the fighter plane and returned to the Greek air force base.
Although it was an article full of plunges,

We withdrew 6000 Turkish lira from 3 ATMs and exchanged to Euro. With cash of over 2000 euros, I immediately returned to the airport, piloted the F - 16 and returned to Greece 's Nea Anhiros airport.
The description that caught it caught.

Because in Turkey, depending on ATM you can withdraw euro directly. When thinking such a thing there is an article like the following.

"Greek fighters land Turkey, withdraw cash from ATM" ← proved to be a joke
http://www.huffingtonpost.jp/2015/07/20/greek-f16-atm_n_7830174.html

The news is based on the article posted on July 18th by the French site "Radio Cockpit". This was taken up by the Turkish news site and diffused all over the world, but in the copyright column of "Radio Cockpit" the following warning texts were written.

"The only purpose of this site is to provide laughter There is no ambition to divert your attention besides that it should not trust the information no matter what article written here. And the company name is just a satire "
It turned out to be a story of a joke site. There was no Greek pilot who had deviated herself. Was good. Was good.

◆ Actual condition of ATM in Turkey
Instead, I will try to obtain the euro in Turkey.

I left New Delhi in India, via Bishkek in Kyrgyzstan, in Istanbul, Turkey "Sabiha Gokcen International Airport (SAW)"Arrival in. In Istanbul, another oneAtaturk International Airport (IST)There is, but there is the home of the Turkish Airline which is also the flag carrier of Turkey. This time LCCPegasus AirwaysSo we went down to the small Sabiha Gokcen International Airport. After completing immigration review and receiving luggage, ATMs were queuing enough to find which one to use in the airport.

ATMs that are lined up side by side.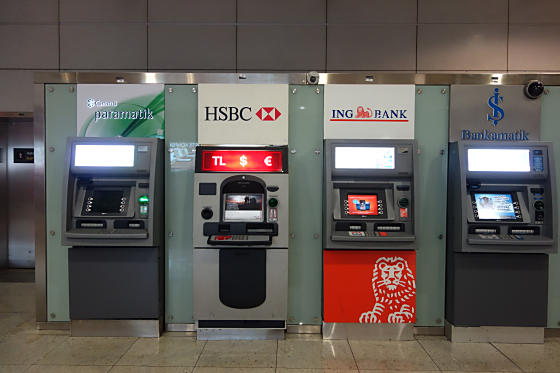 TL (Turkish · Lira), there was a notation of $, € "HSBC (Hong Kong Shanghai Bank)Try it. Because it is a bank that you see in various parts of the world, I use it trustingly as it is.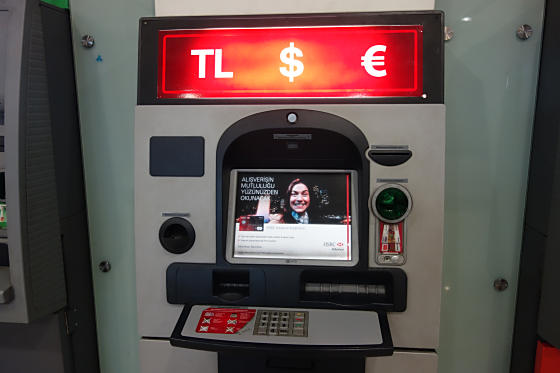 As you move forward, TL (Turkish · Lira), USD (US Dollar), EURO (Euro) and three currency choices.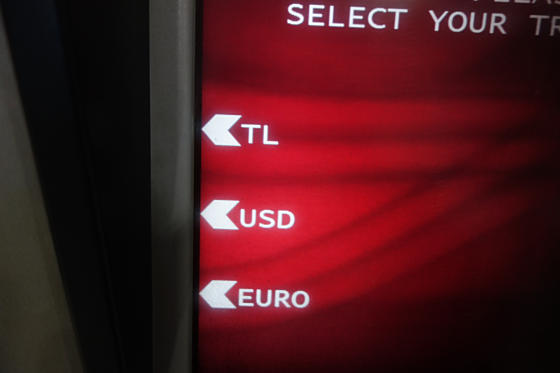 First of all, we withdraw 40 Turkish lira. From Turkish Lira account of Japan = 43.85 yen, the debiting of 1754 yen.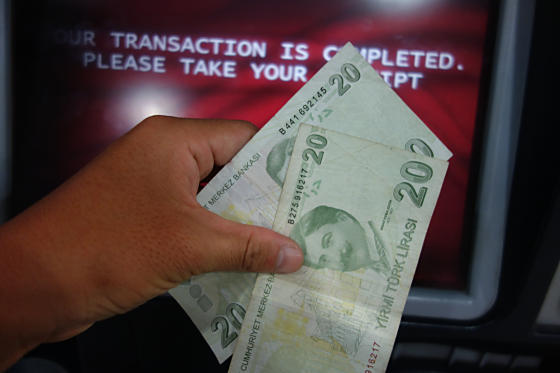 Apart from ATM, get 100 US dollars with time. With 1 US dollar = 127.26 yen from Japanese account, a debt of 12 2726 yen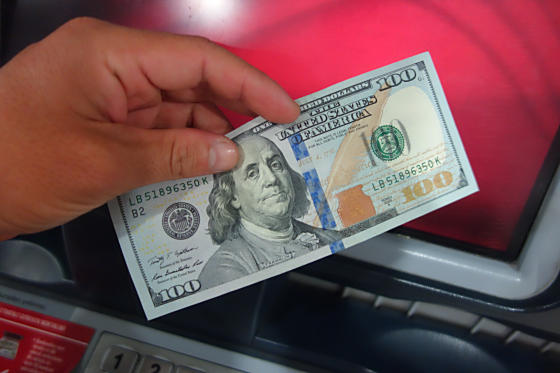 And 100 euros came out. From the account in Japan, 1 euro = 143.22 yen, with a debiting of 10,422 yen. It is a 100 euro note that is rare even in euro member countries.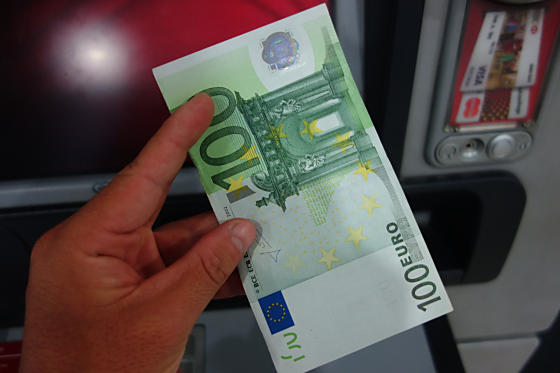 In this way Turkish ATM was able to draw out the local currency Turkish · Lira, US dollar, euro and three kinds of currencies. In articles that became a hot topic on the Internet, Turkish lira is drawn out and there is a change of money to the euro, but it is likely that the commission will be excessive. Also, if similar things happen, you should bring out the euro directly. In the first place, if you can use the card at a foreign ATM and you can get the euro, there is no meaning of withdrawal limitation, so I wonder what will happen in the actual place ....

Continue, we will strive to obtain further US dollars.

ATMs were also lined up in different places in the same airport.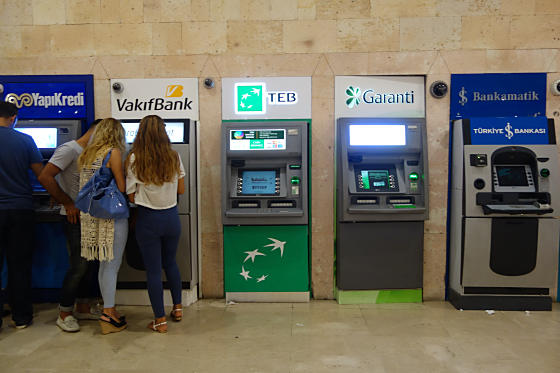 Select ATM written TEB. Marks with stars lining up on a green background are marked by a large French "BNP ParibasIt seems that it will become a local affiliate of the company, and we use it frequently overseas as well.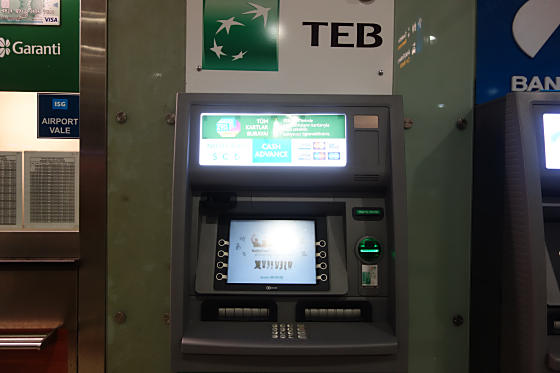 This ATM also includes $, €, ₺ (Turkish lira) and three notations.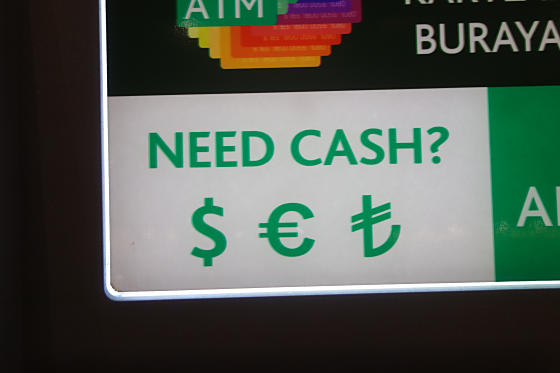 Again, as you proceed with the operation, TL (Turkish · Lira), USD (US Dollar), EURO (Euro) and three currencies are displayed.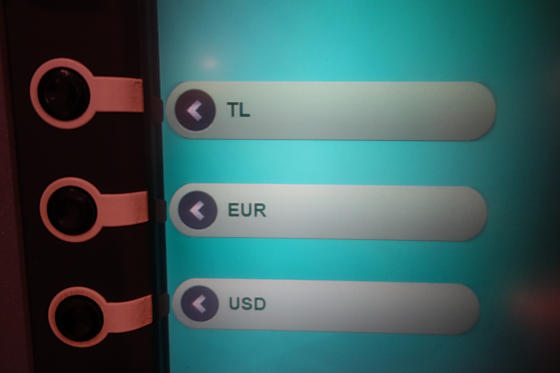 We secured 50 US dollars.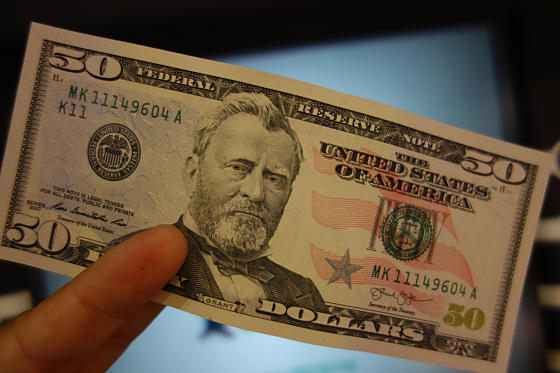 After that I wanted a 20 $ tag, so I went outside the airport and looked around the town, but I could not find an ATM that I could withdraw US dollars. There was a flight to Georgia in the evening, so when I came back to the airport, I got 150 US dollars at the same ATM. Because it is a 50 $ bill, I'd like to get some fishing and secure small bills. Whether it is okay to expect fishing to pay visa fee.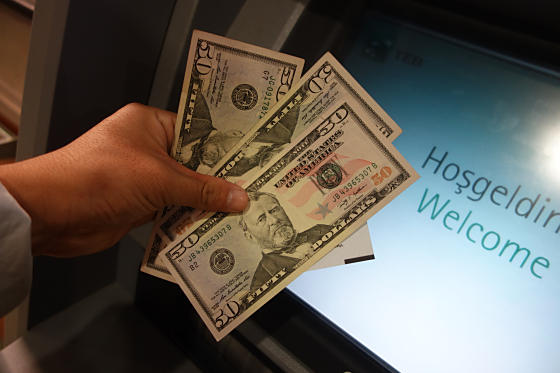 This USD was taken from Egypt as it is necessary for Sudan, Ethiopia and south to go down. The euro was unnecessary, but I pulled down for the article as well. I saw three currencies and I was able to confirm the convenience of ATM in Turkey.

ATM called "DenizBank" that was in the airport ... ....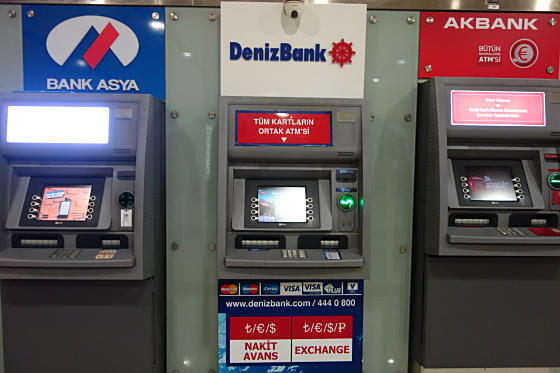 It says "NAKIT AVANS (cash service)", and it seems that Turkish lira, euro and US dollar can be withdrawn.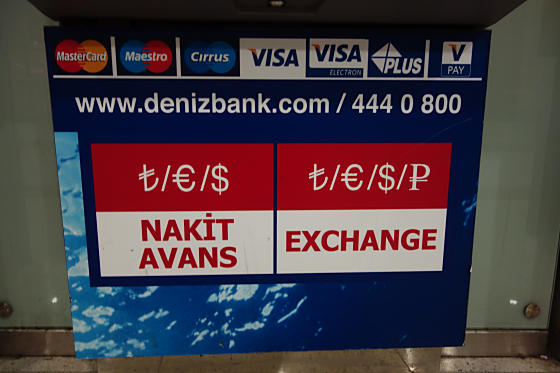 With this HSBC, it seemed possible to withdraw £ (GBP).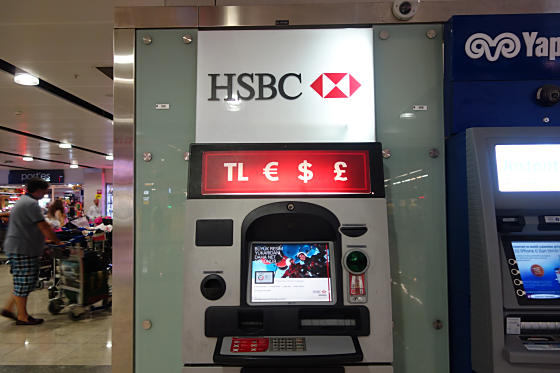 Notation of € on ATM found outside the airport.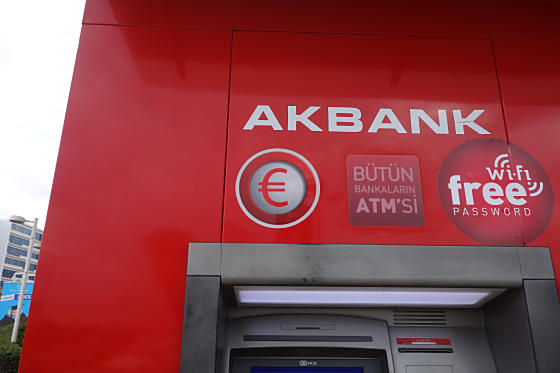 Turkey has effective controlNorth CyprusEven at ATM's, currencies other than Turkish and Lira are likely to be drawn out.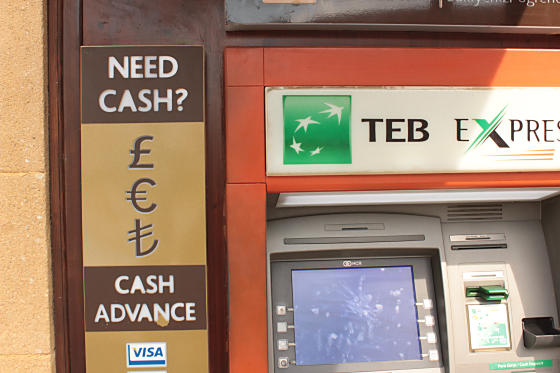 Even when I stayed in Turkey in 2010, I remember pulling out from ATM as the ferry from Istanbul to Odessa in Ukraine was US dollar payment.

◆ US Dollar, Euro Required Case
· Obtain visa (visa)
Visa fee in Africa was often paid in US dollars. The US dollars we acquired this time in Turkey will also be used for visa fees such as Egypt, Sudan, Ethiopia and Somaliland. The Iranian visa with which America is bad is the basic payment for euro.

Visa for Kenya who paid 50 US dollars.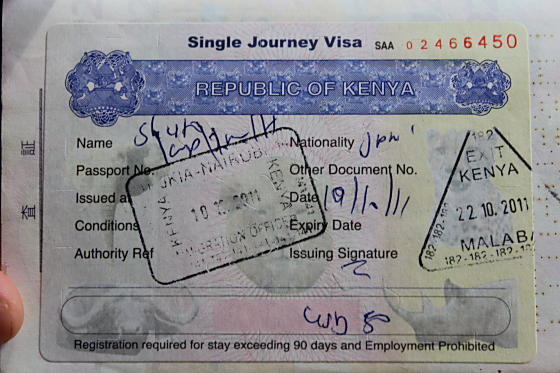 · Countries where ATM can not be used
Like Sierra Leone in the past, countries without ATM in the first place. A country like Iran and Sudan that has bad relations with the United States and ATM does not support international cash services. Also, like Uzbekistan and Venezuela, although ATM is compatible with international cash services, it is a country where the domestic economy is confused and there is a difference in the actual rate. In such countries, we exchanged US dollars and euros to local currency at currency exchanges and markets. By the way, even with the same 100 US dollars, "100 $ 1 piece" is often a better rate than "10 $ 10 bills". High-value bills convenient to carry are useful.

Argentina where dark exchange was generalized due to economic turmoil. ATM does not use it because the rate becomes extremely poor.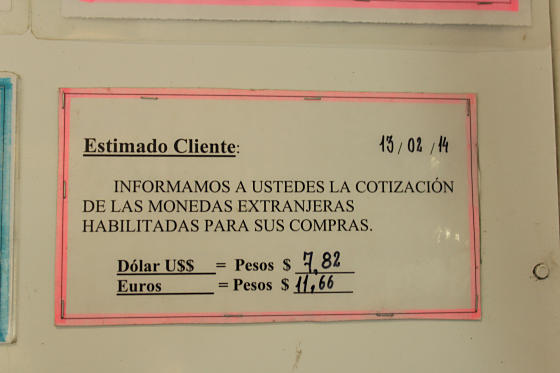 · A little exchanged
For countries that stay only a little, exchange money on hand and survive. Turkmenistan in Central Asia, who ran through with a transit visa on May 5, did so. Just the other dayWhen traveling around the South Pacific island countryIn Tonga, Vanuatu, Solomon Islands, exchange Australian dollars prepared in advance into local currency. Since the commission for withdrawing with ATM was nearly 500 yen, it was correct answer prepared for the Australian dollar.

Honduras in Central America, which was two days a night, exchanged the US dollar at the border to the local currency and surpassed it.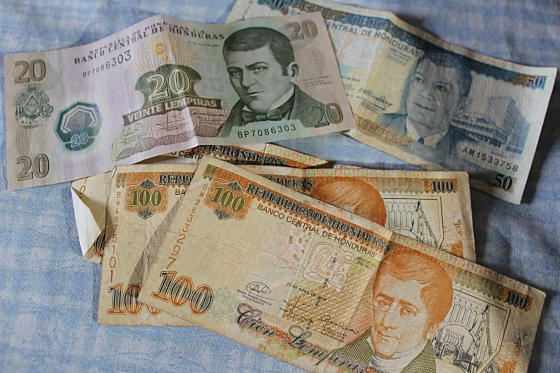 Also, if there is a distance from the border to the city with the ATM, change the small currency bill to the local currency and cover the previous stay fee.

Because there is such a thing, if you make a long journey, you have to calculate where to get US dollars and euros. Apart from this Turkey, "The euro country not only in the euro zone, the US dollar country not only in the United StatesAlthough I also introduced in the article that, Panama in Central America and Zimbabwe in Africa, the US doll distributed locally comes out from ATM. And in addition to Turkey this time, we can get US dollars in South America if you are in Peru or Uruguay ATM. Taking this kind of spot in mind and taking into account the risk of holding cash naked, I would like to continue my journey well.

By the way, the next day when we withdrew so much,Temporary 1 dollar = 116 yen unitUntil the US dollar fell down, it gave me a tight punchline.

(Sentence / photo: Takuya S. Narou Charriderman
Cycling around the world for a bicyclehttp://shuutak.com
Twitter@ Shuutak)