Facebook's "spam king" is convicted with 27 million spam transmissions, spam mails themselves are reduced to levels 12 years ago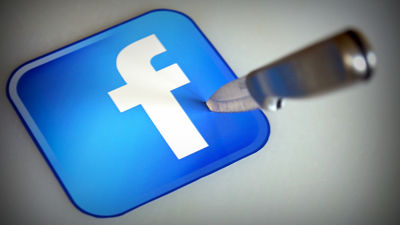 ByMkhmarketing

He was convicted of a man living in Las Vegas, USA, that he illegally obtained about 500,000 account information on Facebook and sent 27 million spam messages. In recent years when SNS became popular, damage of spam message through SNS like this time seems to be increasing rather than conventional spam mail.

Facebook 'Spam King' Guilty for Sending 27 Million Messages - Bloomberg Business
http://www.bloomberg.com/news/articles/2015-08-25/facebook-spam-king-guilty-over-27-million-messages-u-s-says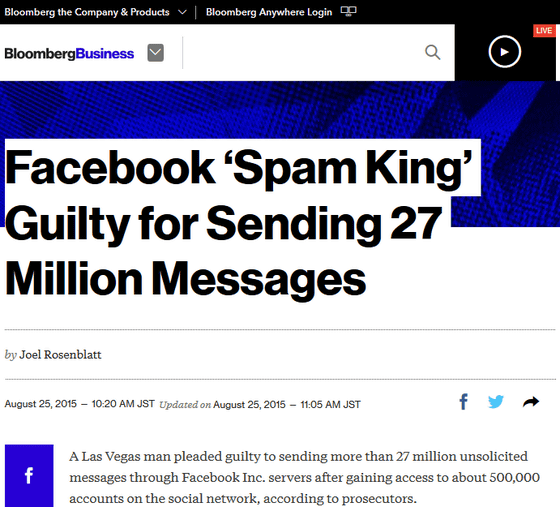 47-year-old Sanford Wallace living in Las Vegas is a famous person as "spam king" and admits that "he sent himself a lot of spam messages from 2008 to 2009" in response to the police investigation And that. Mr. Wallace also acknowledged that he broke Facebook's terms of service and infiltrated the Facebook network, and was sentenced to three years imprisonment and $ 250,000 (about 30 million yen) in a trial conducted on August 24, 2015, He was sentenced to fine.

As SNS such as Facebook and Twitter become widespread, traditional e-mail spam has been reduced to the level of 12 years ago, instead of this case the number of attack methods has become more diverse The result of the investigation is known.

Email Spam Reaches Lowest Rate since September 2003 | Digital Trends
http://www.digitaltrends.com/computing/email-spam-12-year-low/

According to Symantec of a security software development company, spam mail has decreased to 49.7% of the total of e-mails, and the proportion of spam mail has decreased to less than half since September 2003.




Although phishing emails including phishing fraud and malware are on a downward trend, the derivation of new malware is 29.2 million in April 2015, 44.5 million in May 2015, 5760 in June 2015 It seems that 10,000 have been found. In July 2015, we restrict access to PC and request ransom payment in exchange for cancellation of restrictionRansomwareThere are 477,000 second highest numbers in the past 12 months and Symantec commented that "cyber attacks are not diminished but attacks of new methods after spam are on the rise" .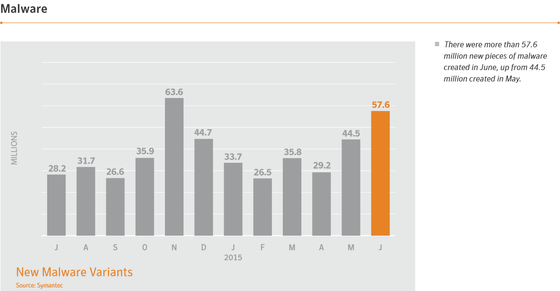 Cyber ​​attacks against manufacturing industries accounted for 41% of the total in May 2015, but it is decreasing to 22% in June 2015. However, Symantec is analyzing that manufacturing industries, which are far more expensive than finance and insurance industries, are likely to be subject to cyber attacks in the future.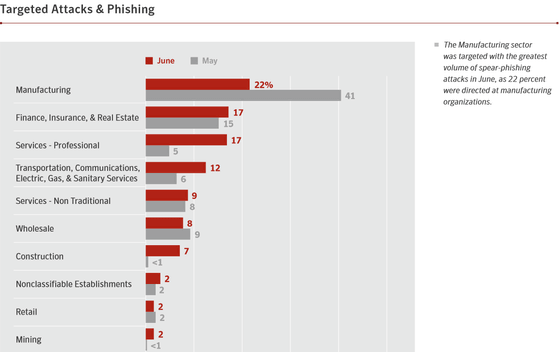 In response to a new spam attack, Twitter adopted a new anti-spam system called "BotMaker" to counter spam. BotMaker has 3 screens such as "Scarecrow" to find spam in real time, "Sniper" to deal with spam which I overlooked in real time by machine learning technology, "periodic process" to periodically analyze user's behavior We have deleted spam at the stage, Twitter announced that "Spam tweet has decreased by about 40% after BorMaker introduction."

Fighting spam with BotMaker | Twitter Blogs
https://blog.twitter.com/2014/fighting-spam-with-botmaker

Google uses both its own algorithms and manual site verification to compete against spam. On the following page you can see 57 real screenshots of spam actually checked by Google.

Antispam - Search service - Google
http://www.google.com/insidesearch/howsearchworks/fighting-spam.html