The ice "Marron Grace" which was sandwiched on the wafer by reproducing the Marlon Grassé of Haagen-Dazs is rich in flavor and rich flavor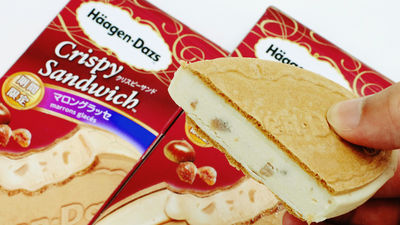 Haagen-Dazs's new work Crispy Sand reproducing the confectionary Marron Grass by mixing malon grains from Italy "Marron Grace"Has appeared for a limited time from Tuesday, August 25, 2015. In order to leave a delicate aroma of chestnuts, from the chestnut type to the texture, to the wafer, sticking out, devoting development period of one and a half years, new ice cream completedAnd thatSo I tried to see what kind of taste it really is.

Feel autumn, flavorful marron taste Crispy sand "Marron Grace" Starting limitedly on August 25 (Tue) New release | Haagen Dazs Häagen-Dazs
http://www.haagen-dazs.co.jp/company/news/2015/07/-825.html

Hagen Dazs' new crispy sand "Maron Grace" package looks like this.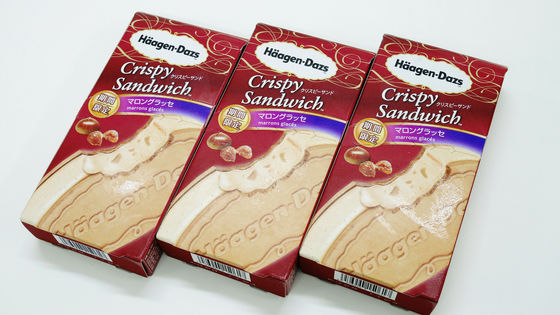 For sale for a limited time, pictures of chestnuts and marron glaze are printed on the package.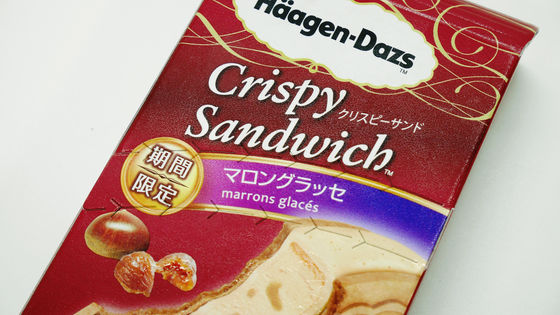 Raw materials are written on the side of the box, including white chocolate coaching, granulated malon paste, wafer, marron powder, and powdered sake. Incidentally,Types of ice cream"Ice cream (milk solids content 15.0% or more out of milk fat content 8.0% or more)", non fat milk solids content 8.5%, milk fat content 12.5%, egg fat content 0.8%.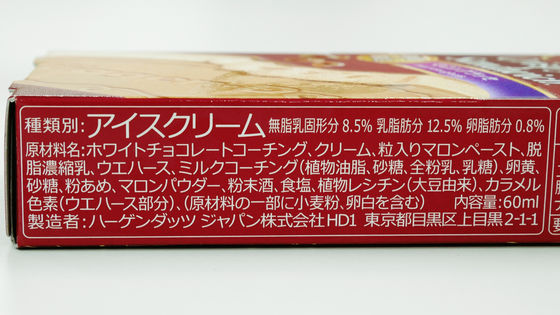 Nutrients per unit are 250 kcal of energy, 2.6 g of protein, 16.9 g of lipid, 21.9 g of carbohydrate and 38 mg of sodium. On top of nutritional ingredients it is written that "There are small pieces of chestnut-derived black or tea, such as astringent skin, but there is no problem in quality", you can see that chestnuts are used with astringent skin attached.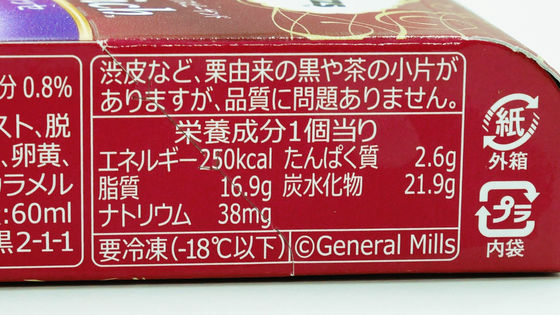 That's why I opened the outside box with you. Because there is crispy sand wrapped in a plastic bag inside ... ...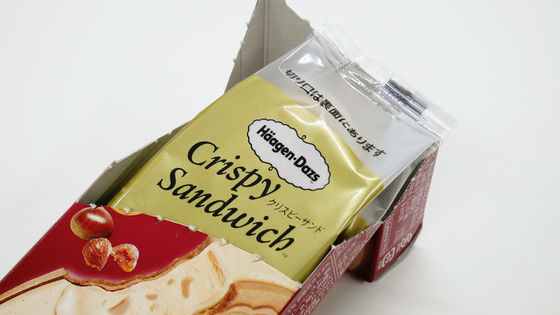 Vinyl also breaks from the back.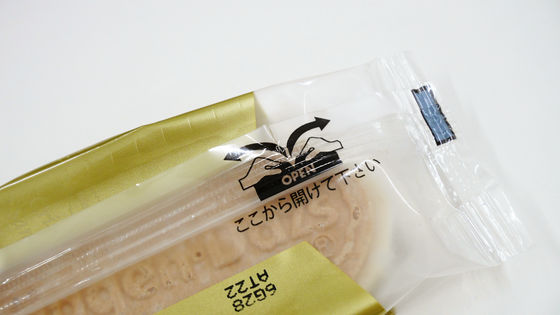 Crispy sand looks like this. The letters "Häagen-Dazs" are written on the wafer.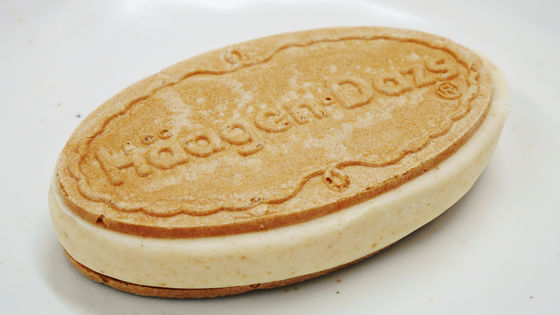 Try cutting it in two and this way.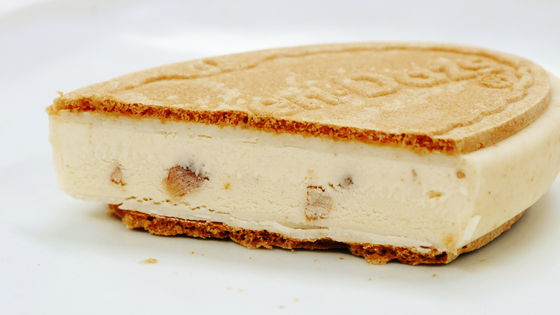 In Maron ice is coarse crushed chestnut grain.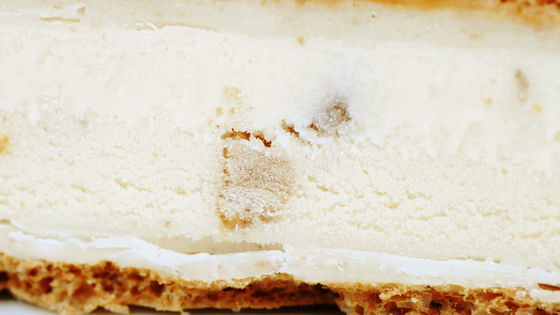 Chocolate coaching between the wafer and the ice cream.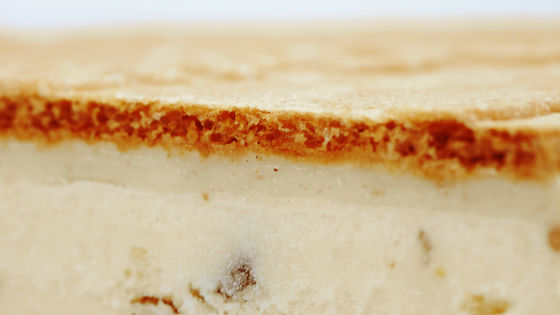 That's why Pakuri is at once.Developer says"The fragrance of the chestnut was more subtle than I thought, depending on the type I lost to the milk of the rich taste of Haagen Dazz I tried many kinds and finally adopted Italian chestnuts. , I am putting astringent skin together so that the taste of the chestnut can be felt firmly. "When I tried to eat it, I felt the taste of chestnuts easy from Maron ice firmly and entered the ice cream Thanks to the chestnut grain it has become possible to enjoy chestnuts as a texture. It is said that wafers are more fragrance than ordinary to take up the flavor of ice, and when we eat it with ice it exquisitely matches the fragrance of wafer and chestnut scent.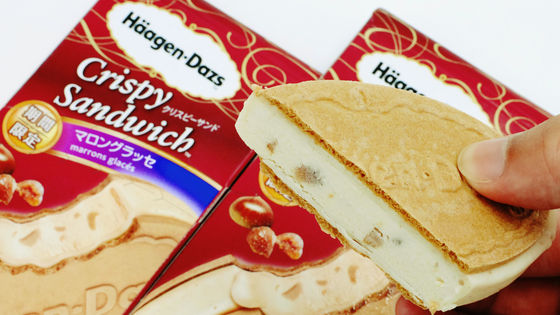 And from this chocolate coaching part, you can feel the richness of chestnuts thicker than ice cream and the flavor of sake peculiar to Maron Grusse, and when it melts in your mouth it makes the ice very rich flavor.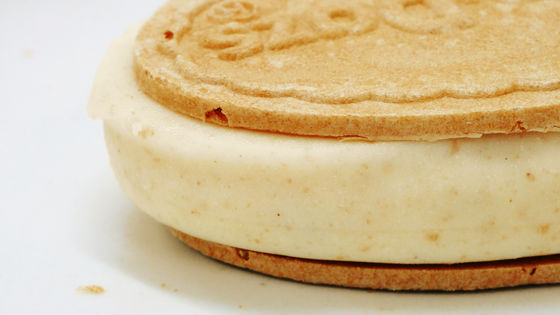 In addition, "Haagen Dazs Crispy Sand Maron Glacess" is a suggested retail price of 294 yen (including tax), and it is sold for a limited time from Tuesday, August 25, 2015.