Which is the ratio of who likes Windows 10 or dislikes users?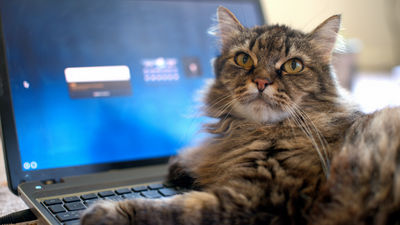 ByWabisabi 2015

Microsoft's latest OS "Windows 10About one month has passed since the release on July 29, 2015, comments by users who tried using Windows 10 are written one after another on the net. Meanwhile, the result of survey of about 7000 users on SNS about the question "Which users like Windows 10 is not the most popular?" Has been announced.

"I Hate Windows 10" vs "I Love Windows 10" - The Social Media Reaction
https://www.brandwatch.com/2015/08/react-why-thousands-of-people-love-and-hate-windows-10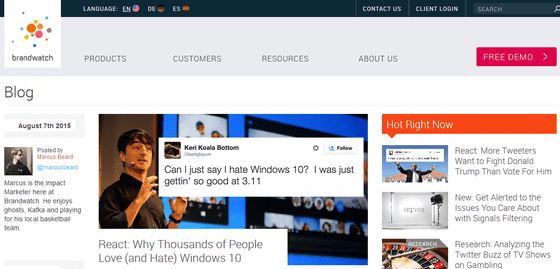 New study shows more people love Windows 10 than hate it | Windows Central
http://www.windowscentral.com/new-study-shows-more-people-love-windows-10-hate-it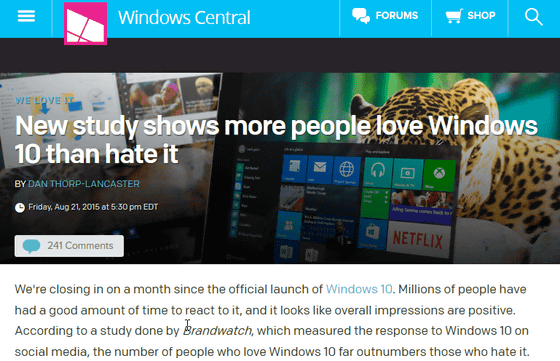 I am conducting SNS data analysisBrandwatchResponded to Windows 10 on SNS, it turned out that users who commented that "I like Windows 10" accounted for 90% or more.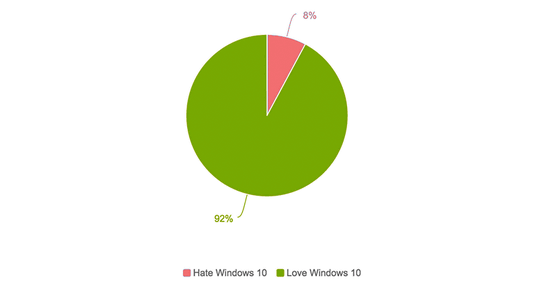 When looking at the daily data of nine days from the start of provision, there were many users who commented as "10 like like" at the ratio of 10: 1 on July 28 (local time) of the start date of the service It seems. Peak of comment submission is on the second day of offering, and the appearance of "dislike" faction gradually increased. According to Brandwatch, one out of every five users posting positive comments also showed a negative reaction at the same time.




From the result of summarizing "favorite things" about the new function installed in Windows 10, speech recognition Personal assistant "Cortana", A new browser"Edge"It turned out that the Xbox application is occupying the top start menu, which was revived in Windows 10.




Analyzing the user's comments that showed a reaction of "dislike Windows 10", complaints about the start menu are tremendously abundant, and then dissatisfaction with Edge, Cortana, Xbox app, action center continues.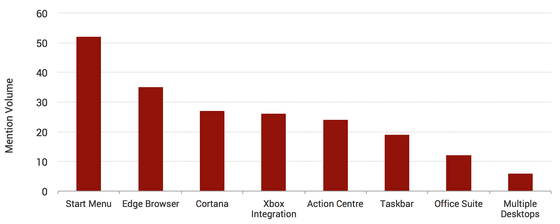 To summarize the results of investigating "likes / dislikes" about each function of Windows 10, it is clear that Cortana is most favored by over 80% of users. Next, Edge, Xbox application continues, it seems that more than 60% of users are feeling "preferable" with the restarted start menu. Also, "Office suite" has commented that more than half of users are "undesirable".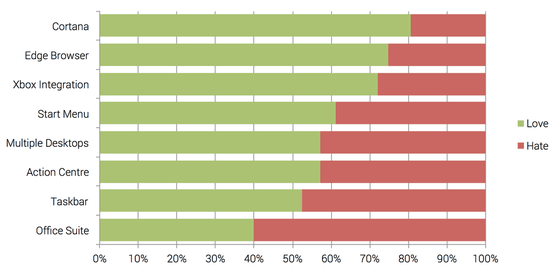 Gabe Aul, director of Microsoft's engineering team, said that "Microsoft's excellent products will be shaped based on user feedback," and complaints from users such as the Office suite have been raised I would like to expect improvements on the function.