On the point that the procedure to change the default browser on Windows 10 is too bad about Firefox developer Mozilla CEO expressed complaints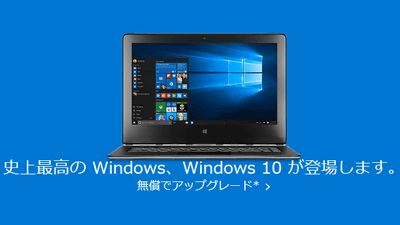 Chris Baird, CEO of Mozilla, the developer of the web browser "Firefox", told Microsoft's Satya Nadera CEO that the procedure to change the default browser on the newly released OS "Windows 10" is a trouble. I publish a letter in the company's blog.

An Open Letter to Microsoft's CEO: Do not Roll Back the Clock on Choice and Control | The Mozilla Blog
https://blog.mozilla.org/blog/2015/07/30/an-open-letter-to-microsofts-ceo-dont-roll-back-the-clock-on-choice-and-control/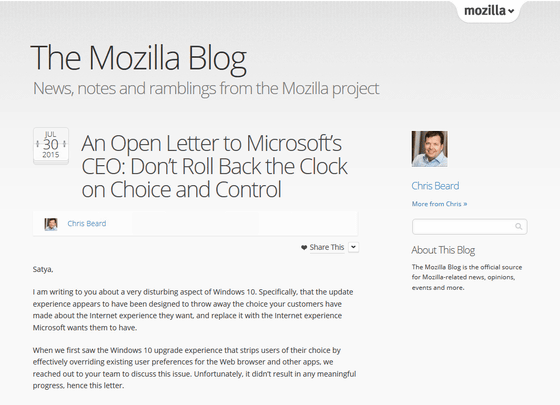 Safeguarding Choice and Control Online | The Mozilla Blog
https://blog.mozilla.org/blog/2015/07/30/safeguarding-choice-and-control-online/

In a published letter, Baird noted "a clues" on Windows 10, "Especially, upgrading (to Windows 10) in particular will discard the choice in the Internet experience the user wants and replace it with what Microsoft wants I think that it seems to be designed, "and criticizes the fact that browsers set as the default due to the upgrade to Windows 10 are reset. Regarding this point, he also points out "It should be technologically possible to upgrade while leaving the settings."

Furthermore, in Windows 10, it takes time to change the default browser and knowledge that allows you to tamper with PC settings to a certain extent is necessary, but in versions before Windows 10 that did not have this kind of trouble, Mozilla Pointed out, "Criticizing the time-consuming setting change," ((change of setting) confusing, operation is difficult and will easily fail).

According to the letter, Mozilla seems to have contacted the Microsoft side after noticing that the change method of the default application of Windows 10 changed, but since it was not able to obtain a meaningful response, let us release the letter on the blog I am revealing what I decided.

What is the difference between the previous setting change and the setting change of Windows 10?As of July 2015With OS share for PC for PC which boasts over 60% of Dantotsu Windows 7 starts up other than the default browser, the following display pops up. By clicking on "Set Firefox as the default browser", Firefox has been changed to the default browser without any other operation.




On the other hand, the procedure for changing the default browser on Windows 10 is as follows.

How to Change Your Default Browser in Windows 10 - YouTube


When you start a non-default browser ... ....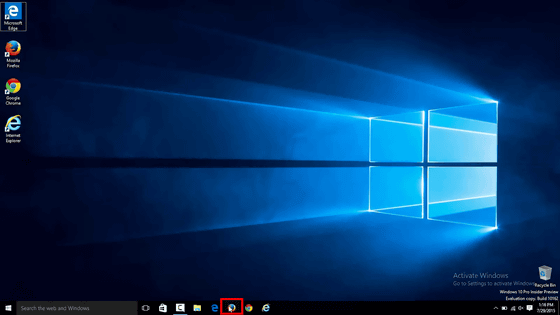 Like Windows 7, "Firefox is not currently set as the default browser, will you set it as the default browser?" Will be displayed. Click "Use Firefox as my default browser" ... ...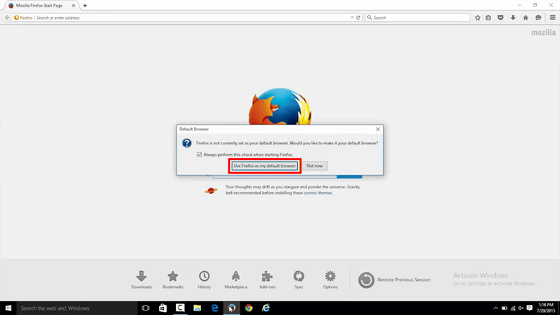 Setting finished ...... I think that it opens a screen for setting the default application in the Windows 10 system settings.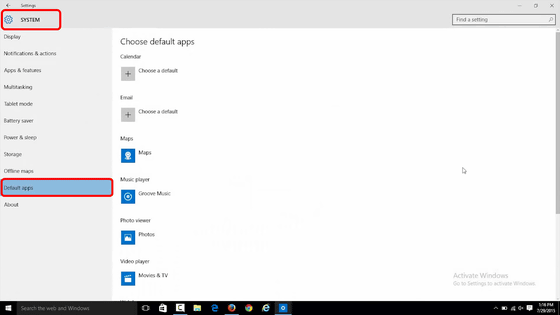 It is necessary to manually change the default browser from this screen. Select what you want to be the default browser from "Web browser" item.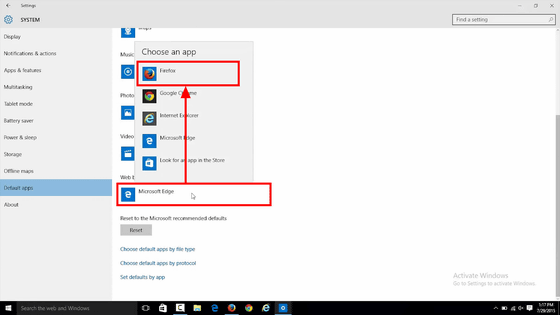 Once the display changes, the setting change is completed.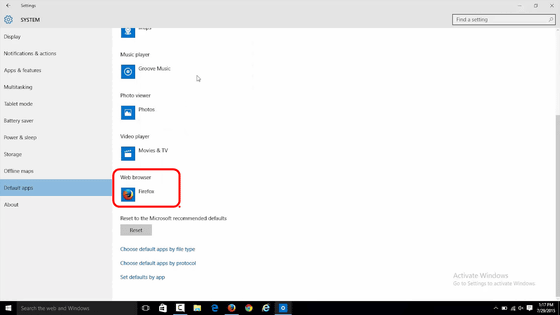 In addition, after Baird has released the letter, Microsoft said, "We designed Windows 10 to be an easy and cohesive upgrade for users, and during the upgrade, the elements that users can choose the default settings It contains a web browser in it, "statementIn addition, if you can see the points to be improved from the user experience, we are showing the attitude to respond flexibly.