It turned out that the hitchhiker robot who tried crossing the United States was destroyed by haste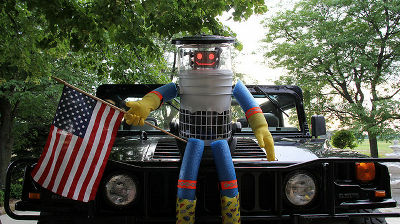 ByHitchBOT Official

A hitchhiker robot made by a Canadian research team "Hitch BOT"Started the journey across the Americas, it turned out that only two weeks later it was destroyed by someone. The photographs of the broken HitchBOT are widespread on the net, but the person who actually hurt has not been identified.

Hitchhiking robot's cross-country trip in US ends in Philly
http://bigstory.ap.org/article/fc26378306a44d62bc9eb14b122f9b70/hitchhiking-robots-cross-country-trip-us-ends-philly

HitchBOT is a robot created by a research team by Ryerson University and Toronto University, Canada. It has a cylindrical body with blue and yellow hands and feet, and LED matrices are mounted on the face part so that some expression can be reproduced. A computer is built in the body and can communicate with human beings by voice, so it seems to be able to take communication during driving.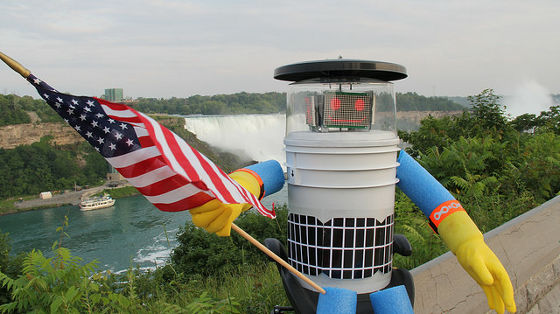 ByHitchBOT Official

The journey of hitch BOT began from searching for a kind person who can ride a car by the road like this.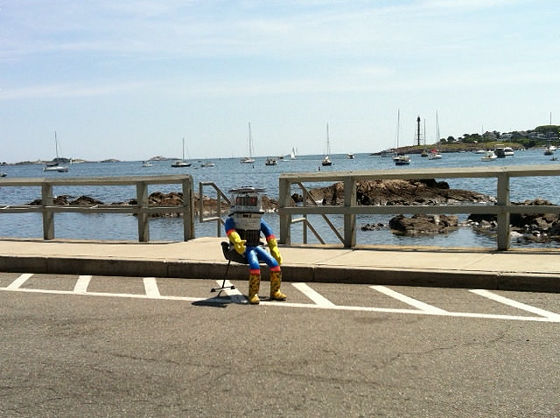 ByHitchBOT Official

Driver that you can put hitch BOT on board with the robot like this ... ...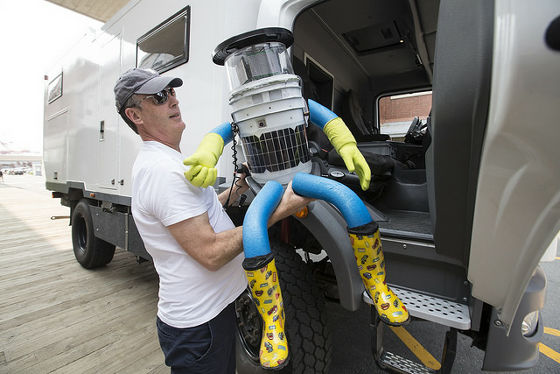 ByHitchBOT Official

For a while, I will carry hitch BOT to where I can go. The solar panel for power supply is mounted on the hitch BOT, but in this way it sometimes adds electricity from the cigar socket during the drive.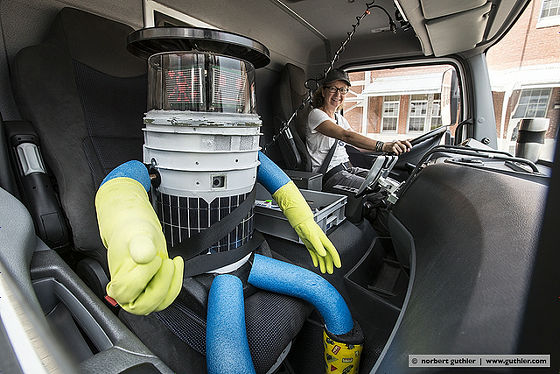 ByHitchBOT Official

Incidentally, the installation scenery of hitch BOT is like this. It is designed on the assumption that you sit on a car seat and you can not stand on your own feet so that it stays like a stand sitting by the side by extending it like a stand from the buttocks.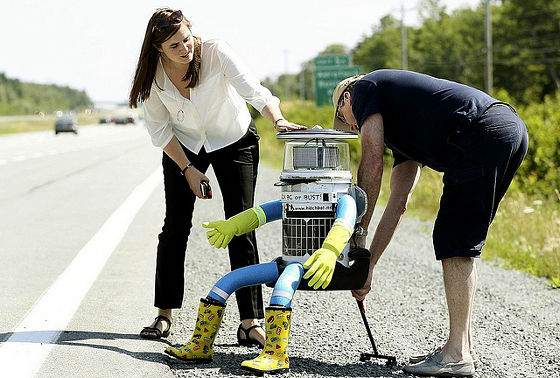 ByHitchBOT Official

This hitchBOT has been with CanadaGermany, AndNetherlandsI had a successful hitchhiking journey.

Hitchhiker · Robo, successfully crossing Canada in 3 weeks «WIRED.jp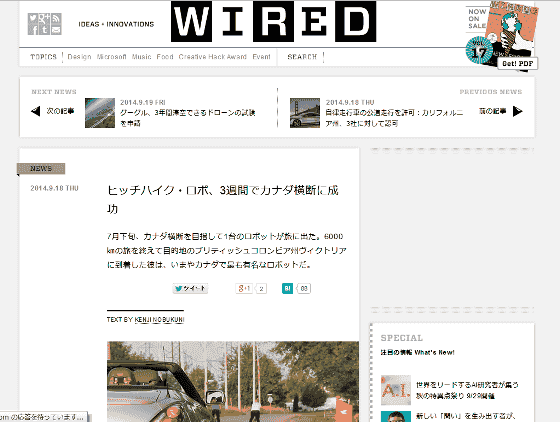 People are welcomed by people and many commemorative photos are uploaded with the message of hitchBOT. The purpose for which hitch BOT was developed is not to study robot technology, but on the contrary it is to investigate what kind of action will be taken when people encounter a robot that hitchhikes. Actually, the research subject was not a robot but a human being.


Furthermore, it seems that hitchBOT does not have the function of writing a message by yourself. Messages posted on SNS etc. seem to be due to research team's ghost writer.

As you can see, hitch BOT has been welcomed by people from all over the world, but it will be hit by a tragedy in the middle of a trip in the United States. Hitchbot, which started in Massachusetts on the East Coast of the United States on July 17, 2015 and hit every time across the United States aiming for San Francisco on the west coast, is scheduled to take place around August 1, Philadelphia, Pennsylvania It was said that harm was added by someone when it reached.

HitchBOT | A robot exploring the world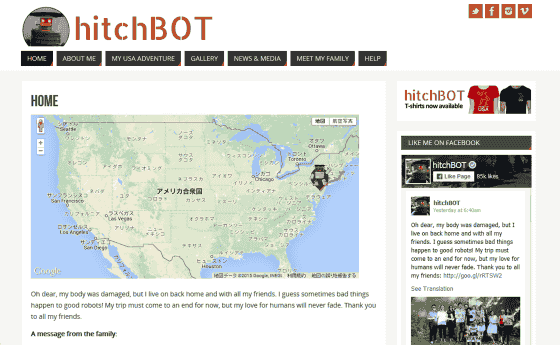 On the site, as a message from hitchBOT, "As a matter of course, my body was broken, but I will return to my house and my friend alive. There are things that bad things happen to a good robot My travel has ended at the moment but my affection for humanity never goes away, thanks to all my friends, there is a crying message.
I guess sometimes bad things happen to good robots! My trip must come to an end for now, but my love for humans will never fade. Thank You to all my friends.
Furthermore, on Twitter etc., pictures which seems to be hitch BOT destroyed separately are widespread, and the research team is also confirming this image.

EXCLUSIVE PHOTO: evidence of vandalized hitchhiking robot in#philly.# Hitch BOTinUSATrip is over ....Pic.twitter.com/VAjvGQzF3u

- Andrea WBZ (@ Andrea WBZ)2015, August 1
BFvsGFIn the movie uploaded to YouTube by the user named "last appearance" of hitch BOT which was placed in the city center of Philadelphia was contained. In the latter half of the movie, the scene that carries hitch BOT on the car and carries it to a certain bench is contained, but the GPS signal of hitch BOT seems to have ceased its place last.

DRONE PRANK + NO WHEEL WHEELIE - YouTube


It seems that angry voice is rolling up in the United States against this incident. Frauke Zeller, a member of the research team and one of the birth parent of hitchBOT, was a hitch BOT journey that the past success so far ended in an instant, "It was a power of hitch BOT I am grateful to all the people, it was a wonderful experience. "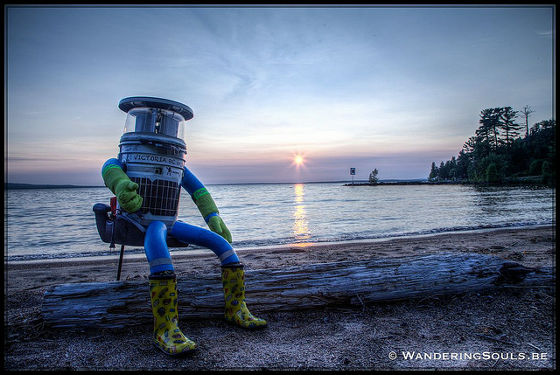 ByHitchBOT Official

◆ 2015/08/06 14:40 Additional notes 1
After the incident, the video of the shock, which seems to be the "last moment" that hitch BOT will be destroyed on YouTube was released, but later it became obvious that this picture was a fake.

First of all, this movie was released as "the last moment" caught by the surveillance camera of the street corner.

The Hitchbot's Last Moments | FULL "Surveillance Footage" - YouTube


The figure of a man walking towards here with a dark night road. Although hitchBOT is sitting on the bench in front, it is blocked by a big trash can not see its appearance.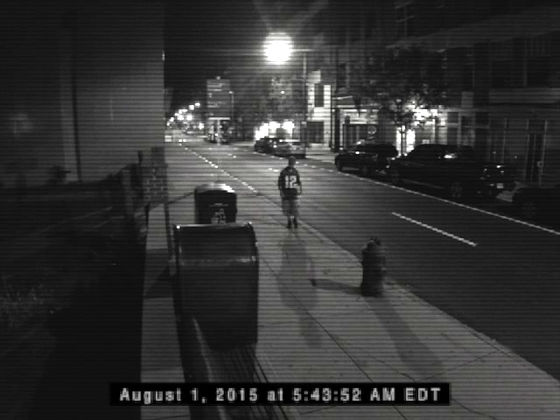 After that, he was a man who passed by the scene once, but began attacking again by kicking back and coming back. I could not understand the situation at all from the screen as to why this man suddenly began assaulting.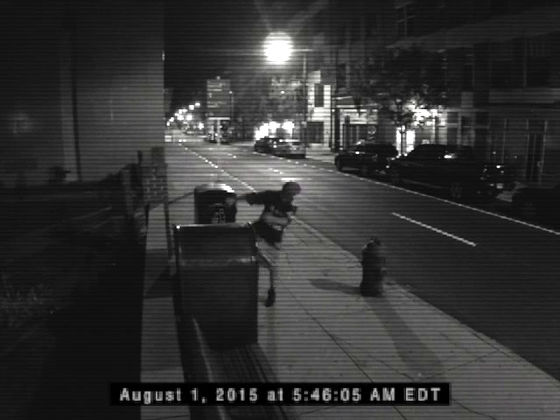 A man who throws away parts like the arms of hitch BOT and leaves. It was supposed to remember even anger without thinking that I could show this video without knowing anything.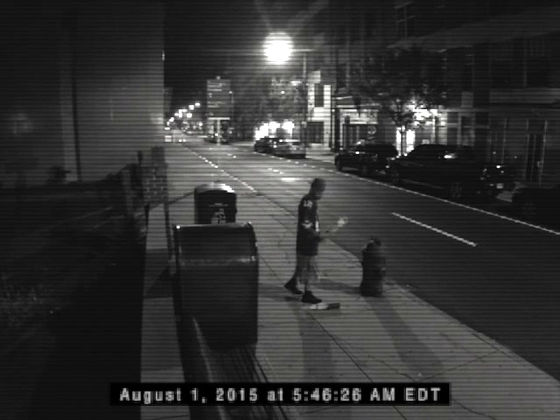 However, it turned out later that this movie was a complete creation.

HITCHBOT PRANK ON THE NEWS !! - YouTube


It is a man who ran into "crime" ... ...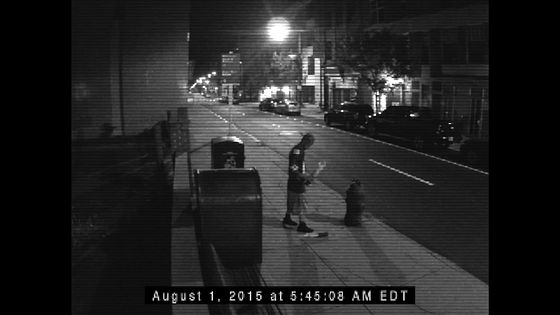 Somehow I am looking into the surveillance camera.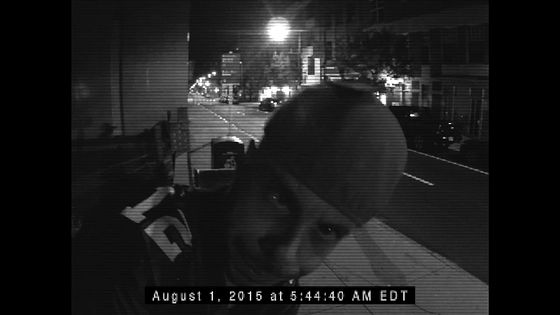 Actually, this surveillance camera was what men had bought in, and the remnants of the arms thought to be hitch BOT are actually fake. It is clear that the published movie was made by this man's hands.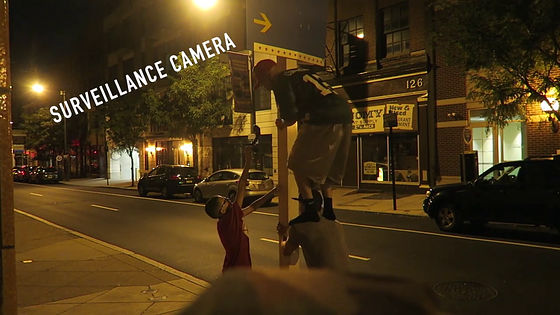 What is shown in the camera is a man of "BFvsGF" which is a video blogger (vlogger) which appeared also in the above article. In the movie, "We must work together, we do not know who did it, but we do research on our own," we talk about what we did in this action.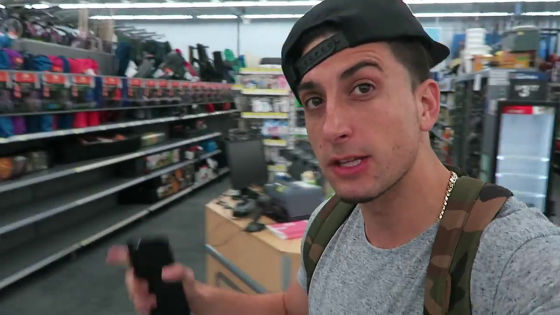 A man who colors the material bought at the home center with a spray and reproduces the arm of hitch BOT.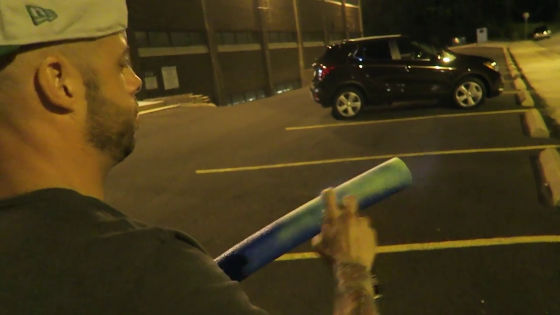 In the comment section of the YouTube movie, the man says, "We are the driver who put the hitch BOT last, which is true, but since the incident occurred, the press came to us and heard more about it It is said that they are in such a situation that they are being treated like a criminal. On that basis, he talked about the background behind the action, "I tried mischief on the mass media based on the policy of" trying ".

Message to the movie "Do not Always Trust the News!" (Do not believe the media all the time!). Although its intention is entirely immeasurable, I can only tell about how frustrating about mass media is being recruited.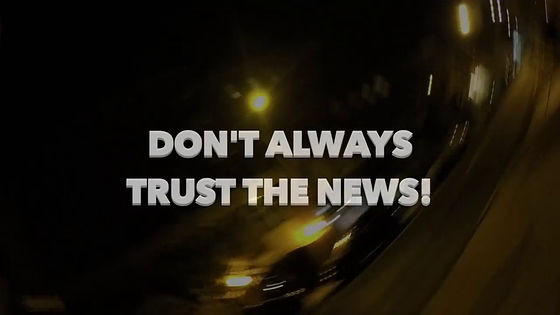 ◆ 2015/08/06 14:40 Additional notes 2
After the incident, the movement to make the successor of hitch BOT with their own hands has started since "real Philadelphia is not such a place".

The Hacktory »Next Steps
https://www.thehacktory.org/hitchbot-efforts/next-steps/

Based on Philadelphia, the group called "Hacktory" (Hacktory), reminiscent of "Hack" and "Factory (Factory)", informs the richness of "Philly (Philadelphia abbreviation) and the richness of talent To break this nightmare of bad criticism "started the hitchBOT reproduction project. We are trying to create big movements by widely recruiting parts and knowledge to make robots, and video creator to record and publish projects.

The project is scheduled to be held at the University of Drexel / ExCITE Center in the city center between 18 o'clock and 21 o'clock on Thursday, August 6 th local time. On the site "hitchBOT timeline" page has been opened and the history of hitchBOT so far introduced. Also, it may be that the future progress of the project will be posted.

The Hacktory »HitchBot Timeline