If you take notice of the explanatory image that comes up in the result of Google search, I found interesting contents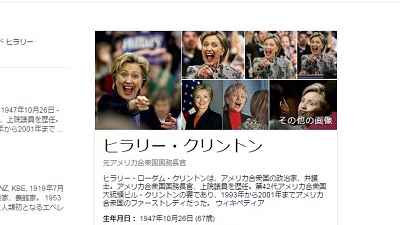 Google search is indispensable for our internet life, but when you notice, new useful functions will be added one after another. Since when was it supposed to be able to explain, but the image that appears in this explanation is sparkling shining, or what is wrong with "What is this?", There are plenty of plunges.

Hello,Takuya Sudo @ circle around the world bicycle @ Charridermanis. Search the place of the cheap hotel on the map, convert the local currency into yen by searching, keep going on a trip to Google even on a trip. Web browser also used Chrome unnoticedly.

◆ I care about this image
I do not know when that happened, but when I search for an interesting word, a brief explanation will appear on the search result screen. The outline is pulled from Wikipedia, and if it is a person, the date of birth, place of birth, spouse and height are stated and the target images are arranged. just like this.

When searching for "Ichiro", it seemed like they were active in a uniform figure.




Looking at "Kojima Yoshio", it is a figure that decides pose by one swim pants ... .... The aggressive expression that comes out by searching for comedian tells us what professional work is.




When searching for "Masashi Kishimoto", a picture of a manga was displayed instead of himself.




Speaking of "Putin" is the president of Russia, yet, I feel that the image story is mixed.




Searching by "Funassy", I am sorry.




Searching with "Bear", it is an animal. It is a bear.




Searching by "cat", there is no doubt that it will be healed. Also search for your favorite cat such as "Mika cat" "Persian cat" "Siam cat".




When searching for "tomatoes", the fresh red color jumps in.




When searching for "Matsusaka beef", spit saliva was created without thinking of frosty meat.




If you search by "Tonkatsu", you will appreciate the appetite of the freshly baked dish.




When searching for "Splatoon", squid images were gathered.




When you search on "Jupiter", the image of the star will be displayed.




Even the same character "Pikachu"Although there is explanation as"Mickey MouseIt is not there. What is the standard of the items displayed? However, in April of 2014 "Google's useful search results that I do not know and knowCompared to the time it was investigated to write in writing, I feel a lot of change in the display of the result.

◆ Find mistakes
It is determined that the displayed image matches the description, but depending on the search result, there was a mixture of images that suspected eyes.

When searching for "Oreo", only one cartoon character in the product image ......




If you search by "Tekken Series", there is a comedian even though it is an explanation of video game. Moreover, dignity like a villain.




When searching for "Kiyomori", there was an actor who played a historical drama. Historical figures are just as real images can not be grasped, the images displayed are not unified.




When searching for "Genoshi Genji", images of Genghis Khan appeared. "Yoshitsune = Genghis Khan theoryIt seems to be derived from.



When searching for "Musashi", there are situations where battleships and "ship" and fighters are mixed. The description of the battleship is displayed.




◆ Feedback
If there is a mistake in the image, we can report it to Google.

Searching with "Sazae", although it is described as an animal, only one animated character was mixed.




Scroll down and click the "feedback" link in the lower right corner of the frame.




Select the wrong image.




If there is something you may fill in the text field, but because it is not compulsory, just click the "send" button.




A series of tasks proceed smoothly without feeling any hassle. With this feedback, you will increase search accuracy.

What is the displayed image?
This image is pulling the material from the image search of Google. In order to confirm this, when searching the same words on Google.co.jp and Google.com, the result was so different.

When you search "sushi" on Google.co.jp, images of handful sushi are arranged.




This is the result of searching the image "sushi" on Google.co.jp.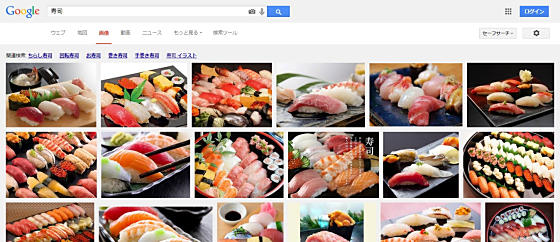 When you search "sushi" on Google.com, images containing rolled sushi are displayed.




This is the result of searching the image "sushi" on Google.com. In Japan and overseas, you can see that the image of sushi (sushi) is quite different.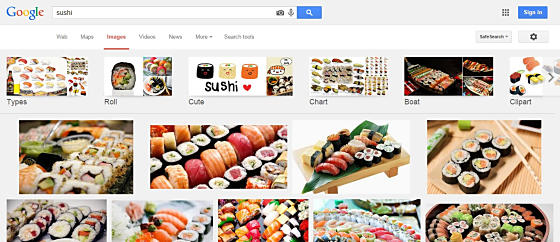 Searching "rice balls" on Google.co.jp is an orthodox triangle ......




When searching "onigiri" on Google.com, rice ball spirit rice balls were also mixed.




When you search "Kernel · Saunders" on Google.co.jp, the images of the display images on the KFC's storefront line up ....




When searching "Colonel Sanders" on Google.com, images of real people were lined up.




When I try this way, it is interesting to understand the difference between Japanese and overseas even in the same language.

By the way, the thumbnail image of this article is a capture at the beginning of July 2015, so it may be different from the current search result. The web browser uses Chrome, but I used incognito mode so that search results are not influenced by personal usage history. However, depending on the location currently connected to the Internet,Search results will changeThat's right. When I searched from overseas, it became this kind of feeling, but what kind of results are displayed in your browser?

(Sentence / picture: Takuya SAITO @ Charriderman
Cycling around the world for a bicyclehttp://shuutak.com
Twitter@ Shuutak)