YouTube's viewing time is increased by 60%, even on YouTube for mobile it doubles, and revenue also increases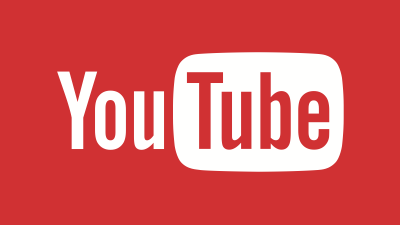 Google achieved revenue of $ 17.7 billion (about 2.1 trillion yen) in the second quarter (April to June), a growth rate of 11% over the previous year was in the second quarter of 2015 (April - June) It turned out in the settlement report. Cause is the ad revenue of YouTube and Google search on mobile.

Google Inc. Announces Second Quarter 2015 Results - Investor Relations - Google
https://investor.google.com/earnings/2015/Q2_google_earnings.html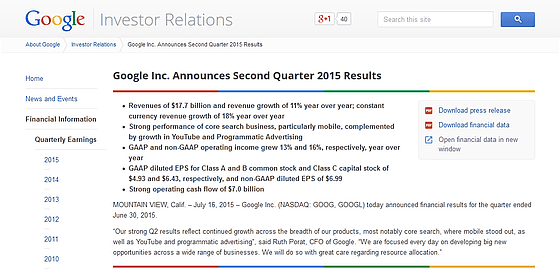 The growth rate of the YouTube business has become the fastest momentum in the past two years among the businesses many of Google has developed, the viewing time of YouTube as a whole has increased by 60% from 2014 and the viewing rate doubles only on mobile YouTube doing. YouTubeRevenue is deducted while having a user base of 1 billion peopleAlthough I was reported in the past, it is Google's CFO (Chief Financial Officer)Ruth Polat"We aimed to provide a platform that attracts users' attention rather than increasing revenue," and it seems that the result has led to increased revenue.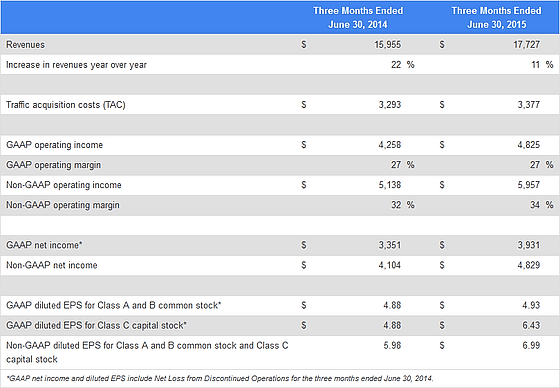 In addition, Google's advertising revenue was approximately $ 16 billion (about 1.18 trillion yen), and the growth rate increased by 11% over the previous year. In addition, while "Other revenue" items including Google Play application sales etc. increased further by 17% year-on-year, pollt said, while Google Play showed substantial growth, Google's hardware It is said that it is offset by a decline in business.




Although Google's revenue growth rate has increased by 11%, it is paced down from the growth rate of 22% in the second quarter of 2014,The Wall Street Journal"We expect Google to avoid aggressive business development and focus on ongoing projects".

YouTube's official tweet tells you how much YouTube is growing.


For December 2014, in Japan, I am watching YouTube about 3 hours per person on average.#YouTube TipsPic.twitter.com/2toExL8twE

- YouTubeCreatorsJapan (@ ytcreatorsjapan)2015, June 30
Viewing time on YouTube smartphone worldwide exceeded 50%, and increased by 90% compared with the previous year.#YouTube TipsPic.twitter.com/OQlCHdC 4 PM

- YouTubeCreatorsJapan (@ ytcreatorsjapan)2015, June 8
Approximately 300 hours of videos have been uploaded to YouTube per minute#YouTube TipsPic.twitter.com/ZqtkclY85l

- YouTubeCreatorsJapan (@ ytcreatorsjapan)2015, May 7
Ten years ago, founder of YouTube opened beta version YouTube with one mission. Its mission is "to provide a place where anyone can easily upload videos and share it all over the world"#YouTube Tips# YouTube HappyPic.twitter.com/snUPEWH2ab

- YouTubeCreatorsJapan (@ ytcreatorsjapan)2015, May 21