I ate "Ice Cream Burger" with hamburger-style ice and fruit in bread at Glorious Chain Cafe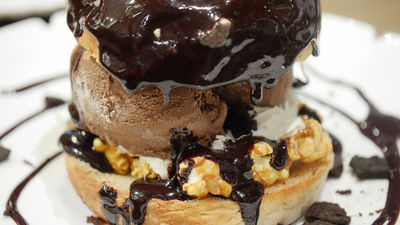 In the menu of the cafe "Glorious Chain Cafe" operated by Italian clothes manufacturer DIESEL, we made ice cream in bread and tailored to hamburgers styleIce cream burgerNew sweets called "Wet Sweetness" appeared on July 1, 2015 (Wednesday). I was wondering what it would be like when Ice cream was used as a ingredient for burger, so I went to eat three kinds of ice cream burger at once.

GLORIOUS CHAIN ​​CAFÉ: SWEETS BURGER: DIESEL NEWS
http://www.diesel.co.jp/news/gcc-sweetsburger-20150629/

Arrived at the Glorious Chain Cafe Shinsaibashi store.



There was a handwritten signboard notifying three types of ice cream burger at storefront.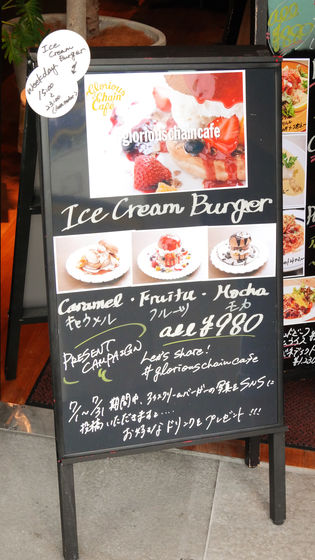 The inside of the shop is made long like this vertically.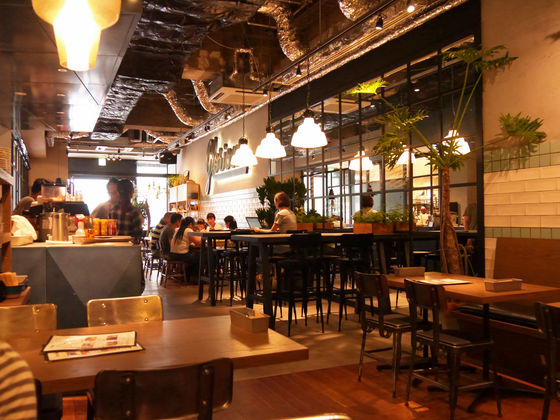 Ice cream burger was found in the dessert menu. In addition, ice cream burger is available from 15 o'clock.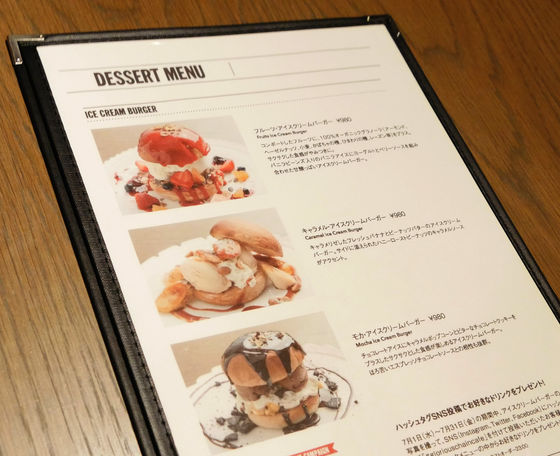 As drinks can be added at plus 310 yen, with ice coffee ......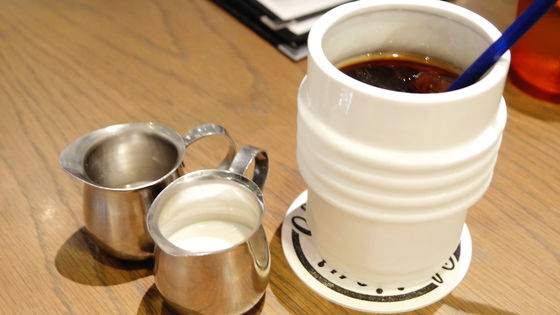 I ordered a ginger ale.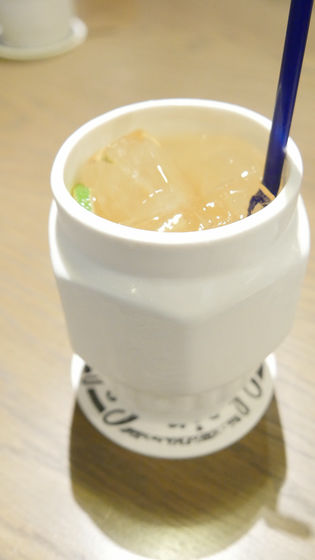 Cutlery's hands are shaped like a hexagonal wrench, making DIESEL 's like design feels heavy and solid. In addition, these cutleryIt can be purchased actuallyis.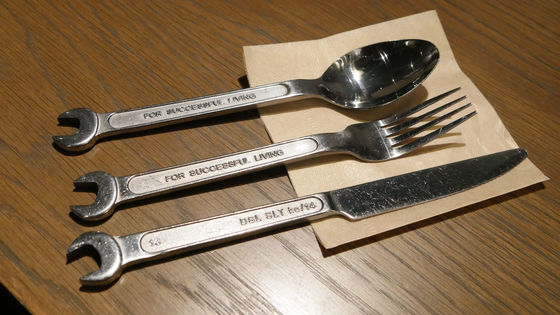 Ice cream burger arrived in about 10 minutes to wait. "Mocha Ice Cream Burger"It's a dessert with chocolate ice cream with popcorn and chocolate cookies plus it in the buns and a bittersweet espresso chocolate sauce.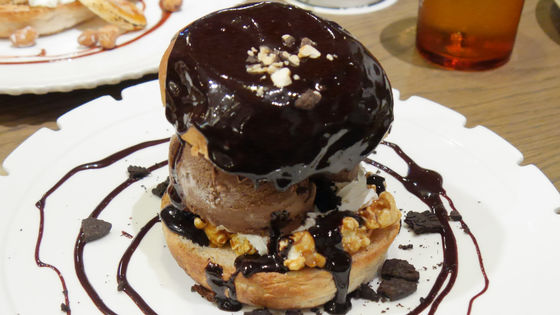 The chunks of ice cream and gobs are sanded and there is about the same height as the iPhone 5.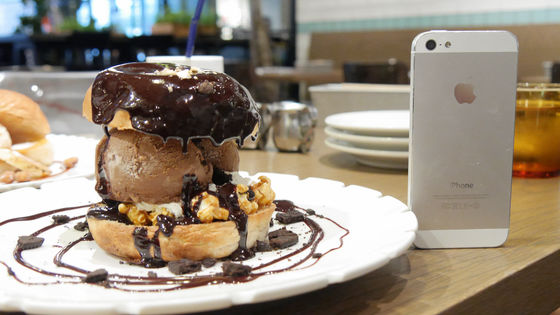 The diameter is slightly smaller than the iPhone.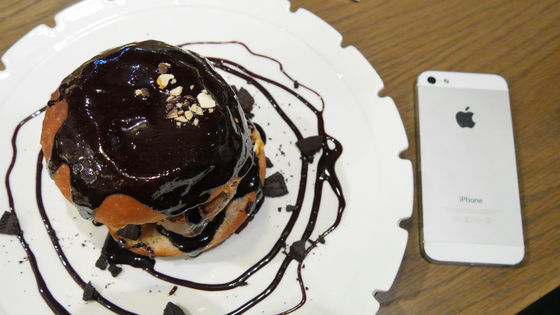 On the surface of the buns is thick and thick espresso chocolate sauce is being applied, it is deep in gloss. Above the sauce, finely crushed nuts are sprinkled.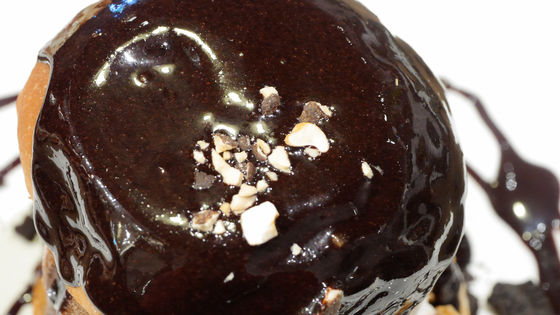 When removing the upper buns, two chocolate ice was sandwiched.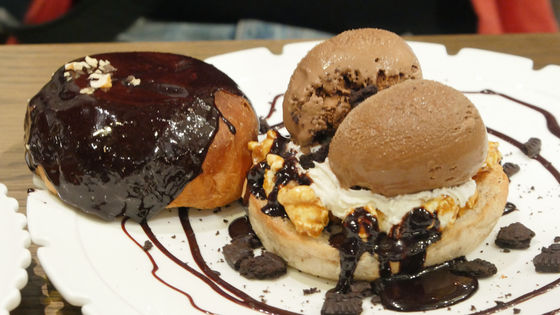 In addition to ice cream, you can see caramel popcorn and bitter chocolate cookie.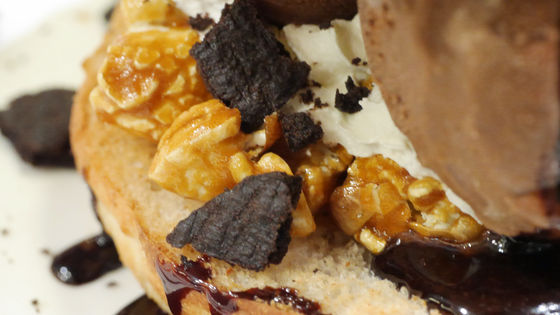 I had trouble wondering how I should eat desserts that I had never seen before, but I decided to eat it by cutting the buns with a knife to make a bite size. The buns are baked heavily and they are baked and fawked. From the chocolate sauce you can feel the deep richness of espresso.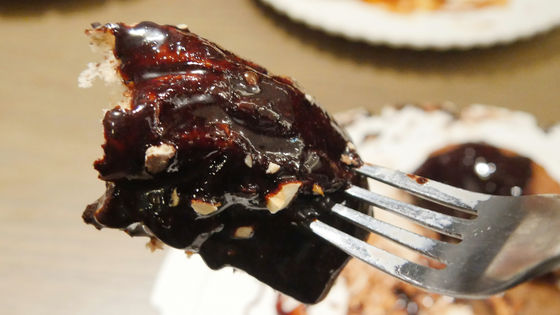 If you feel that the espresso chocolate sauce on the buns is too bitter, when you add a sweet chocolate sauce that is decorated on the plate to the buns, the balance between bitter and sweetness is just right.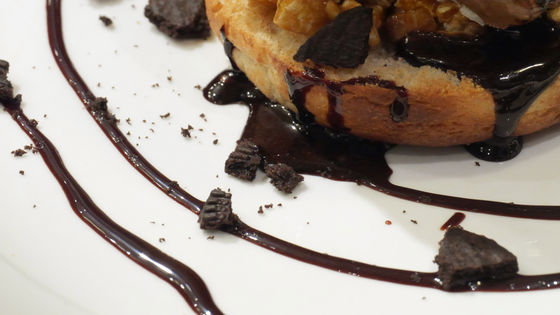 Chocolate ice is as rich as thick as espresso chocolate sauce, you can enjoy the rich chocolate flavor.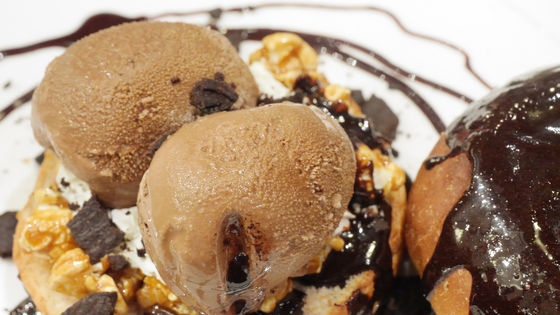 I tried eating ice, buns and toppings in one bite, sweetness and bittern, a combination of funky van and cold ice, crispy, fluffy and fluffy were exquisite, creating a mysterious harmony. The popcorn is a crispy texture and sweetness of caramel is an accent of the whole ice cream burger.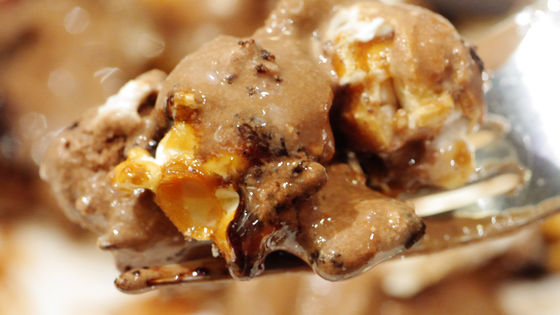 next"Fruits · Ice cream burgerI'll eat it.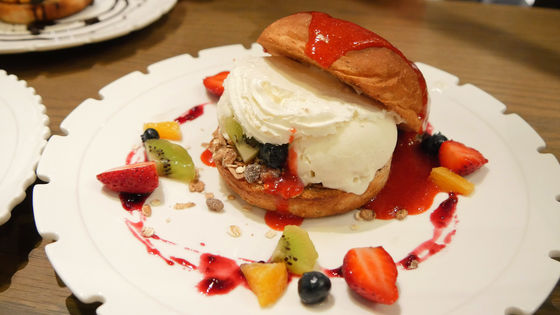 On the top of the buns is a bright red berry sauce and finely crushed nuts.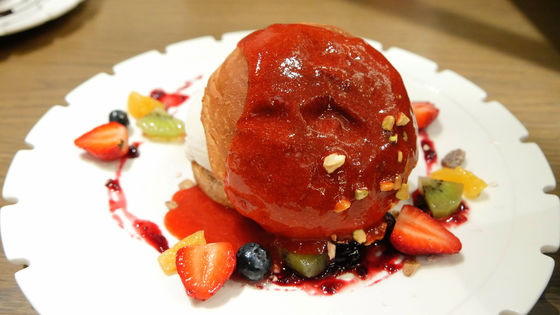 A colorful fruit compote that it was soaked in white wine etc. was scattered around the ice cream burger.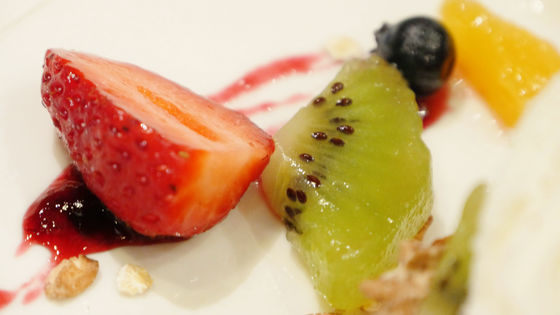 Fruit was also caught under the ice cream.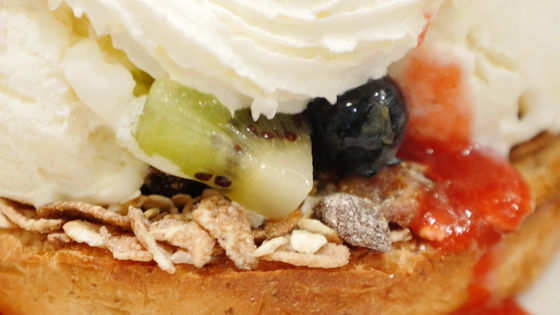 When you cut the buns and eat it, the flavor of a strong sour taste berry sauce spreads in your mouth and you feel the sourness that you accidentally close your eyes.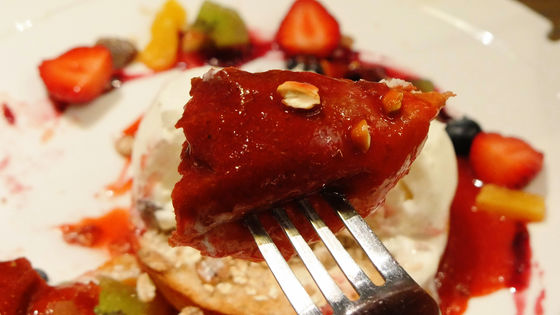 When eating buns and ice together, the balance between acidity and sweetness was just right. As you go forward, you can see that granola such as wheat, pumpkin seeds, sunflower seeds, raisins, almonds, hazelnuts are all packed under ice cream. It is said that granola is using 100% organic material.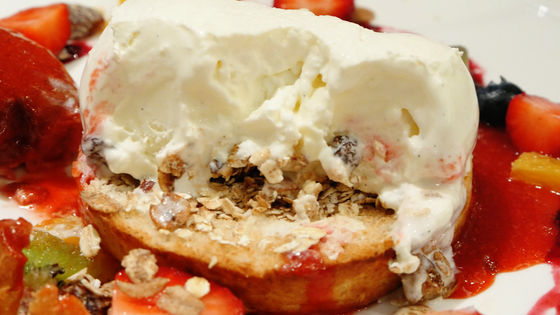 I felt a milky flavor between the ice cream, I thought it was something and it was yogurt. The yoghurt, which is nearly solid near the moisture, is packed with tasty milk umami.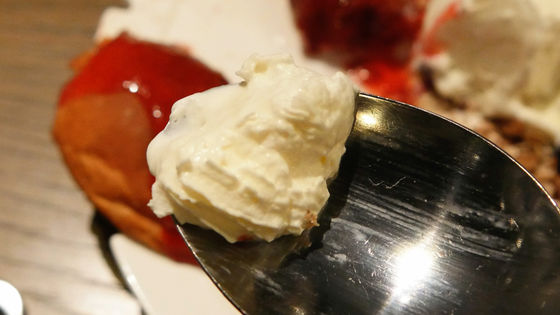 Fresh strawberries are small but sour tastefully used.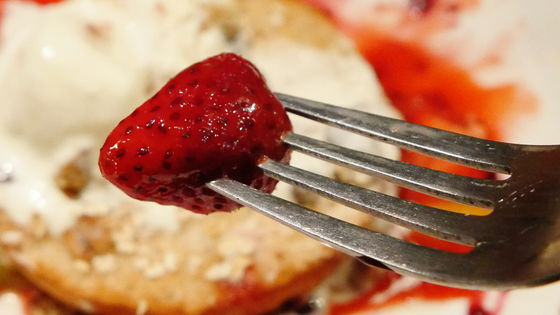 continue"Caramel · Ice Cream BurgerI'll eat it. Caramel · ice cream burger is "a burger sandwiched between caramelized fresh banana and peanut butter ice cream, with honey roast peanuts and caramel sauce". Unlike the other two ice cream burger, the buns are plain without source.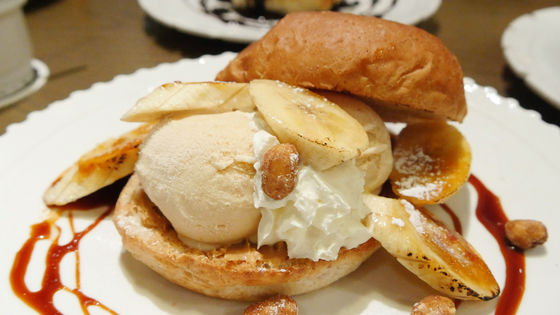 Banana whose surface is caramelized is appetizing appetizing with its fragrant appearance.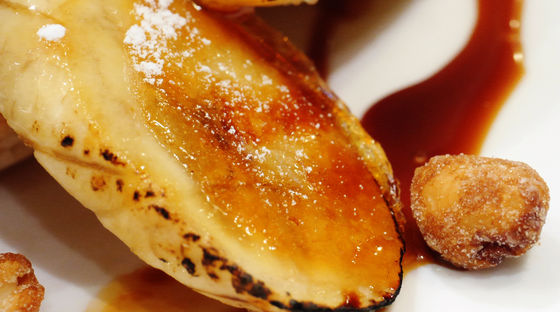 Honey roasted peanuts studded around the ice cream burger were powdered sugar sprinkled.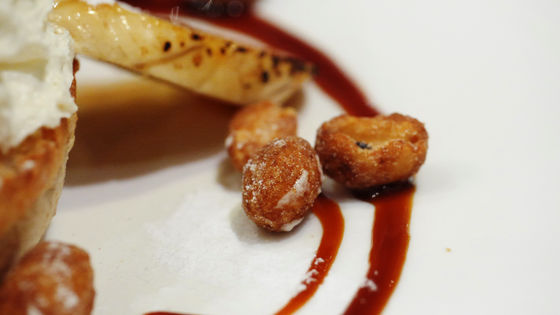 Peanuts are kneaded in ice, so it is slightly brown and you can enjoy high-quality peanut richness rather than peanut butter like a bread bread.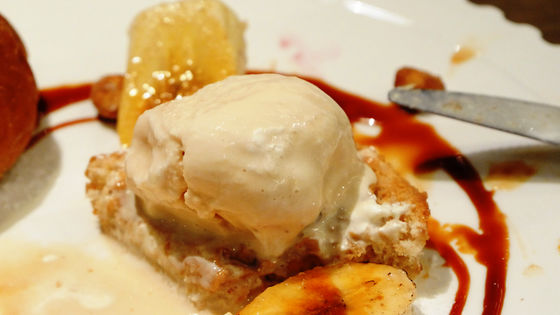 The banana has a thick layer of caramelize, bittersweet and fragrant caramel taste matches bananas. It is irresistible feeling of crispness for a person who says "The crimmeruzer 's caramelise layer is thicker!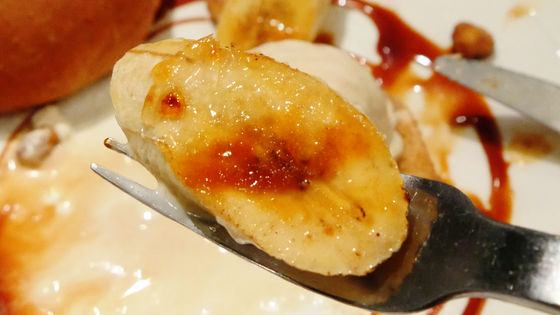 The peanut butter painted on the lower buns is not compelling with the taste of beans and is excellent with caramel ice.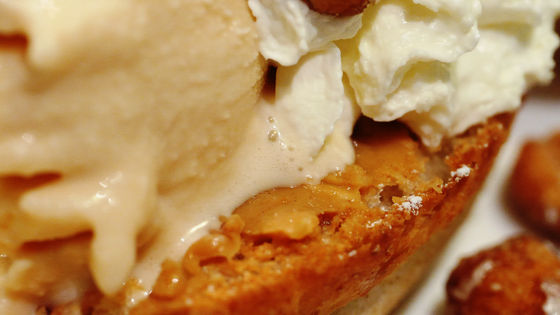 Eating all the ice, buns and bananas together makes the sweetness of ice, banana and caramel intertwine and makes you feel happy.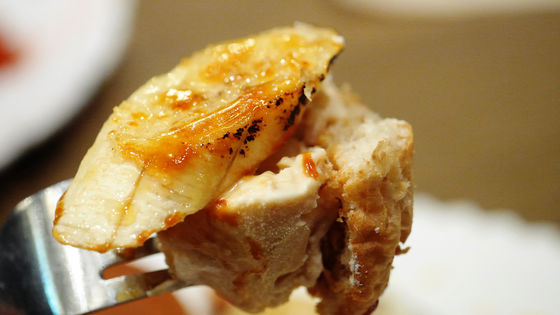 Honey roasted peanuts were sweet and crispy, both taste and texture were exquisite accent.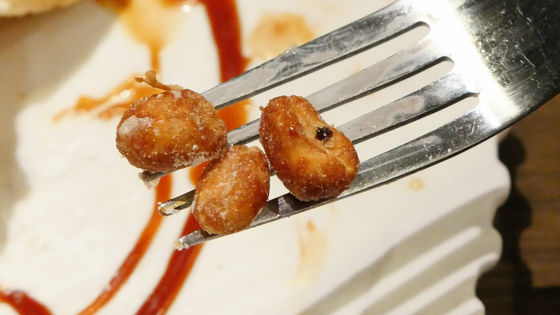 In addition, the price of the ice cream burger is 980 yen including tax, it is provided by Glorious Chain Cafe Shinsaibashi at 15:00 to 23:00 on weekdays and 11:00 to 23:00 on weekends and holidays.