Shinkansen "Nozomi 225" Wearing oil in the car and lighting with a lighter Burning suicide


Tokyo station just after 11 o'clock - Shin Osaka station arrived at 13:33Fire occurs in the car while "Nozomi 225" is running, Stopped on the down line of Odawara-shi Ueumachi between Shin-Yokohama and Odawara, a man wore a fire kerosene / oil from the head at the deck portion of the leading car, killed and died. In addition, one woman has died, and a total of two men and two have died. Also, it is said that there are 2 serious injuries and 20 minor injuries.

Two persons smoking cardiopulmonary stoppage from inside the car of JR Tokaido Shinkansen in Kanagawa · Odawara City (15/06/30) - YouTube


Fire on the Tokaido Shinkansen 1 person death 1 person Cardiopulmonary arrest - YouTube


"Burning suicide in the train of the Tokaido Shinkansen, 2 people stopped cardiopulmonary" News i - TBS video news site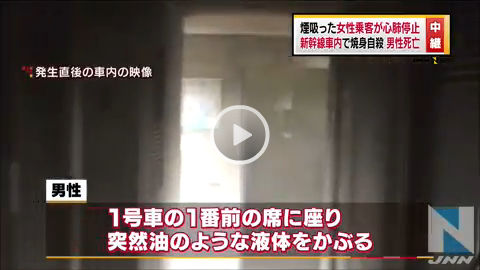 * In-vehicle image immediately after occurrence


Tokaido Shinkansen, for fuming and corrected broadcast entering.Rumor may be true ...According to the conductor, it seems that we can not help stopping for a long time.Steam bath in the car wwwwwwPic.twitter.com/7b6jLBhIgH

- jl 96 (@ sied lung 17)2015, June 30
Wow Shinkansen brokenPic.twitter.com/g3h352y0bt

- Do (@ suudosan)2015, June 30
It is said that the Tokaido Shinkansen is in an in-vehicle fire or an emergency stop due to something. It seems that it is even closer to crossing the Gotemba line because it is Odawara-shi Uemachi on the descending Shinkansen.Pic.twitter.com/9 J2 Eum ZirP

- Murokazu @ @ muroktu2015, June 30

This is the stopped bullet train at 14 o'clock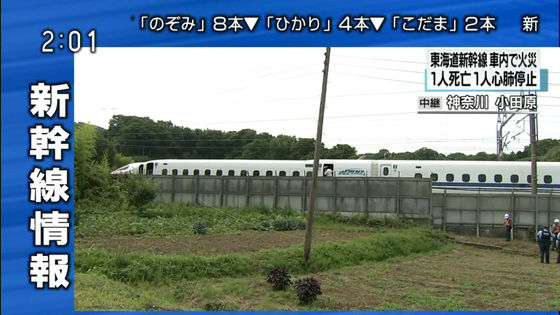 At this point one male passenger died and another woman was a cardiopulmonary arrest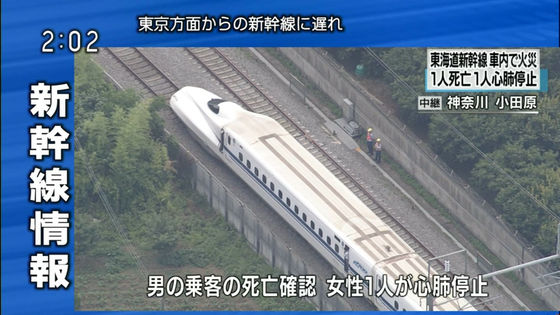 According to the witnessed passengers, "After the man overwhelms the liquid like oil which was in the white poly tank at the top car"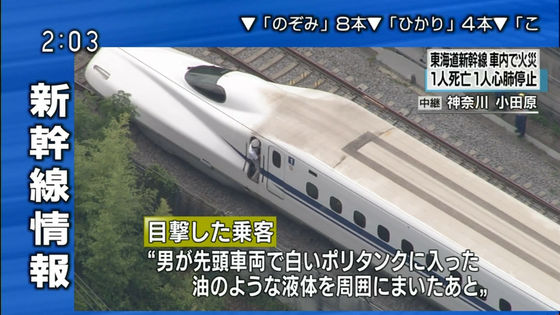 "I also wrote a liquid with a lighter and wrote myself."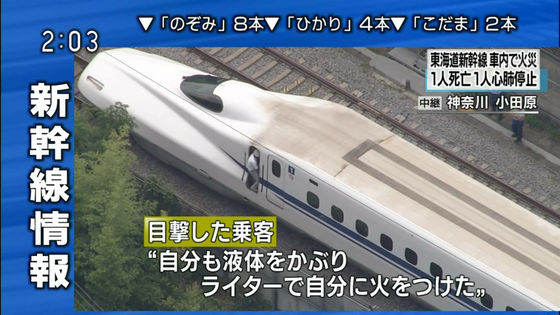 According to the contact entered into the Ministry of Land, Infrastructure and Transportation, "There were decks at the top of No. 1 car and near No. 2 car, each one collapsed."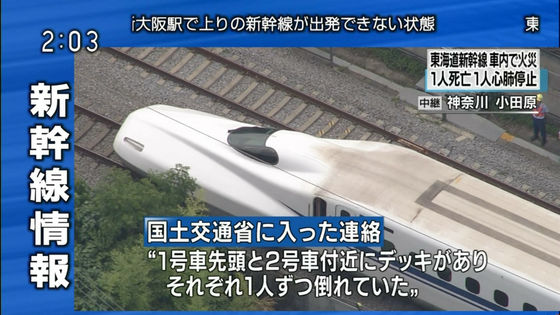 "State fired with human oil that collapsed at the deck near the head of the crew and firecrackers extinguished"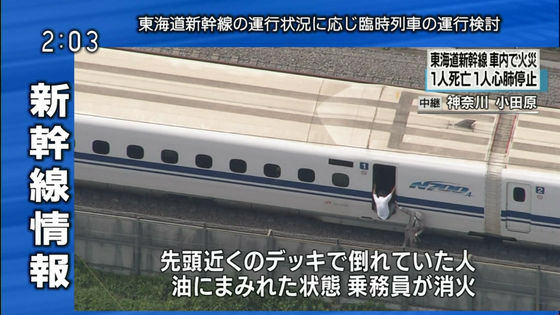 "Loud sound information in the toilet of No. 1 car just before the person who was fallen on deck near No. 2 car is found"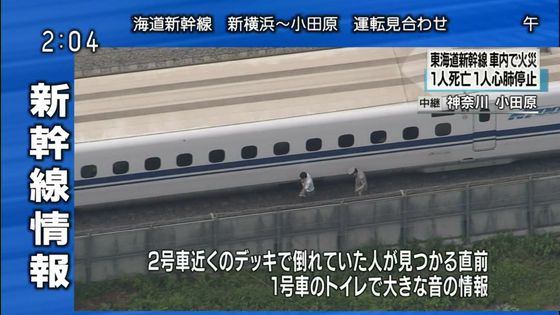 2015/06/30 14:25 Addendum
2 serious injuries, 20 minor injuries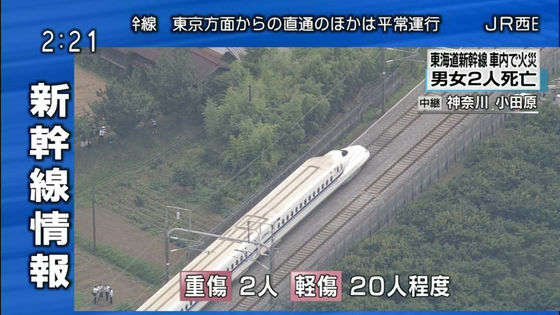 Also, I started to move slowly towards Odawara station around 14:20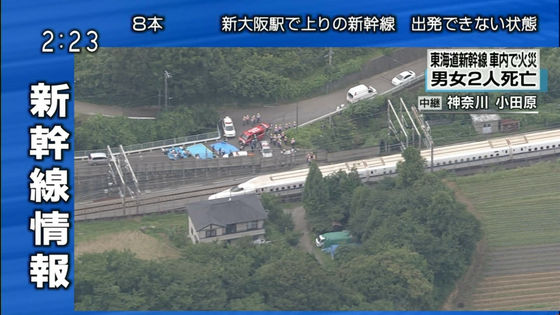 Operation resumed at 14:22.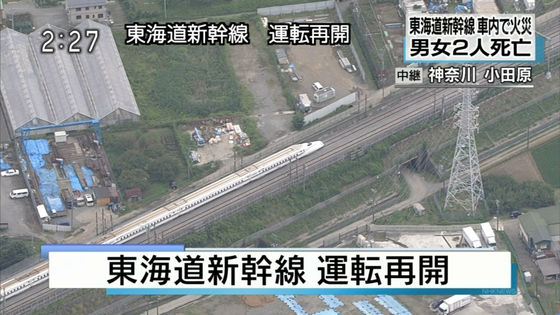 Moreover, it is said that it resumed both up and down at 14:09.

2015/06/30 14:58 Addendum
At around 14:52, the bullet train arrived at Odawara station, the fire department received allowances for passengers with poor physical condition, and the police are listening to the situation.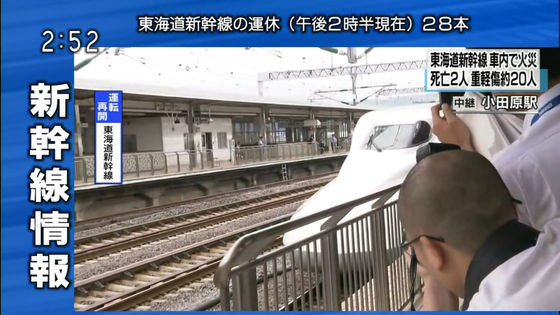 Severe injured passengers are being seen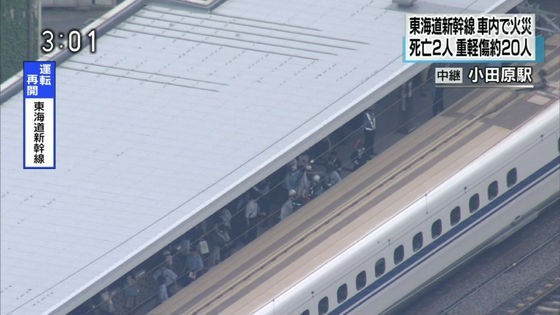 Odawara station is as follows.


Oh yeah.I wonder what happens to people who can not get on the Shinkansen and TV is on TV and I'm doing horse ridingPic.twitter.com/v8cwOinUgW

- PIANJYUYOSHINKOKEYOUTO (@ bluesoda 500)2015, June 30

Tokyo stations are as follows.


Since I used to go near Tokyo, I saw it at Tokyo Station.It is said that there is no bullet train departing from Tokyo station at the current stage also resuming operationThere seems to be an announcement as soon as it resumesPic.twitter.com/9O7U4ZZ4c8

- Mountain prefecture Saburobei capital (@ gentian 0)2015, June 30
Shinkansen canceled list. It looks like it resumed, but the lightning display has not changed.Pic.twitter.com/voCOKtJwec

- Mckee (@ Mckee_mu)2015, June 30

And it seems that the state of burning suicide occurred as follows.


Passengers fleeing "hot" "help me" passengers ... Shinkansen fire, thenhttp://t.co/M4qWS280dePic.twitter.com/VsccmeoqBp

- MSN Japan (@ MSN Japan)2015, June 30

2015/06/30 15:15 Addendum
The Tokaido Shinkansen's holidays and holidays are decided as "Nozomi 16", "Hikari 8", "Kodama 4"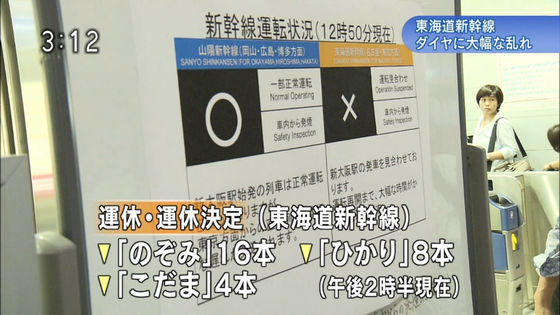 It's an incredible explanation.Pic.twitter.com/xM8WpbvtZL

- Ichiotsu (sinking path / Kippy & amp; Yupee) (@ 1otsu_gif)2015, June 30
Interview of those who talked to a man with a poly tank in the case of the Tokaido Shinkansen 1# TbsPic.twitter.com/0bJEQ5E6CF

- Absolute primary professor (@ 2 Ben Ki)2015, June 30