Apple's Music Distribution Service "Apple Music" withdrew policy and cancel "Zero consideration to copyright holder during trial period"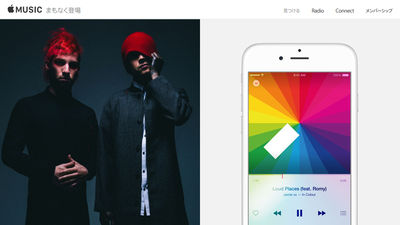 Apple's upcoming music streaming service "Apple Music"Has a 3-month free trial period. Originally, Apple was advancing a contract with the label that contents to the artist would not occur even if the song was reproduced within this trial period, but the singerTaylor SwiftTo AppleI disputedApple announced on that day that "we will pay artists even during free trial period."

Apple Says It Will Pay Taylor Swift for Free Streams After All | Re / code
http://recode.net/2015/06/21/apple-says-it-will-pay-taylor-swift-for-free-streams-after-all/



Within the first three months of free trial that Apple Music has set up, Apple had set up a policy not to pay for artists, writers, and producers that offer music. Taylor Swift, who knew this, told Apple on Tumblr, "We do not ask Apple for a free iPhone, please do not ask us to offer music for free," asked Apple.

Taylor Swift is an active artist worldwide, but if it does not pay for three months while offering songs to an influential service like Apple Music, it will be a big hurdle for new artists It will become. As a result, Taylor Swift announced that it will withdraw its own album "1989" distribution from Apple Music unless the Apple Music policy changes.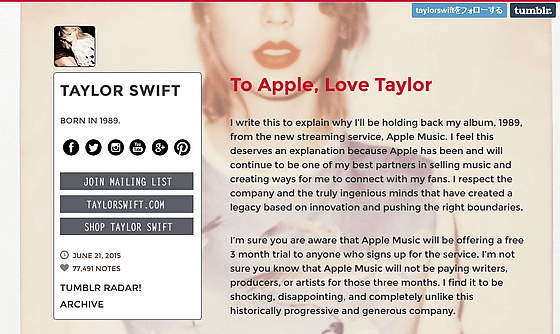 Other popular singers in the UKAdeleAnd rock bandRadioheadIs enrolled "XL Recordings"And holding many indie artists"Domino RecordsThere are several well-known labels such asI do not agree with or refuse to offer music to Apple MusicI know that it is.

Taylor Swift's appeal posted on the morning of June 21, 2015 spread throughout the world, but Eddie Cue, the top Apple media division that received it, said that on June 21 of the same day In the evening, he announced that "I will pay artists even during the free period", and quickly showed the attitude that Apple Music faces the artist seriously. Through this decision, artists not participating in Apple Music in the future may offer music.

#AppleMusicWill pay artist for streaming, even during customer's free trial period

- Eddy Cue (@ cue)2015, June 22
Although the official release date has not been announced, Apple Music in JapanMonthly fee is 980 yen, family plan is 1480 yenIt is seen as becoming.