Age of Roland's rhythm machine "TR-808" It's a charm and an era of hidden inconvenience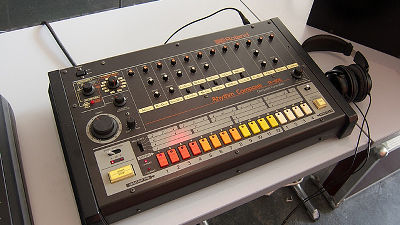 ByJochen Wolters

Rhythm machine released in 1980 by Japanese instrument maker · Roland "TR-808, Commonly known as "Yaya'S unique tone is supported all over the world, and even now the evaluation as a "famous machine" indispensable in many genres is immovable. However, such a TR - 808 was also not evaluated at the beginning of sale, and there was an inconvenient history of finishing sales in 1983 three years after its release. Ben Beaumont-Thomas who posted a lot of articles on The Guardian about club culture in overseas visited abroad to see what kind of remarks had been made since it turned from a dark past to becoming a world-class machine. I am looking back on my eyes.

The Roland TR-808: the drum machine that revolutionised music | Music | The Guardian
http://www.theguardian.com/music/2014/mar/06/roland-tr-808-drum-machine-revolutionised-music

◆ What is rhythm machine "TR-808"
Roland "TR-808" was released as a "rhythm machine" that allows you to program your own original rhythm pattern that was epochal at that time in 1980 with a fixed price of 150,000 yen. Most of the rhythmic machines that were released in the same age play only the rhythm patterns such as the preset "Rock" and "Bossa nova (bossa nova)" and they are generally "rhythm box" Because it was called, in Roland in order to differentiate "rhythmMachine"Is adopted as the name.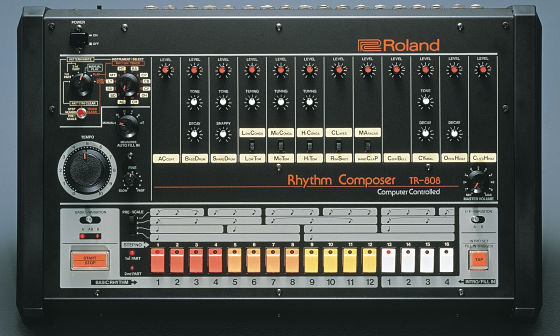 The TR - 808 employs an analog sound source, and its distinctive timbre has immovable status as indispensable in various music genres. Sounds such as a unique thick kick tone, snare, cowbell, hand crap, etc, which are produced with a completely different mechanism from the mainstream digital sound source equipment, will retain their appealing without fading 35 years after release It can be said that it continues.

Roland TR-808 - Famous Drum Beats - YouTube


Even after digital equipment became the mainstream and the "sampler" that can record and sample every tone is available, the sound of the analog sound source TR - 808 continued to be loved. As a result, it became possible to see a kind of reversal phenomenon, which is to incorporate the TR - 808 tone into the sampler to create a rhythm track. In this way, TR - 808 became an indispensable equipment among many creators, but in the beginning of the release in 1980 there is a past that had been getting a low evaluation close to the trash.

At the time of the introduction of TR - 808, the so - called "drum machine" was only used to inscribe certain patterns, mostly used for exercises such as guitar, bass and keyboard. "But there is a moment to make rhythm machines that can program their own rhythm patterns as equipment that will also withstand use for professional use," says Shawn, currently the product manager at Roland · Mr. Montgomery talks.

Roland tried to reproduce the "real" drum sound as much as possible, but at the time the mainstream at that time was an analog synthesizer system that synthesized the electronic sounds generated by analog circuitry to create one tone, It is almost impossible to reproduce the sound of raw instruments. Mr. Montgomery says, "The engineers at the time did everything they could do with analog technology, but the sound was a hidden item (unlike raw instruments)," the evaluation is not good as it says, It became unsuccessful, sales ended in 1983 three years later.

It is TR - 808 traded at the level of 20 - 500 thousand yen in the current second - hand market, but it was possible to get it at a very cheap price in the early 1980 's when bad reputation was found. The jump to this is the music producer and the amateur musicians who were given only a small budget, and the legendary story of TR - 808 will start curling from here so as to keep pace with their success in the future .

◆ TR-808 sound and techno · club scene
It is a techno-based producer based in Detroit based in the USA, later it will be called an originator (founder) of "Detroit Techno"Juan AtkinsI got "the first TR-808" as a high school student and started using it at the unit "Cybotron" that was active around that time. Atkins said, "In my high school classes, I was taking a" future research "to study changes from industrial society to technology society, but I took in much of the method I learned to incorporate it into my music production" It seems that TR - 808 was a perfect tool for such music.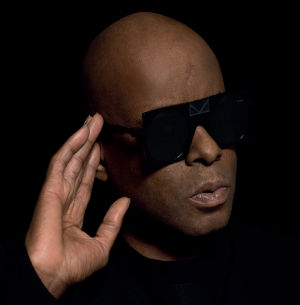 Facebook

German Techno Unit ·KraftwerkAnd one of the funk music pioneersGeorge ClintonFor Atkins' high tech · funk that was influenced by TR - 808, it is the best equipment. Atkins tells us that "TR-808 made it possible to make your own rhythm pattern, you can kick and snear at the desired location, giving us a lot of creativity." Here is the sound source of Cybotron where such Atkins was formed. You can listen to TR-808-like sounds.

Cybotron - Clear - YouTube


In 1982, a musician who came from New York and sent the name of "hip hop" to the world,Africa · BambertaWill incorporate TR-808 into music production and expand its success. Just like Atkins, Africa · Bamberta is also influenced by Kraftwerk, the song "Planet Rock" influenced by Kraftwerk's masterpiece "Trans-Europe Express" is a rap group,Soul Sonic ForceIt will be released and you will get a big hit. In the movie starting from "Parry Pee Paw!" Below, you can listen to the rhythm track by TR - 808 and the European limited express phrase that is put in place.

Afrika Bambaataa & Soul Sonic Force - Planet Rock - YouTube


"The Egyptian LoverProducer of Los Angeles who works under the name ofGreg Blue ThirdI thought that Planet Rock's unique character was produced by TR - 808, and I went to a local music store and actually tried to program the rhythm to TR - 808 and tried to ring. He told me about the shock he received at that time "It was exactly flying, everything just got to sound like a toy and it seemed like I wanted to dance unexpectedly. Of course I bought a machine at the place. "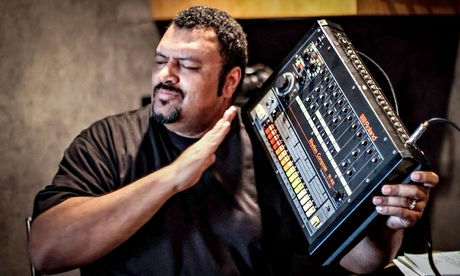 The Blue Third who got TR-808 mastered operation overnight and brought it to the event of 10,000 people held at the stadium the next day and he actually used it. Then, "On the stage I did not have any other equipment besides TR-808, but the beat of this little rhythm machine was rocking the audience of 10 thousand people" The audience seemed to show great excitement is. At the same time, at the DJ event held in Detroit, Atkins brought TR-808 to the stage in the same way and played the beat according to the record, the venue was crazy excitement. "There was something fresh, not just turning records," Atkins says.

In the mid-1980's, computers began to show great presence in music scenes. A collection of photo collections of rhythm machines "Beat Box: A Drum Machine ObsessionMr. Joe Mansfield of the rhythm machine collector who published "It sounded like a futuristic music at that time, it seems that if the computer can play the drum, it would be such a sound It was sound that it was. " Rhythm machines also became popular in general music, so old singer, singer,Marvin GayAlso, in 1982 hit song "Sexual Healing" is making a sound that totally incorporates the TR - 808 tone.

Marvin Gaye - Sexual Healing - Extended Version - YouTube


The wave of TR - 808 which showed excitement in the United States will land across Europe and across the Atlantic Ocean. In the UK at the time, with the end of the punk movement that took place in the latter half of the 1970s, incorporating electronic musical instruments and strong dance colorPost punkThere is a genre called 'Graham Magee"808 State"And other units were making music making use of TR - 808.

808 State - Pacific State (Original Extended Version) - YouTube


◆ Influence of TR-808 on the music scene
Magee said about TR - 808 's impact on the world "TR - 808 has meaning as an industrial heritage and at the same time as" Soul Heritage. "This Roland machine is a world Common languageEsperantoLike a common language in music played like. In the world, the gap becomes smaller through this technology, and its sound has sophistication. Things that use this machine can transcend the gap even if you are making music in some corners of the world. "

The sound of TR - 808 has established a firm position in dance music, and it became existence which can be said to be "a part of sound". Mansfield said, "As music producers hunt for hundreds of new equipment, eventually they will come back to TR-808, and the TR-808 is strongly tied to music and is now immutable "In particular, I am talking about unchanging presence in dance music and others.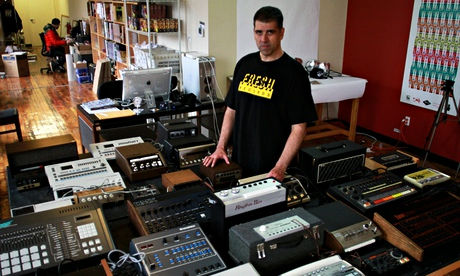 Features a thick soundDubstepSystem creator,Addison GrooveAntony Williams, acting as "Anti-Williams," With the sound of kicks, snares and hand craps stacked on the TR-808, there is a sound that is unique and with a perfect frequency band, and that sound is a club Whether it's at home or a laptop speaker, I play the best sound, "he says about the excellent sound of TR-808.

Williams used to use the software version of TR - 808 before, but London 's exclusive club "Fabric"We decided to change the schedule to buy a car from what I was asked when I decided to play," he said that he got the real machine of TR-808. Williams said "Well, I should not have to say it in the beginning," while saying, "Roland is making TR-808 so that it is easier to play even when you are drunk with sake." Layout on the panel The sound palette that was done is the best design ever made and you can excite the audience whatever you do, I am having a lot of fun because I like to get drunk. " I talk about another charm of TR - 808 from the viewpoint.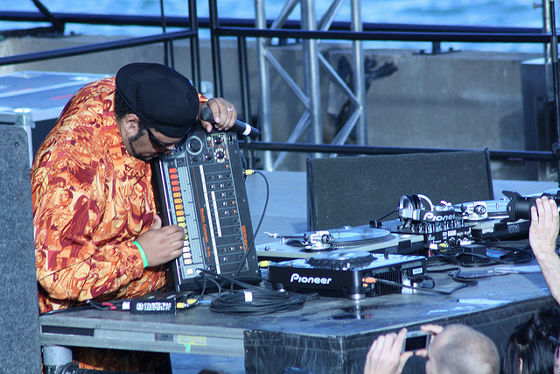 ByDan Sicko

However, this "operability" is actually an important point for players, and now many TR-808 emulators are released for PCs, but producers actually have knobs and buttons, and they are rich in real-time operability It is heading for a return to hardware. The above "The Egyptian Lover" The Blue Third has six restarted TR-808, but about that machine he is soft and gentle tone "They are like something like my child It is impossible to get out of hand. "