I ate "Mixed Berry Roll on the Go" of Sinbon Don with 4 kinds of berry sauce on cinnamon roll of Hoka Hoka & Mochi Mochi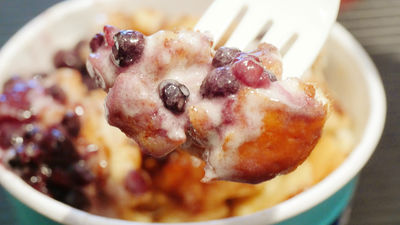 Cinnamon roll of fluffy rice cake with top-quality macaras cinnamonCinnamon Roll Specialty Store "Cinnabon" is offering. From Monday, June 8, 2015 it is limited for the summer, plenty of sauce made with four kinds of berries on cinnamon roll cut into bite-size "Mixed berry roll on the go"I actually went to a shop to eat it because he sells it.

Newly released summer limited product "Mixed Berry Roll On The Go" from June 8!
http://www.cinnabon-jp.com/information/press/150603.php

Arrived at a shop in Sinabone.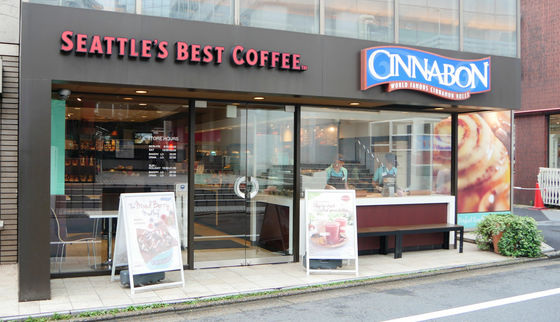 It was a huge billboard at the shop, appealing the release of mix berry roll on the go.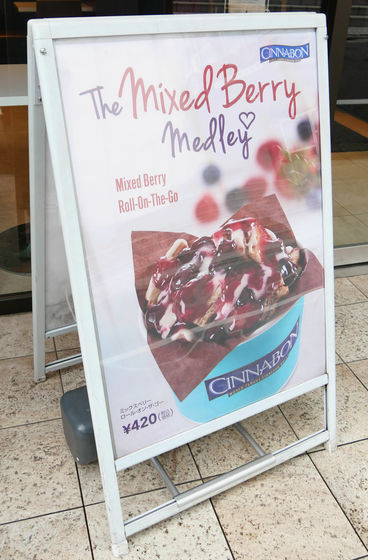 Since the store I visited was a collaboration store with Seattle's Best Coffee, a new product of Seattle's Best Coffee "Fruit Cooler Green Tea Blender" was also announced.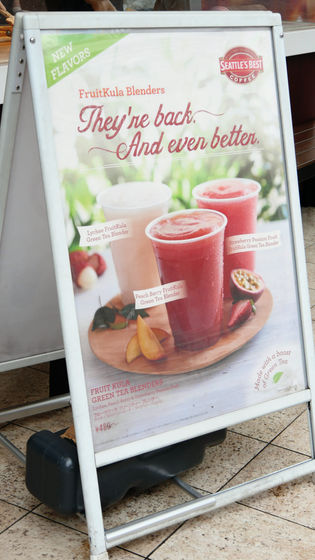 When entering the store, cinnabon slides in the glass case next to the cash register. Also in the back of the cash register, a box of chinook bowl packed for taking home was piled up.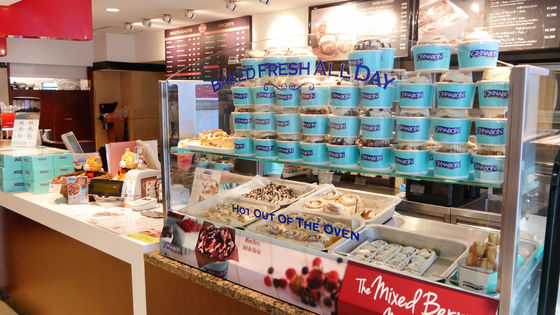 I ordered mix berry roll on the go at the cash register. This time I made a drink set with fruit cooler green tea blender (tall size · 820 yen including tax).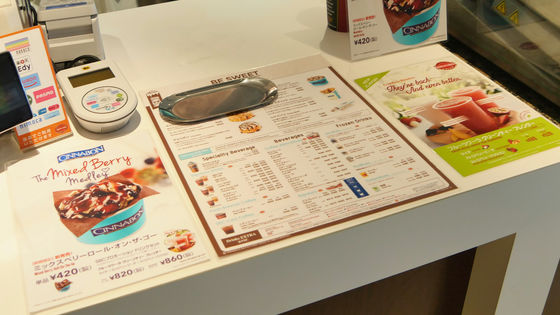 When you roll in on the go in the shop, the clerk will make the item after receiving the order.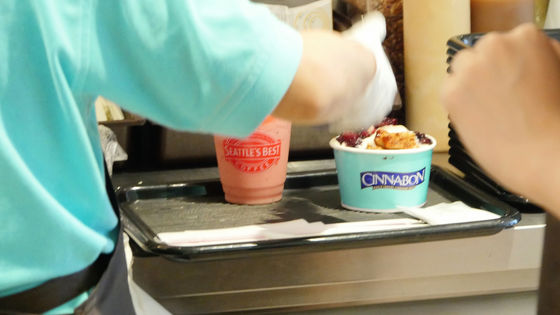 Wait about 5 minutes after ordering, get Mixed Berry Roll on the Go and Strawberry Passion Fruit taste of Fruit Coola Green Tea Blender.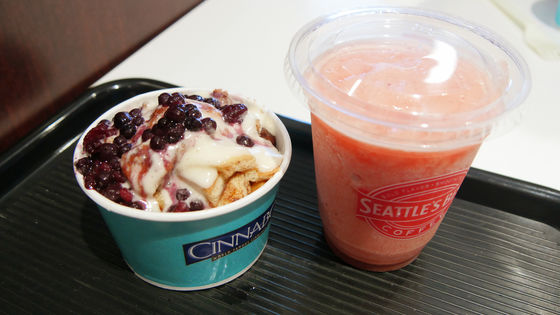 Mixed berry roll on the go is a dessert that cuts cinnamon rolls in bite and spreads them in cups and warms them to hokoka, with four mix berry sauces and cream cheese frosting from the top. Taking a cup in hand, it is slightly warm.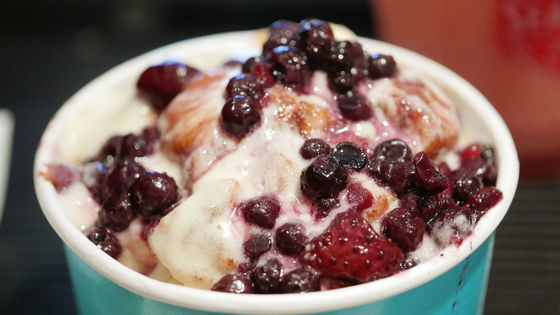 I will eat a bite with a fork. There is a good scent of cinnamon before entering the mouth, and when you eat cinnamon is wrapped in a very happy taste with the sweetness of berry. Not only sweetness but also a little saltiness of cheese cream are felt.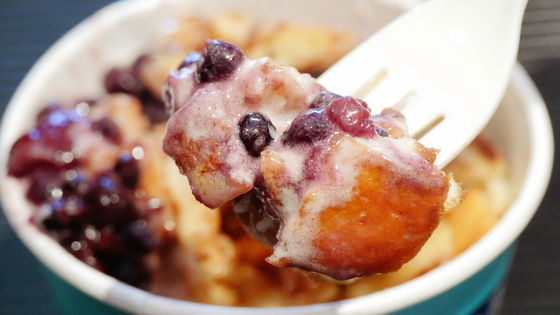 Larger ones are used for raspberries, and berry sauce is finished sweeter than overall on acid.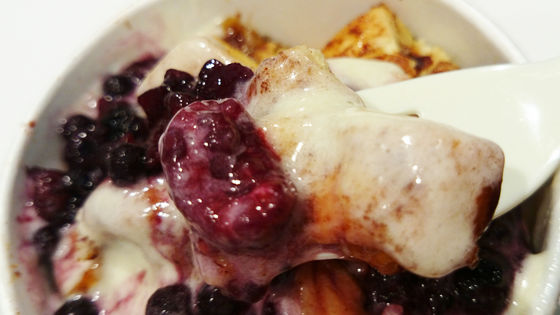 Cinnamon rolls can be warmed to melt secret makara cinnamon, the flavor of cinnamon stained well in the dough. Since the fabric is cut into a bite size, making it easier to eat with cucumber.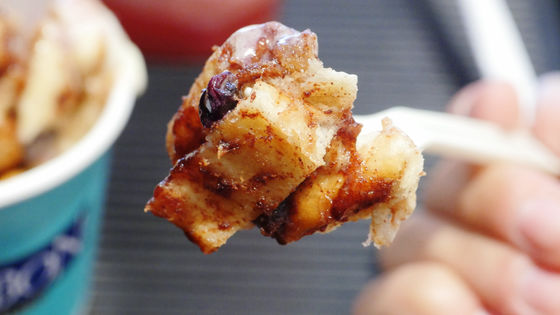 As I proceeded to eat, the cinnamon roll was tightly packed to the bottom of the cup and there was a volume about lunch that was lighter than dessert.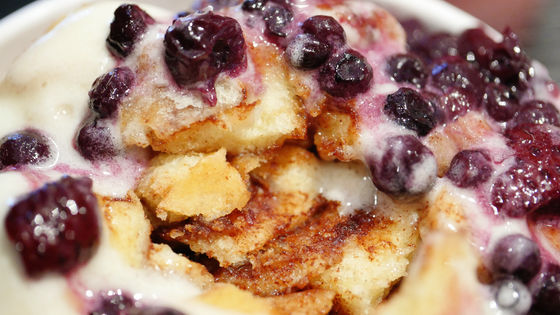 Next, I will also drink the strawberry passion fruit taste of the fruit cooler green tea blender.



Strawberry's sweet frozen drink, perfect for hot summer days. "Green tea" is included in the product name, but the taste of tea was hardly felt. In the product introduction pop, it was written that "Please enjoy the taste of this summer only together with MIX BERRY ROLL ON ON THE GO!", But it is quite a sweet tooth, so it's quite a sweet tooth If you do not eat it together is a tough feeling.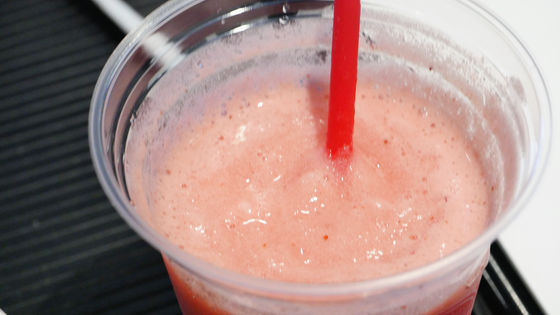 Mix berry roll on the go is a limited-time product until July 19th (Sunday), each price is 420 yen with tax, and if the drink set with fruit cooler green tea blender and tall is 820 Yen, Grande is 860 yen.