Publish new features that Twitter can easily share block list, Block multiple accounts at once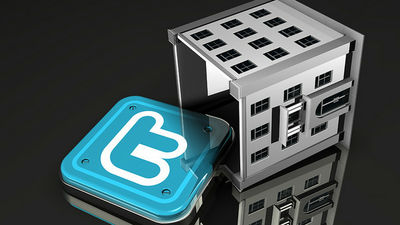 ByCosett

Twitter has a "block" function to exile certain users from the timeline, and "Tweet" or "RT" to hide on the timeline without being notified to othersmute"Functions for protecting your own account from obstructive users are installed. This is because there are many accounts that harasses or punctures tweets on Twitter, and in the past former Twitter engineers automatically blocked Twitter accounts to harass, users can share block lists "Block TogetherWe released the service called "service." Meanwhile, the official "block list sharing function" was released from Twitter on June 10, 2015 local time.

We made it possible to share a block list for more reliable environments | Twitter Blogs
https://blog.twitter.com/ja/2015/0610block

On Twitter there are two functions, Block and Mute, which allows most users to keep a comfortable timeline. However, users who receive many messages from an unknown account seem to have always received Twitter 's request "I want a stronger tool".

The tool which was born in such a middle is "block list sharing function". It is a function for users to efficiently block by allowing users who do not have slander to receive it on Twitter to share their own block lists easily.

From the Twitter account, you can display the list of accounts you are blocking with "Settings" → "Blocked accounts". Here, a button "Advanced options" is newly added, and the output of the block list from "Export your list", "Import a list (import list)" from other users It is possible to import block lists.



When outputting the block list, the list of accounts blocked is displayed like this, so if you have an account that is not harmful, uncheck it and click "Export" OK. Since the block list can be downloaded as a CSV file, it is OK if you share this file with a user who is having trouble with harassing.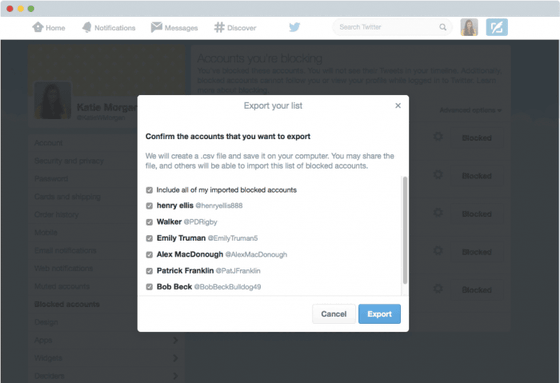 In recent years, the usage policy of Twitter has gradually become strict, and in April 2015Enhance response to violations such as violenceAlthough it was trying, the block list sharing function of this time seems to be to make Twitter more comfortable to use.

·bonus
In addition, on June 8, Twitter will enhance the function so that the exchange of tweets on the timeline becomes easier to seeImprovementHas been added so that reply to tweets can be easily distinguished.