"Wallpaper type 55-inch organic EL display" appeared magnetically pasted with extremely thin flux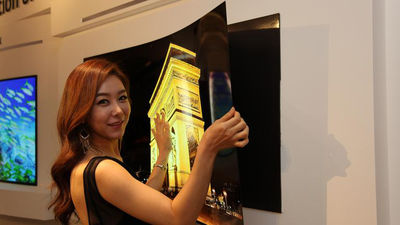 It is a manufacturer of LCD monitors and PC displaysLG DisplayAnnounced the concept demonstration machine of a 55-inch organic EL (OLED) display with a thin thickness of 0.97 mm at a media event conducted in Korea.

LG Display unveils wallpaper OLED panel
http://english.yonhapnews.co.kr/business/2015/05/19/80/0501000000AEN20150519006000320F.html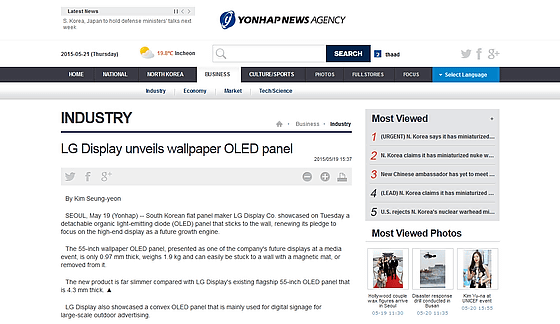 LG Display shows off press-on 'wallpaper' TV under 1 mm thick - CNET
http://www.cnet.com/uk/news/lg-displays-latest-oled-tv-sticks-to-the-wall-is-under-1mm-thick/

The ultra-thin display announced by LG Display is an organic EL panel like wallpaper with thickness of 0.97 mm and weight of 1.9 kg. It can be installed by attaching it to the magnet mat attached to the wall, and it is also removable. Although it is a concept demonstration machine, there is no schedule for general sale, but in the future it is expected to adopt it as a high-end model TV display, and LG Display states organic EL technology as "innovative technology" .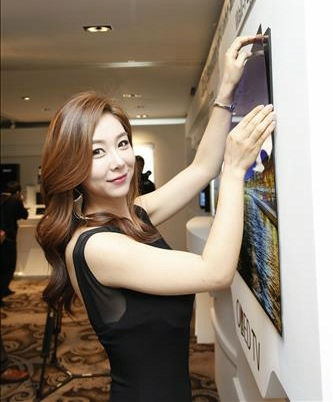 In the TV display, following the outbreak of "full HD display" using liquid crystal (LCD) technology and plasma technology, LED technology continues to develop in recent years. Organic electroluminescent (OLED) technology is attracting attention as a next-generation display technology, enabling not only the creation of extremely thin screens but also "bending display". For that reason, organic EL technology has begun to be used not only for TV displays but also for wearable devices and mobile terminals, and LG Display expects organic EL technology to be adopted in all displays in the future.

Organic EL displays are still expensive, for example 55-inch organic EL displays sold by LG "55 EG 9600The market anticipated price of tax is 6280000 yen without tax. However, LG Display expects the sales of the new type of organic EL display in 2015 to be 600 thousand units, and if the organic EL display is mass-produced, in the future the organic EL display will be low You can expect price.

Also, he is an inventor of organic EL (OLED) technologyChing W. TangMr. Mr. commented, "It may take 5 to 10 years for organic EL technology to be adopted by any company right away, but after that it will overtake the shipments of LCD displays." I will.