I tried Poteci "Momomo taste & banana taste" actually invented by Lake Pond as a "new breakfast"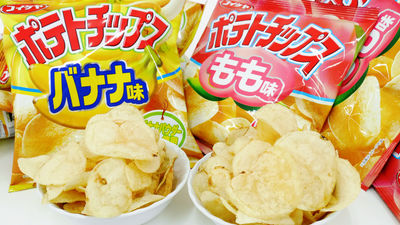 Mandarin orange sauce potato chipsLake Ikebayashi who took up a hot topic, in order to enter the breakfast market which shows excitement in recent years, if you open the bag, you can eat immediately, and you can easily take nutrition and satisfaction Potetch "Potato chips peach taste"When"Potato chips banana flavorWe will release it from May 18, 2015. I also tried to eat it actually because I could not hide surprises in the part "entering the breakfast market with potato" as well as having a great flavor of momo taste & banana taste.

Enter breakfast market with potato chips "potato chips" with breakfast "potato taste" and "banana taste" at potato chips
http://koikeya.co.jp/news/detail/594.html

"Potato chips thigh pepper taste" and "potato chips banana taste" are potato chips of this package. Contents amount is 50 g, versus potato chips of lake pond and taste of CaliforniaPotato Chips Usu tasteThe content is 60 g.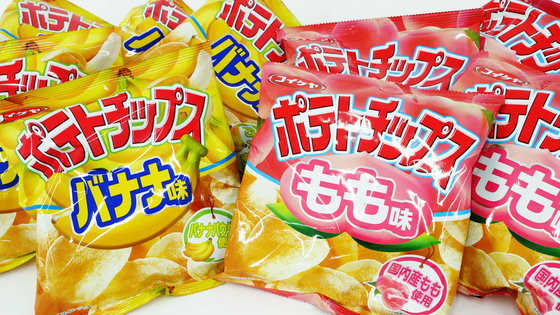 First of all, try to eat it from the taste person.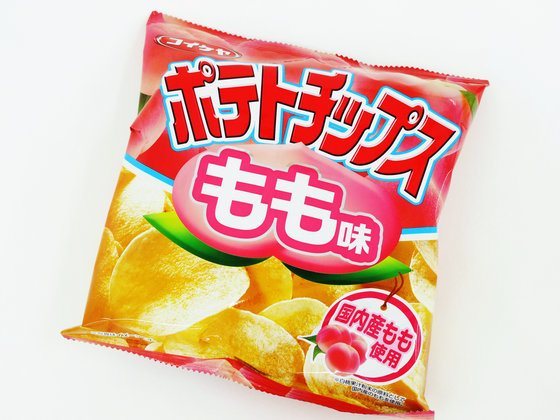 It seems that domestic peaches are used as a raw material for white peach juice powder.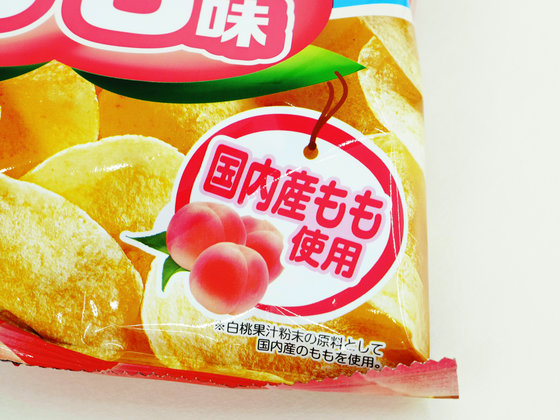 Looking at the raw materials, in addition to potatoes (potatoes), sweeteners such as white peach juice powder, salt, stevia and sucralose are also used.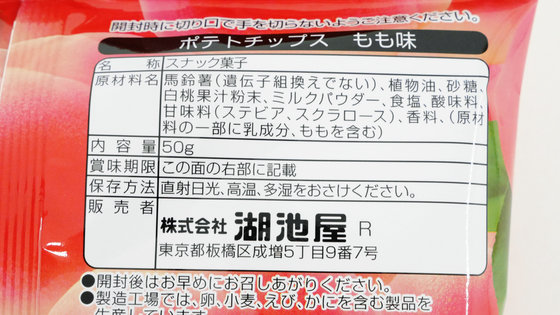 Nutrition ingredients are like this, calorie per bag is 284 kcal. With this one bagBreakfast menu from 250 to 299 kcalEasy to say as it's easy to ingest calories comparable to.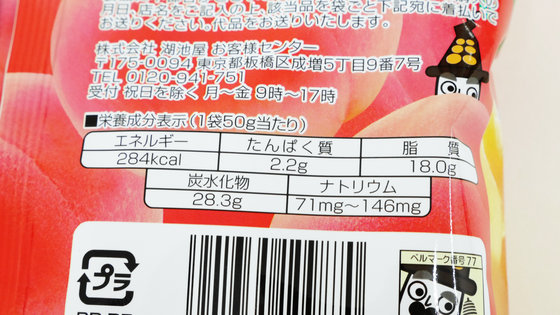 Arrange recipe is posted on the back side of the package, potato chips of peach taste seems to become a snack when topping with raw ham and cream cheese.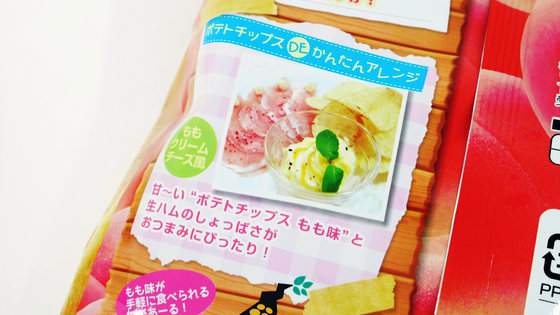 The size of this bag when you hold it in your hand.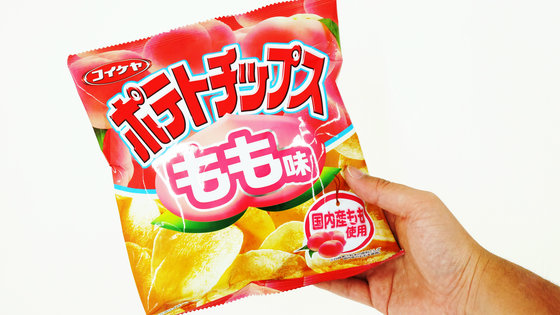 Pacari and opening. Even if you look inside it is potato chips, but the sweet flavor of the thigh drifts softly and the brain is confused.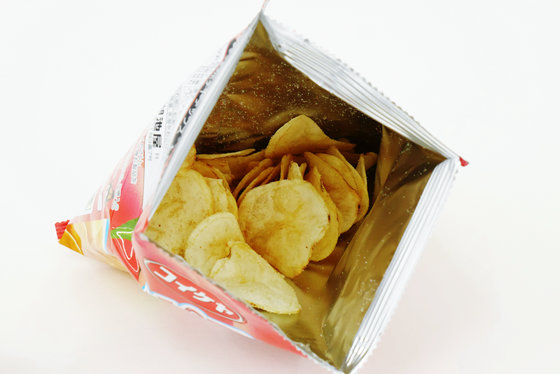 It is about this if you put all the potato chips contained in the dish. Unexpectedly in a small amount, this is the amount that could be eaten even in the morning.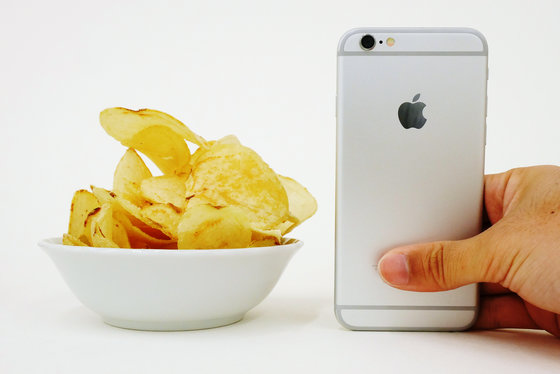 So I actually tried eating with pakuri. "Potato chips thigh pepper taste" feels like a sweet scent of flavor which is often found in peach flavored drinks etc, but since the scent of oil unique to potato chips which comes after that is stronger, the leading role is potato Feel like chips. The seasoning is sweet and saltiness is hardly felt. Although it does not intensively argue the thigh taste, the flavor is completely "momo taste", yet the texture is a magical food called crisps potato chips. It may be hard for people who are not good at "sweet seasoning on potatoes" which is hard to say for seasoning, but it seems to be pleasing to sweet tooth and small children.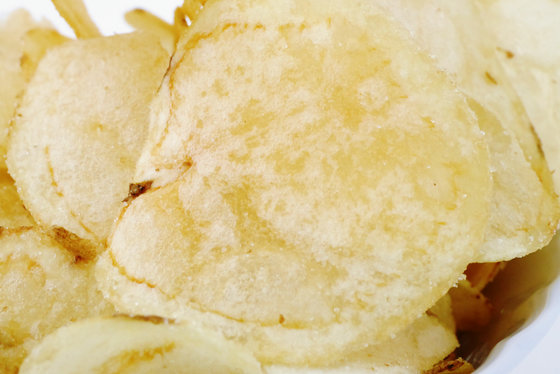 Next I will eat banana taste.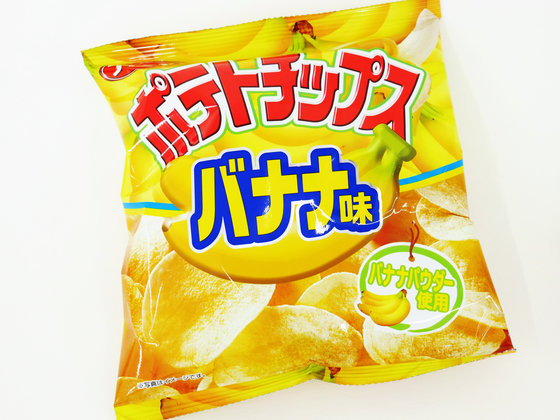 I use banana powder.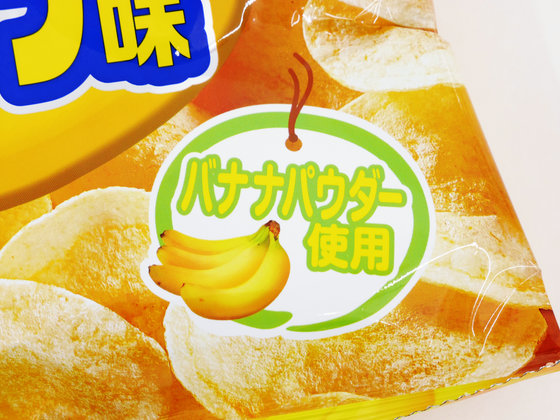 Banana taste raw materials include banana powder · cream-like powder · oligosaccharide.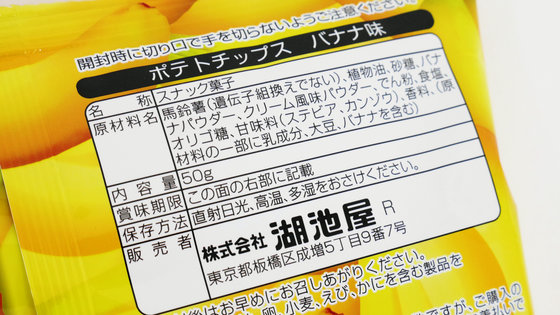 The calorie per bag is 285 kcal, but almost the same as the taste.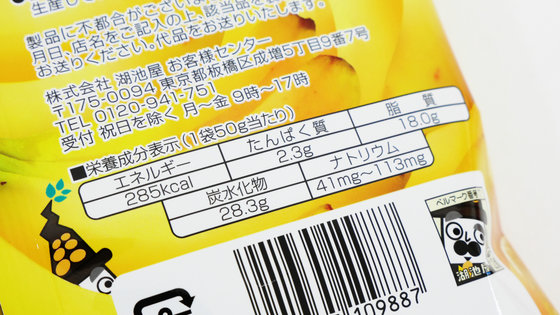 The arrangement recipe for the banana taste was to put marshmallows and bananas on the toast.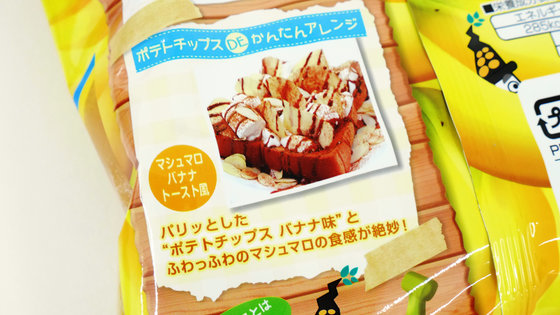 When opening the bag and eating it, the banana taste is more fragrant and seasoned, the impression that it fits well with the original flavor of potato chips. Banana taste is felt slightly salty, but of course the seasoning is slightly banana taste, which is also potato chips that could be pleased with sweet tooth and small children. When I got eaten by various people in the editorial department of GIGAZINE, there was an opinion that it is like "eating banana chips".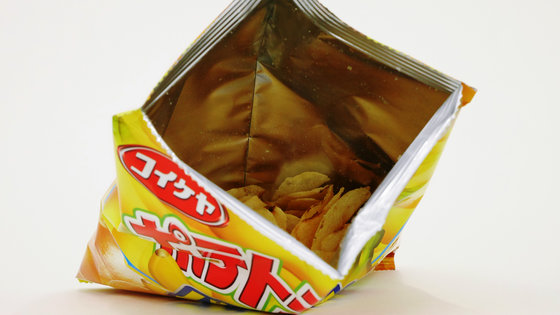 It is like this when arranging the peach taste (right) and the banana taste (left). It looks like normal potato chips, but they both have a sweet scent. In the editorial department of GIGAZINE, there are others who eat like potato chips with bamana flavors and milk like a cornflakes, so I am concerned about leaving a comment saying "It was delicious surprisingly!" People may challenge.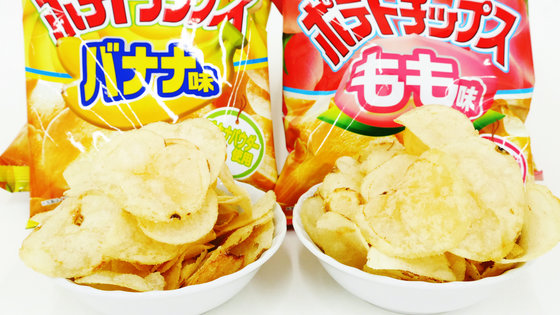 In addition, morning potato "potato chips thigh pepper taste" and "potato chips banana taste" are preliminary sales start at convenience store nationwide from May 18, 2015, from 1st June (Monday) 2015 It is expected to be sold in supermarkets etc. throughout the country.