I made 4 items of eggs in real shape at "Gutatama × Dob down collaboration campaign" which "Okonomama" became okonomiyaki and ate it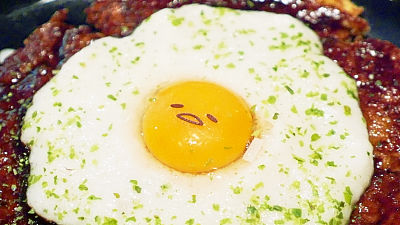 To expand 280 stores in 43 prefectures nationwideOkonomiyaki DotonboriSanrio's popular character "Gifts"We started a menu project that collaborated with April 17, 2015. I decided to go to a shop and see what kind of finish the collaboration project that makes the combination of Okonomiyaki and Egg, feel exceptional combination.

Gudetama × Dob down collaboration campaign
http://www.dohtonbori.co.jp/gudetama/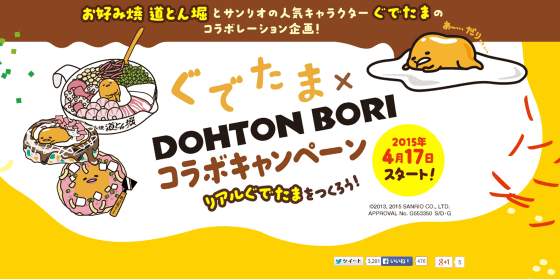 Menu in which Gyutama and Okonomiyaki combinedGrasshopper Sprinkle Pack OkonomiyakiYou can see how you created the movie below.

I tried to bake "Gyutama's Lorry Pack Okonomiyaki" of Okonomiyaki Dotonbori - YouTube


So, I came to Osaka main store of Okonomiyaki Dotonbori. There is a climb that raises a collaborative campaign of tatami in the shop front.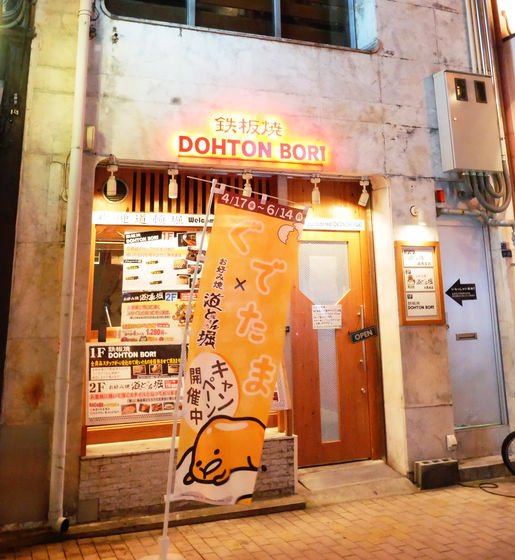 Notice firmly on campaign even on posters. It is said that the main street of Dobutonbori Osaka is the Teppanyaki restaurant on the 1st floor, and the okonomiyaki menu including Gyutama is available on the 2nd floor.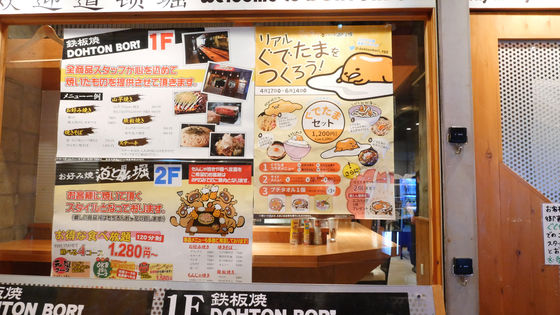 The state of the second floor is like this. It was a classic style of Okonomiyaki shop selling table of four people.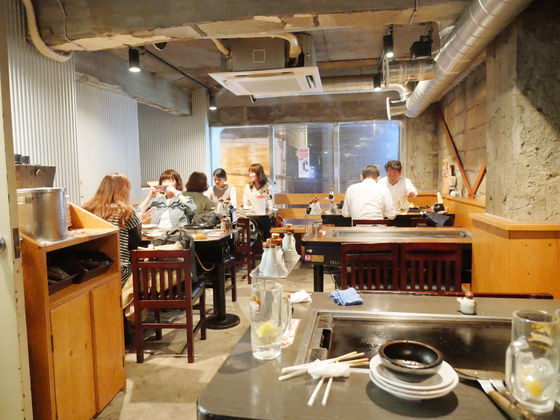 The table looks something like this. It is possible to ha ha ha Okonomiyaki surrounded by 4 people.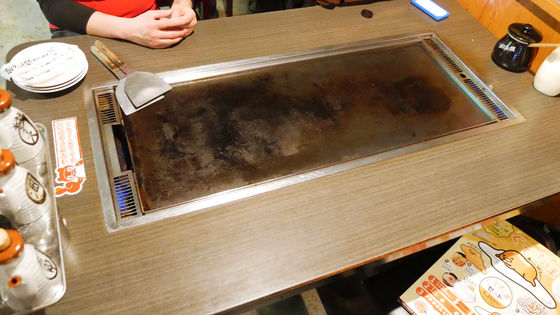 I immediately ordered a collaboration menu with "Gyutama" "Gutama Set" (tax-free price 1200 yen). The menu of the set is "Okonomiyaki"Monjayaki"stir-fried udon"Cow streak rice"From the side menu and select"drink bar"draft beer"Vanilla IcecreamIt is possible to choose one from also. In addition, for those who ordered the set, you can get one "Petit Towel" designed with illustration of Gyattan. Even further, if you ordered two sets of Nakedama Set, you could also get one Eco Bag with Limited Design by Dotonbori.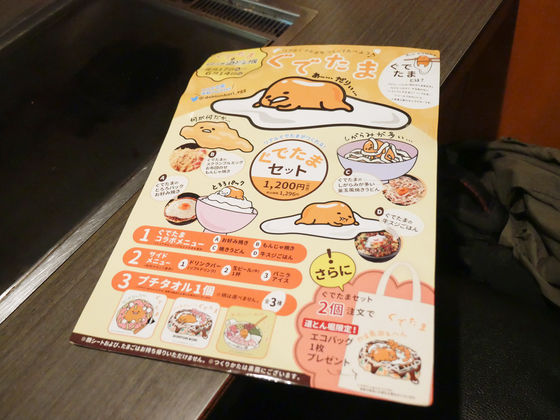 For this time, I ordered "Okonomiyaki" and "Monjayaki" first. I succeeded in getting 2 petit towels and an eco bag.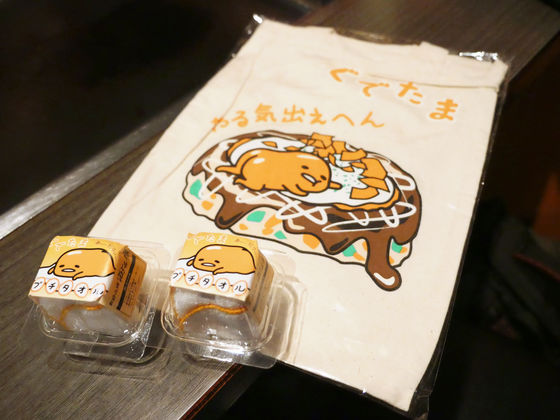 Besides, all the menus are cooked by their own style. Since the way of making is written on the back of the menu table, it seems fun to make it while saying it.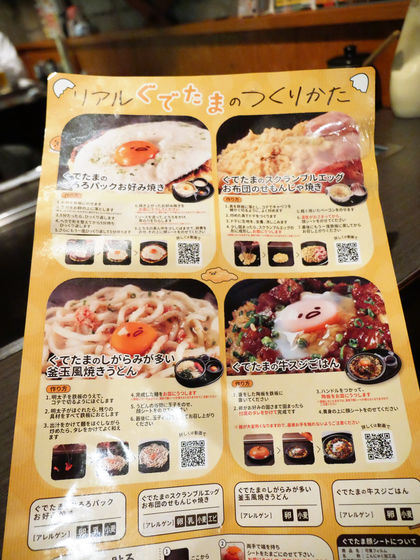 Set of okonomiyaki "Grasshopper Sprinkle Pack Okonomiyaki"Has been carried. In the white bowl, ingredients of Okonomiyaki, and black bowls and roasts, were cooked with raw eggs in small vessels. This raw egg will later become 'Gokutama'.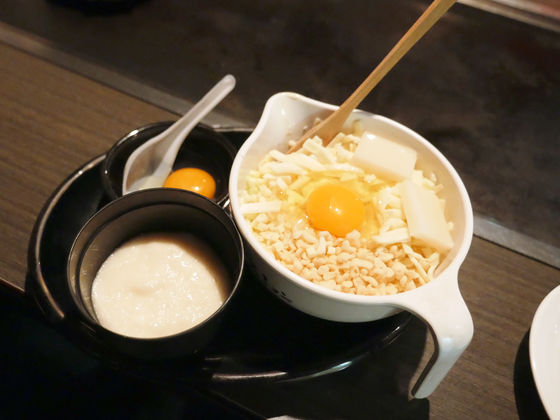 The face of the grasshopper is prepared separately with a transparent sheet, and it will be completed if you put it as a cooking finish.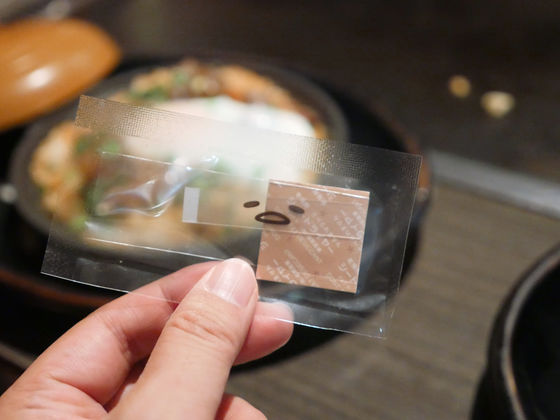 Start cooking immediately. Drain the oil, first cut two pieces and place it on an iron plate.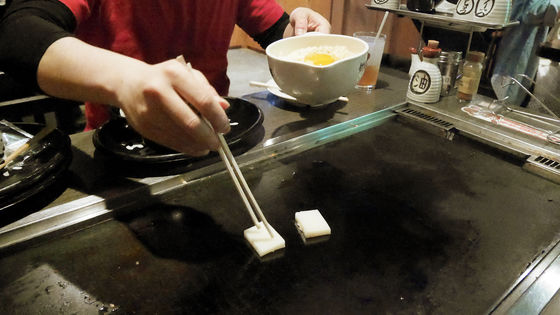 And I thoroughly stir in Okonomiyaki fabric. After arranging to a beautiful circle, I will bake the both sides well for about 10 minutes.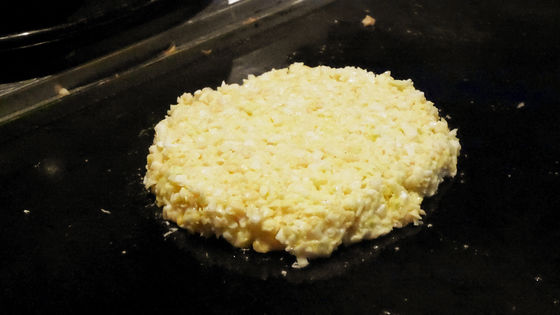 Okonomiyaki is a part of the dish to wait for the baking time. So it is also ant to wait for the baked while dancing the draft beer.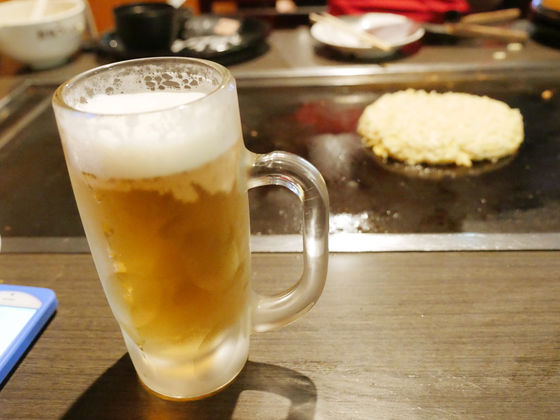 The drink bar had all the common menus such as cola and oolong tea.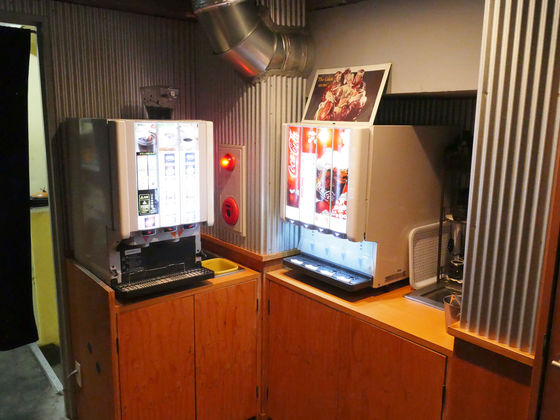 If you can burn both sides feel good, color the sauce. At this time, it is a trick not to put too much sauce.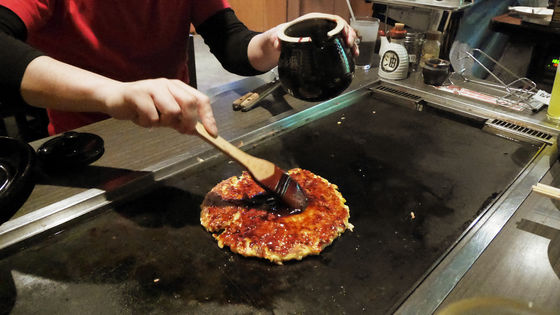 It is a moment when the burning smell of "ju" is boring.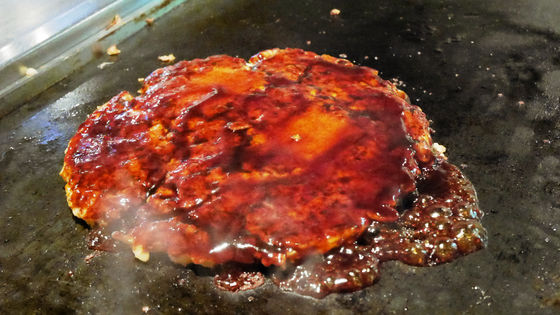 After applying the sauce, transfer the okonomiyaki to the plate.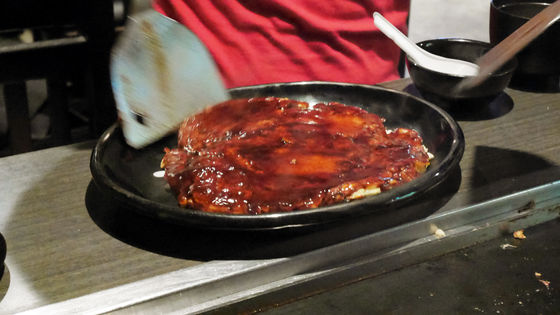 Sprinkle grues ......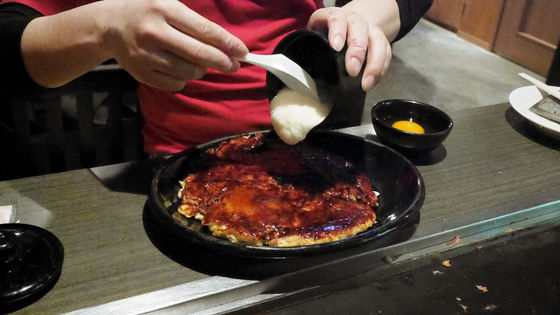 In addition, topping only egg yolk. The appearance of the grasshopper gradually became dimpled.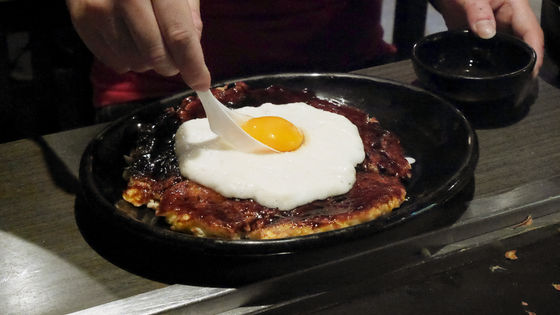 Apply a blue leaf on your preference, check the time when the steam calms down, put the face of the egg on the yolks and ...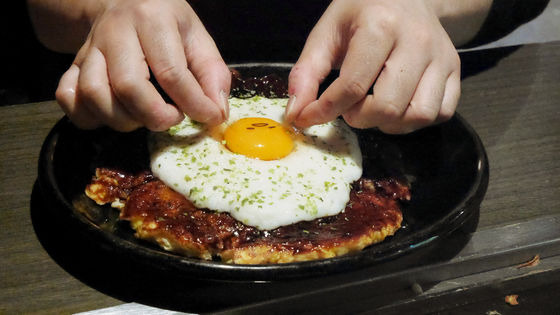 Completion Okonomiyaki of "Gyattama" without bleeding was born.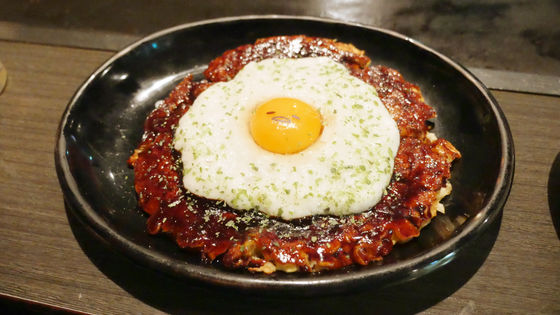 The reproducibility of the ivy is brilliant. The express expression that is still intact remains.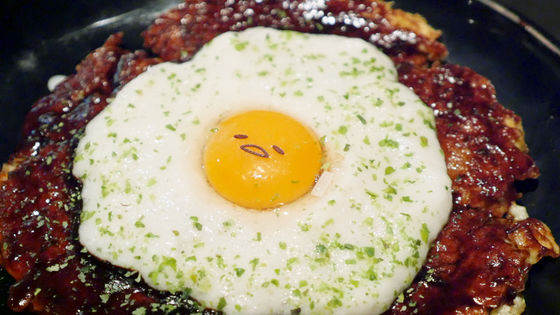 It is a place I want to see forever, but then, I will never eat the meaning as the tasting does not proceed. While murmuring as "sorry ......" in my mind, I put chopsticks occasionally.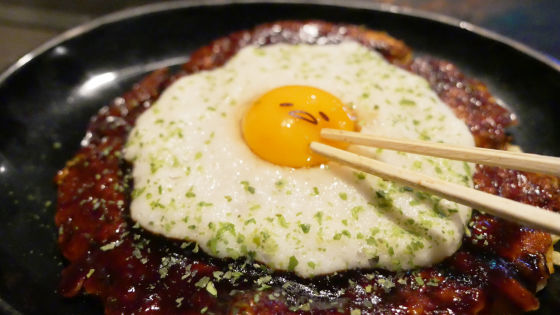 Hilarious pakuri. Sweet and rich sauce and fluffy fabric, and the flavor of eggs (egg) flavored together, making it thick and okonomiyaki.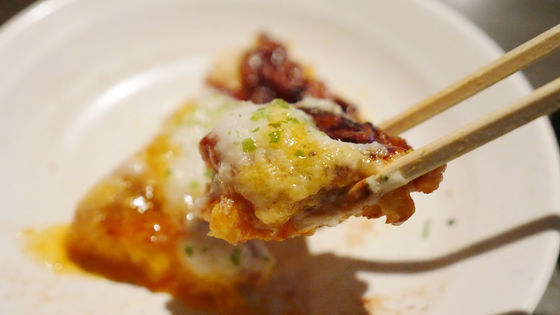 It's ok to go with Gabri with a cramp with a lot of thought. Although it is a collaboration product with Gyudama, it became a dish that you can fully enjoy it as Okonomiyaki.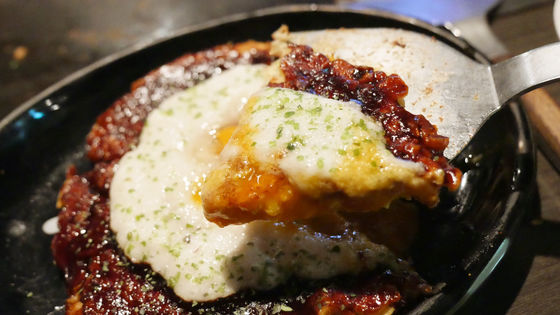 Next I will make "Monjayaki". The official name is "Scrambled eggs of futon futon Monza-yakiThis menu called Maze fabric and bacon is a set of 3 pieces.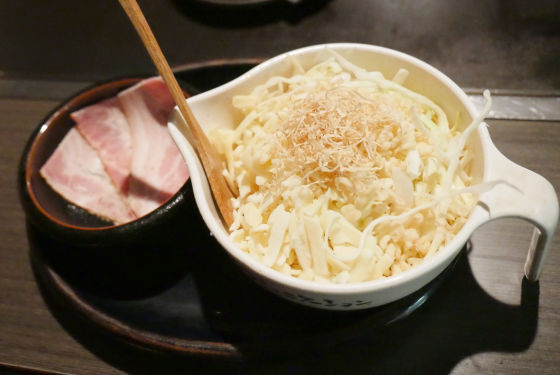 The way to make it is the same as general Monjiyaki. First drop the ingredients on an iron plate, while stirring cabbage with iron, stir well.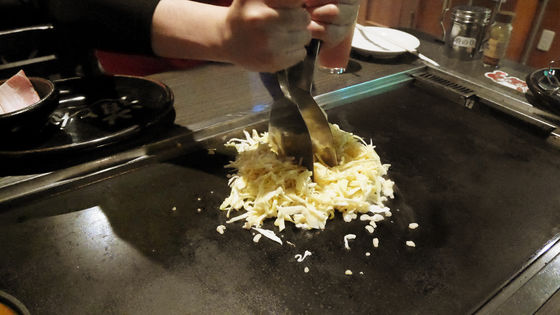 Make a potato with fried ingredients and pour all the dough into it.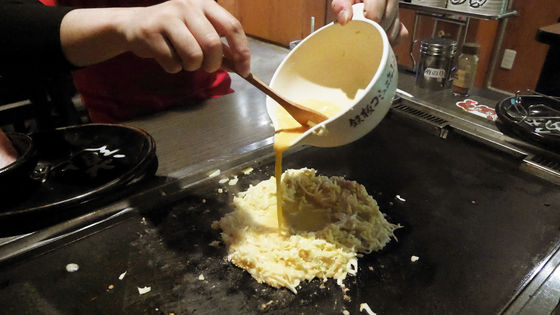 While burning the dough, bake bacon next to it.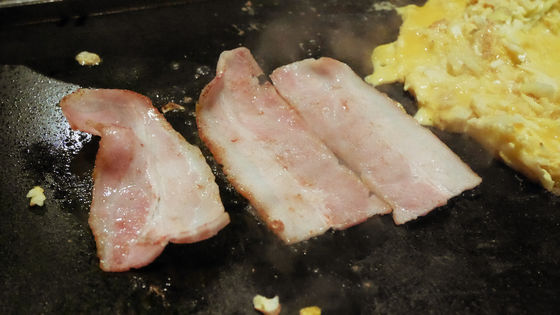 Where fire has passed through enough of the dough again, stir again with gushiga using iron. It is a fabric finished to a harder than general Monjyaki, finish is OK if it becomes like a scrambled egg while mixing.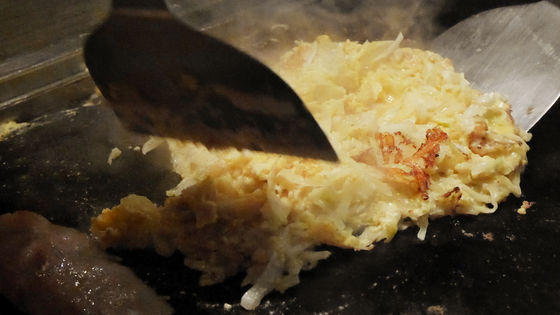 Transfer to a dish once and wait for the steam to settle.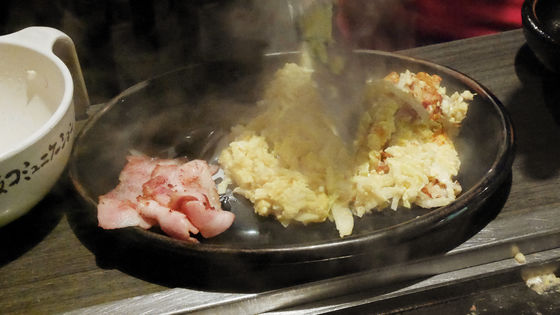 Completion is done when placing a face sheet a little at the time you settle down. Yellowish Monju's fabric is giving out a sense of cheat.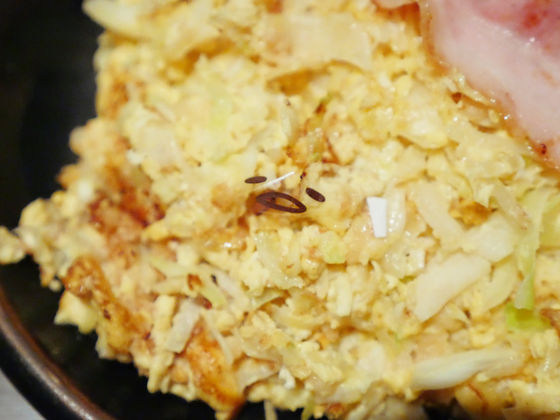 After completion it is somewhat anomalous to return the Monja to the iron plate again. By doing this, you can enjoy both the face of the cock and the monkey of the tsu.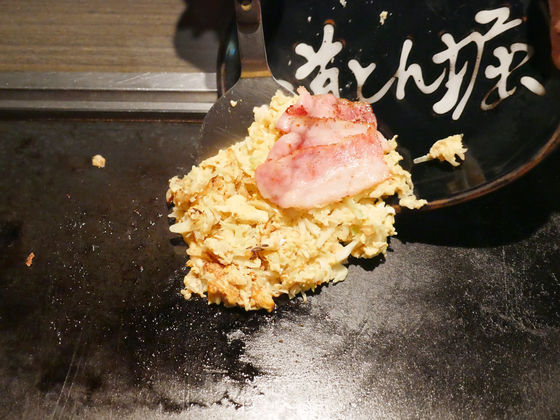 Hatshatsu 's monkey for Hatsuatsu. It may be felt from where you are transferring to a plate that it has become a shabby fabric for Monjyaki. The texture is unexpected and there is volume, and it is a little different from general monkey. The taste was cheese flavors and sweetness of cabbage well, and it was a response to eating which makes you feel volume. The impression that one of the editorial employees leaked out, "It is closer to fried rice rather than Monjiyaki" represents the finish well.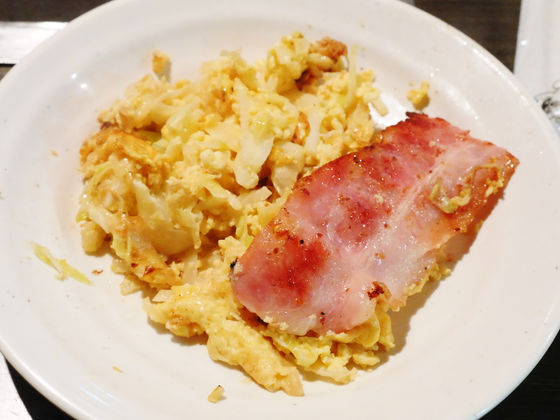 Continue, "Udon menu menu"Bamboo-style roasted udon noodles with lots of constrictionWe ordered.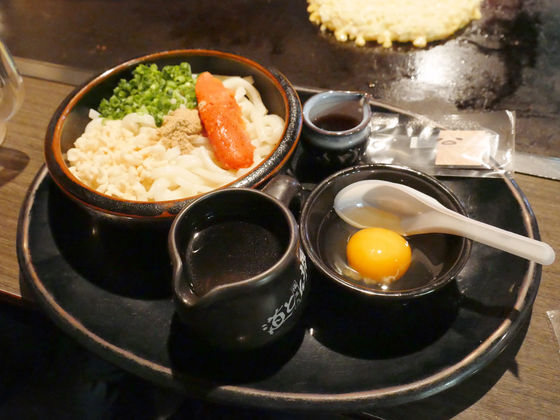 It is characterized by Mentaiko in addition to udon and skillet, blue onion and bonito flour.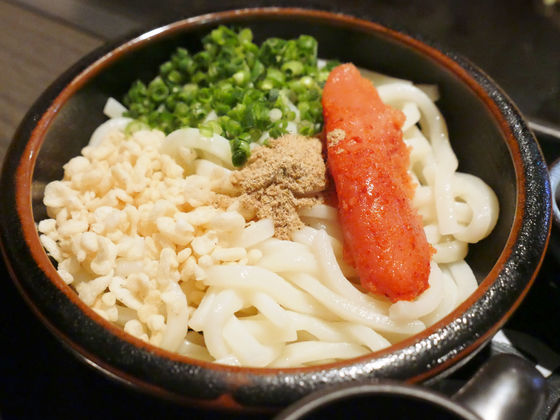 For bigger vessels, dash used to bake udon, small sauce for sauce, sauce for finishing, and of course raw eggs are for finishing "guta".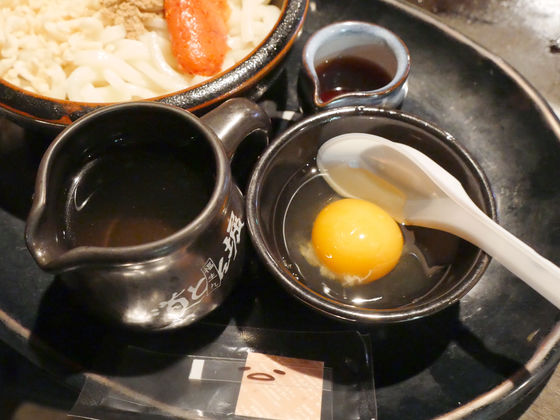 First of all, place mentarca on iron plate and stir it with trowel and drop udon and ingredients from above.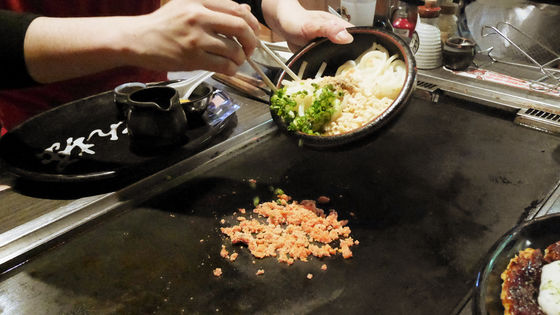 Apply dash and apply it to the whole, stir-fry while undoing the noodles.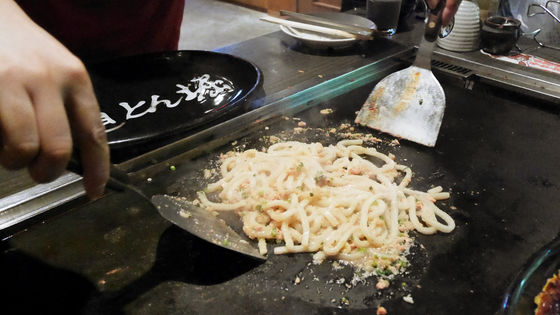 When stirring is finished, transfer it to a dish ......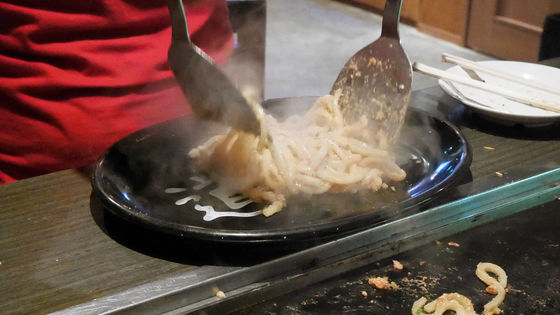 Put the sauce and egg yolk.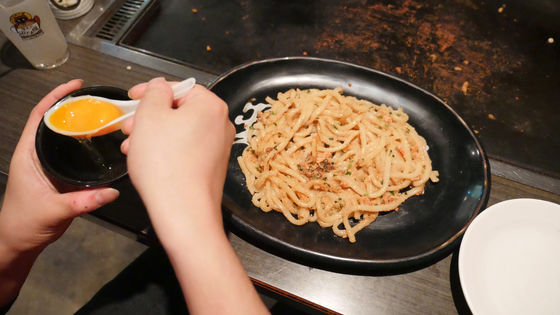 And when the steam subsides, put the face sheet on and complete it. Unfortunately the yolk crashed, but this decided to positively think that it gave a sense of Gudd.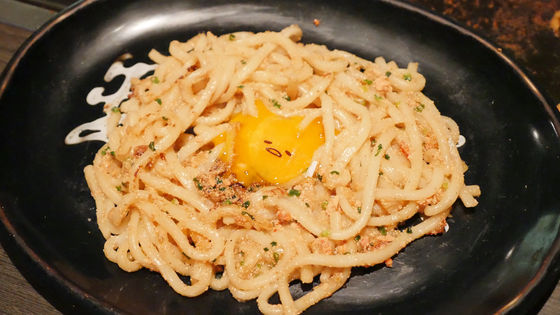 When I tried eating with Shizuku, it was a good intertwining of Mentaiko's salt and spicy, and the dashi and sauce's flavors exquisitely. If you try to eat it with udon in a bowl of udon, mildness is added to the spicy of marinated marinated seaweed and mentaiko and finished in reasonable balance. Again, it seems to be said that it is quite a workmanship as one menu.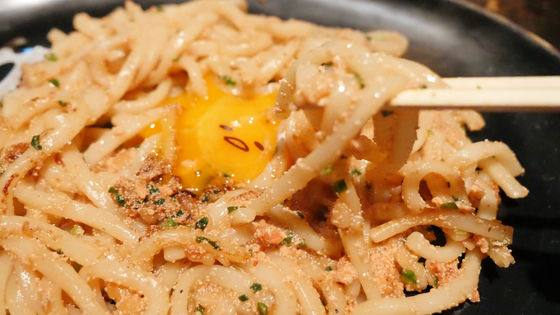 And at the end we will eat "Noodle's cow streak rice". This menu only surprisingly ordinary name.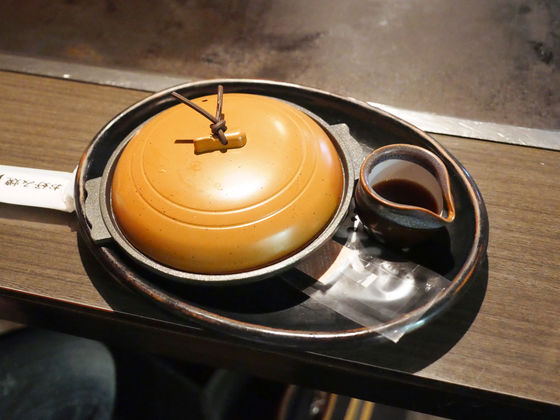 Cow streak rice is a pleasant ingredient set in the ceramic board in advance and it is a pleasant chin menu with only the iron plate.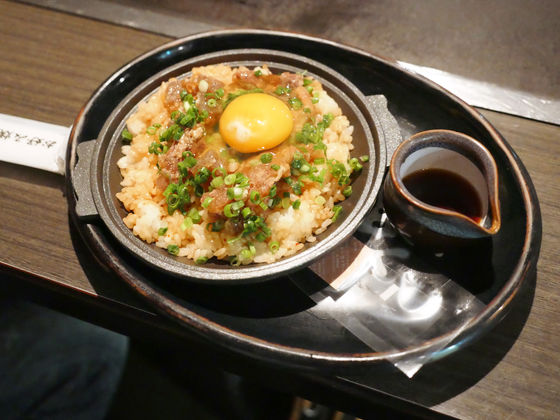 Placing it on a steel plate with a special tool, when steam comes out in about 10 minutes or less, cooking is completed by applying the included sauce.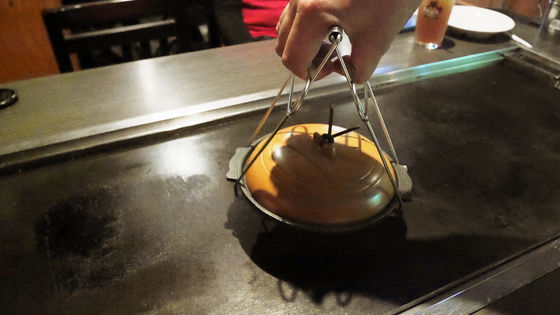 It is the same as other menus to lower down from the iron plate and wait for the steam to cool down.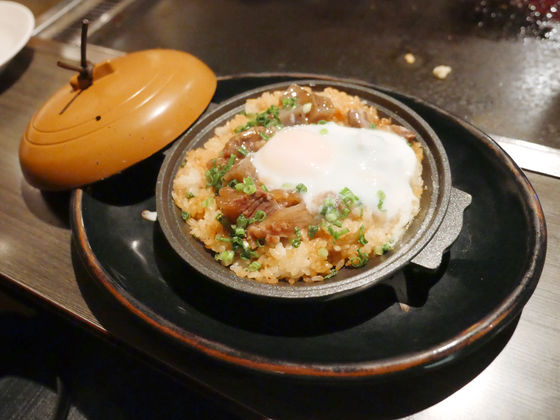 Completing with a face sheet on the finish.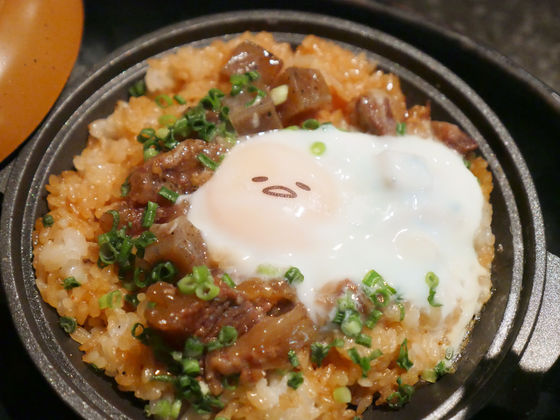 The sweetly seasoned cow stripe and konnyaku are full of rich flavor, and chopsticks advance steadily. Because the cow stripe feels a little less and the amount itself is not so much, it seems to be said that ordering in combination with other okonomiyaki menu etc. is the best menu.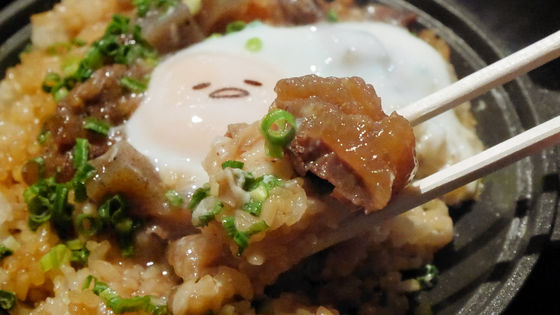 There is also a lot of koga in the pottery board there. The crispy texture and sweet seasoning were good dishes.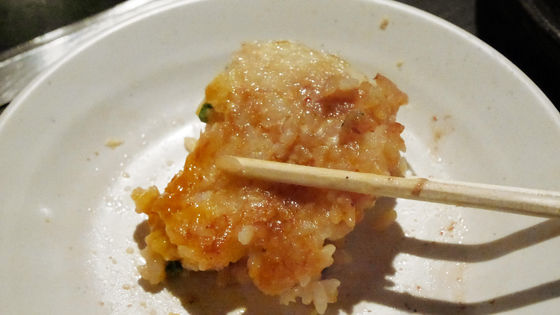 The collaborative campaign of Gyattama × Don Tonbori is a limited-time menu until June 14, 2015 (Sun). During the periodStore nationwideAs it is provided, it was a menu that seems to be enjoyable for those who like Gyutama as well as those who would like to eat Okonomiyaki etc as usual.