360 degree turning handle · desk for height adjustable notebook PC · GPS tracking · Carry bag that can be folded with USB charge function "Barracuda"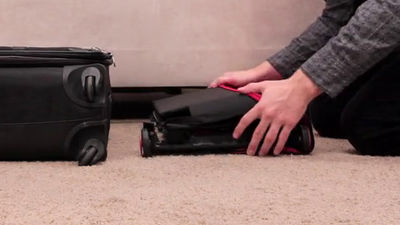 Carry bags and suitcases are big enough to pack luggage a lot, but when you do not use it will become an obstacle to take up the closet or space for pushing in. Therefore, when not in use, it reduces the storage space as much as possible by folding, and when using it developed a carry bag that can be used with a large capacity.

Barracuda - Worlds First Fully Collapsible Hardside Luggage
http://www.barracudaluggage.com/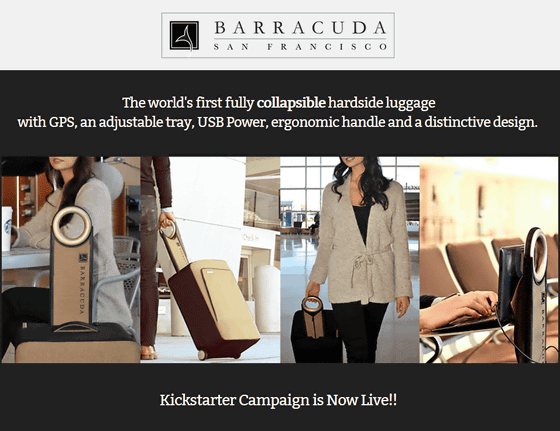 I overslept on that day that I am going on a trip ... when I say that.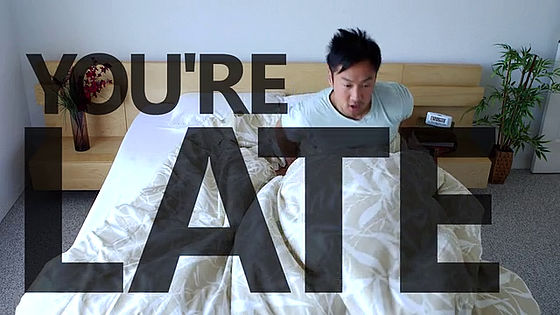 I have to prepare for going out soon. However, it is hard to put out a traveling bag that I do not normally use.



In that respect, this carry bag "Barracuda" can be folded small, so it can be stored in a small space.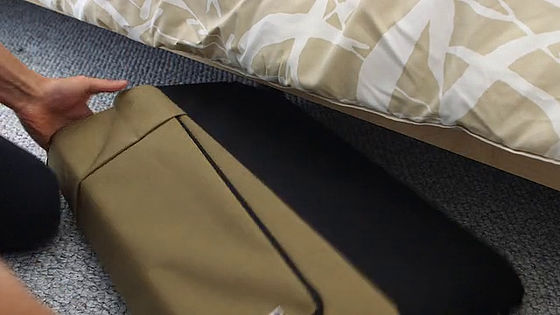 I put the bag on ton and on the bed.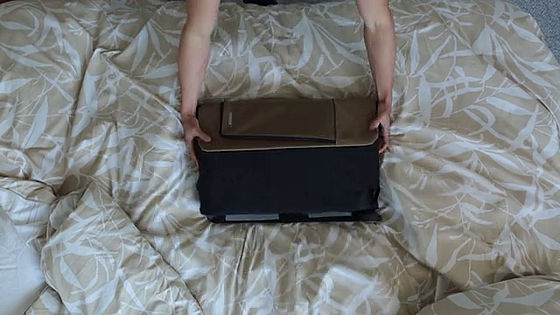 First of all, you jump up the part that is like a cover ... ...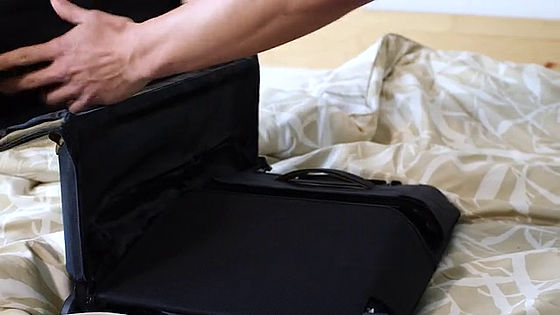 Next, I will set up the walls on all sides.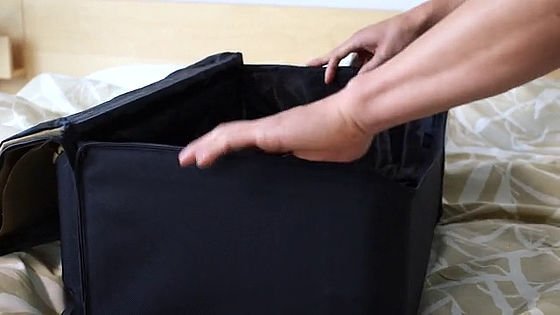 With this change to a carry bag that can store plenty. The size is 55 cm × 36 cm × 23 cm, the capacity is 44 liters, the weight is 3.8 kg. After packing clothes etc ... ....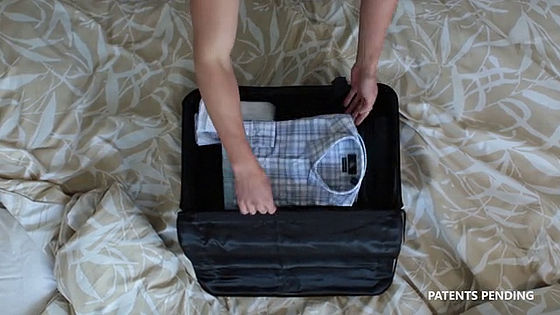 I can go out soon.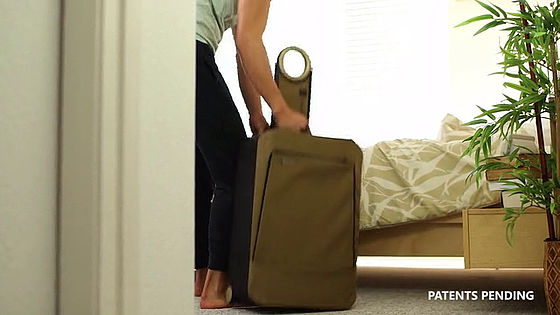 The thickness when folded is 4 inches (10.16 cm).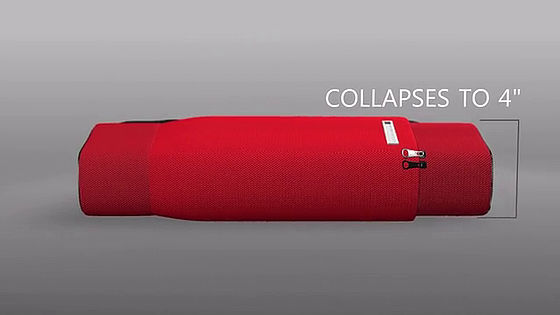 The handle part has a round shape ......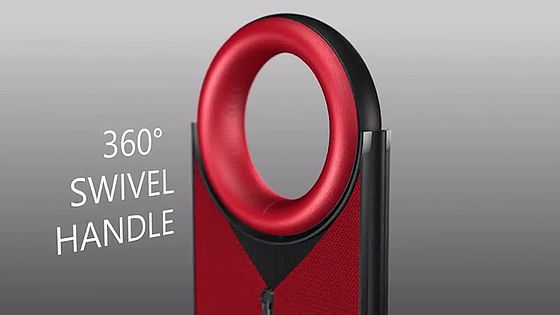 It is made to rotate 360 ​​degrees along the axis. It is said that this part is design based on ergonomics.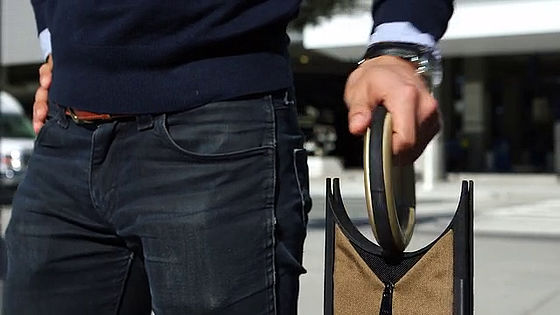 Two people with Barracuda and ordinary bag went for a trip.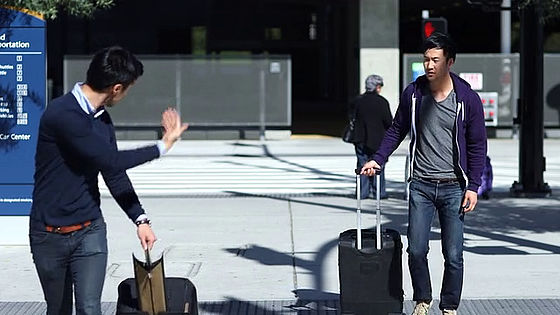 I draw a bag and a bag to the airport ......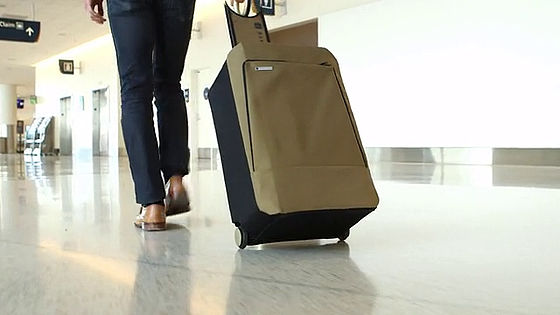 I took out the PC at the time before boarding and was working just a bit.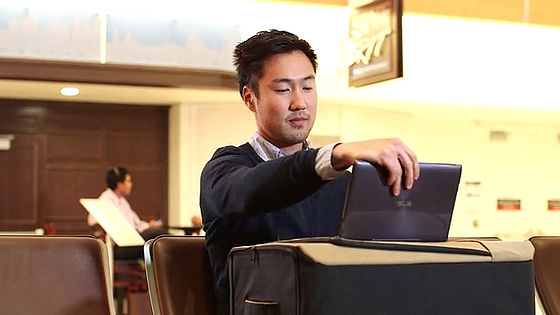 In this regard, almost the same thing is possible with Barracuda or an ordinary carry bag.



However, Barracuda comes out parts along the handle part ... ...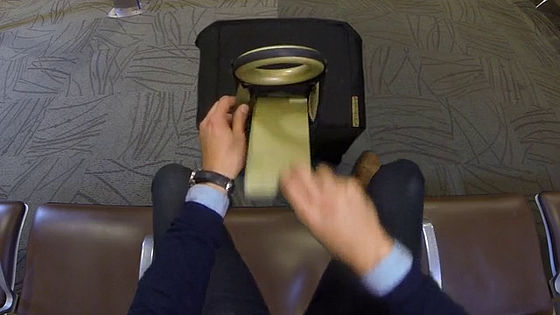 It is possible to extend the future.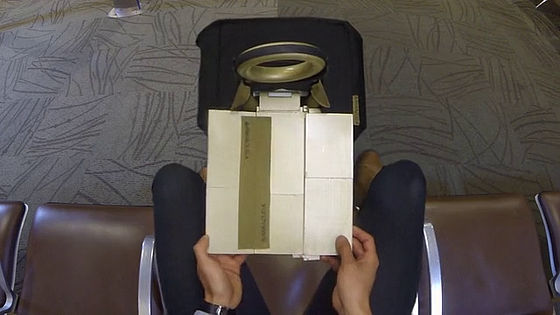 A small stand appeared. The task is to progress as a desk to place PC etc.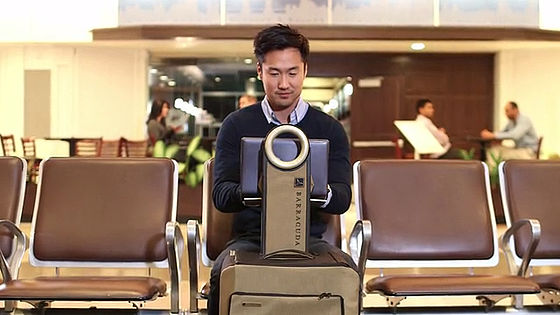 This stand can also be adjusted in height.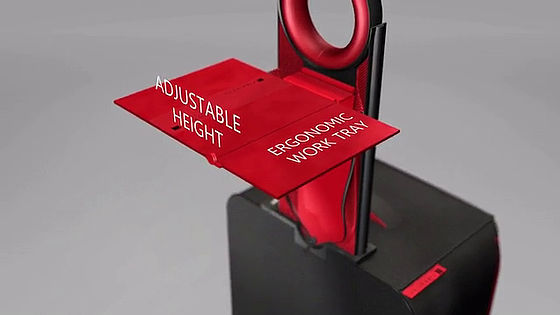 Furthermore, since Barracuda has built-in position tracking function and proximity sensor,"Lost bag gauge" where the baggage he / she went to somewhereEven if you encounter, you can track where you have gone if you have a terminal connected to the mobile network. Attention is necessary in that it is not GPS.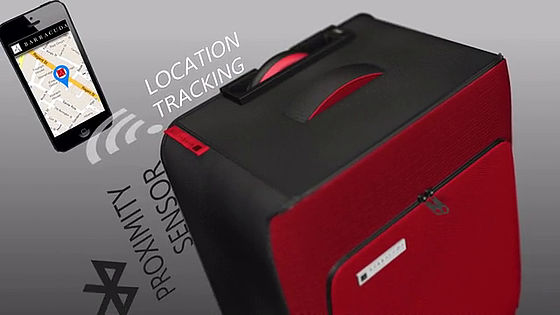 Moreover, it has built-in battery and USB port ......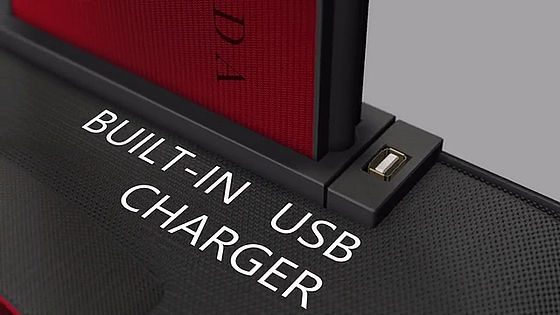 You can charge anywhere by inserting the cable. It has various built-in, but it meets the provisions of in-flight baggage such as the American Transportation Security Agency, Federal Aviation Administration, airline, etc.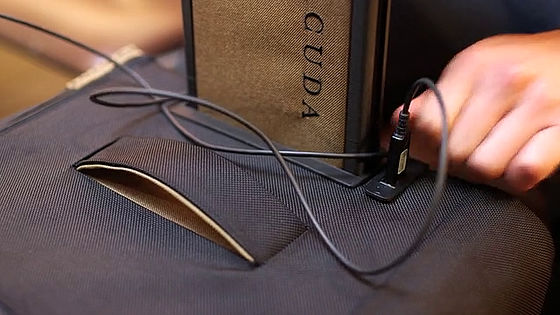 When I was working, a woman came nearby. Apparently I am looking for an outlet to see if I can charge.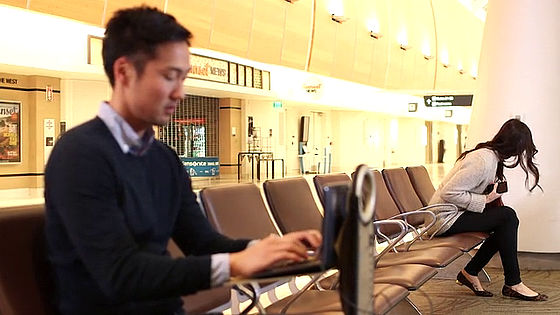 In that case, Barracuda can charge you.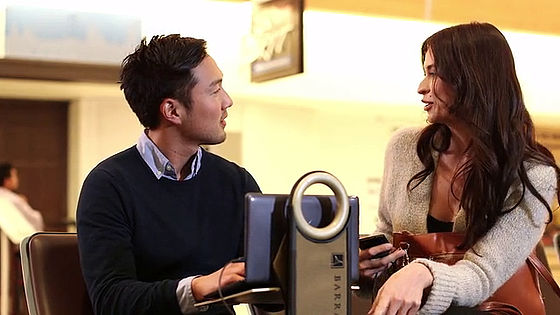 As expected it is not possible to handle with a normal carry bag.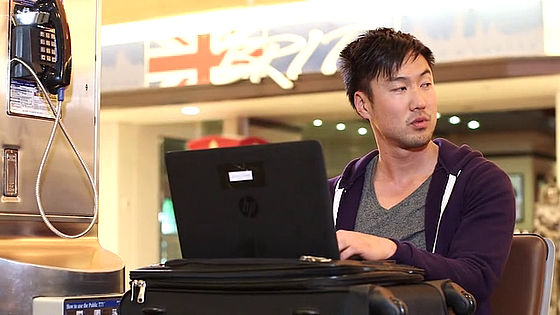 When used it is indistinguishable from ordinary carry bag (left) like this Barracuda (right).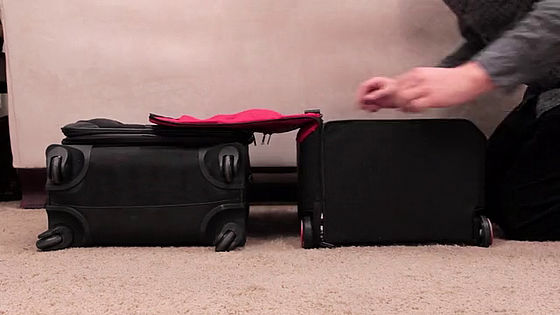 Defeat the wall to the inside and inside ... ...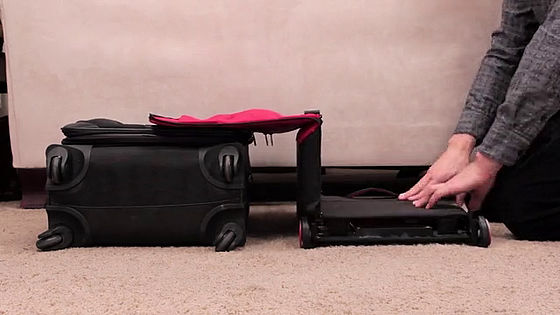 When folded the thickness shrunk to about half.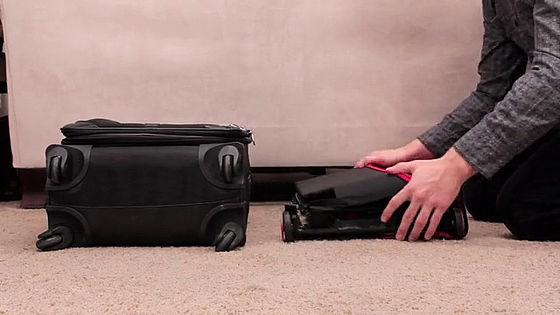 Store it in the gap.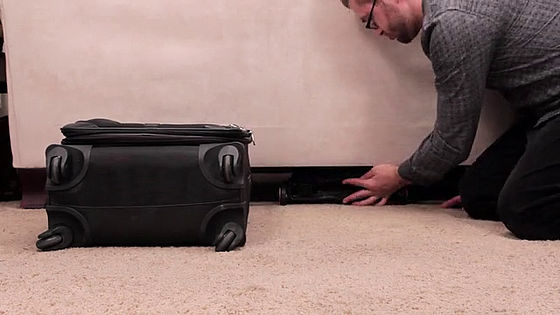 This carry bag "Barracuda" is now looking for investment with Kickstarter. More than $ 400,000 (about 47.6 million yen) gathers against the target of 20,000 dollars (about 2.38 million yen). Of the extension goals that have been set, the capacity increase to 15000 mAh of the built-in battery pack and the addition of black to the four colors blue, gold, red and gray have been achieved. When it reaches 500,000 dollars (about 59.5 million yen), the USB port will increase to 2, and if it is 750,000 dollars (about 89.2 million dollars) more pockets will be added that can be fixed to full size laptops. Also, if the investment amount reaches 1 million dollars (about 119 million yen), it will add a unique wrinkle-free strap even if you put clothes in.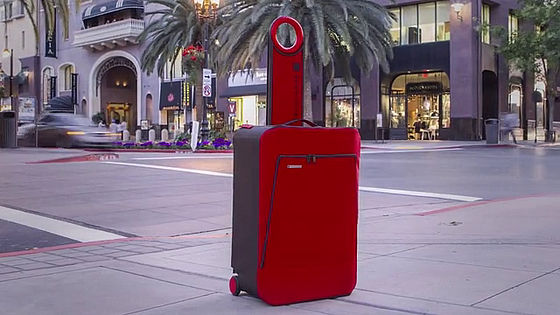 The following items are available according to the contribution amount. Courses between $ 1 and $ 240 are already sold out.
· 1 dollar (about 119 yen):You can send any information developed by Barracuda as soon as possible
· $ 240 (about 28,600 yen):[Early Bird Discount] 1 Barracuda
· $ 330 (about 39,300 yen):One barracuda
· $ 380 (about 45,200 yen):Barracuda 2
· $ 550 (about 60,400 yen):Three Barracuda
· $ 875 (about 104,000 yen):Barracuda 5

Incidentally, since the position tracking function & proximity sensor is additionally equipped, if you install it, you need an optional fee of 50 dollars (about 5950 yen) for one bag. In addition, the general sale price of the bag is scheduled for 480 dollars (about 51,700 yen).

The deadline of investment is 18:44 on May 29th (Friday).

Barracuda: Collapsible Luggage + Tray + GPS + USB Charger by Barracuda - Kickstarter
https://www.kickstarter.com/projects/barracuda/barracuda-collapsible-luggage-tray-gps-usb-charger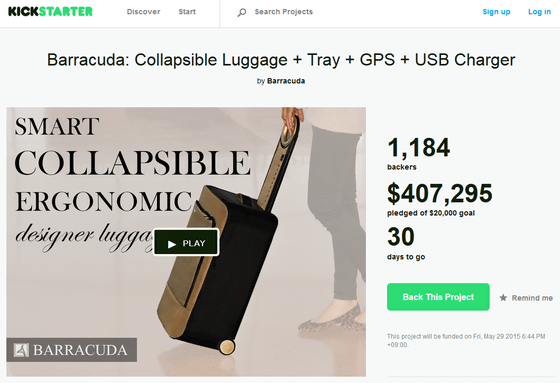 · Additional notes June 9, 2016 13:36
Barracuda's dimensions when deployed are 55 cm × 36 cm × 23 cm, the height from the ground when extending the handle to the top is 99.5 cm, the capacity is 44 liters. The size at the time of folding is 55 cm × 38 cm × 11.5 cm, and the weight is 3.95 kg. Materials include polycarbonateMakrolon, And aviation grade aluminum are used. Built-in battery capacity is 10000 mAh, charging smartphone about 5 times possible. Charging tablet is also supported. Connection with the smartphone is done through Bluetooth LE.

The product version of Barracuda has started accepting pre-order on the following official website page. The price of the GPS tracker model is $ 299 off about 50 dollars (about 5300 yen) from the list price (about 32,000 yen), and it is 349 dollars (about 37,000 yen) when a GPS tracker is attached. The color is "Midnight Black" "Silver Gray" "Azure Blue" "Pure Gold" "Dragon Red" "Hot Pink" all six colors. Shipping to Japan requires a separate $ 49 (about 5200 yen), shipping will be around July 2016.

Barracuda Smart Collapsible Carry-on - Barracuda, Inc.
https://barracuda.co/products/smart-collapsible-carryon