Asus monster smuggled "ZenFone 2" thorough review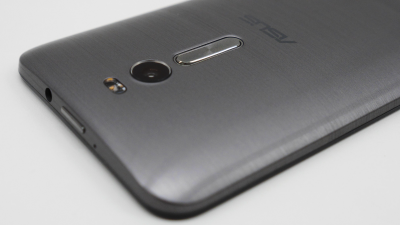 A smartphone ASUS calls itself a "monster"ZenFone 2(ZE 551 ML) "is the world's first 4 GB memory with Intel's latest processor, and in terms of specifications it is a high-spec model that is suitable for being called a monster. The big model breaks with high cost performance "ZenFone 5"I tried using ZenFone 2, which had a strong sense of switching to a line to compete with high performance, for over a week, and I tried to experience ZenFone 2 monster for the first time.

Phones | ZenFone 2 (ZE 551 ML) | ASUS Global
http://www.asus.com/Phones/ZenFone_2_ZE551ML/

About the appearance of the monster smartphone "ZenFone 2", the rival modelIPhone 6 Plus,Nexus 6Compared with. By looking at the following article, you can check the design of ZenFone 2 thoroughly.

I compare the new-generation SIM fleece maho "ZenFone 2" with the rival models "iPhone 6 Plus" and "Nexus 6" - GIGAZINE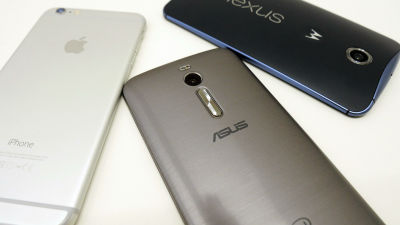 ◆ Spec
· CPU-Z
First of all, to confirm basic performance of 4 GB memory smartphone ZenFone 2 (ZE 551 ML) "CPU-ZLet's check the specification with. SoCIntel Atom Z 3580(2.33 GHz quad core). It is 64 bit compatible with Intel latest high-end SoC.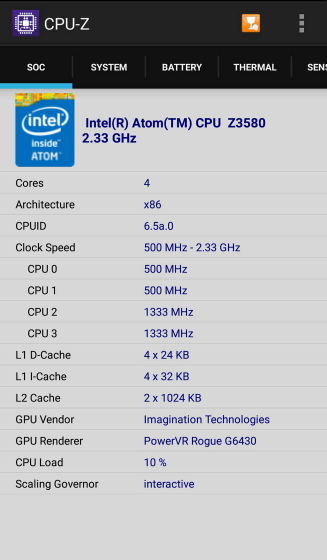 The OSAndroid 5.0 Lollipop, The display is 5.47 inches (1080 × 1920), the pixel density is 480 dpi. Memory is of course 4 GB, storage capacity is 64 GB. Even if you look at catalog specs alone, you can see that it is the top of the current smartphone.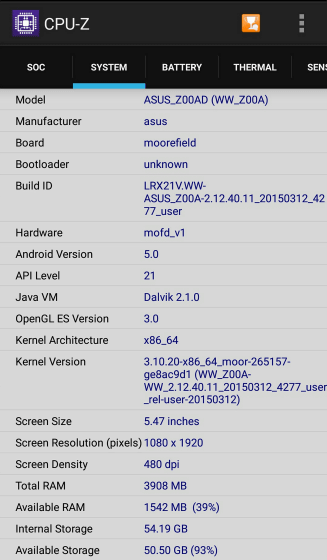 ◆ I tried using
ZenFone 2 is equipped with a knock code that sleeps by simply tapping the display twice while sleeping. You can cancel sleep or put it to sleep without touching the power button in the place hard to push on the top.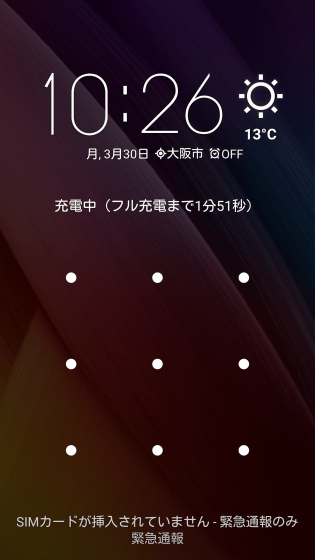 Zen UI home screen which is a big feature of the ZenFone series. Swipe from the top edge of the screen ......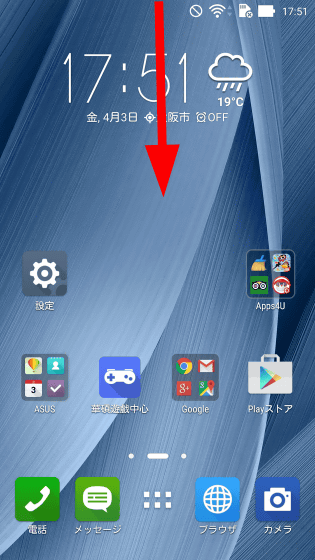 Like this, cards for notification come out from Android 5.0 Lollipop.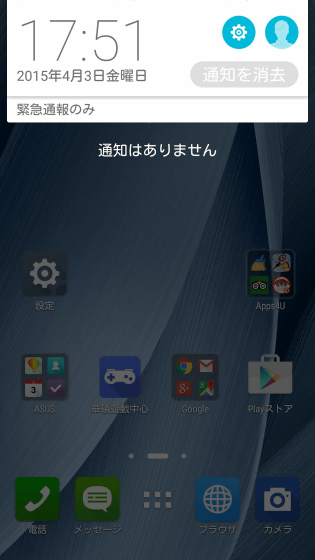 Swipe down further to get quick launcher.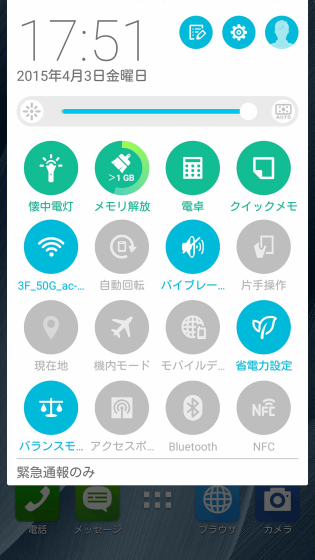 ASUS proprietary application is a stopcount. However, there is no "bad manners" app that consumes only batteries unnecessarily like career applications and can not opt ​​out as well.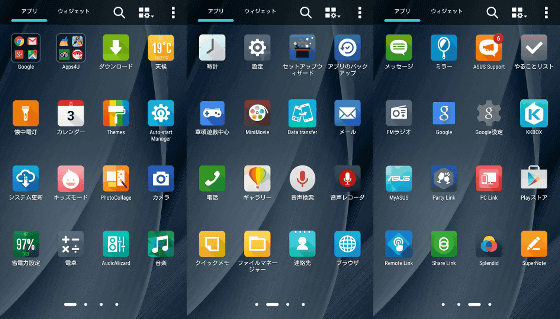 · AnTuTu
Subsequently, the benchmark application "AnTuTu BenchmarkLet's compare it with a rival machine using.

The AnTuTu score of ZenFone 2 (ZE 551 ML) is "46,552".



It is like this in the ranking. ZenFone 2 (ZE 551 ML) seems to be said to have joined the ranks of the high-end model altogether.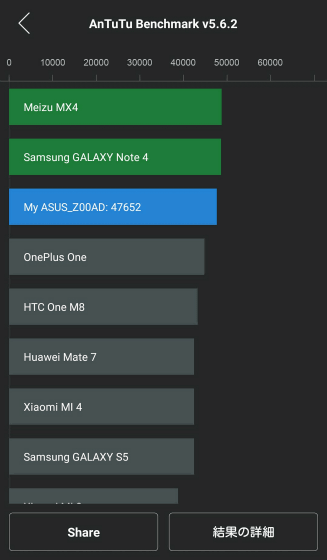 On the other hand, iPhone 6 Plus40, 7013".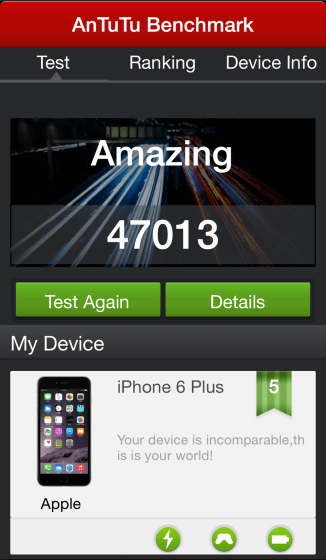 Nexus 6 "50, 1334That's over 50,000.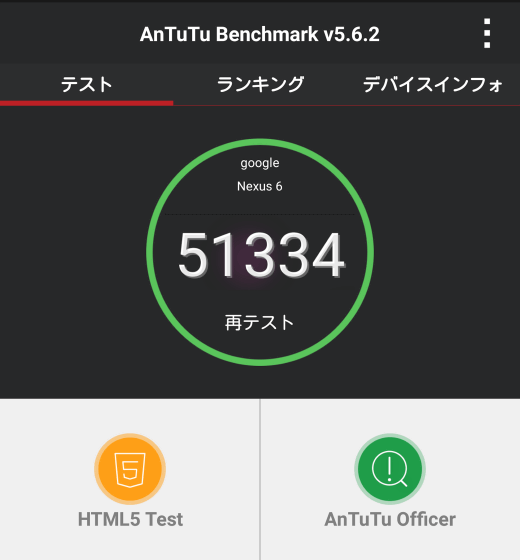 For your reference,Intel Atom Z 2580(2.0 GHz dual core) equipped with "ZenFone 5Measured "26322". The substantial performance improvement of the 3rd generation Intel Atom installed in ZenFone 2 (ZE 551 ML) is obvious.



ZenFone 2 crispy and null null You can understand how to operate comfortably by seeing the following movie in one shot.

The world's largest 4GB memory mounted ASUS "ZenFone 2" crispy feel like this - YouTube


For navigation of the standard browser application ......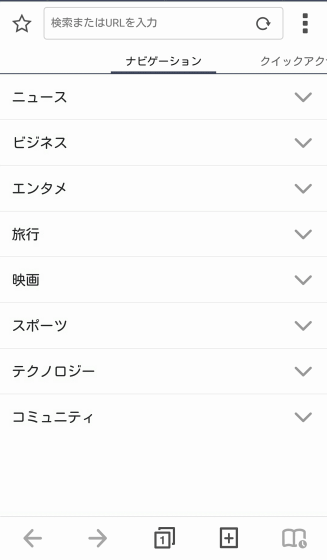 Japanese site registered. Apparently preparation seems to be preparing for ZenFone 2's introduction to the Japanese market.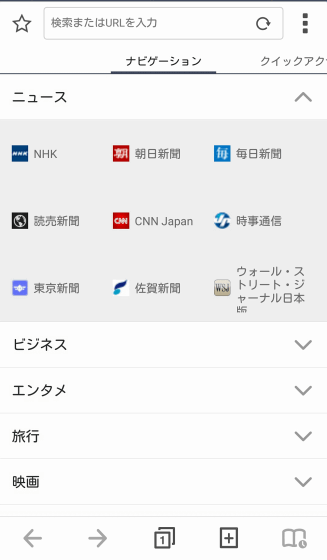 ◆ Compare camera performance
When choosing a smartphone, there are many people who emphasize "good camera performance" rather than spec. So, in addition to ZenFone 2 (ZE 551 ML), iPhone 6 Plus, Nexus 6, the 6.4 inch large screenXperia Z Ultra(SOL 24) ", the previous model ZenFone 5, Amazon's smartphone"Fire PhoneI shoot and compare pictures using the. All shooting is done in the default state except "Use terminal default application" and "HDR off."

The shooting is early in the morning and the weather is cloudy. In addition, clicking on the thumbnail will display the original data, but since the file size is large, you need to be careful when downloading. Firstly from ZenFone 2 (ZE 551 ML) of 13 million pixels. The image is bright and vivid color seems to be very suitable for browsing on a terminal, but when it is enlarged, details tend to collapse like a solid paint.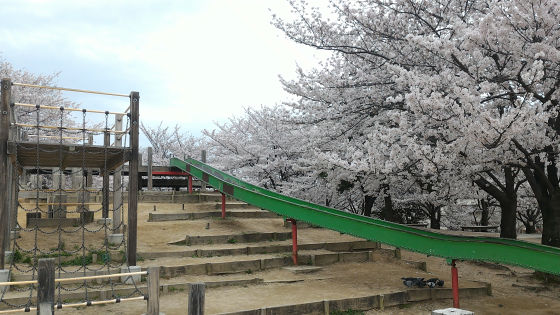 8 million pixels iPhone 6 Plus. Although it is slightly dark here, the color shines faithful to the actual scenery.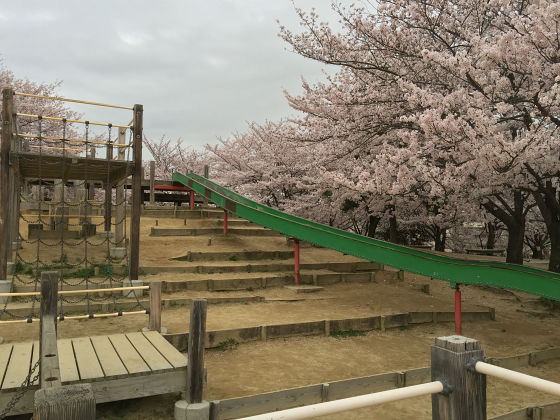 13 million pixel Nexus 6. It became slightly white jump, but it is very colorful when I look at the terminal.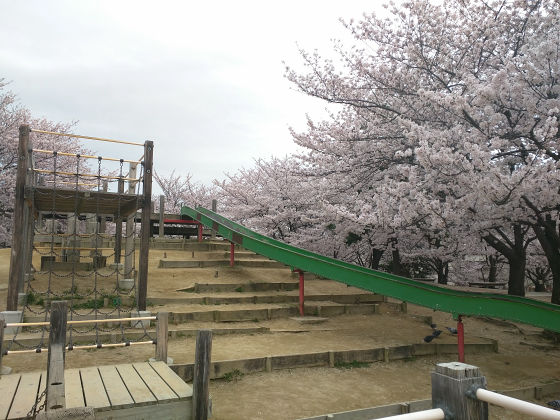 The 8.1 million pixel Xperia Z Ultra is a slightly reddish finish.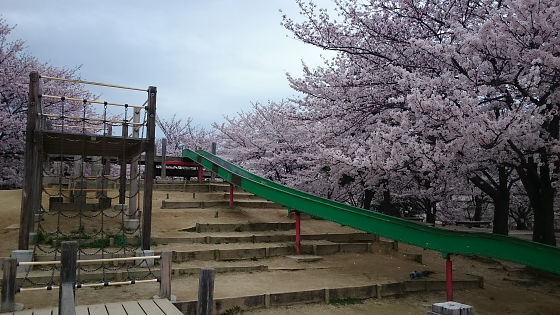 13 million pixel Fire Phone. Although it seems to fade away white, the resolution feeling and the detail reproducibility are high.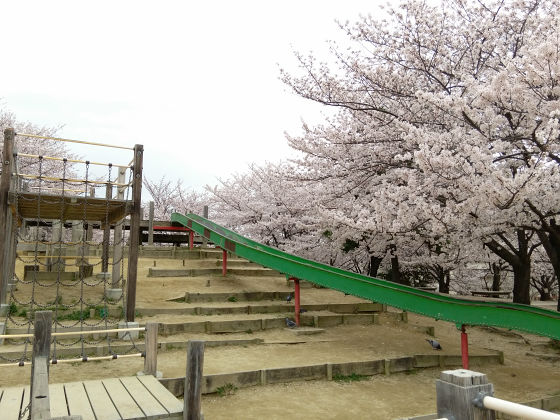 ZenFone 5 of 8 million pixels is slightly dark.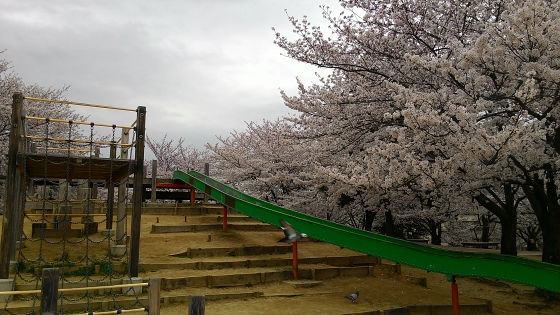 Next closeup. ZenFone 2 (ZE 551 ML). When enlarging, the blurred background has a unique bleeding, but the resolution of the focused part is quite high.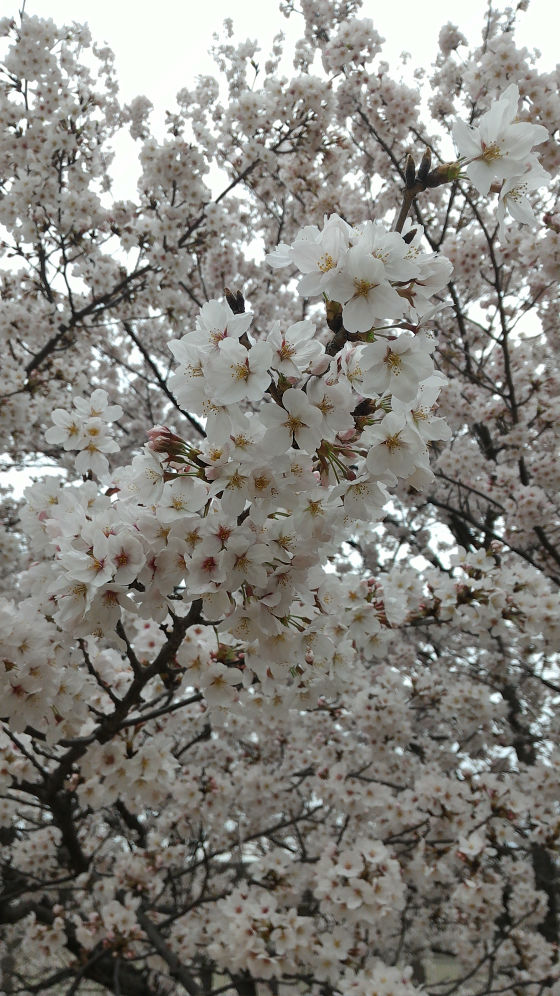 The impression that the iPhone 6 Plus made a whole over it.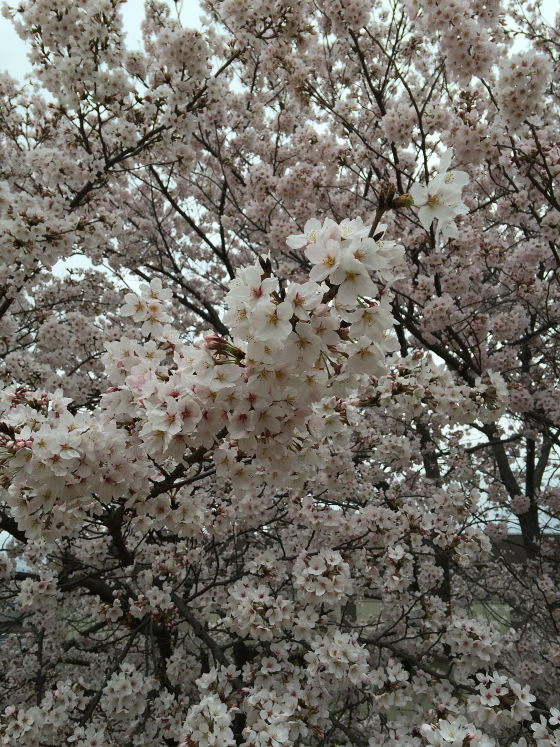 Nexus 6 shows a high resolution feeling even in close-up shooting without detail.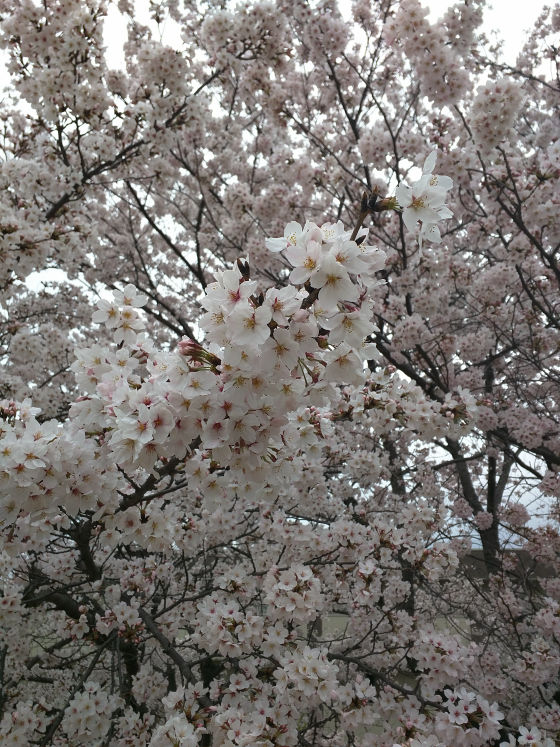 Xperia Z Ultra is still too red and overexposed. In the closeup of the cherry blossoms it became a pretty red image.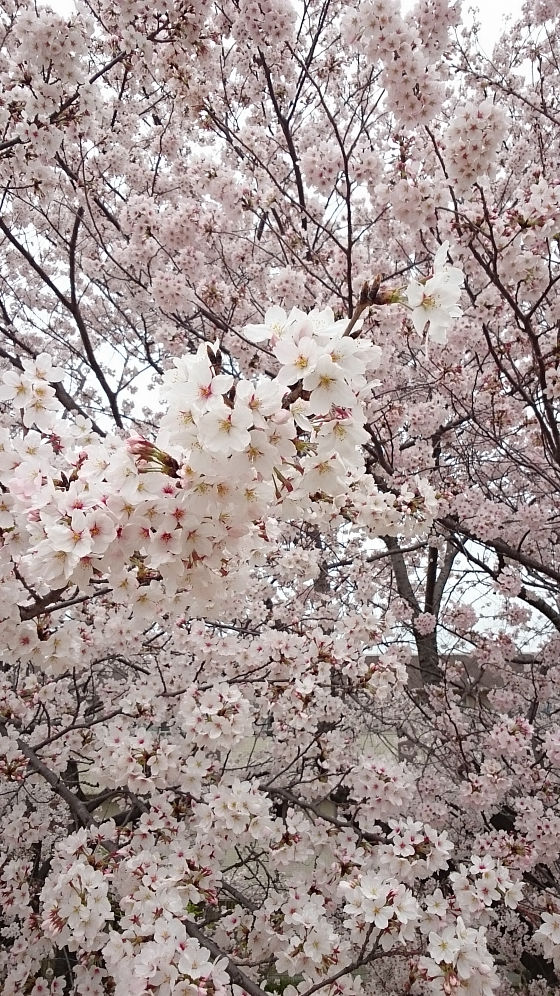 Fire Phone balances both hue and resolution.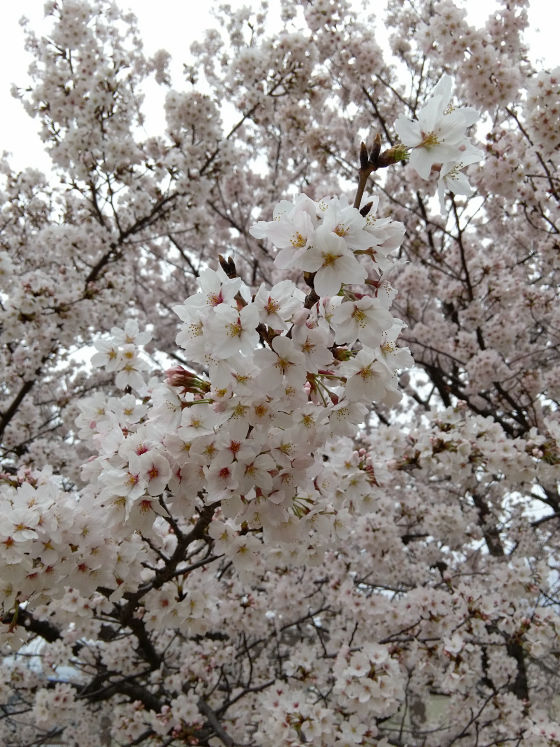 ZenFone 5 is a sharp impression that white is emphasized.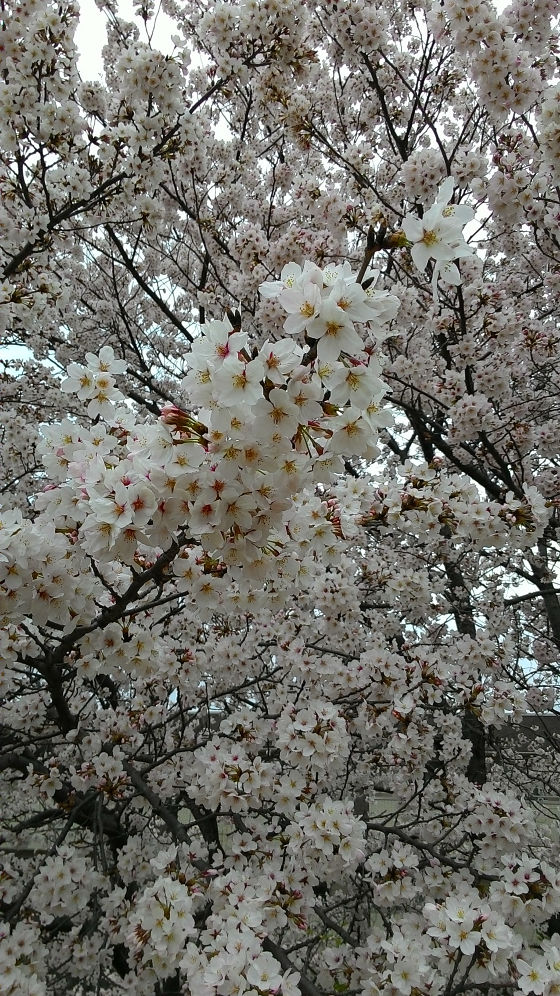 It is difficult to decide which terminal's camera is the best, it seems to be greatly affected by personal preferences such as coloring condition and brightness. Personally, it is the impression that the camera of Nexus 6 is leading one head, but ZenFone 2 (ZE 551 ML) is also sufficiently practical camera performance seems to be no mistake.

◆ Brightness
The only thing in ZenFone 2 (ZE 551 ML) is the brightness of the display that I felt "weak" compared to other models. This is a diagram showing the luminance of all the terminals maximized at the time of photographing and arranged side by side. From the left, ZenFone 2 (ZE 551 ML), ZenFone 5, Nexus 6, iPhone 6 Plus, Fire Phone, Xperia Z Ultra. The brightness of the ZenFone series 2 units is low as much as we can see it at a glance.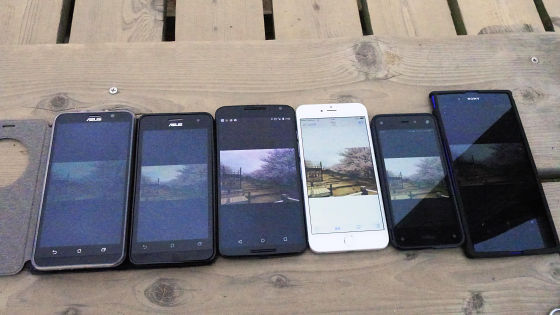 Mobile communication
ZenFone 2 is SIM lock free as a matter of course. So, first I will insert a SIM card from NTT Docomo and try mobile communication. In case of MVNO using NTT docomo line, it is OK as it is, but for NTT docomo's SIM card, pay optionMopera UYou need to be careful when you need to join.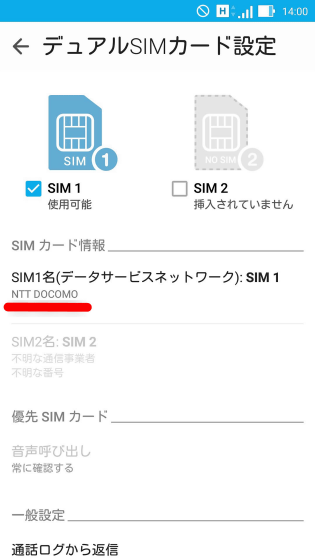 When inserting NTT docomo's SIM card, various settings appear in the blank APN setting.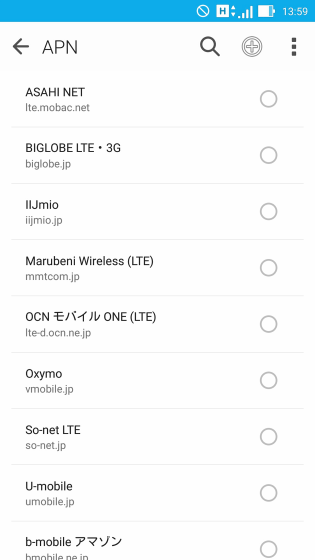 In addition, "mopera U" was automatically checked, mobile communication was possible without any setting change required.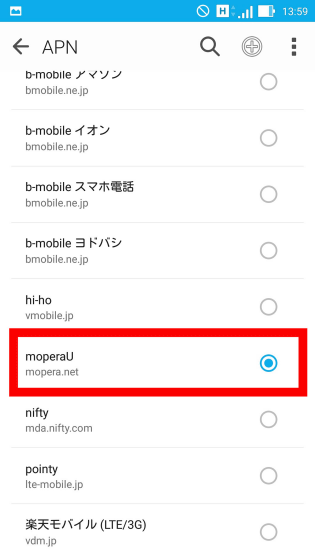 Browsing can be done as a matter of course.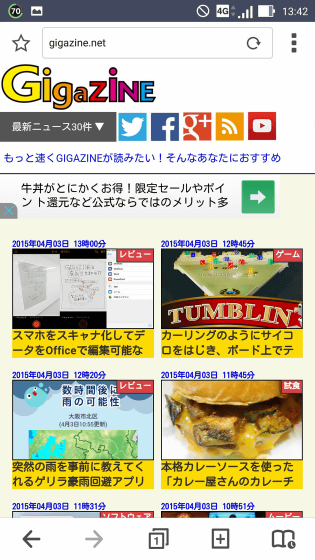 "Speedtest.net", When measuring the communication speed, it was able to communicate in LTE at 31.6 Mbps for downlink and 3.85 Mbps for upload.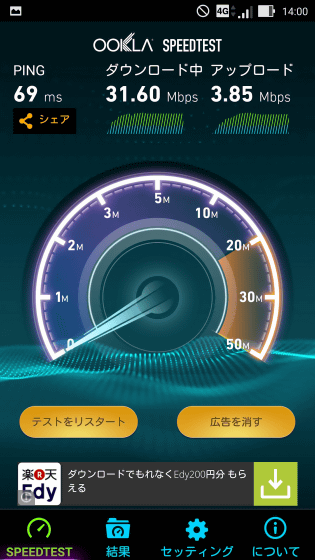 Au
Then insert au's SIM card.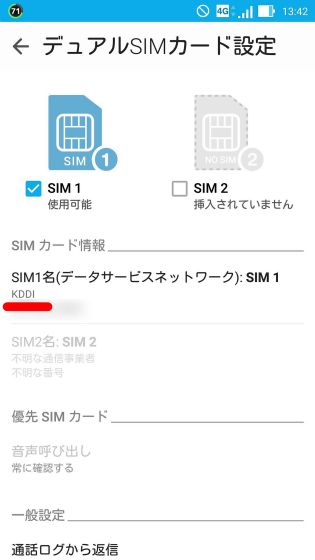 In the case of au, nothing is displayed in APN, so it is necessary to set APN manually. Enter "uno.au-net.ne.jp" for APN, "[email protected]" for user name, "KpyrR6BP" for password, and set the authentication type to "CHAP" Save.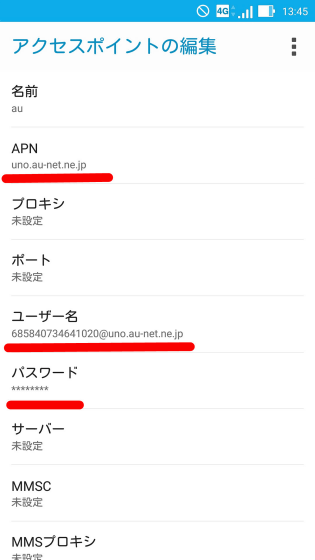 I can communicate safely, speed is like this. Furthermore, you can not talk with au's SIM card.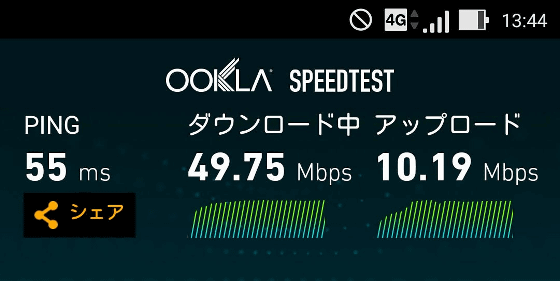 · SoftBank
Then insert SoftBank's SIM card.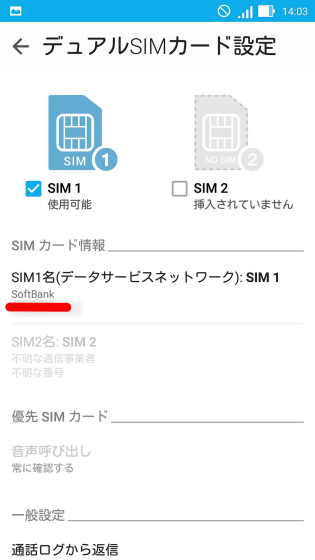 APN appeared why "Y! Mobile" APN.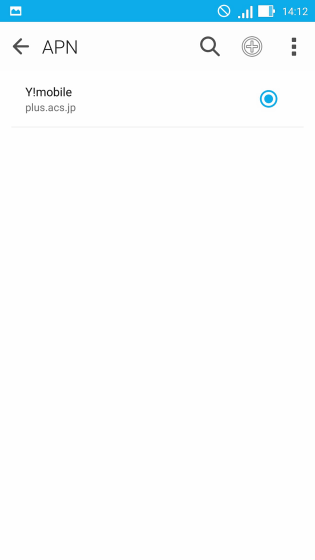 There is no choice, so set manually. Enter "jpspir" for APN, "sirobit" for user name, "amstkoi" for password, save with the authentication type set to "PAP".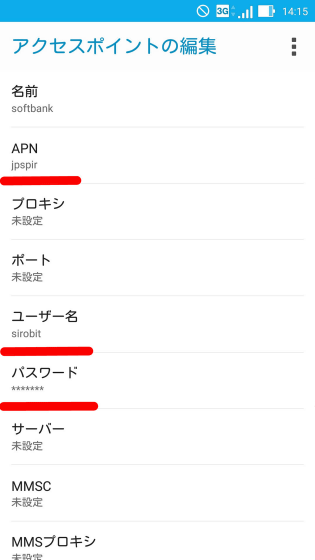 If you select "softbank" AP you created OK.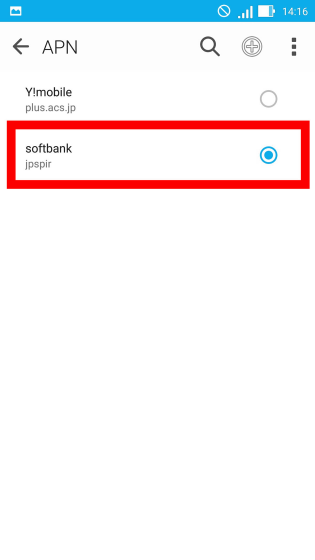 The speed is like this.



· Y! Mobile
Finally Y! Insert the mobile SIM card. Just select APN of "Y! Mobile" OK.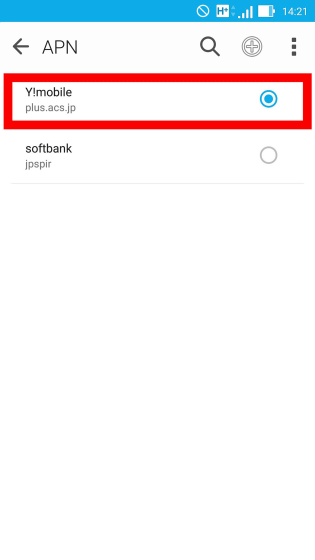 The speed is like this. Apparently it seems I can not communicate with LTE.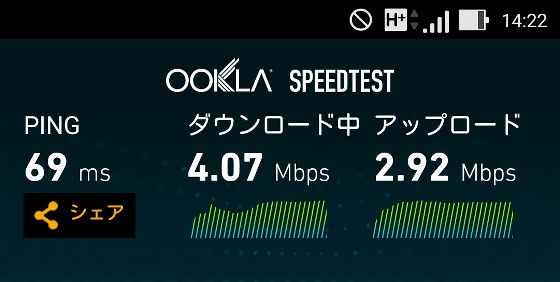 The band corresponding to ZenFone 2 is TDD-LTE (Band 38, 39, 40, Band 1, 2, 3, 4, 5, 7, 8, 9, 17, 18, 19, 20, 28, 29) 41) / W-CDMA / GSM, the data communication of domestic carriers seems to be problematic because of the intense coverage. NTT DoCoMo and Y! Mobile SIM can be used without setting required. That means that in the Japanese version NTT docomo MVNO and Y! Mobile may be targeted as a communication carrier.

However,Technical standard conformity certificateThere is a possibility that different bands may be different depending on the approval of (special name: skill). In addition, ZenFone 2 already has a technique mark (a stationery) displayed, and after the announcement of the Japanese version, it seems that it corresponds to software update as well as ZenFone 5 (LTE).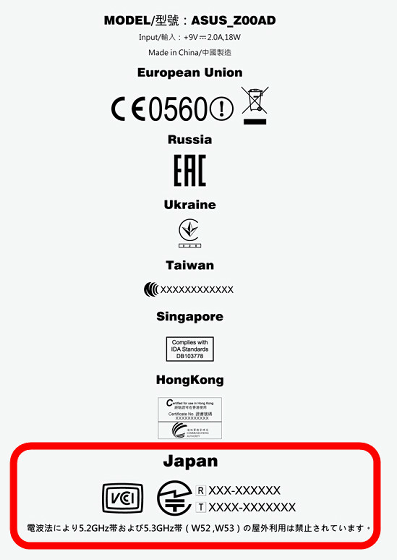 ◆ Summary
The impression that I tried using ZenFone 2 (ZE 551 ML) is that the "monster" is definitely finished in a high spec specification that can be counted as one of the fastest smartphones even if it is an overstatement. It seems to be said that it can be said to be a model that can compete with high-end models such as Nexus 6 and iPhone 6 Plus because it is comfortable itself without browsing and various operations feeling a catch at all. In addition, ZenFone 5, which was a major disadvantage of battery ownership, has a point that it is nearly twice as expensive as it is experienced by bodily sensation.

Although there are fine orders, such as low brightness of the display and no hard response on the power button on the top surface, such a thing has the unique existence of "having the world's largest 4 GB memory" It is trivial in front of. Realistically, the question "Is it necessary for 4 GB of memory?" Is also called Yabo, gaining overwhelming sense of satisfaction and security that comes from the fact that it has more memory than anyone else and the fact that Intel's latest processor is installed " It is okay if you soak in Etsu that "it is the cornerstone of Zen (Zen)."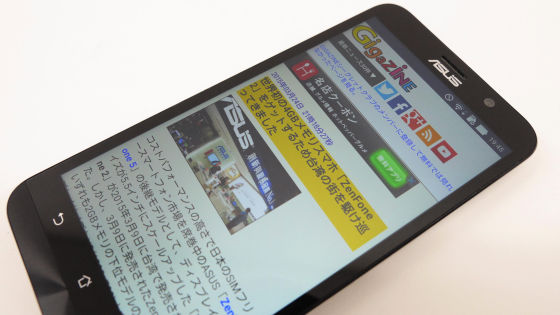 Products that ASUS announces on 20th April 2015 are "Experience"2From the character "morrow" and from the silhouette of the mobile terminal it is almost fixed by ZenFone 2. After that, if ASUS does not commit "inadvertent mistakes" such as adding a price outside the supposition or restricting the corresponding band, it can be said that it is a device that can make the premonition to dominate the market of SIM free terminals beyond ZenFone 5 That's right.

SEE WHAT OTHERS CAN NOT SEE
http://www.asus-event.com/teaser/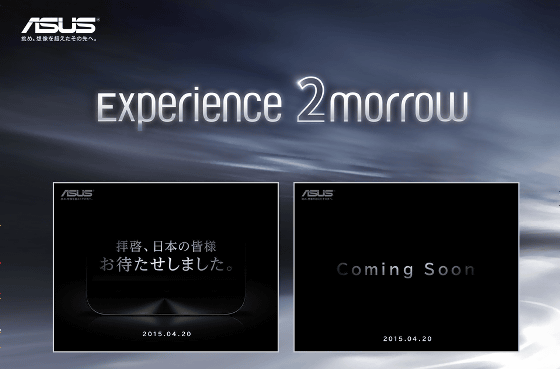 ◆ 13 April 2015 additional record
ASUS updated the image of the dental site of the new product release. "Performance monster" is about to appear.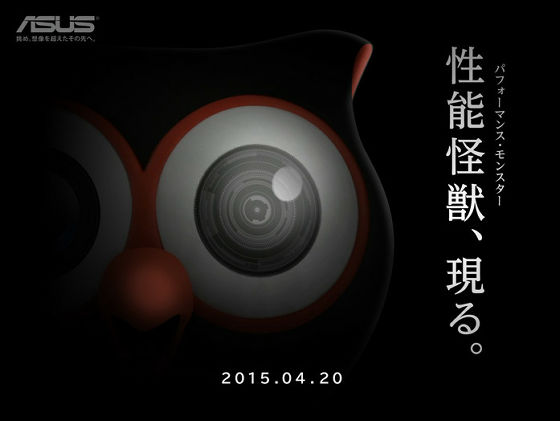 · Continued
ASen's new product announcement "Experience 2morrow" officially announced ZenFone 2 Japanese version looks something like this - GIGAZINE