I asked Mr. Hidetaka Miyazaki "deadline is invention mother" to dig roots digging in new work "Bloodborne" and development secret story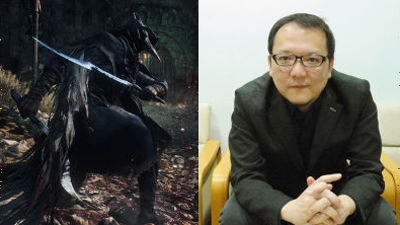 "Armored CoreSeries "or"DARK SOULSFrom "software from the SCE JAPAN studio"Demon's Souls"PlayStation 4 dedicated software that tagged for the first time in 6 years since"BloodborneFinally released on March 26 th (Thursday) 2015. Mr. Hayataka Miyazaki, who served as director of Bloodborne, is a person with a terrifying career who turned into the game industry as soon as 30 years old and took office as Director and President of From Software in just 10 years since joining the company.

Mr. Miyazaki, who has sent out numerous hits such as "Armored Core for Answer" and "Demon's Souls" as the director, was the first director after the assumption of the president was Bloodborne, and the title was the first from from software It will become PS4 title. So I asked Mr. Miyazaki to dig up what I could only ask Mr. Miyazaki such as Mr. Miyazaki's thought and development secret story in Bloodborne, and experience as a game director as president, I heard digging and leaf digging

Bloodborne Bloodbone | Playstation Official Site
http://www.jp.playstation.com/scej/title/bloodborne/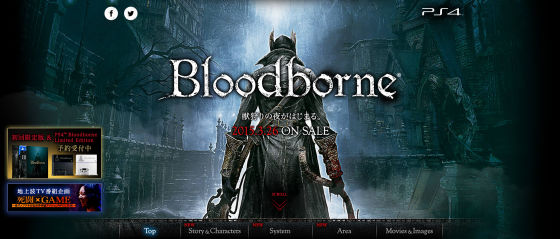 GIGAZINE (hereinafter, G):
First of all, some readers do not know "Bloodborne", so please give me a brief introduction of the game.

Mr. Hideaki Miyazaki (Miyazaki):
That's right, is not it .... I am not good at it, I will do my best.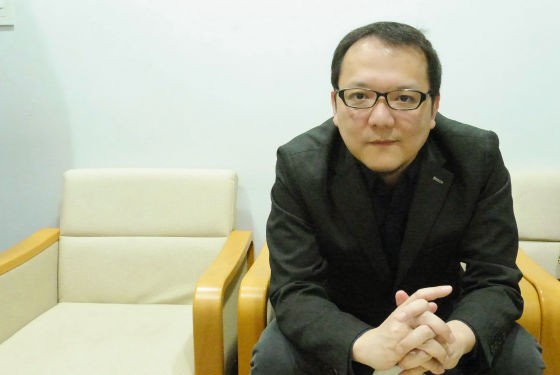 G:
Is that so? (Laugh)

Miyazaki:
Yes (lol) But please take care of me again. Based on the atmosphere of Gothic or Victorian horror, based on the gloomy ancient capital "Ya Nam", where the disease of the beasts is infested, the player becomes a hunter of beast hunting, challenging a mysterious mystery and blood striking death fight.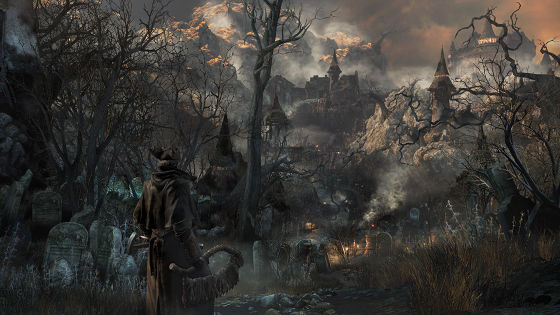 G:
I see.

Miyazaki:
Also, Bloodborne is a title we have collaborated with our software from developers and SCE as a publisher. In fact, in 2009, we released an action RPG titled "Demon's Souls" exclusively for PlayStation 3, focusing on the sense of accomplishment when overcoming the difficulties, setting the difficulty level higher The part is the same concept since then.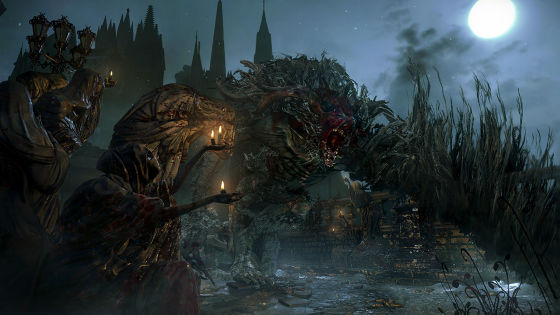 G:
Thank you very much. Mr. Miyazaki is the direction at Bloodborne, what kind of thing did you do specifically?

Miyazaki:
You are responsible for the development site. In a slightly exaggerated way of saying, is it the task of deciding the concept, designing and controlling the whole game or each element that makes up the game, and creating a game that realizes that concept? Speaking of myself, there are a bit of gaming system design and basic balance, level design including map design and enemies, designing world view, design work, text work, a little more, but in such a way, in cooperation with the person in charge and direct direction doing.

G:
Demon's Souls is a game of PlayStation 3, but this time Bloodborne is the title for PlayStation 4, the platform has shifted. When developing Bloodborne, was there any part that took time unexpectedly in terms of programming?

Miyazaki:
Where I had trouble, is it still a map connection ...? As for the ancient city "Ya Nam" which is the stage of the current work, the built-up townscape is structured to connect complexly vertically and horizontally. It was like a habit of my map design, I wanted to build a town with a search for a strange ambience, but, owing to that ... well ....

G:
With the time it took?

Miyazaki:
Yes. There is memory that it was serious around the map connection and around the data read. Both graphic designers and programmers worked very hard. If the map of this work is good, it is their achievement first. Well, if you ask the guys, "I think that there is a point that I had other difficulties !!!" I think there is a story (laugh), to the last extent that I was able to see.

G:
Certainly, I think that the town of Ya Nam is a design that makes me feel pretty commitment. Then, although it was a slightly different content from what was initially imagined at the time of development, does it have a part like "Is this this one?"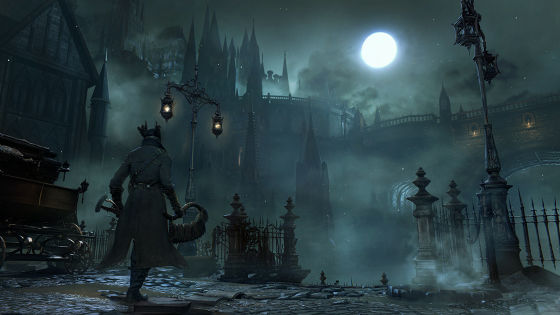 Miyazaki:
There is hardly any big part. At the concept level, we were able to complete it almost without break from the beginning of development. I think that this was great, because SCE trusted me. However, in a small part, there are many things such as "It is not supposed, but this is this". Or, I think that is an interesting part of game development. Unexpected strategies such as unexpected movements, such things can not be made with mid-consciousness, and it is also likely to be the subject of user's interesting discovery. So, as long as it does not break the game, we may try to leave as much as possible.

G:
Leave as much as possible?

Miyazaki:
Yes. I think that is more interesting. It may sound like an excuse, and in fact there seems to be some aspects like that in fact (laugh) Would you like to be a game with a good meaning?

G:
It is interesting to leave things that have appeared outside of expectations and to give the user room for discovery. For the first time, I directed the title for PS 4 and I could not express it with PS 3, but have you got it possible on PS 4?

Miyazaki:
As a game director, it is nice that the amount of memory has increased greatly as it is said that it is natural to create a worldview with high-definition graphics and various expressions such as wind and particles. Even something like a system of weapons unique to this work presses the memory amount of motion, so it was very helpful.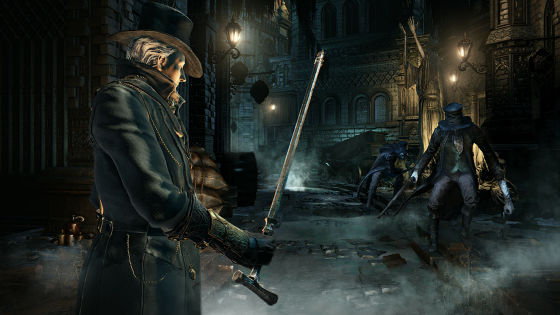 G:
Since the story of the trap weapon came out, I would like to ask you, but I am adopting a special system called "regain system" that can recover your physical strength if you attack from the Bloodborne this time and take it back and get rid of blood.

Miyazaki:
"When I get brought back" there is actually a word, but regain is certainly a special system, is not it? Originally Regain is the theme "Battle of Death" that was the theme of this work's battle, it is a system considered for that. I change the concept of defense to an active one, invite me to death fight and produce a feeling of fighting fight, that is the aim of the regain system and it is an idea.

The first image of regain is "post hoc guard". By attacking after eating damage, if you have defended you recover the damage you did not eat. Before or after the attack, the attack itself is active, there is also room for judgment and tactics, it was thought that if it leads to death fighting and also leads to a feeling of fighting fighting. "Battle fighting feeling" is one of the main themes of this work, and regain is one of the important elements to support it, so it would be nice to have it going well.

G:
The amount that can be recovered with regain is likely to be different depending on weapons, but how is the balance setting between weapons and recovery amount?

Miyazaki:
The amount of regain is considered as one of the personality of weapons, it should be adjusted mainly from the balance of attack speed and weight, but we do not think that we can not regain extremely. To the last It is an element which forms the backbone of the battle system of this work, and I thought that losing its fundamental by the personality of a weapon was not so desirable at least at the present time.

G:
Indeed, I feel that Mr. Miyazaki is the point of view of the concept of regain. By the way, Bloodborne is a completely new work, but where is the fun that makes a new work rather than a sequel?

Miyazaki:
Whether it is a new work or a sequel, game production is very interesting. On that assumption, there is interestingness of the sequel to the new work in the new work, the sequel. New work is more than anything. All can be renewed from the best if necessary. From the standpoint of the director who designs the game in total, it has a high degree of freedom and room for experimentation, and such place is interesting.

There are fun things to accumulate sequels. It is sophisticated or deep engraving, but there are many things that can only be made by doing so. I never dislike making myself a sequel.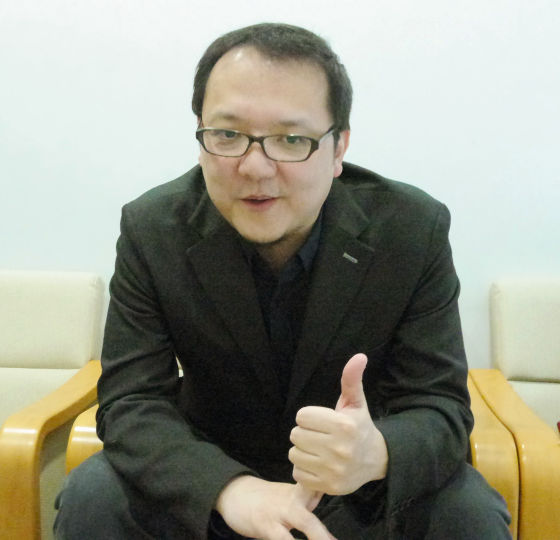 G:
Here's something I'd like to ask you about Bloodborne's expression, changing the story a bit. Although Bloodborne thinks that depiction in Japan's game is overshadowing a certain meaning, is there such a thing to draw a line at the planning stage for such expressions?

Miyazaki:
I agree. That is obvious. I think religious contraindications are easy to understand, but I am paying attention not to break them down. For fun games that we are going to make, the factors that will definitely hurt someone are absolutely unnecessary.

G:
Hmph.

Miyazaki:
Speaking in a similar place, Bloodborne of this work was devoted to expression of blood. The expression of blood itself was undoubtedly necessary to express the view of the world or the fighting fight of the battle, but on the other hand, I did not want to make it a strong physiological aversion. So, with regard to the effects of blood splashes, it is a symbolic style rather than graphic, it is a kind of painting style, and the color of blood is not red that is vivid and painful to the eyes, it calmed down withered a little It keeps it to the taste. That person was also suitable for my drawing goal.

Aside from that, especially for blood-splashing characters, I adjusted the color of the blood to a place close to the ash, and in that flow I was born the name "hematocheza" (laugh) Was it successful? So, I think there are also difficult parts, but well, in a strange place I mean that I was making myself worried about that.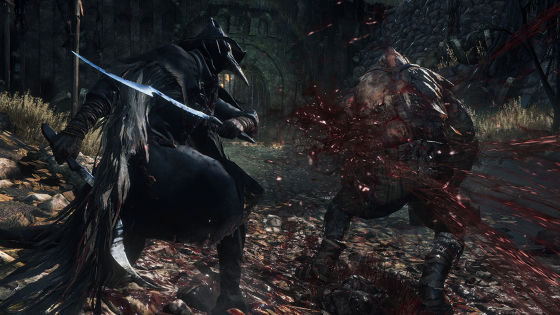 G:
Does that mean that even one expression of blood is working on development so far ... .... Although the story will change a bit, Bloodborne is scheduled to release domestically from February 5, 2015Changed on 26th MarchIt was said that it was done. After all, from the point of selling as a game, there is a release date, I think that you have decided the deadline by calculating backwards from that, but please tell us the balance between "deadline" and "quality" around that. As time goes on it will not be a simple story that the quality of the work will go up.

Miyazaki:
Well, the story of the release date has spoiled various people. Here is only an apology. I'm really sorry. Other than that, I do not care what you say.

G:
What do you think about whether the quality should be raised or whether the closure should be adhered to even at the expense of the deadline?

Miyazaki:
As a general theory, I do not think there is always a specific decision. Neither of us nor SCE is making a game as a rich musical instrument separately. While there is a pure ideal of making good ones, it is natural, but it is a business that is strictly a matter of fact. I think that this includes self-regulation, but I should not think lightly about that. That's more than anything else it is necessary for us to keep games that we want to make, keep the situation and the situation. However, on the other hand, it does not mean that it is supremacy for deadlines. While understanding that deadlines are important, there are times when you can not afford to make up a game that still allows you to enjoy the game.

I am very sorry even at Bloodborne this time, but once I consulted about resetting deadline. I am very grateful to SCE who finally understood and accepted it. I think that it was not an easy decision.

Also, from a different point of view, I think that there are aspects that require a deadline for making things. For example, there is a necessity to sort out or optimize ideas due to the deadline, which is a necessary process by a good game. Especially since I am innocent lazy, the term "closure is the mother of invention" is common.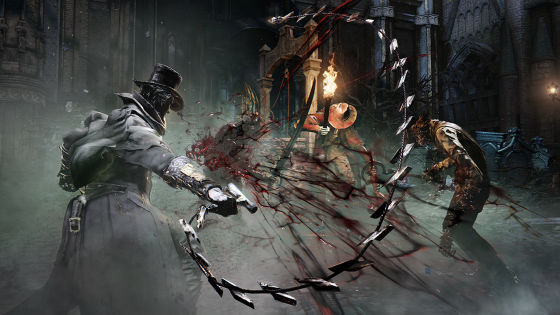 G:
A weighted word came out.

Miyazaki:
For this, members of the development team and SCE will deeply agree. Even if there is a text or a deadline, it will be seriously delayed, so if it is absent, it will be a serious thing (laugh)

G:
Do you feel motivation rises because it is just before the deadline?

Miyazaki:
Well, motivation is always going to be high. But there are certainly ideas to come out in the face of the crisis. How many times were you helped? Therefore, 'deadline is the mother of invention'.

G:
The feeling of being deeply impatient is coming just before the deadline. When was the busiest time in Bloodborne's development?

Miyazaki:
This is just before the master up. From the end of the year to the beginning of the year. Even before that, it was not easy development, but I think that it was the busiest after all.

G:
Why is that?

Miyazaki:
It was the first title for the PS 4 generation for us. At the end it is easy for unexpected problems to arise. Armored Core 4, which I first directed, was also the first title of the PS 3 generation, but the title of the first generation still has unique difficulties and busyness. In that sense, it is also true that there was nostalgia for busyness (laugh)

G:
It's was so. Are you busy at such times and you have to stay up all night?

Miyazaki:
I agree. Although it is deadline of next day being strict observance, it is sometimes to stay overnight at such times. That is a fact. However, basically I think that should not stay up all night unless it is such a special situation. It should not be at least normalized. Members who were actually busy are likely to get angry (lol) I really think so. As a general theory, I think that it is better to continue working as a result when taking a break, and I think that it is necessary to make something or make a good stimulus for a person trying to make it.

G:
What do you do on holidays is a necessary factor for creators?

Miyazaki:
Separately it is not limited to holidays, but what they get stimulated from is what people do. However, it is said that such a time is necessary anyway. Of course, depending on people, I think that work is a stimulus and I want to do it as much as possible. I will not stop it. Or, I myself like that. The job of making games is exciting and occasionally it's fun and exciting to spare time to talk games hotly at midnight tension (lol)

But I do not even want to ask all of them. Everybody says something that stimulates that person needs time to receive it. As in the first story, there is a situation that can not be helped. I would like to zero it if possible.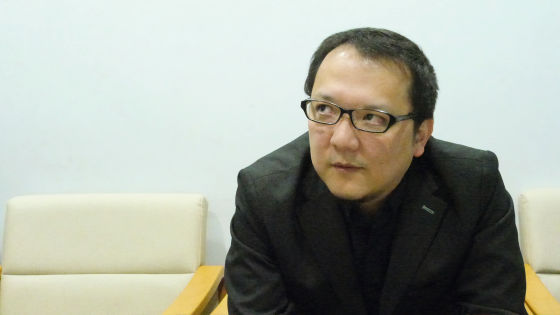 G:
Next, I will ask about the staff of the development team. When choosing members of the development team, not just for Bloodborne this time, what kind of feeling do you choose?

Miyazaki:
Our company, from software is not a so-called "fixed team system". There is no fixed "Armored Core Team" "DARK SOULS Team" etc. Of course, members that become core to some extent may be fixed for efficiency, but basically there is a big team called "From / Software", and each team develops the best members for each development.

G:
Is there anything in mind that I always try to optimize members in a big team called From Software?

Miyazaki:
Firstly we will check suitability and will of ourselves. It is not always possible to fully consider them, but it is still suitable, because things that are in line with will will do a better job. On top of that, this is particularly true since I became the president, but I try to shuffle members to some extent.

For example, experienced veteran and a combination of young people who have ambition but little experience. By doing so, everyone keeps getting moderate stimulus, shares know-how, I think that from software should function as a single, vivid, big team.

G:
So what do you mean that the development staff of the Souls series took over Bloodborne?

Miyazaki:
Naturally there are many common members, but the fixed team as a whole never takes over. Even with SOULS, I do not want the team to be strongly fixed and to faction. For example, rival, there are plenty of development companies, teams and individual developers outside the company. It's a small company like From Software, you do not have to ask it inside.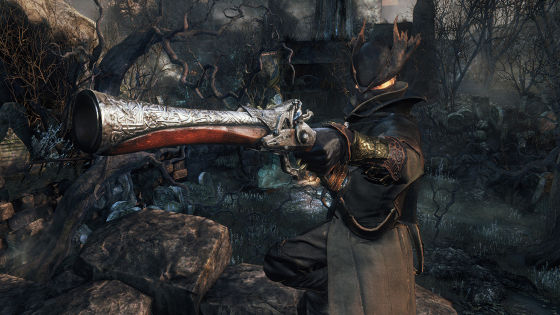 G:
I see. Next, please tell us about the evaluation of the work. On the Internet there is a fairly sales-oriented part and there is a place where sales are regarded as an important element as one of evaluation of works. Of course, I think that the evaluation itself of the work itself is not decided by sales, but what do you think should be focused on in evaluating the work outside sales?

Miyazaki:
I agree. I have several indicators. There was a story about sales, which is also important, of course. As I mentioned a little bit earlier, our game production is on the one hand strictly business and it is also necessary to protect the place and situation to make the game we want to make. However, it will not be used as an indicator only. For example, in places where it is easy to understand, there are evaluations and reviews by media and users. After all, our aim is to make everyone enjoy the game, so this is important, even in a business talk, the evaluation will be connected next.

There are other indicators besides the above two. To put it in the extreme way of saying, even though sales of media and users have low titles, even though it was never completely uninhabited, it was sometimes a source of the from software. For example, it seems that human resources have grown up, and the technology and know-how gotten there leads to the next title.

G:
I see…….

Miyazaki:
Well, evaluation is fairly multilateral. Of course, it is true that it will be troubled only by titles that do not involve sales (lol)

G:
Miyazaki himself seems pretty familiar with the user review that came out in the story?

Miyazaki:
I agree. Mainly when the mental state is stable (lol)

G:
After all, when the mental state is unstable do not you want to see?

Miyazaki:
Well, it is. Rather than not wanting to see, it seems that the results you see are likely to go wrong, so let's stop it now.

G:
I see. Is there something that reflects the opinion of the user written in the review etc. in game development?

Miyazaki:
Yes. It is a little different, if I say to take a picture, I am referring. As a game producer, I think that reviewing users as media and users is really valuable. He played the game he made earnestly, and it is as if it is very hot, polite and deep review, assuming it, to have statistical significance. It is hard to get it even if you want it as a producer. It would be unavoidable not to bury. Besides, it is still simple and glad.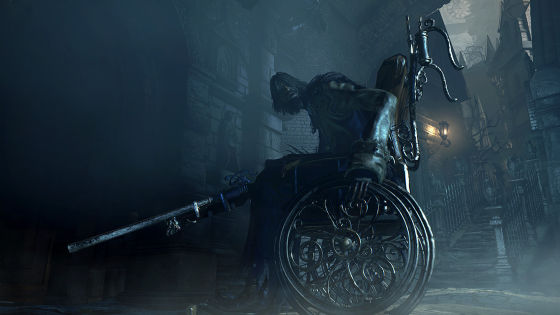 G:
From here I would like to hear a little bit about the story that has nothing to do with Bloodborne. Mr. Miyazaki said that he was also interested in developing small games such as indie games in previous interviews. GIGAZINE sometimes posts articles on indie games, among which indie games that seek investment in cloud funding has increased in recent years. From the viewpoint of developers, what do you think about how exciting indie games rise?

Miyazaki:
I think that's a good thing. It is a strange story, but after all it is necessary to have some kind of funds to start a game production project. I think that it is a very good thing that there are various ways to obtain such resources.

It is actually really difficult to make presentations and to gain understanding that "to win games we are going to make is worthwhile" to get funds. Therefore, if the means of obtaining the funds is limited, effective presentations for the limited means are also limited, and as a result, games actually produced are likely to be limited.

Since it is boring and it is obstructive, it becomes an indie, cloud funding, becoming one new means, if it leads to a new game, it will be very exciting even as one user.

From another point of view, it may be that they may be hoping to make games when I get fired in the future in the future (laugh) I still want to make a game all the time Then, if that is one chunk for that, that means. Although I am well aware that it is not that simple in fact.

G:
Does Miyazaki want to engage in game direction all the time?

Miyazaki:
I agree. Originally I wanted to make a game and I changed jobs, game production, game direction is really fun anyway. Although it is not what the president says, if you are told that you should not direct, I think that you think seriously about advancing and retiring (lol)

G:
How about trying a new platform? Sony's "Project Morpheus(Project Morpheus) "or Facebook's"Oculus Rift(Okurasurifuto) "VR headset appeared, Mr. Miyazaki think" I want to make a game with VR headset "?



Miyazaki:
There is, it is amazing! VR headset experience was very shocking and at the same time it felt it was a device that needed a new game format. As a gamer crowd, you are quite interested in it. Although it may be an aside, I was very moved by the "Super Mario 64" early in the polygon.

G:
Method

Miyazaki:
Whether you can complete the game suitable for that technology in the first stage with new technology. I was a college student at the time, but I remember being excited by tension which I do not know well. I thought it was amazing. Of course, polygons and VR headsets are totally different from the concept level, but if a new game format is born there as well, I would like to engage in that, or just want to be involved in the end, as a matter of fact There is. So, I am very excited about developing it.

G:
I would like to play the game for the VR headset Mr. Miyazaki made as a user as well. Then, although it will be the last, please give your message to GIGAZINE readers.

Miyazaki:
Well, I think that Bloodborne has already been released, but if you like, please play with your hands. As I touched first, the world is dark with depression, fighting is bloody death battle, difficulty is not easy, such a game, but I think that I want you to feel the sense of tension and the fulfillment of the future I will. Thank you for your consideration.

G:
Thank you very much. Another point, please give me a message for those who are planning to develop games in the future as developers.

Miyazaki:
That is simple. It is a lot of fun. I think that it is not easy comfortable industry, and it may be irresponsible because I can not take responsibility for anything, but if there is a will I definitely want to make a game. It is as a companion to make games together, or even as a single user.

G:
Have you enjoyed developing Bloodborne too?

Miyazaki:
Yes. There were many things that was very painful, but as a general theory it was still fun. Even members of the development team and the SCE who supported it are happy if so. I really appreciate them. I can not make anything by myself, and I'm sure it will not be fun.

G:
Thank you for today.

Miyazaki:
Thank you very much.

In the interview, Miyazaki's passionate feeling has been transmitted to Hirashigi here as well how much I love game development, how much I stuck with the development of Bloodborne. The game "Bloodborne" for PS4, who served as director Miyazaki who holds a hot feeling of quitting the company if he / she said "Please stop the game direction" is on sale.

Amazon.co.jp: Bloodborne (Normal Edition): Game