"Delicious canned" series of Meijiya with high quality to break the canned pre-existing concept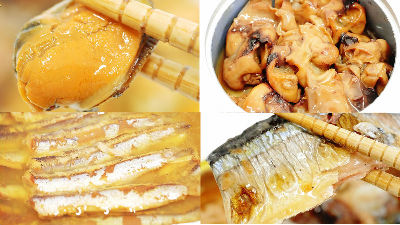 Eight items were newly added to the lineup from the end of February in the "delicious canned" series of Meiji shops that are slightly richer than canned materials in general, so we tried it immediately.

A little luxurious gourmet canned product series sticking to materials and manufacturing methods "Delicious canned" series New release of 8 items centering on popular seafood series
http://www.meidi-ya.co.jp/news/20150204_2.html

There are 8 kinds in total in the new release this time.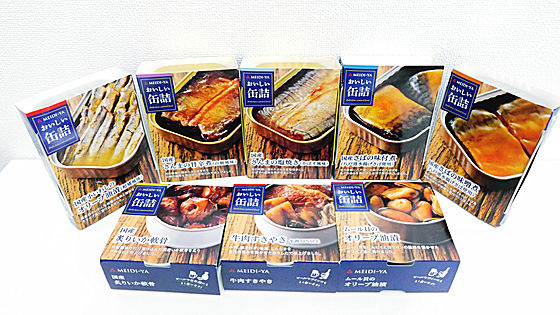 "Japanese pickled olive oil pickled (citrus flavor)"Is olive pickled with citrus flavor, the price is 594 yen including tax. The size is about to fit in the palm of your hand.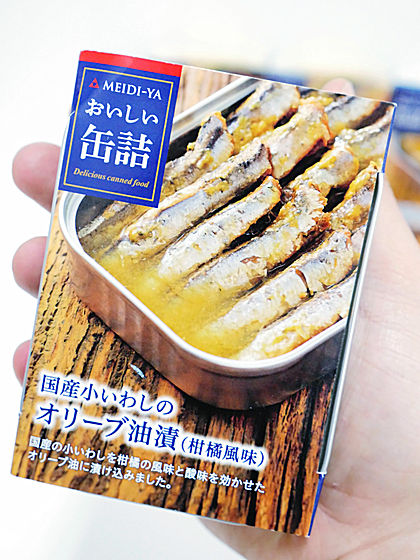 Raw materials are sardines, edible olive oil, mandarin orange puree, brewed vinegar, salt, calorie is 262 kcal per 100 g of can.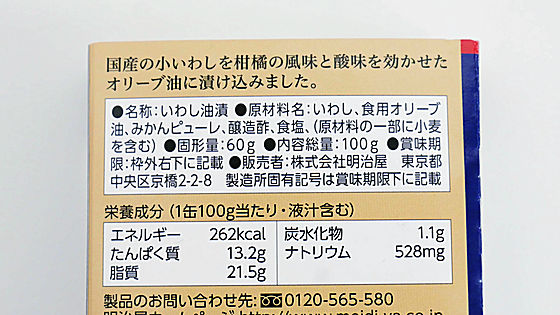 "It is sandwiched in bread, it is also a ingredient of salad".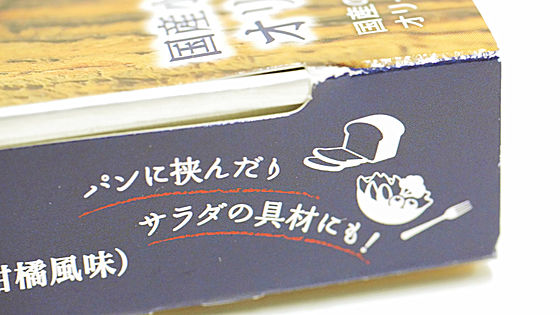 The can is silver and is very simple.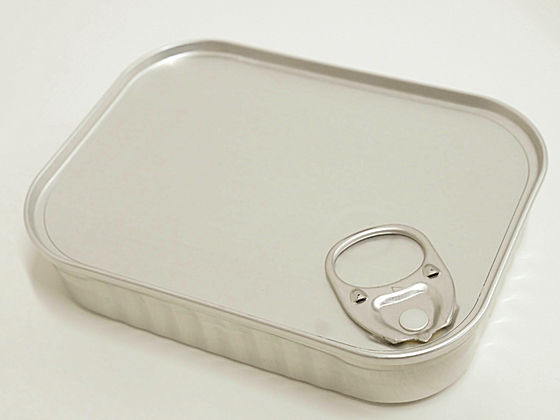 When opening it, a lot of small sardines are contained, especially the scent of olives and citrus fruits is not strong.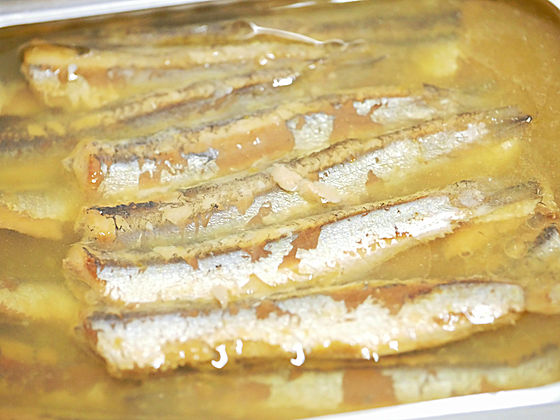 If you say canned food, it is solid and salty for preservation or it is greasy, but the olive oil pickled with a small sardine is felt firmly the taste of sardines and is surprisingly different from canned food up to now. Although the citrus flavor is stronger than olive, there is no strong habit, finished in luxurious taste.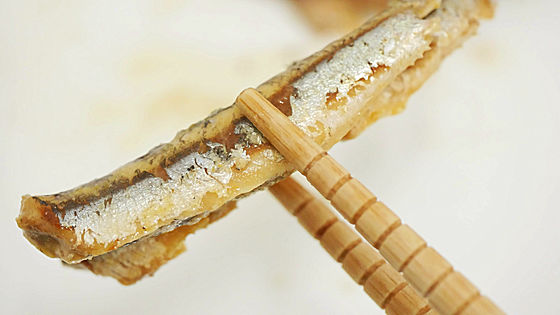 I tried to pinch it in bread and recommended it.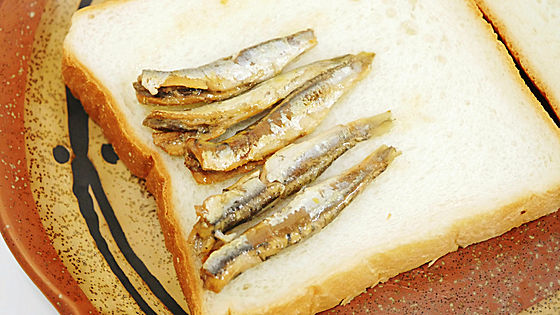 The sweetness of bread and salty combination of sardines is good. It was felt like a sort of sophisticated sandwich.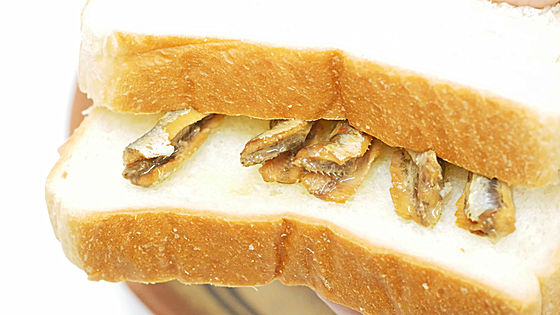 "Boiled domestic sweet potato (pepper flavor)Is a spicy sweet savory seasoned with seasonal season, which made the taste of the peppers served. The price is 540 yen including tax.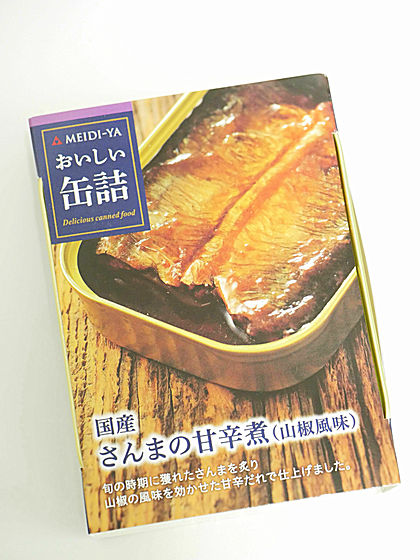 Raw materials · Sake · Reduced soup · Soy sauce processed product · Sugar · Mirin · Lemon juice · Pepper powder · Fish extracts · Thickeners · Condiments, calories are 260 kcal per can.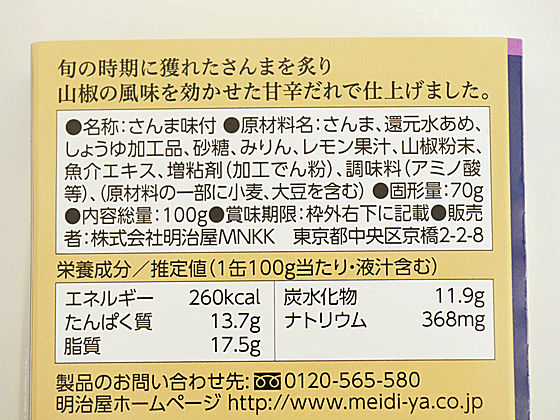 When opened, there was an open seeded pine.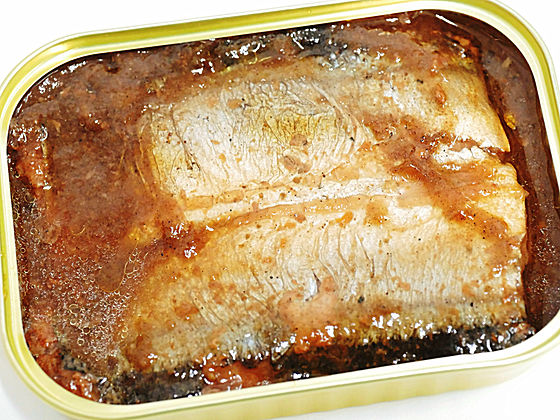 The taste of the seasoning was not strong as well as the sardines, but it was finished in a sweet seasoning, making use of the taste of the pear, and the flavor of the pepper peel was felt slightly. Bones have also been taken, Good point to eat is also good.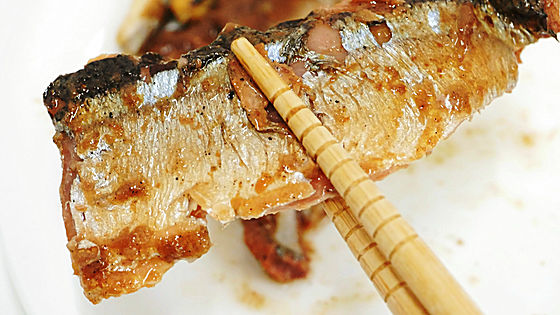 "Salt-grilled Japanese domestic saury (Kabo flavor)"Salted grilled salam which was caught in the season and added a savory flavor.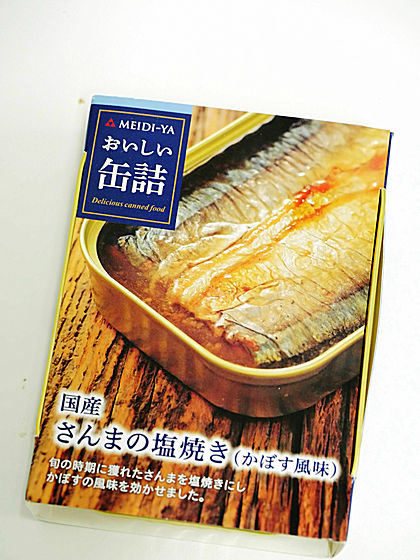 Ingredients are Sanma · Sugar · Kabo Juice · Salt · Fermented Seasoning · Thickening Polysaccharide, Calories are 231 kcal per 100 g of can.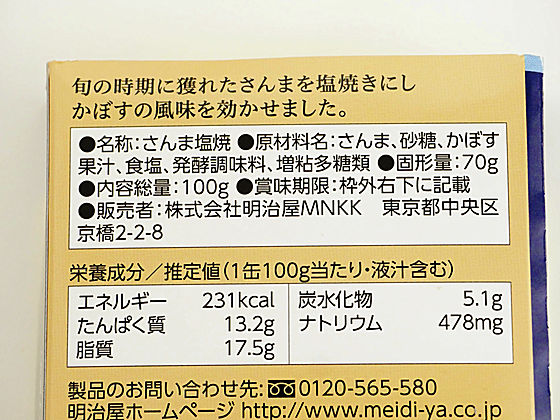 When opening it, you can check the sauce with grilled color.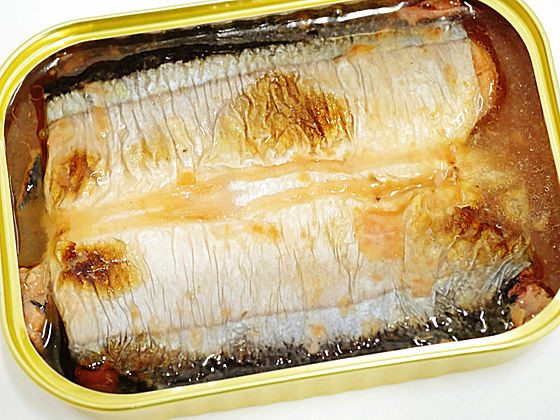 I thought that the flavor of Kobe is working, but I still eat it because of the accent, and the main factor is the taste of Sanno. Because it takes time and effort to bake Sanma at home, it seems to be said to be a convenient one item.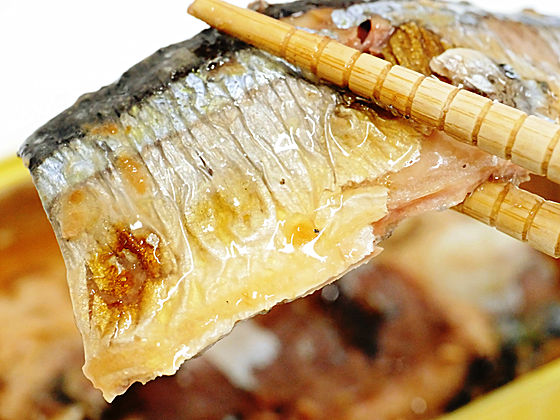 "Braised domestic mackerel with seasoning (using Hachinohe port landing mackerel)"Was boiled with miso soup made from seasoned seafood deliciously delicious seafood, the price was 486 yen including tax.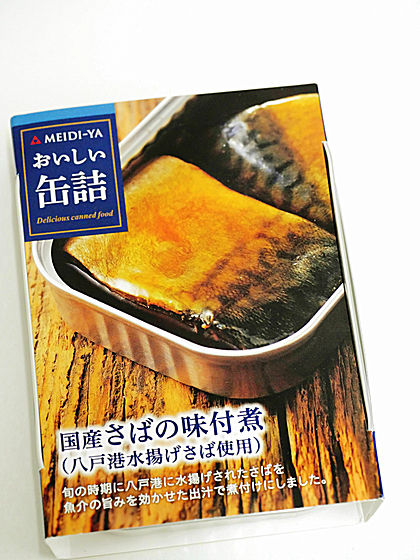 Raw materials are mackerel, sugar, soy sauce, seafood extract, salt, 162 kcal per 90 g of can.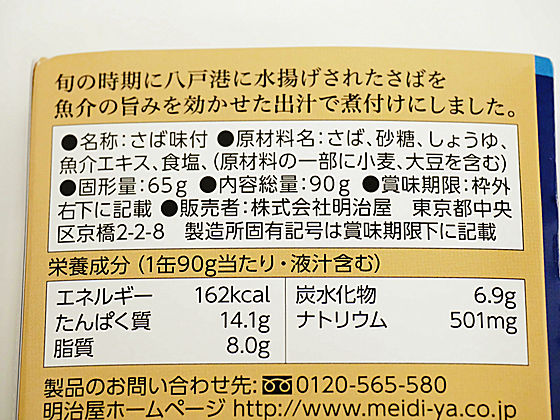 When I opened the can, there were two mackerels.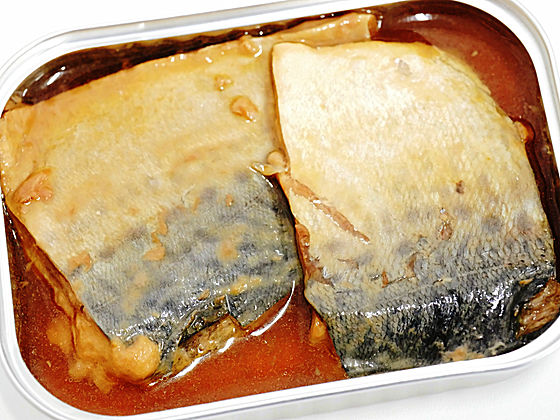 The taste of seasonal mackerel with fat on it is felt to the full, making the sweetness and the taste of soy sauce make use of mackerel. It seems to be good for snacks, but compatibility seems to be good even if you eat it with rice.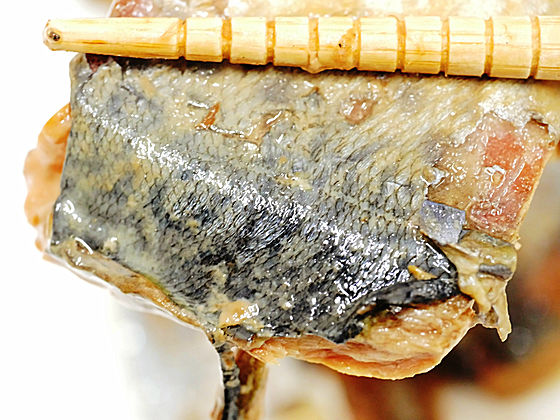 "Simmered Japanese mackerel with Miso"Is a dish of boiled mackerel with special mixed miso, 486 yen including tax.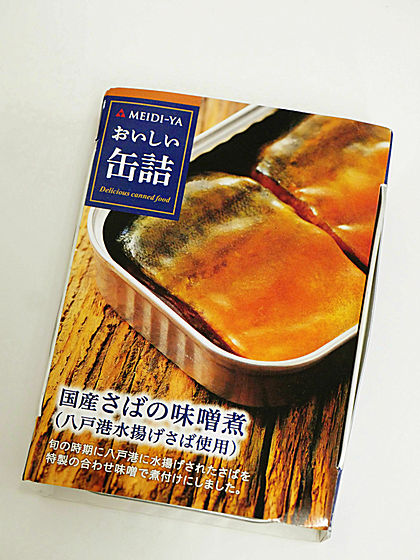 Mackerel, miso miso, sugar, salt, etc. can be confirmed as raw materials, 179 kcal per 95 grams per can.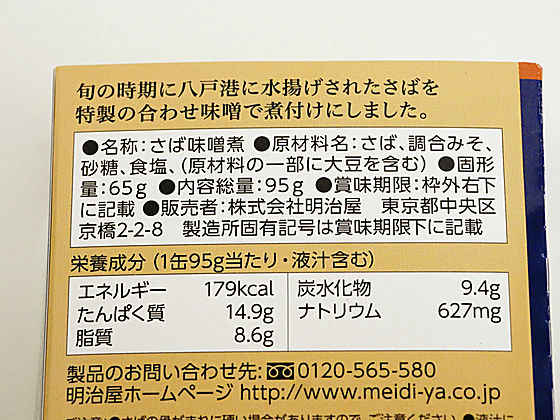 I had two mackerels.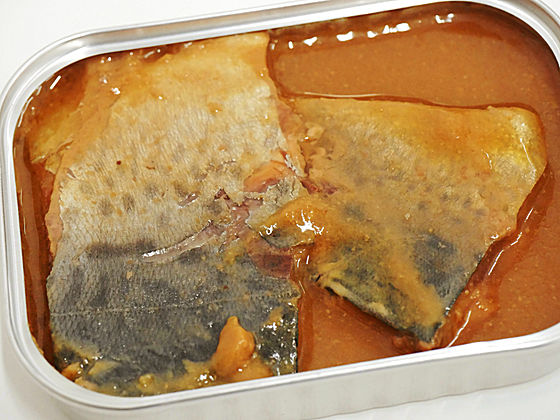 I thought that "The taste of miso is strong, because it is written to suit shochu ... ..." but I thought that the taste of the mackerel was made better, so miso is too effective or sweet It is not too strong, you can enjoy the taste of soft mackerel with fat.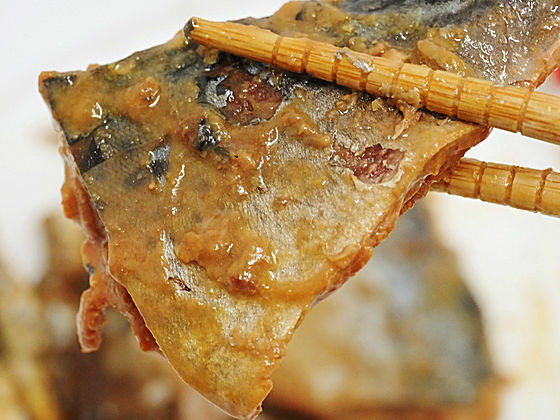 When I put it on rice, it was not a feeling that "the taste is deep and the rice goes on and on" and it was felt as an elegant seasoning seemed to be everyday.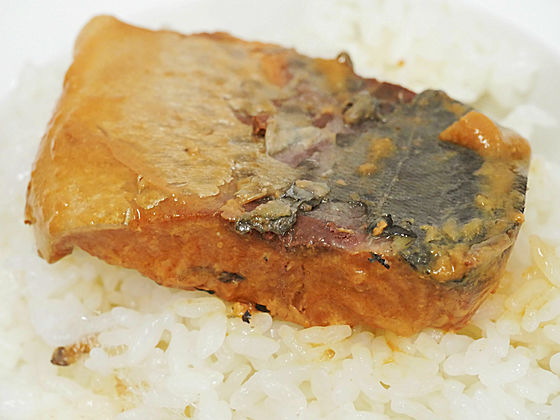 "Domestic broiled or cartilage(378 yen including tax) "is smaller than the previous five canned squirrels, finished with softened roasted cartilage.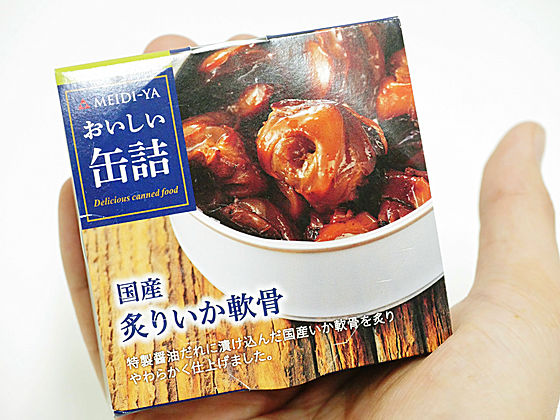 How raw materials are cartilage · soy sauce · sugar · mirin · vegetables · flavors · condiments · fragrances · caramel pigments · acidulants · spice extracts are used and calories are 107 kcal per 60 g of can.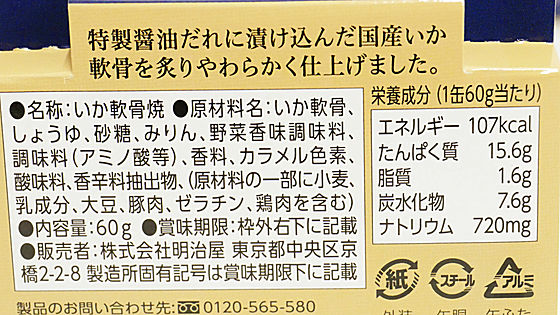 "Recommended for ingredients of fried rice and fried noodles" as well.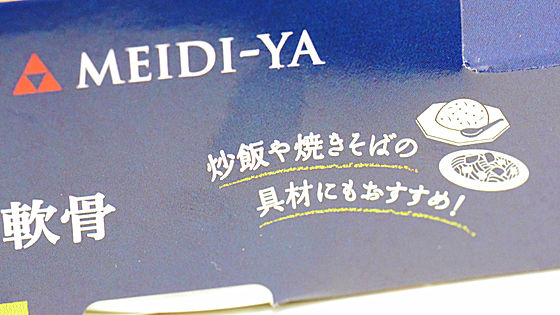 A can of round type is used.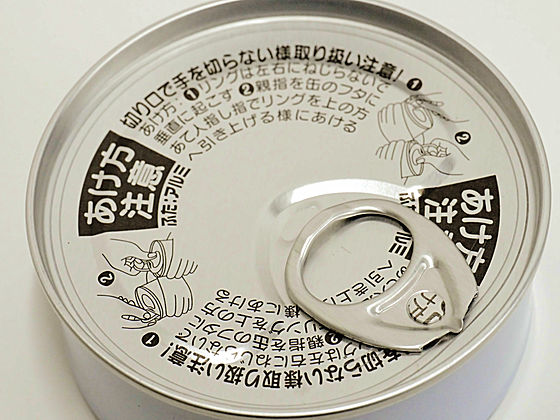 There are plenty of cartilage in it.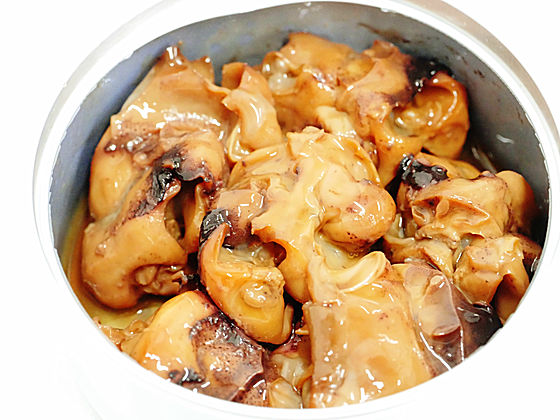 When eating as it is, it feels bitterness slightly, it also has a sweet taste and finish that feels sweet and salty. There was also a firm texture of whether I want to crunch it.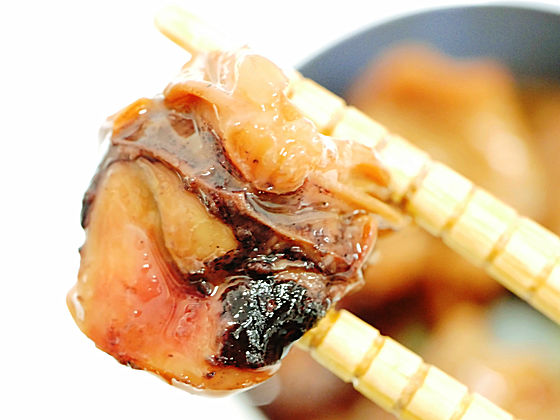 I decided to try making fried rice, so I decided to make it at once.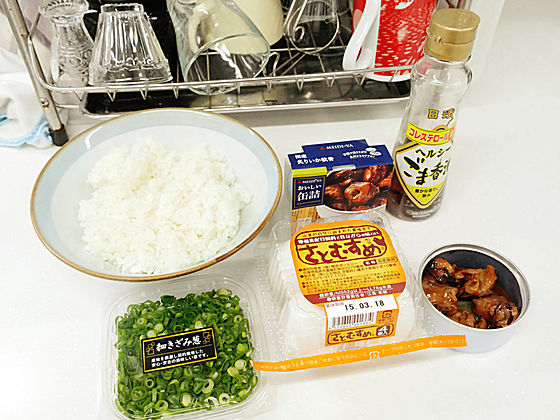 Sauté eggs, rice and onions with oil ......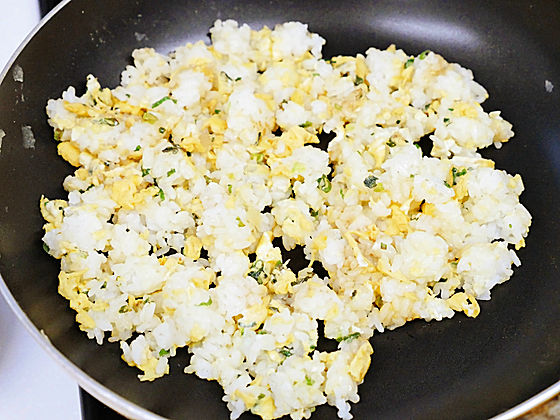 Throw domestic broiler or cartilage. It is a little big as it is, so it may be nice to cut it.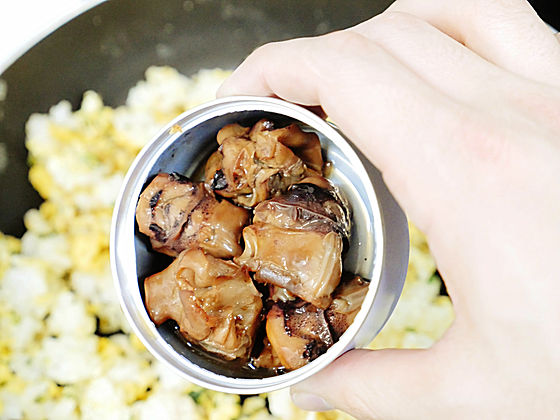 Fried rice was completed.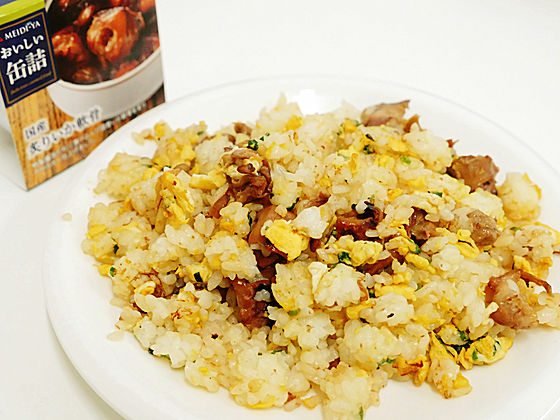 Because it has sweetness, it is an unusual fried rice, but how is also good compatibility with eggs and oil. The clothes and texture are also good accents.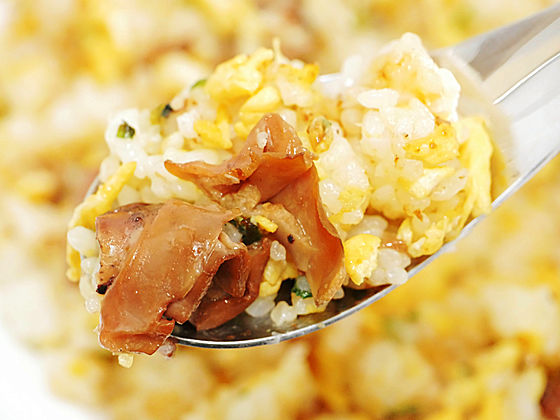 "Beef whiskey(540 yen including tax) "is a dish finished with beef, roasted green onion, shiitake mushroom and shirataki divided by the effect of the taste of kelp.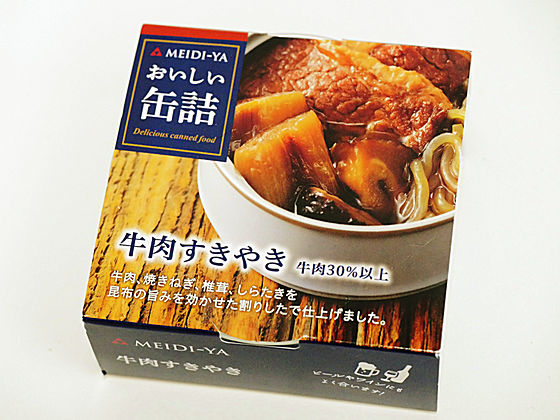 Raw materials are beef, shirataki, long onion, soy sauce, sugar, shiitake mushrooms, kelp etc. · seafood extract · mirin · amino acid solution · dextrin, calories are 116 kcal per 90 g of can.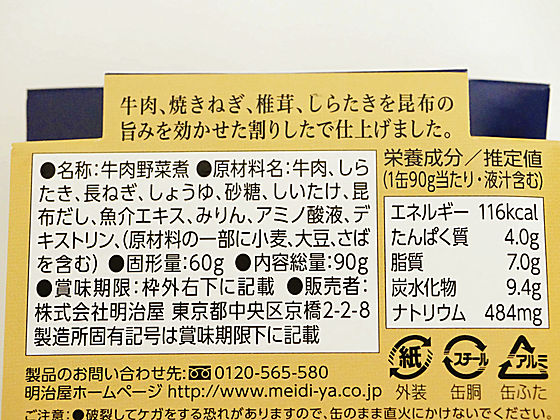 When you open it you will find a whisper. Since the fat has solidified, it may be better to warm up.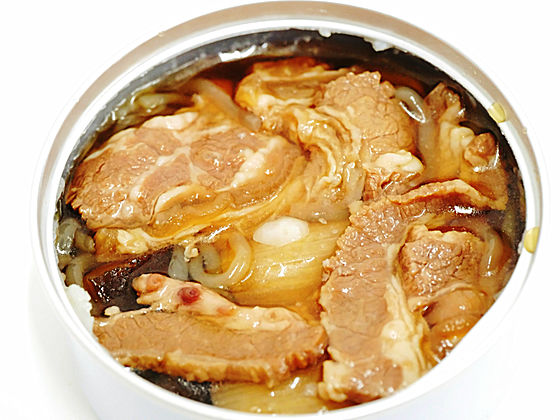 Beef is somewhat thick and stewed soft and starchy with sweet soup taste impregnated so you can feel the deliciousness of mushrooms and kelp.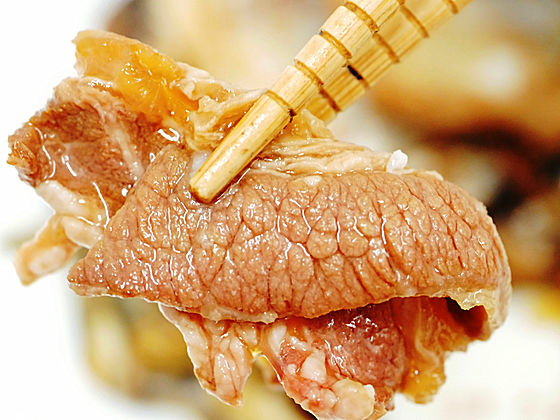 Shirataki is also good with soup spilling well. When you eat it with a melted egg, it looks like sukiyaki.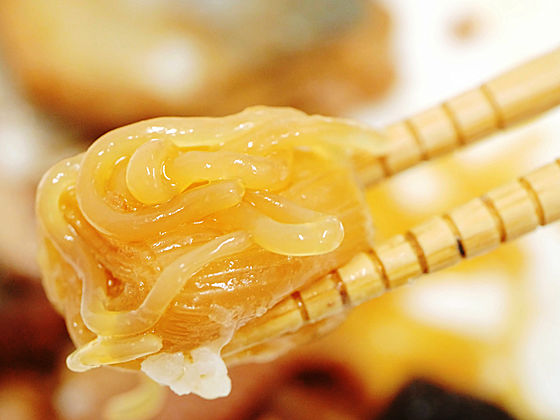 "Mussel's olive oil pickle(540 yen including tax) ", canned fish pickled in olive oil with garlic and white wine flavor.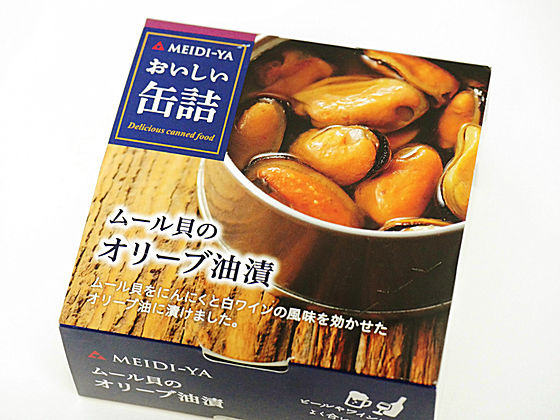 Raw materials are mussels, edible olive oil, white wine, garlic, salt and pepper, calories are 300 kcal per 90 g of can.



When I opened canned food, olive oil was contained so much that the mussels became crispy.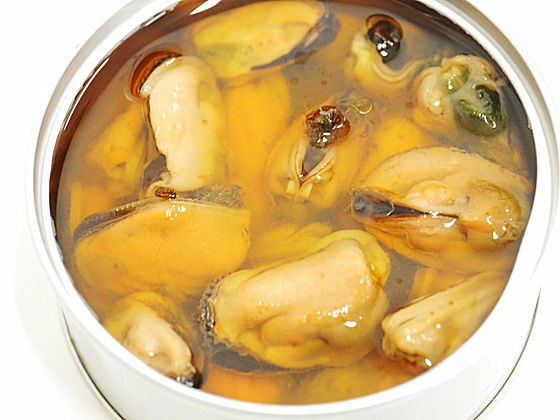 Oil is stuck firmly and I feel a hint of pungent taste of garlic and red pepper later. The rich taste of mussels remained the same as those eaten at the shop, and the umami remained firm.



Meidi-ya's "delicious canned" series is sold at Meiji store, supermarket, convenience store, etc. There seems to be some people saying, "It is different from the taste requested on canned ...", but because it has become a taste that does not stop with preserved meals, it is recommended for drinking at home or party time.