Starting April 1st instead of "Kuroneko Mail" What is "Takkyubin Compact" & "Neko Poss"?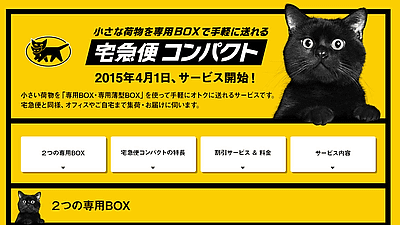 As it is best for home delivery of "small baggage", it is actually the size other than the current 6 sizes (60 to 160 sizes) for the first time in 21 years as "Takkyubin Compact"is. It is smaller than 60 size of the current smallest size, and it is OK to use it even for individuals or corporations.

About sale of "Takkyubin Compact" and "Neko Pos" | Yamato Holdings

Takkyubin Compact | Yamato Transport
http://www.kuronekoyamato.co.jp/compact/index.html

Neko Pos | Yamato Transport
http://www.kuronekoyamato.co.jp/nekoposu/index.html

First of all, it is these two types of exclusive BOX that keeps as basic knowledge. "Dedicated Thin BOX" is 24.8 cm in length × 34 cm in width, and another "dedicated box" is 25 cm in length × 20 cm in width × 5 cm in thickness. It is 65 yen including tax, and will be sold at Yamato Transport directly managed store and Takkyubin handling store. If you buy 5 or more cards, you can have it delivered to your sales driver.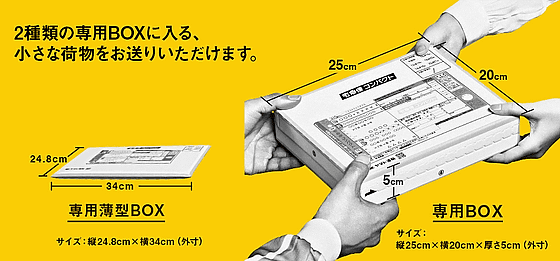 Features are as follows and are "personal delivery" "nationwide next day delivery" "baggage pursuit" "special slips" and so on. In addition, the limit of compensation is 30,000 yen.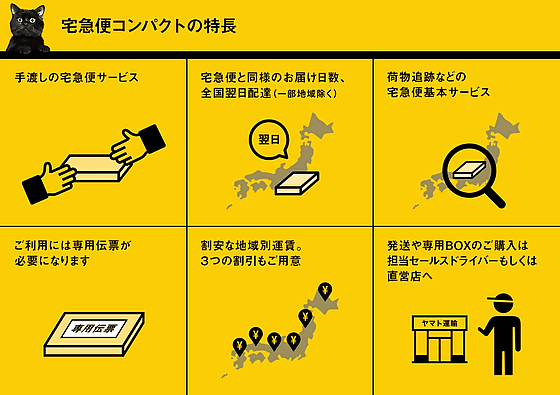 In addition, there are 3 types of discounts: "Kuroneko Members Discount" with a maximum discount of 15% from the main body price, "Digital Discount" reduced by 50 yen for each item by using the invoice issued at the shop front terminal "Nekopit", and directly handled · handled In case of bringing it to a store, a system that allows you to use "carry-on booking" of 100 yen reduction per piece.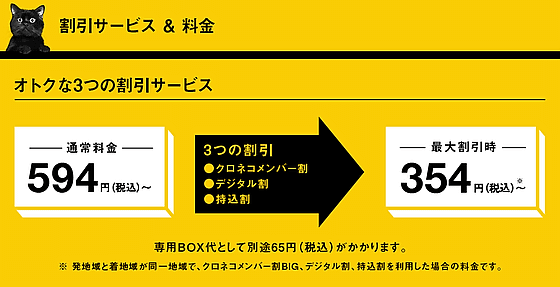 Another "Necopos" is for corporations and individual business owners, and contracts are necessary beforehand.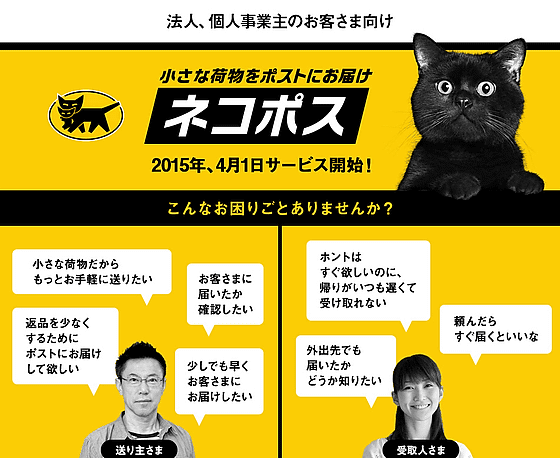 It is a thing that delivers the baggage within 2.5 cm in thickness to the post, if it is within the square A4 size (31.2 cm × 22.8 cm) and weighs less than 1 kg. A mechanism that the notice of the completion of the mail arrives to the receiver when it reaches the post. "Nationwide overnight delivery", "package tracking", "special invoice labels (printable on the user side)" are also combined.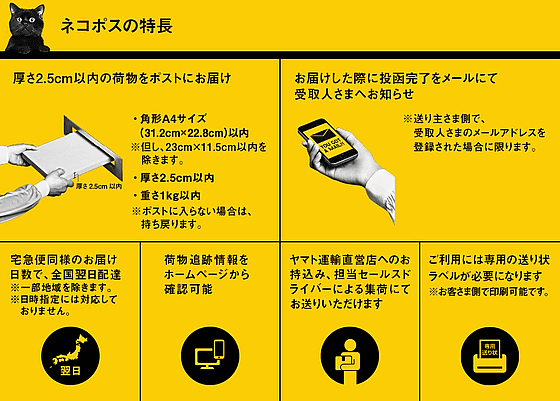 So, instead of "Kuroneko Mail" it will be in the form of service which will be on April 1, but in terms of price it is "は こ BOONAlthough it is more necessary to ship by Family Mart & need Yahoo! ID etc. Although there are many cases that it is quite a lot of cases, it is necessary to use different disciplines and to use different discounts etc. There seems to be sex.
in Note, Posted by darkhorse