In Taiwan, a passenger plane crashed on a highway and crashed, an in-vehicle camera shot all the time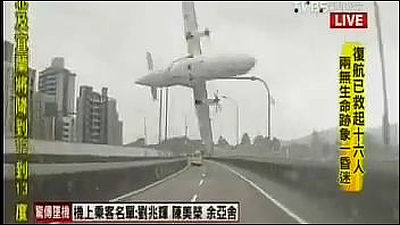 Located in northern part of TaiwanTaipei Songshan AirportFrom Fujian ProvinceKinmen AirportHeading forTrans Asia AirlinesAircraft crashed just after takeoff. Indeed the car crash of the aircraft was caught by the in-vehicle camera of the car running on the nearby highway.

Taiwan State Media Says Plane With 53 Passengers Crashes in Taipei; 10 People Awaiting Rescue - ABC News
http://abcnews.go.com/International/wireStory/taiwan-state-media-plane-53-passengers-crashes-taipei-28707586

Failure of 58 people aboard in Taiwan to crash the airplane, 2 people died: Asahi Shimbun Digital
http://www.asahi.com/articles/ASH244CX8H24UHBI01B.html

TransAsia flight GE 235 has crashed in Taiwan - Vox
http://www.vox.com/2015/2/3/7975353/ge-235-crash-taiwan

This is the movie used in the news program.

Dashcam footage captures Taiwan plane crash - YouTube


A car running on a highway. I can see the aircraft on the building on the left. At this point it seems to take off normally, but ...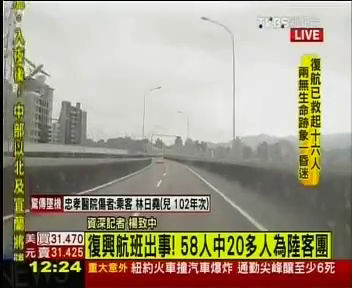 At the next moment the aircraft tilts to the left greatly.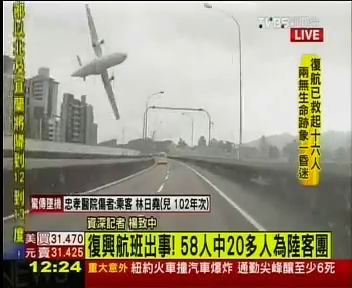 Grab the highway as it is ... ...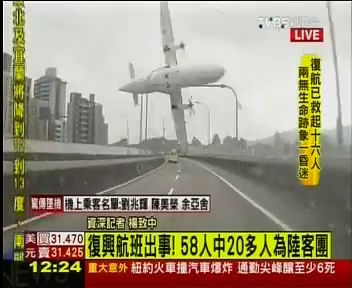 While destroying the wall, it crashed to the right side of the screen.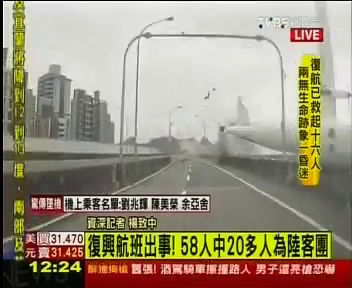 This is a movie taken from a distance.
Major Amazing !!! Entrants Completion ~~ 20150204-10: 50 Parent Eye Reduction Aircraft B22816 Crash - YouTube


I'm traveling considerably behind the car that shot the previous picture.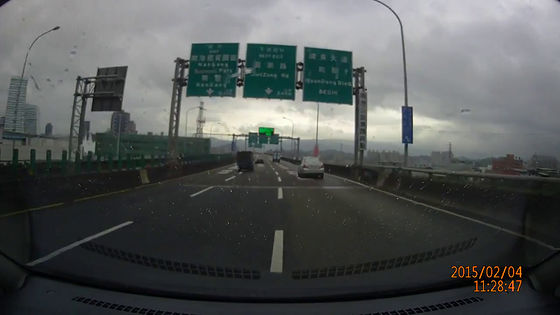 I think whether a passenger plane came out from behind the building, ... ...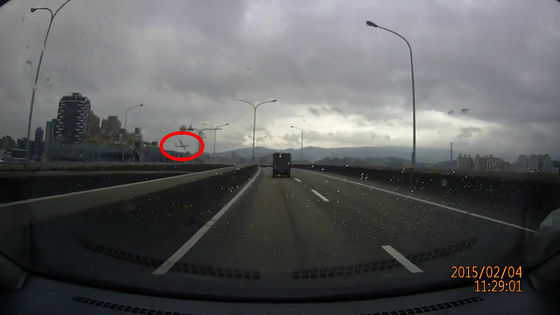 It fell as if it landed on the road.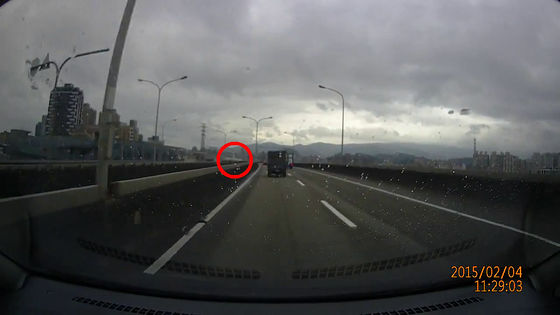 And the impact of the crash.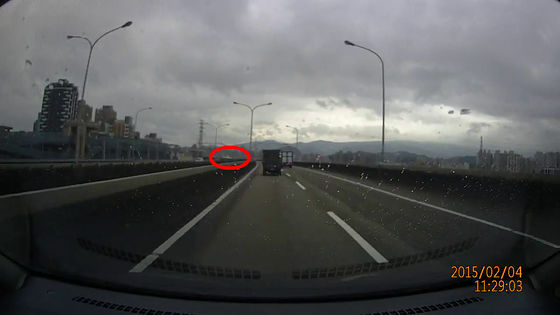 A taxi that this was hit by the aircraft.


TVBS: Taxi cab was clipped by# GE 235As it descended into river in Taipei.# Taiwan#TransAsiaPic.twitter.com/YuvtTl9xUP

- Steve Herman (@ W 7 VOA)2015, February 4

The crash was a river, rescue rushed and carried out relief activities.


GE 235 On the Ground: Dozens of rescue workers on, around and near the aircraft. Unclear if, how many, insidePic.twitter.com/czc2KpkOb5

- Tim Culpan (@ tculpan)2015, February 4

There are 58 passengers and crew members. At the time of this tweet, 27 people were transported to the hospital.


27 passengers rushed to hospital after Taiwan TransAsia Airways plane plunges into riverPic.twitter.com/GgSOIP8JCk

- China Xinhua News (@ XHNews)2015, February 4

Also, deaths of nine people have been confirmed.


BREAKING: 9 passengers confirmed dead after Taiwan TransAsia Airways plane plunges into riverPic.twitter.com/zGaiZDXhrA

- China Xinhua News (@ XHNews)2015, February 4

According to the information of The Guardian at 16:50, 12 people were killed, 18 people were injured, 31 people were missing.

TransAsia plane crashes in Taiwan river - rolling coverage | World news | The Guardian
http://www.theguardian.com/world/live/2015/feb/04/transasia-plane-crash-lands-in-taiwan-river-rolling-coverage

The aircraft is facing upside down in the river and is in a state of sinking halfway.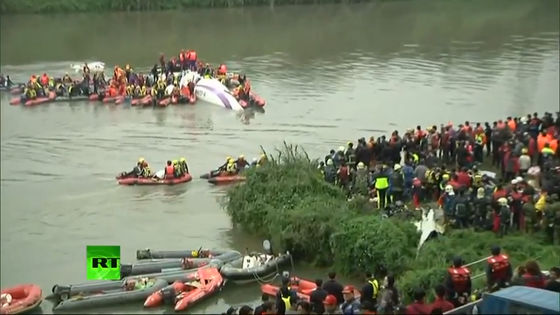 When looking at the area around the crash site etc., condominiums etc are also densely built, and the steep inclination of the aircraft seen in the movie may have been done by the captain considering daring to the river Hmm. At the moment the cause of the crash is unknown.

Taiwan Plane Crash: Rescue Operation - YouTube

in Video, Posted by logc_nt