Times Square exciting at New Year's countdown is a place where global companies gather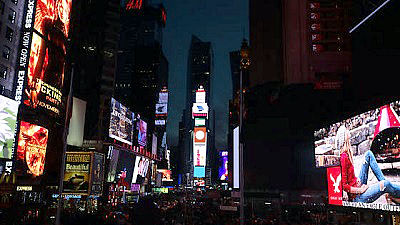 Regardless of race, regardless of age, regardless of gender, everyone goes around Neon streets while shining their eyes. In New YorkTimes SquareHe was full of charm of the United States. New Year's countdown to be held on New Year's Eve is a flashy event where fireworks rise and confetti dances. A lot of people gather from all over the world.

Hello,Takuya Sudo @ circle around the world bicycle @ Charridermanis. It was Times Square in New York after visiting the Red Square in Moscow which was the center of former socialism, but a spectacular sight has spread as the center of the present capitalism. I took advantage of transit time and extended it to the city of New York.

From the airport ride the subway
Flight from Moscow on 9th November 2014 to the Dominican Republic in the Caribbean needed to wait 12 hours at John F. Kennedy Airport in New York, the via point. After arriving in New York, as you get off the plane and proceed through the airport terminal, you get immigration. For this, on the InternetESTAApplication has been completed. If it is an ordinary transit, it is not necessary, but I got a stamp on my passport and entered the United States. This was also a long line, it took quite a while.

When walking as it is, a belt conveyor of a baggage claim. If it is a transit of the same airline, it is usually a place to pass through, but maybe if you wait, the bag containing your folding bike has flowed. Although I did not know at all, when passing via the United States on a flight, I need to pick up my luggage one by one and deposit it again. It is smoother than the immigration control, but it also took some time here.

In the airport where "I love NY" was drawn.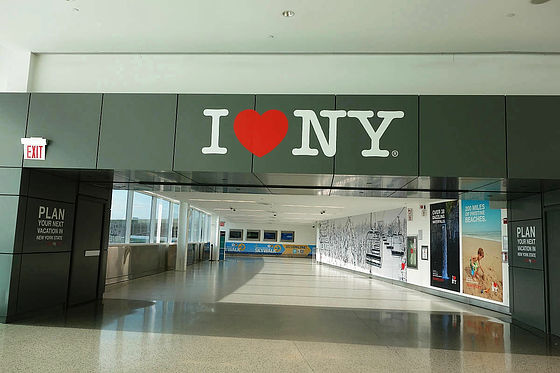 Still I managed to secure free time so I decided to aim for Times Square where I can feel New York. From airport to downtown we moved by air train and subway. Magnetic type metro cards have an expense of an issue fee of 1 dollar (about 120 yen), an air train fee of 5 dollars (about 600 yen), and a sub ticket single ticket of 2.5 dollars (about 300 yen). It costs at least 7.5 dollars (about 900 yen) when returning to the airport.

Metro card.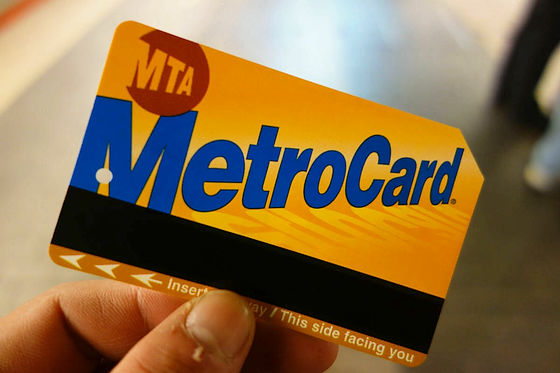 Inside the subway station in a dim atmosphere.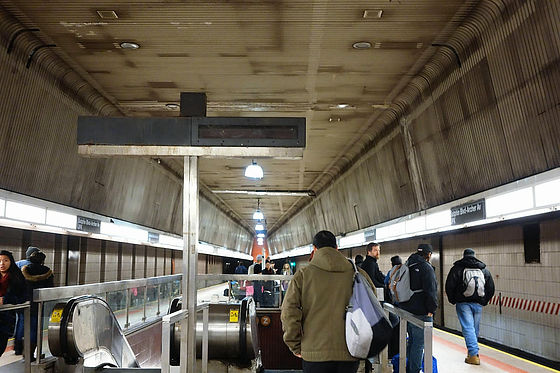 From airport to downtown New York, it takes about an hour by air train and subway.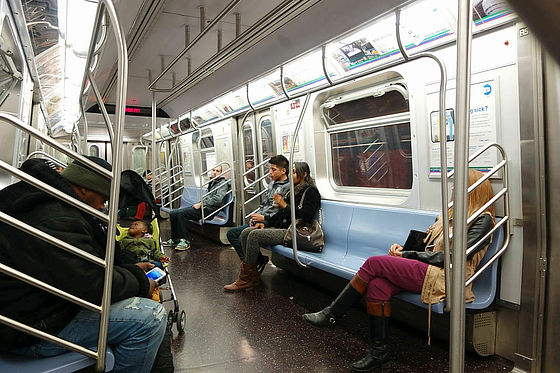 From the airport take the air train to "Jamaica station". Transfer to the subway at '42nd Street Port Authority Station'. As I left the station, the guide of Times Square was out, so I was able to arrive without hesitation as I relied on the signs.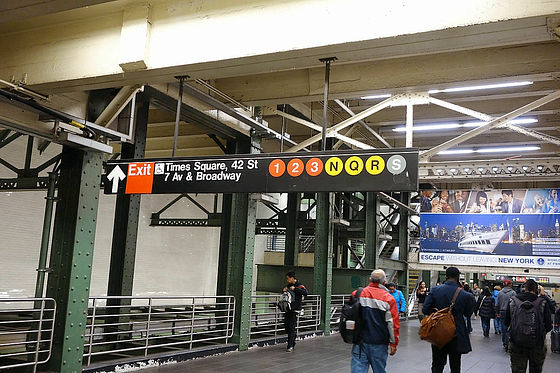 ◆ I am walking New York
As time took us by entrance and baggage, the sun started to tilt when we arrived. The road between high-rise buildings seems to be the bottom of a valley. On the roadside, smells of hot dogs are drifting. A neon sign, a light signboard, a huge display that will increase the depth as the sunset. Even if the sun goes down, darkness and silence will not come here. A place full of vivid light which advertisement releases. As if you were visiting the stage of the show, the world of dreams separated from everyday life spread as if you were playing at the theme park. Feeling uplifted just by walking.

A valley of a skyscraper who jumped into the subway immediately.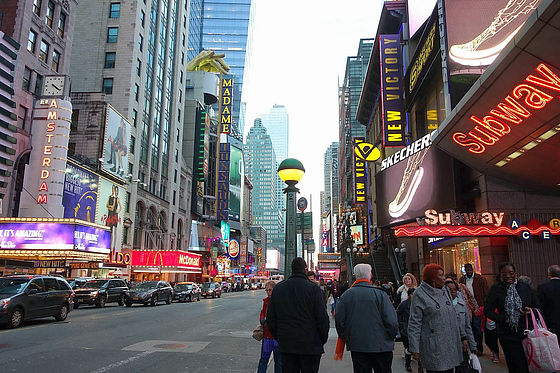 An intersection where a wave of a huge person moves as the signal changes.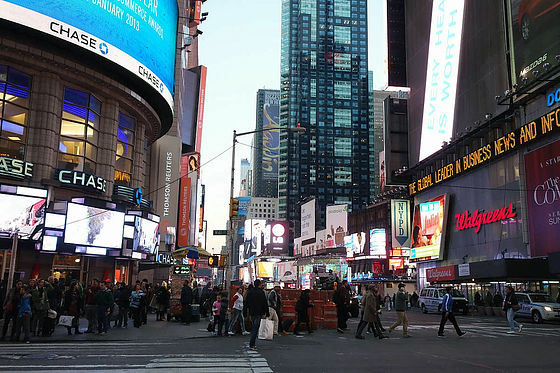 As the sun goes down, the light of neon will become more brilliant.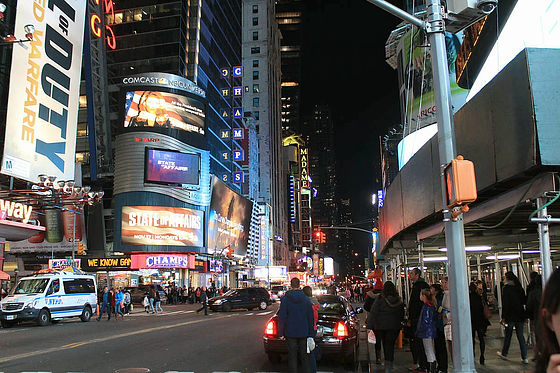 ◆ Where to feel the United States
McDonald 's got a signboard of a flashy neon that can not be thought of in Japan.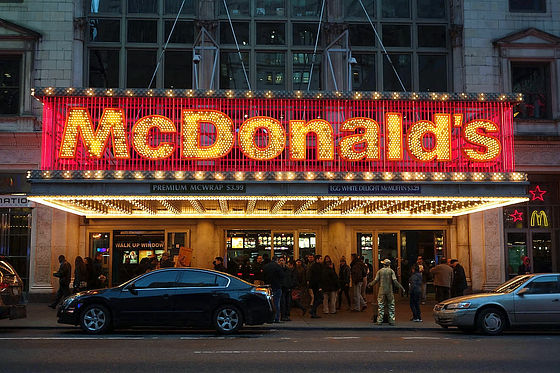 American-like mascot attracts eyes, chocolate confectionery "M & M'S'S gift shop.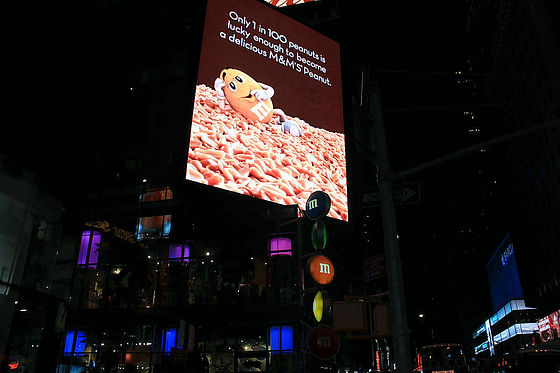 Disney store is a sweet atmosphere like a country of dreams.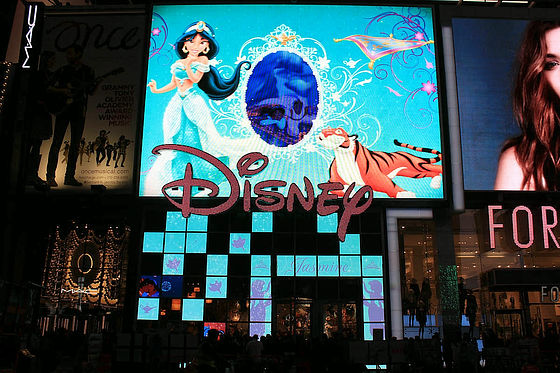 There were figures of Marvel heroes such as Spider-Man and Ironman at the store of the toy mass retail store "Toys" R ".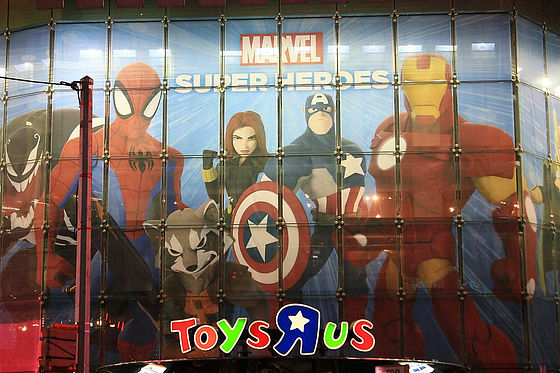 Google droids who wore themselves in various costumes.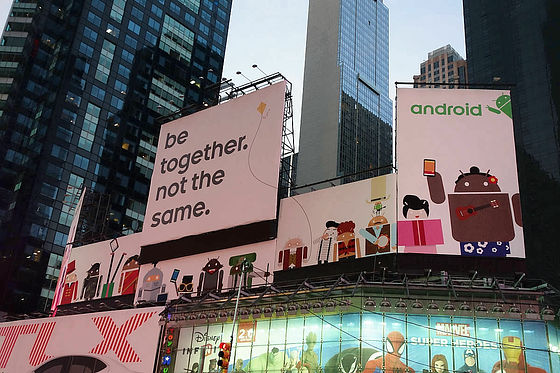 CNN's huge display specialized in news broadcasting.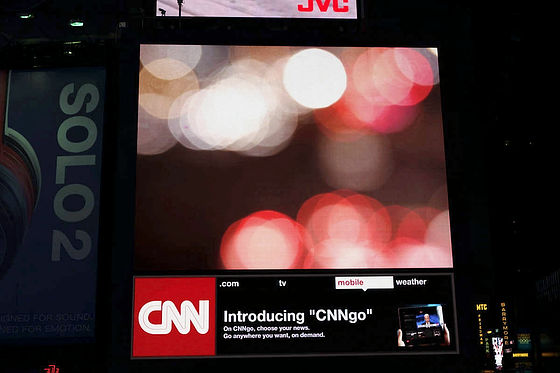 Near Times Square,BroadwayAs many theaters gathered as such, advertisements of such musicals were conspicuous.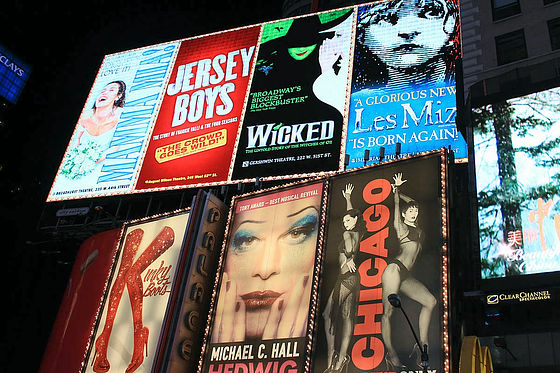 A theater where "Mamma Mia!" Is being performed.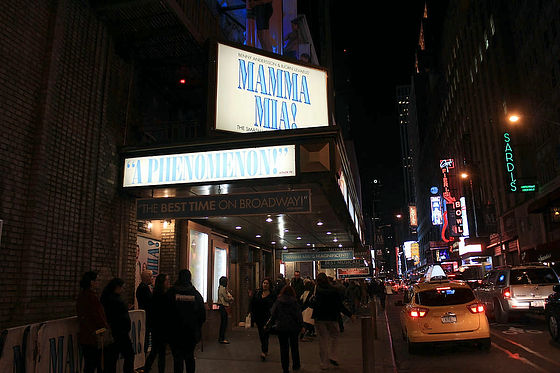 The police station's neon sign also has a strong self-assertion.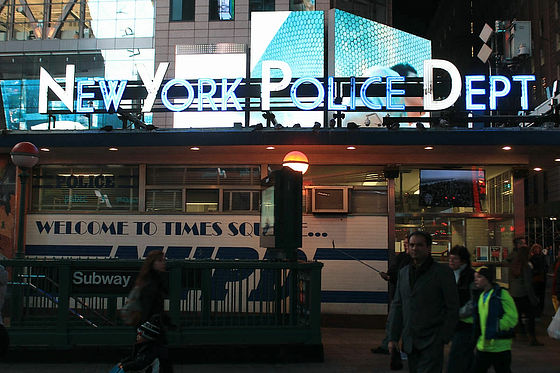 ◆ As the world's show window
Hyundai Motor of Korea was rushing through the wilderness in a huge screen.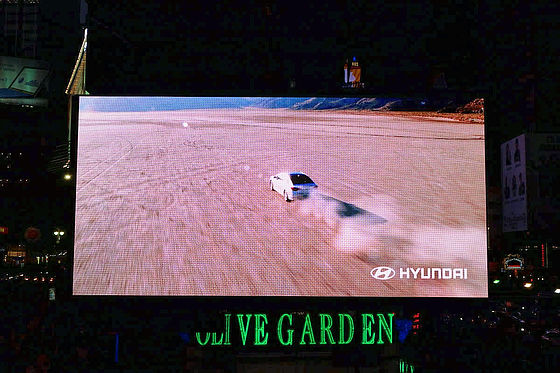 Samsung's huge smartphone advertisement felt the momentum to keep running the top sales in the world market.



Samsung 's LCD television promoted to collaborate with the movie' Godzilla '. Recently, we have appealed Samsung of technological strength by displaying curved display all around the world.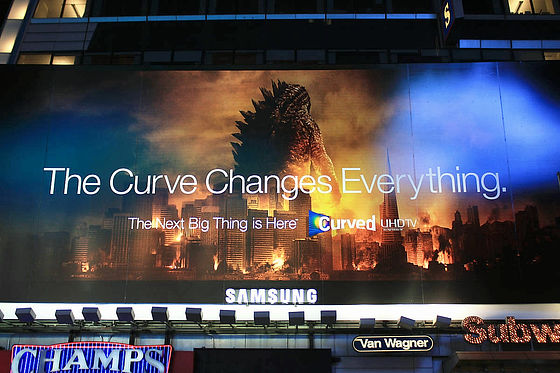 We also found the logo of LG Electronics, one of the best Korean electronics manufacturers in line with Samsung.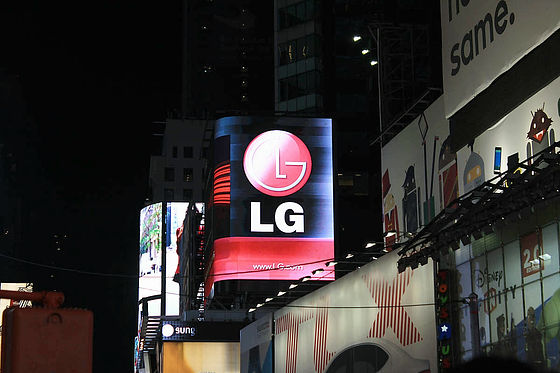 What surprised most of all here was that the image up image of China had flowed. It is likely that we are trying to improve the image because we tend to confront something.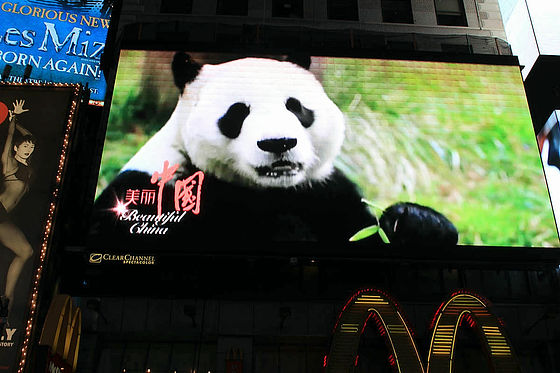 A representative financial group of the UK "Barclays (Barclays)Signs of.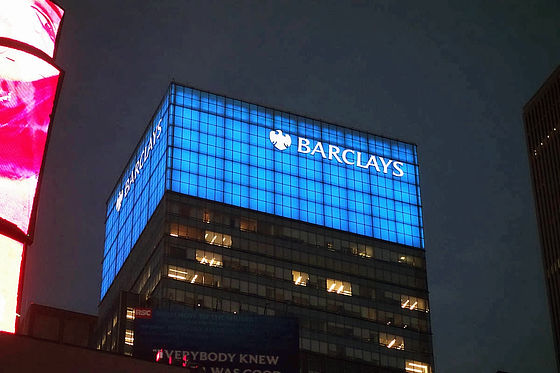 The huge flagship store of Swedish apparel maker "H & M" had a strong presence.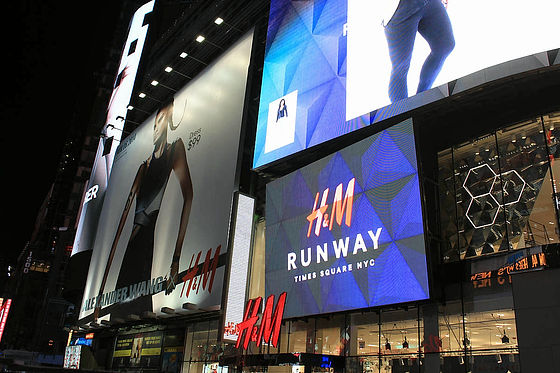 ◆ Japanese companies are also active
Although it was a little far away, there was a video of the UNIQLO 's light and warm Ultra Light Down series. I do not feel realized in Japan, but when I see it overseas, images of stylish brands like H & M overlap.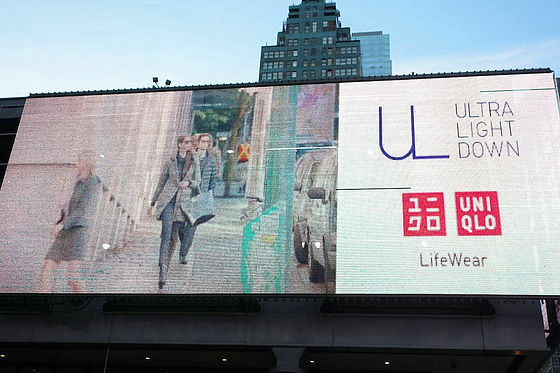 "JVC" which does not come with pins in Japan is a global brand of "Victor" that is strong against video cameras. HoweverRecently sold in JapanEven Victor has become JVC. In 2008, we do business integration with Kenwood which manufactures products such as car audio and car navigation system.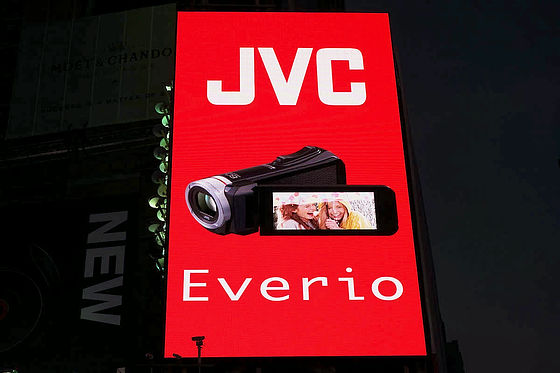 Mazda's automobile advertising focused on the North American market. I tried looking for Toyota, but I could not find out why.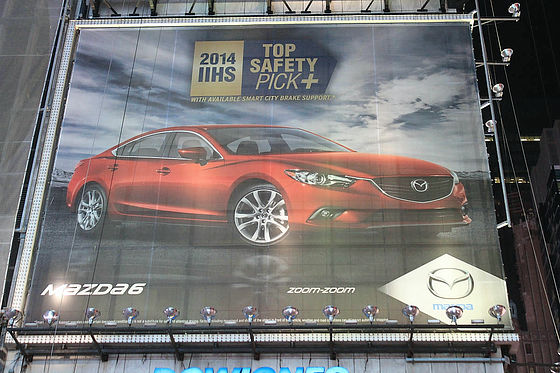 There was also advertisement of LCD TV "AQUOS" sold by Sharp, but it was a bit of a lack of impact.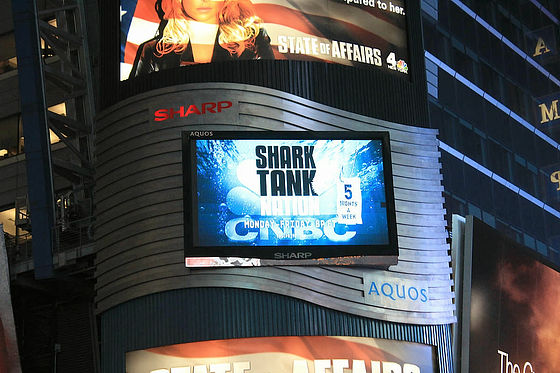 At the intersection of the world ◆
The name Times Square was born for the reason that the head office building of the New York Times once existed. In 1913 the headquarters of the Times will relocate, but the name has not changed and is transmitted to the present.

The most famous is the sight of here.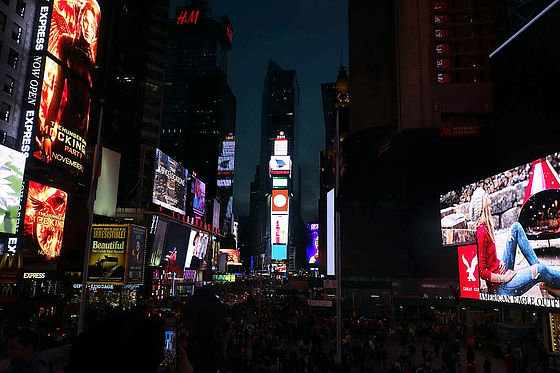 The head office of the New York Times was in an elongated building standing in the center. This buildingOne Times Square BuildingIt is called by the name.



Look up one Times square building from another angle.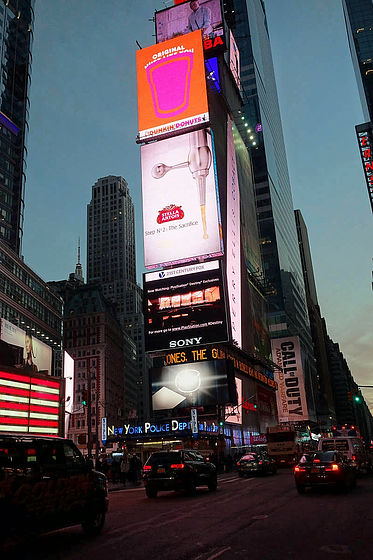 The best place for people to see their eyes at Times Square will be before this One Times square building. Although I withdrew now, there was also advertisement of a giant cup noodle that steams Nissin Foods. When checking the current lineup,

"Sony (SONY)" logo and large display on the lower side of the building.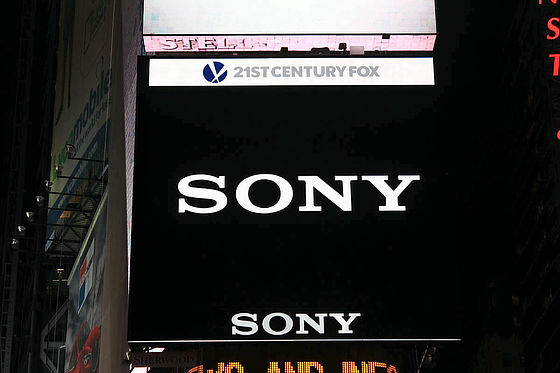 An advertisement of a beer named "Stella Artois" born in Belgium. If you look in the United States as "Budweiser" and wondering, both are Belgian capitalAnheuser · Bush · InvevIt turned out to be a branded affiliate.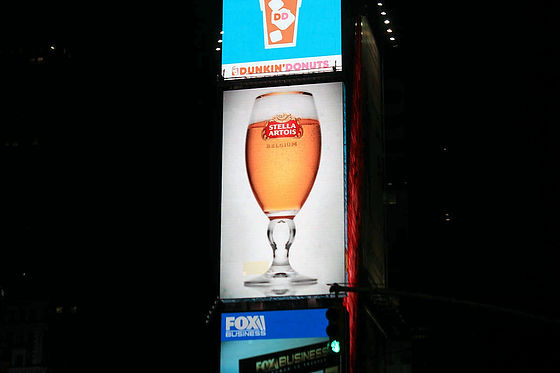 Dunkin donuts, the world's largest donut chain.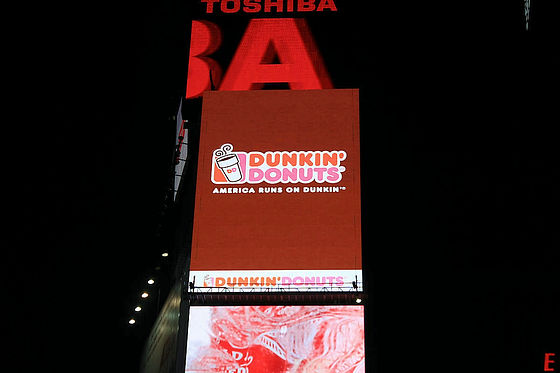 And the most prominent place on the top of the building was the "Toshiba (TOSHIBA)" logo. It seems that it co-sponsors the countdown every year, and will enrich the ornate event. Under TOSHIBA, there was a signboard of TDK, but it was hidden depending on the viewing angle and I forgot to take a picture.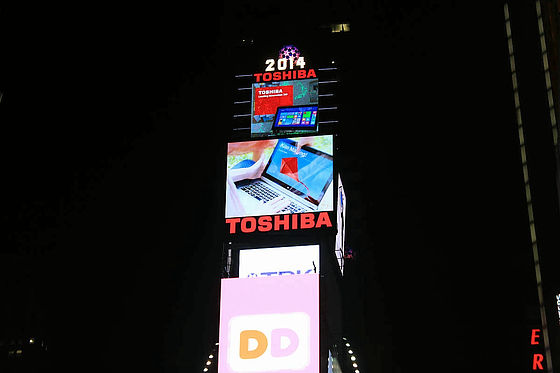 On the other side of the One Times square building, the Two Times Square Building is towering, with ads in a row in the same way.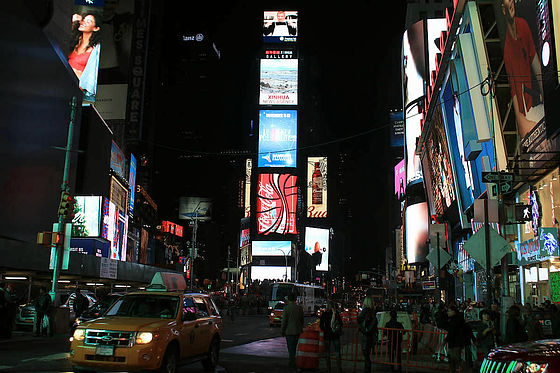 Advertisement of Coca-Cola is here.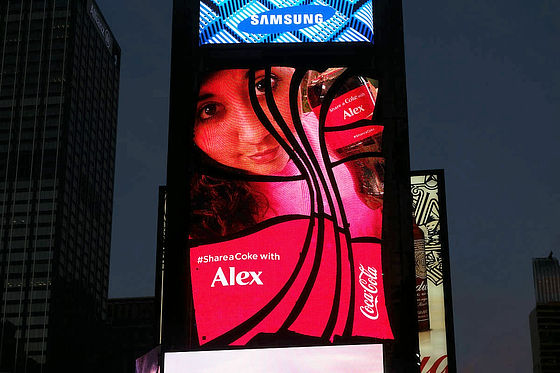 Although I got on the return subway, I managed to arrive at the airport within hours. I successfully made a visit to Times Square successfully by transit.

As it was twenty years ago and ten years ago, Times Square will be shining with unchanging light after ten or twenty years. As long as America is the United States, global companies will continue to advertise to Times Square. Global companies are not leaving the world's best American market.

(Sentence / photo: Takuya S. Narou Charriderman
Cycling around the world for a bicyclehttp://shuutak.com
Twitter@ Shuutak)