Start introducing a system that McDonald's can touch and order original burger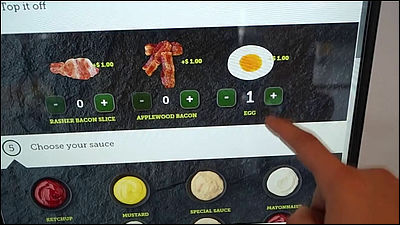 Kua Aina, Hawaiian hamburger chain, freely choosing a toppingIt is also possible to build huge hamburgersHowever, McDonald 's newly launched the test introduction of an order system that can make original burger by freely customizing the number of patties, vegetables, cheese, bacon, sauce etc on the touch panel at American stores.

McDonald's expands custom sandwich option
http://www.usatoday.com/story/money/business/2014/12/07/mcdonalds-fast-food-restaurants-create-your-taste-millennials/19943987/

The state of making your favorite hamburger with the touch panel is easy to understand the following movie.

FIRST EVER MCDONALDS CREATE YOUR OWN GOURMET BURGER - YouTube


From the touch panel which is large and easy to see you can make your favorite hamburger. First, select "in-store" or "take-away".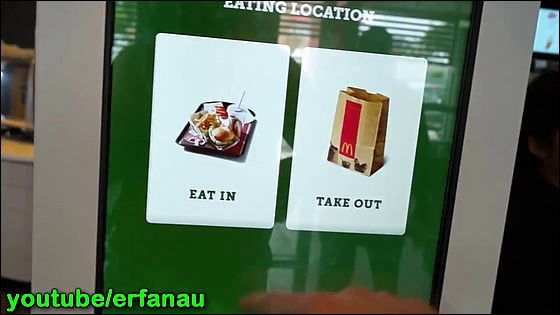 Payment method is either "cash" or "credit card".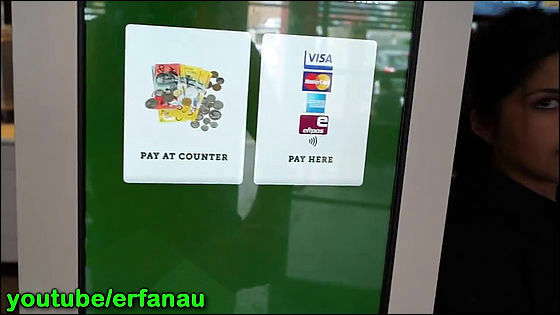 You can choose "I WANT TO CREATE MY OWN (Make original menu from the menu)" and "SHOW ME THE SPECIALTY BUILDS (Select from combination example)".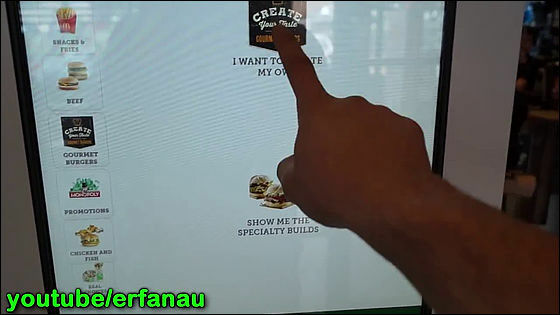 If you choose to create original menu, we will decide separately or set.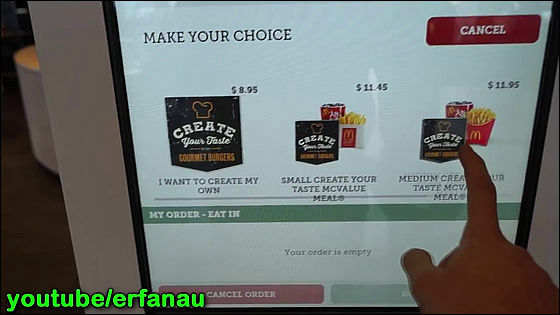 A menu of hamburger making was displayed.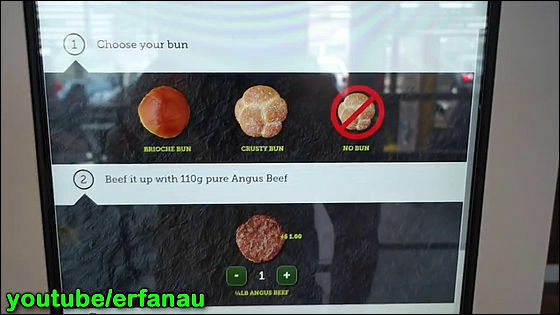 Buns' choice is "Brioche"Three classes" classy "" without buns ". What is "without buns" ....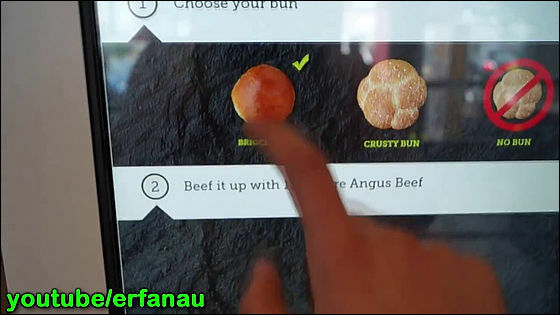 100% Angus beef (110 g) Choice of number of patties.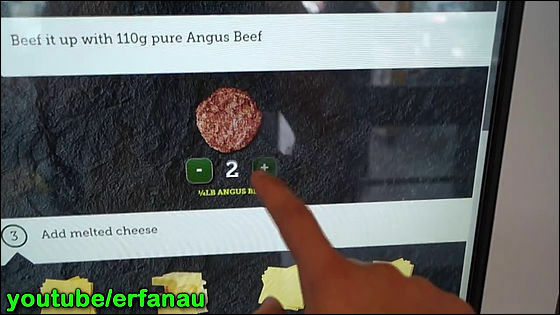 Melt cheese is "Sliced ​​cheese" "Swiss cheese" "COON cheese"Colby jack cheeseYou can also choose 4 types. In the movie, add all four types to the luxury.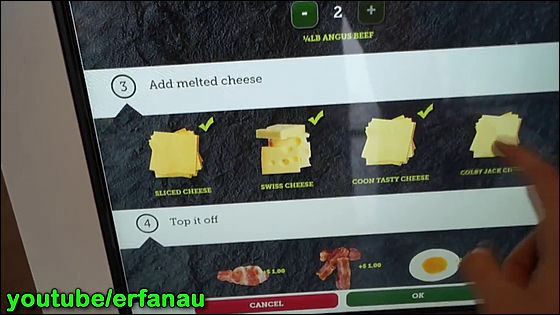 Two types of bacon and toppings of fried eggs are also available. It is a plus one dollar (about 120 yen) per one.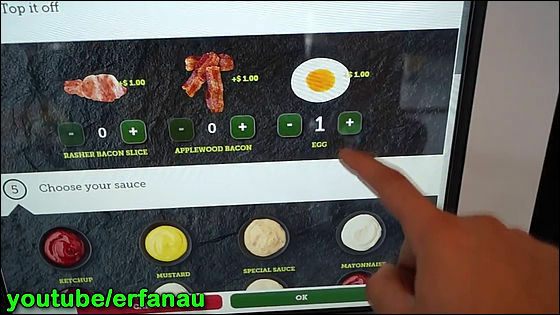 The sauce is "Ketchup" "Mustard" "Special" "Mayonnaise" "BBQ" "Herb Maya" "ChipoleMayo, "" Tomato Chile Jam "" Tomato Onion ", and it seems that you can also make multiple selections.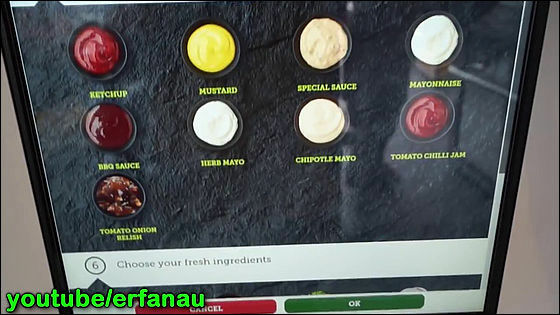 You can add fresh vegetables such as "Sliced ​​Tomato" "Pickles" "Lettuce" "Sliced ​​Onion" "Grilled Onion" "Beetroots" "Harappeno"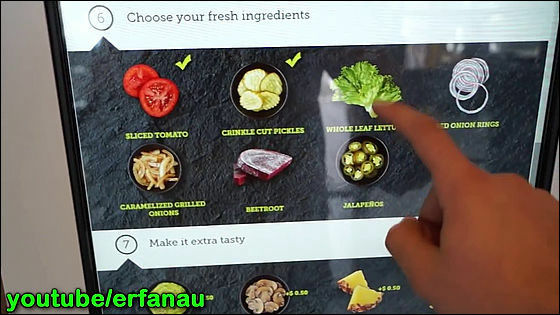 Finally you can add 'Wakamore', 'Grilled Mushroom', 'Pineapple' and 'Tortilla Chips' as plus 50 cents (about 60 yen) as extra toppings respectively.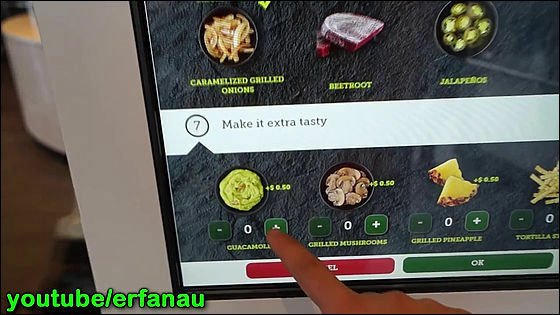 After choosing a hamburger, touch either the set of potatoes or a salad.



Choose your favorite drink.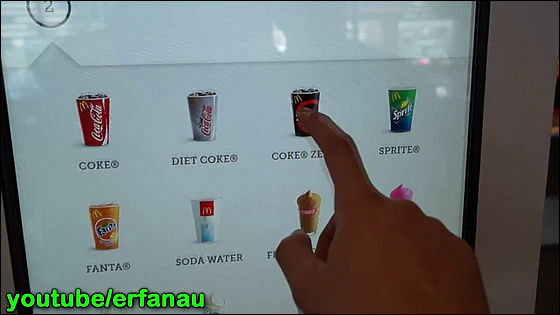 Finally check the contents of the order, if there is no mistake, press "YES" to complete the order.



That's why the finished product looks like this. It will be completed in about 7 minutes after ordering. The price is expensive at 15.95 dollars (about 1925 yen) because it was expensive topping, but it is a quality hamburger that I can not think of as McDonald's.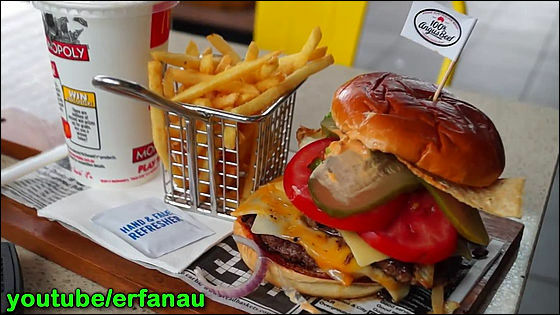 According to USA TODAY, this touch order system has been tested in four stores in Southern California, and depending on the store tablet type small terminals are placed. In 2015 it is planned to expand expansion at 2000 stores in five provinces.McDonald's reported worldwide performance deteriorationHowever, while the usual M set is 5 dollars (about 600 yen), the basic price of the M set of customized burger is 8.29 dollars (about 1000 yen) which is a higher price setting. It is likely to focus on how customers receive it.