I went to a limited-time collaboration cafe where I can see characters of the story dressed in Hello Kitty costume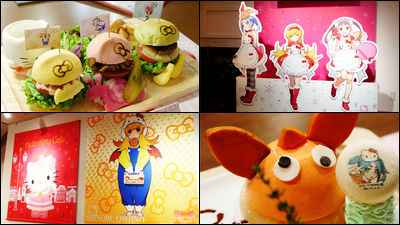 "Open for a limited time period from November 14, 2014 to December 25, 2014Hello Kitty CafeIn the period from December 5 to December 25, seriesA limited menu collaborated with you will be offered. At the collaboration cafe, the first story of the series of final stages of the final season, the first four episodes to be broadcast all four episodes on New Year's Eve "Votive word"The main heroine · An Noki club surplus was also wrapped in Hello Kitty costume, so I saw what kind of cafe it really is.

Hello Kitty Cafe | OTHER SPACES | Parco Art .com
http://www.parco-art.com/web/other/exhibition.php?id=719

Hello Kitty Cafe is located in Shibuya Koen line street in Shibuya Parco part 1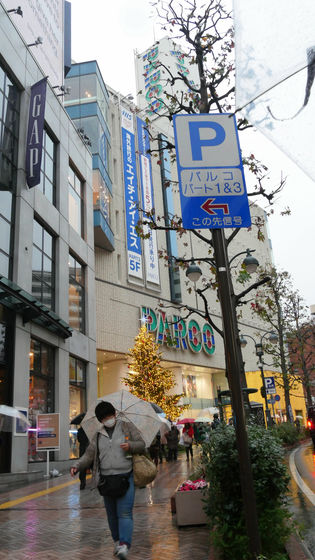 Hello Kitty Cafe is open on the 7th floor here. Since December 5, we will provide a collaboration menu with the series, and on December 4th the day before that, an exhibition for the media was held, so at that time we will have a collaboration menu and goods as soon as possible That's why I went to see it.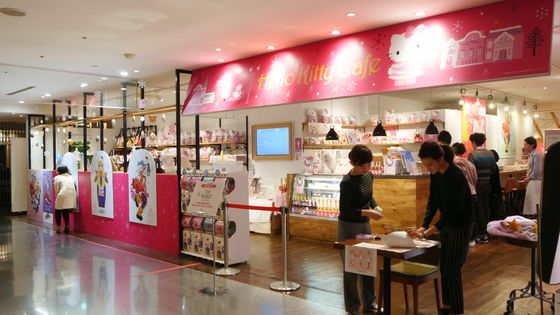 Outside the shop, Oshino Shinobi and Aoki Nogi cotton, it is hidden behind people, but the panel of Mr. Yakushi Temple is stuck with donuts and the illustration shows that each character is a halo somewhere in the body It was a special spec that it wears Kitty.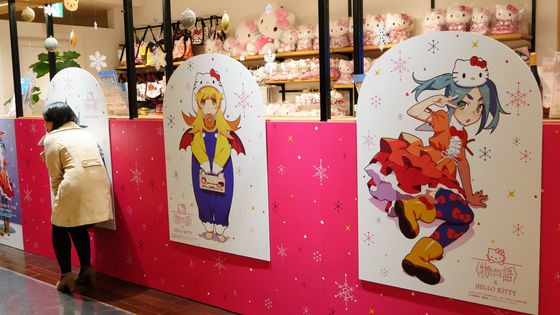 Hello Kitty is crowded on the wall inside the store ... ...



An oversized tapestry with collaboration cafe only is decorated in the store. Shinobu Oshino wearing a Hello Kitty hat.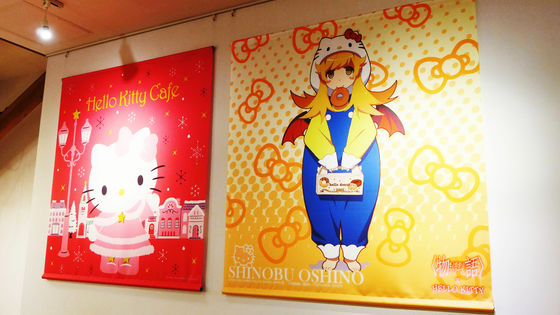 The backpack which I always carry on has become Hello Kitty Hachiyuji temple evening tapestry.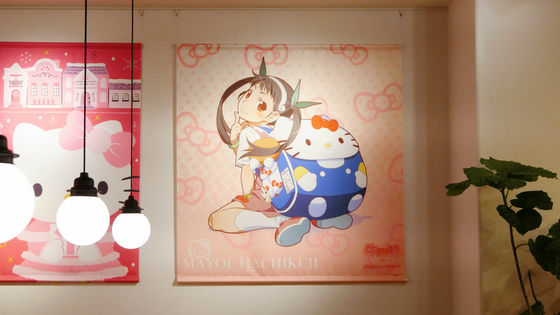 And Ang Noki circumstances, "something of the head" has been changed to Hello Kitty version, and the socks are also changed to Hello Kitty specification.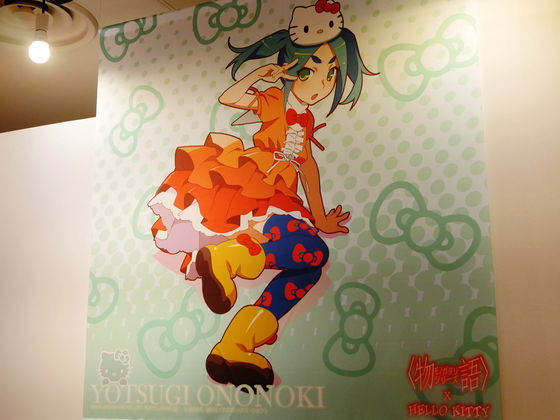 The "Burger Story" and "Dessert Plate with Lucky Blood" are provided as collaboration menus, "Ninna no Ippa no Soda" in the drink menu and "Sada on the True Eternity" on the other side "Youth" soda and "Hello Kitty tale latte (HOT only)" in total.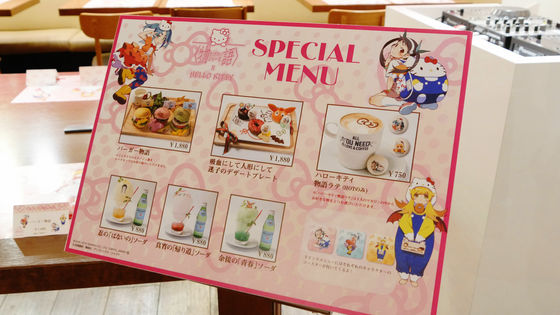 Furthermore, when ordering the collaboration menu of the series and Hello Kitty Cafe, it is said that a special luncheon mat will be given.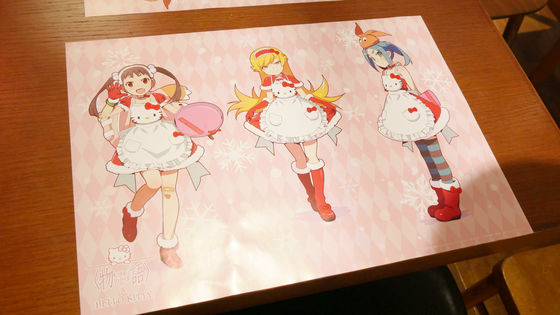 That's why I decided to watch the collaboration menu quickly. "Burger narrative (1880 yen tax excluded)" comes with three hamburgers and fried potatoes using ingredients related to each character, and potato's potage.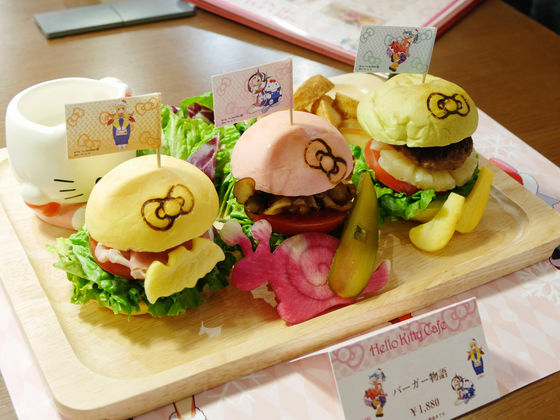 Comparing the size of one burger and iPhone 6 is like this. Each one is not that big, but it seems tough to eat three of them by yourself.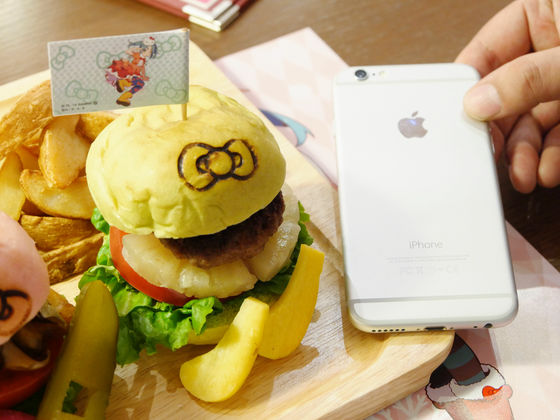 Ninba burger is a burger like a sandwich rather than a hamburger sandwiched between raw ham and cream cheese, tomato, scent grass "time" etc.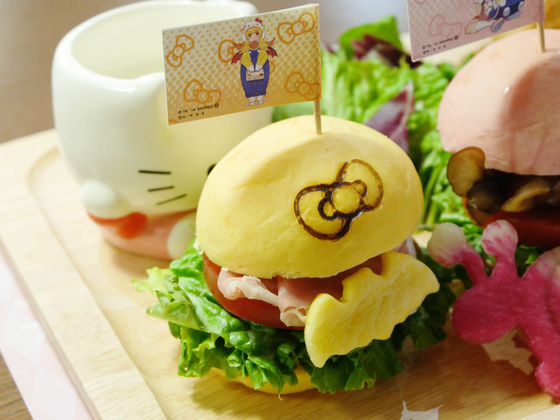 It is not that we can eat whole burgers at the exhibition, but we will use Pakuri for what we cut into bite size. It's exquisitely matched with the saltiness of thick cream cheese and raw ham.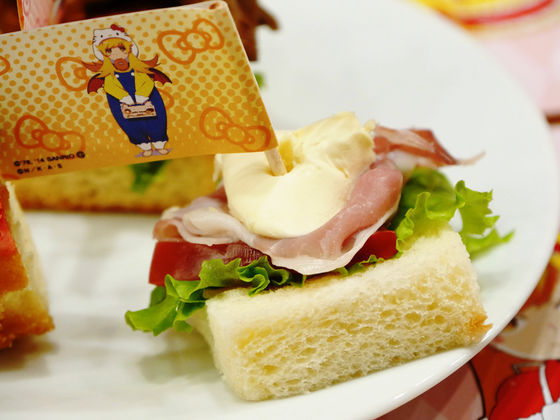 Fish fries and sauteed of "My" bamboo are on the evening Burger is a crispy white crispy fly fry and a unique texture of Maitake is good match.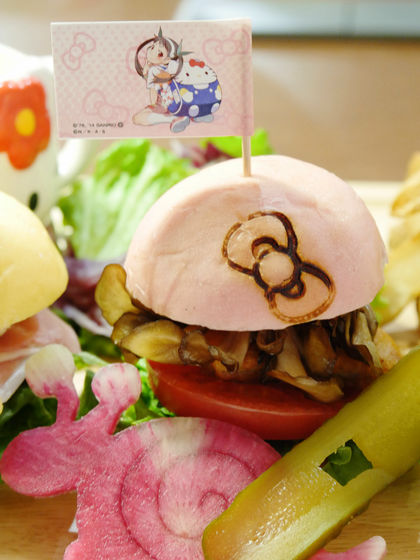 Beef hamburger and "pear" of pineapple are used for the bargain burger, and the pineapple fruit juice mixes with the hamburger meat broth and it becomes a very juicy hamburger. People who are not good at pineapple in sweet and sour pork may feel resistance as "a bit ... ...."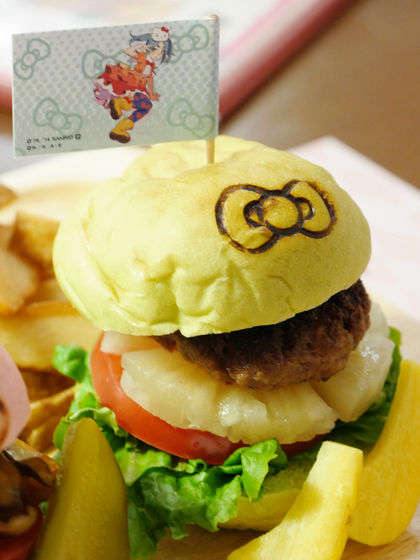 "Dessert Plate (1880 yen tax excluded)" with bloodsucking as a doll has desserts expressing the characteristics of Shinobi, Midnight, and cotton.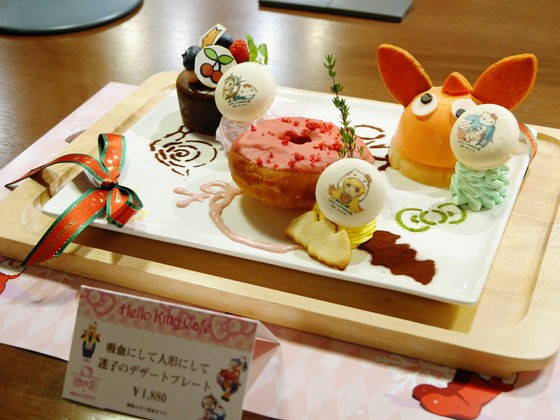 This is a dessert made by imagining the circumstances of "some sort of head". Since it was not possible to taste at the exhibition, the contents remain a mystery. What on earth are they in ... ....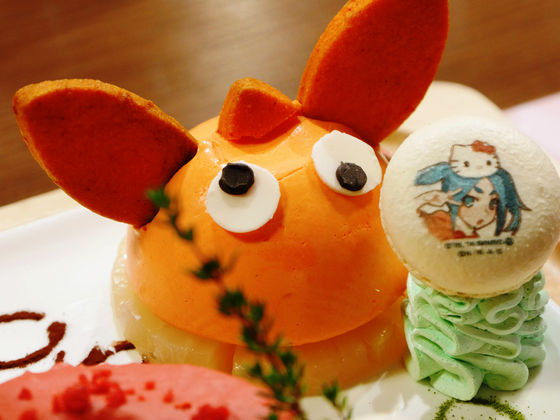 A donut which is a favorite of Shinobi.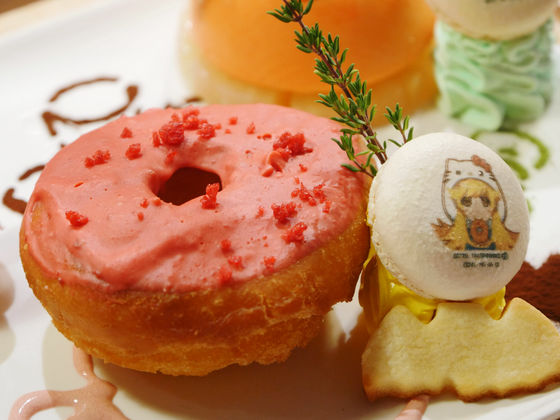 This place was eaten. The donut is crispy outside, the inside is moist and the strawberry chocolate coating is moderately sweet. I'm going to go to the colorful cream on top, but I felt it as a high quality donut.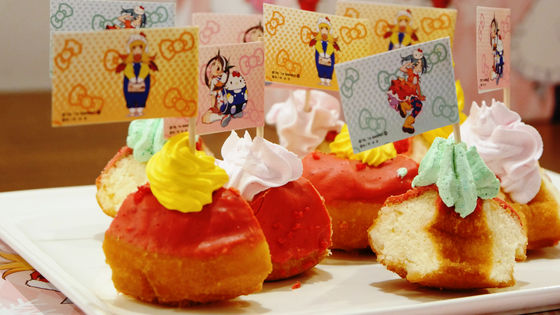 The dessert made by imagining the true evening is Fondant chocolat.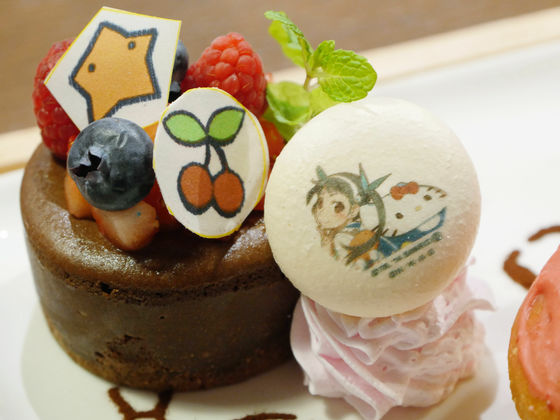 "Shinobi's" "Not for soda" "Soda on the way home from the evening" "Soda on the other side" Youth "Soda" is 880 yen for each tax.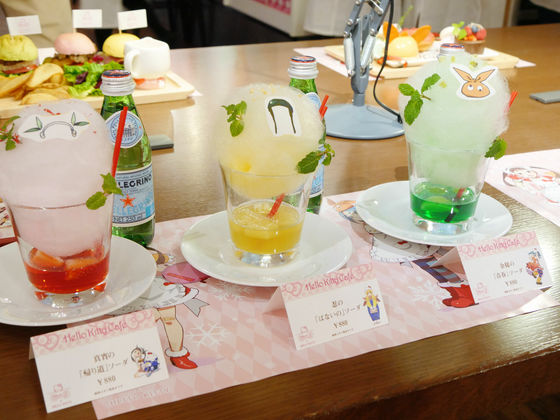 Mokomoko on the glass is cotton candy, it is taller than the iPhone 6.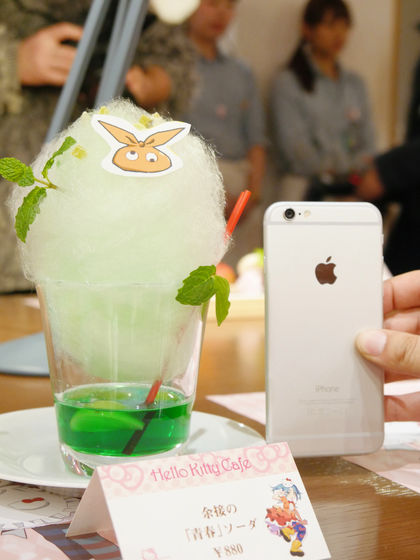 Accessories of each character are on the cotton candy of each drink.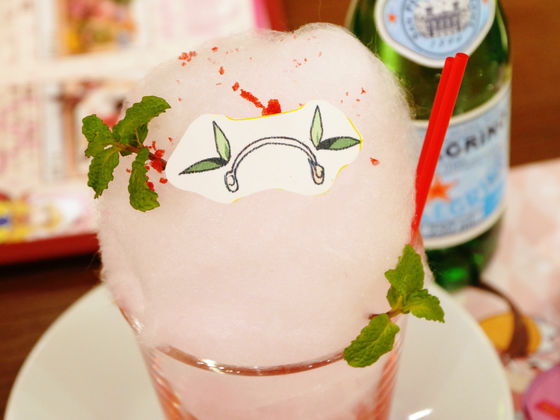 Shinobu is a goggle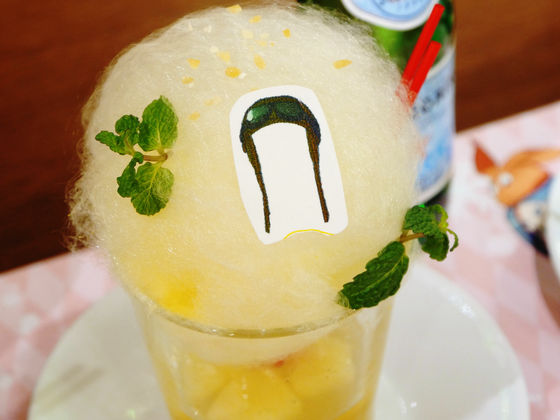 Side of the head is something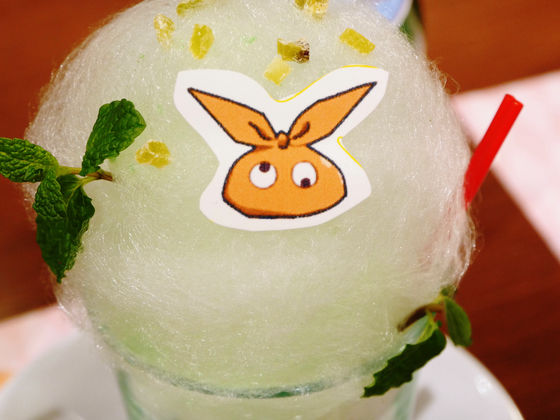 The way to drink a collaboration drink is as follows. If you poured carbonated water and dissolve the cotton candy, it is OK and you can eat the cotton candy decoration directly or you can drink it in a drink and drink it.

series × How to drink a collaboration drink of Hello Kitty Cafe - YouTube


It melts cotton candy and it looks like this.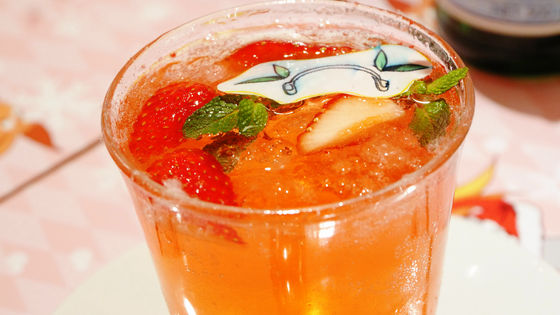 "Hello Kitty Story Latte (HOT only)" is 750 yen in tax.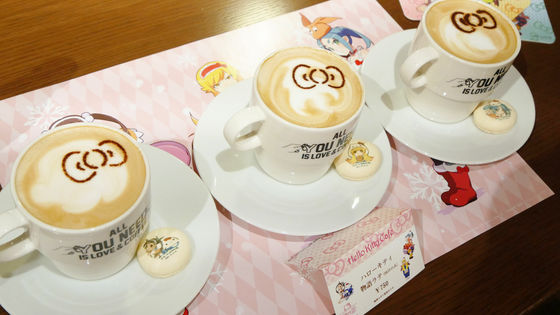 Macaroon accompanying drinks can be freely chosen from illustration of nin, midnight, and cotton.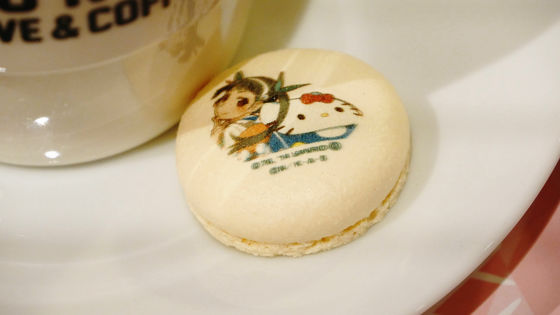 In addition, you can get an original coaster by ordering a collaboration drink.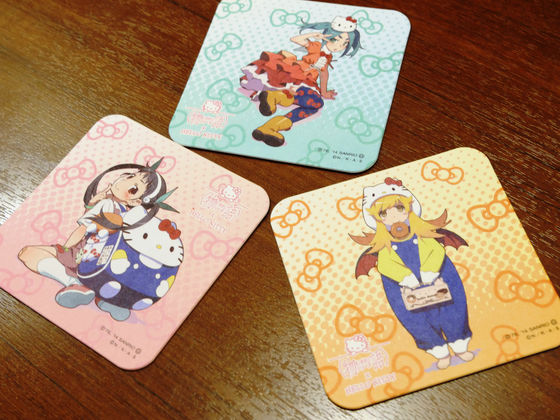 At Hello Kitty Cafe, limited time collaboration goods limited to series × Hello Kitty will be sold for a limited time.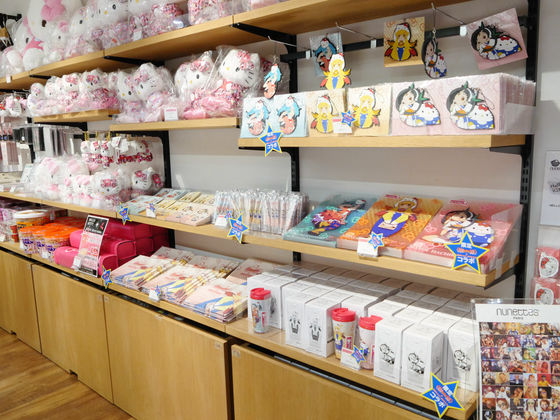 Tumbler (2500 yen tax excluded)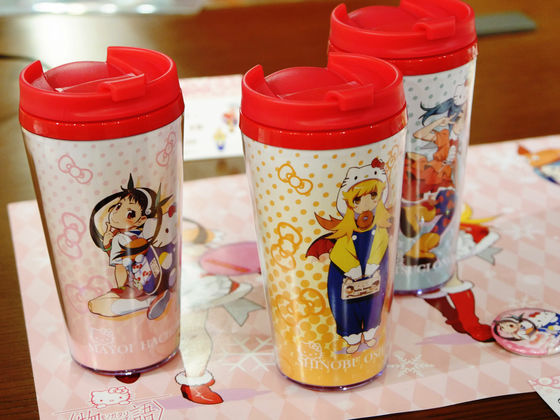 3 Character Muffler Towel (3000 yen tax excluded)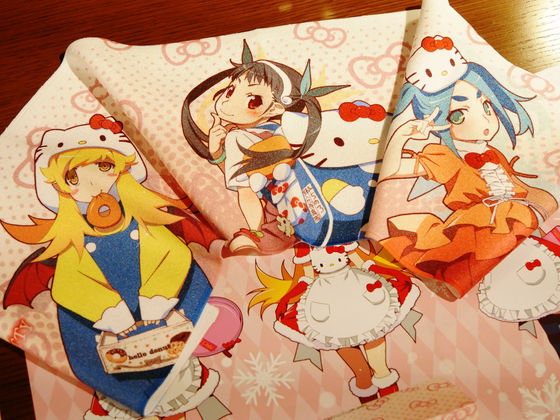 Post card (600 yen tax)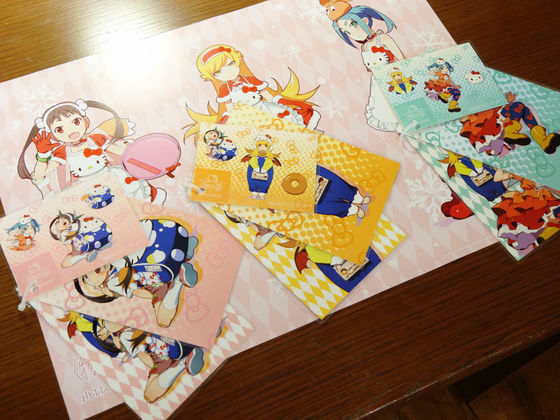 Clear file (500 yen per tax)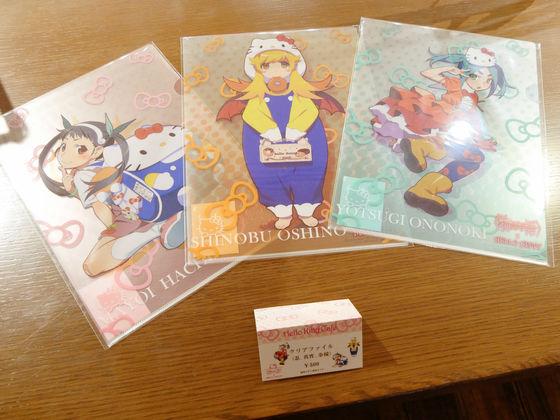 Rubber mascot (1200 yen tax excluded)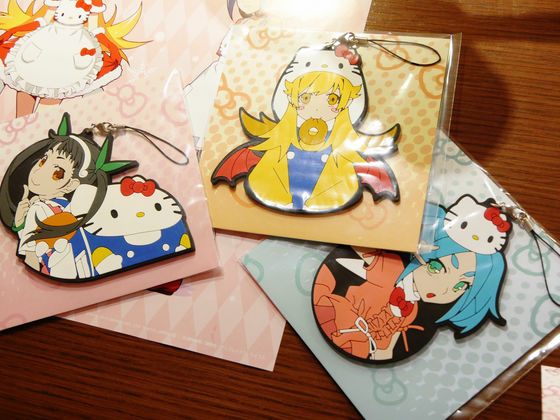 Ballpoint pen (700 yen tax)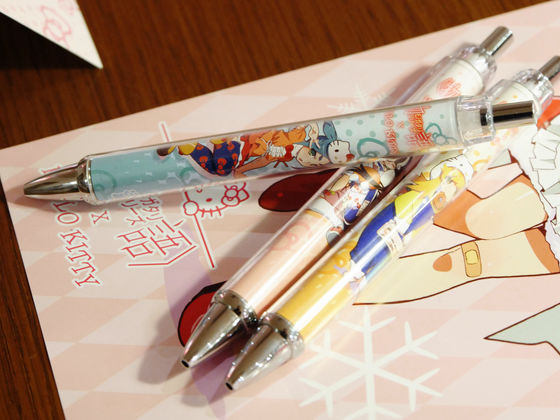 In addition, there is also collaboration at the entrance of the store.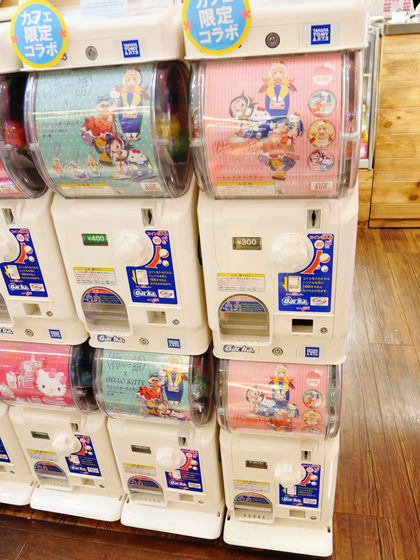 There are two kinds of can batches (300 yen) and acrylic key holders (400 yen) that you can get in the game.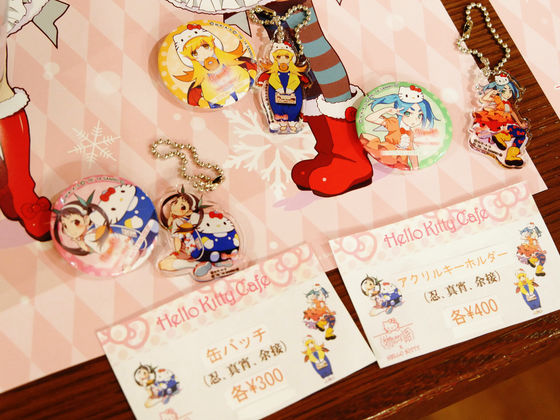 Besides, at the entrance part of the store, extra large panels of Aoki Nogi Shinobu Oshino Shinobu Hachijuji Midnight are displayed and you can take a commemorative photo with 3 characters of Hello Kitty Cafe Special Costume .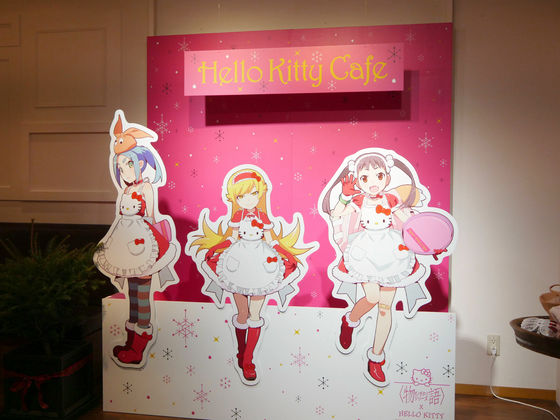 The collaboration menu with the series will be offered at Hello Kitty Cafe until December 25th.

(C) Nishio Ishinha / Kodansha · Aniplex · Shaft
(C) '76,' 14. SANRIO CO., LTD. APPROVAL No. SP551132