"CCleaner" which will make terminal operation easier by deleting unnecessary data of PC and software at once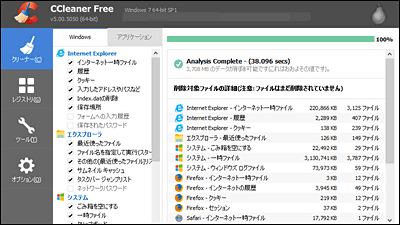 When you use PC or software, temporary files (cache) andcookieAnd so on are accumulating rapidly and the operation of the PC becomes heavier the more these are accumulated. It is possible to delete such unnecessary data collectively "CCleaner"It is software that can be used in the case of deleting files of several gigabytes in a moment so" Recently PC's operation is heavy ... "or" I want to secure free space! "

Piriform News - CCleaner v 5.0
http://www.piriform.com/blog/2014/11/25/ccleaner-v50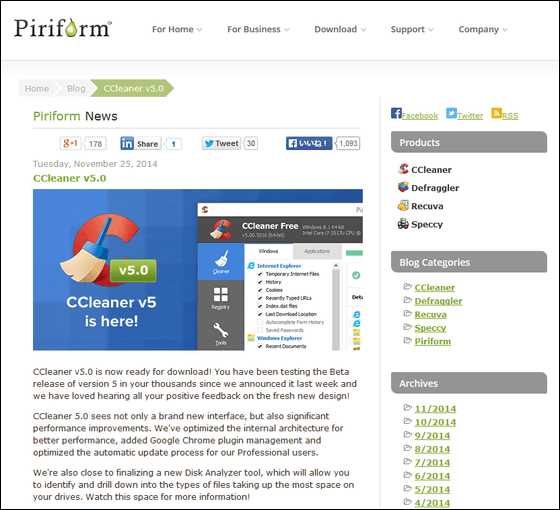 ◆ I installed and used CCleaner
To install "CCleaner", click "Download CCleaner v5.0 now" in the link above.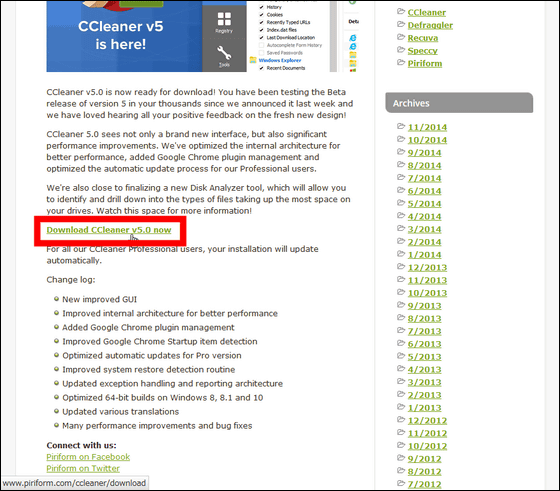 And download "CCleaner Free".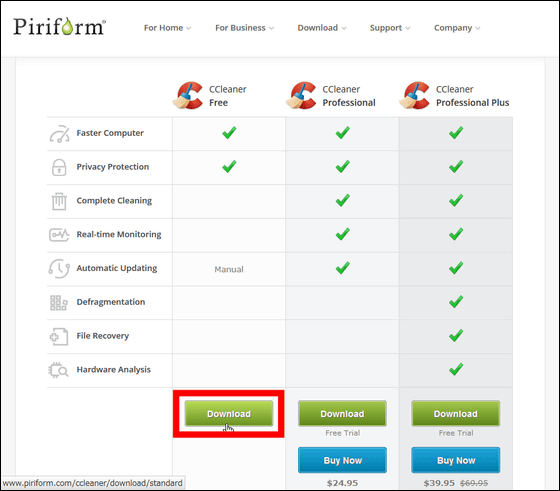 Click "Save file".



Launch downloaded exe file.




Click "Execute".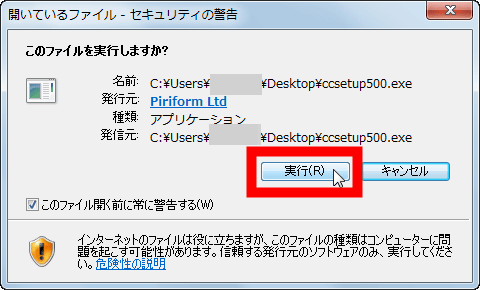 As the setup screen in English appears, click "Select your language", select Japanese, then click "Next".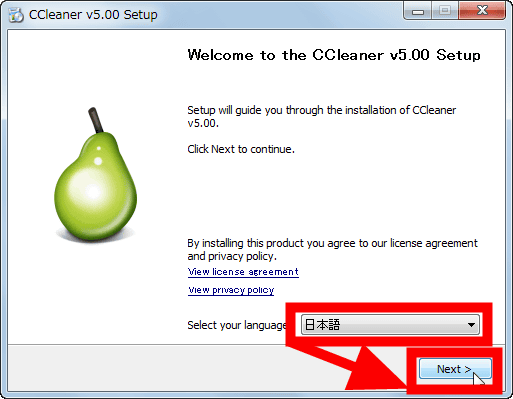 Then the notation on the setup screen switches to Japanese, so click "Next".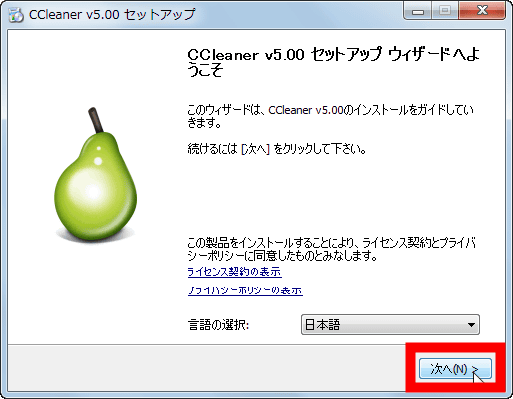 Click "Install".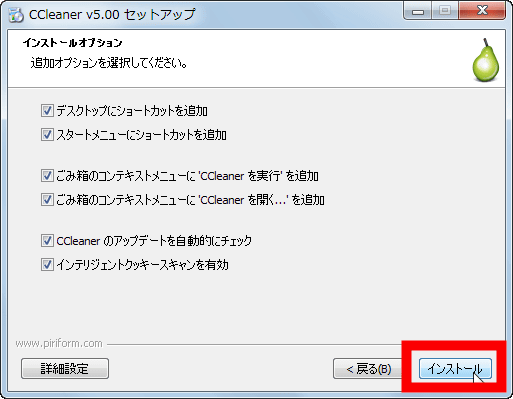 Click "Finish" when installation is completed.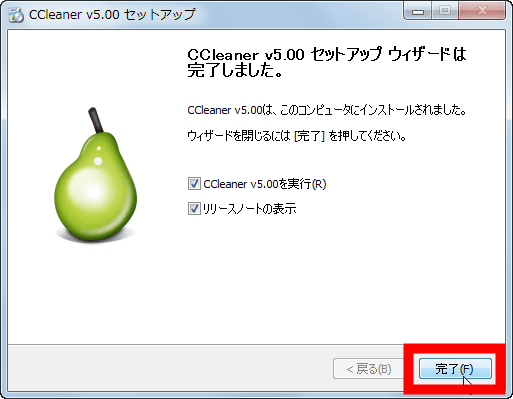 This is CCleaner.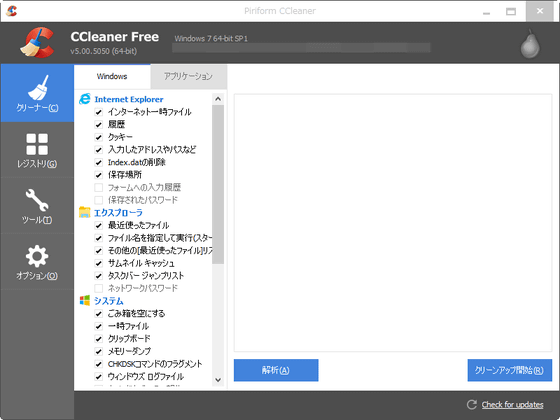 Items in the red frame are data to be deleted in bulk with CCleaner, and in addition to temporary files (cache), history, cookies of the web browser, log files and memory dumps gradually accumulated in the PC are also deleted all together I will do it. Items that are not checked are not deleted, so uncheck the necessary data, check the items you feel obviously unnecessary, delete it! Delete! Delete! Delete!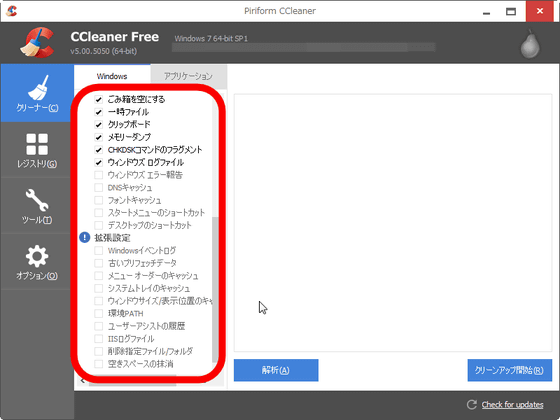 When you click "Application" in the upper middle part, the application that the user additionally installed on the Windows PC is displayed as strange. In the case of a web browser, as with Internet Explorer, cash, history, cookies, etc. are checked, so if you are using multiple browsers you should be able to delete these data at once and you should be very comfortable.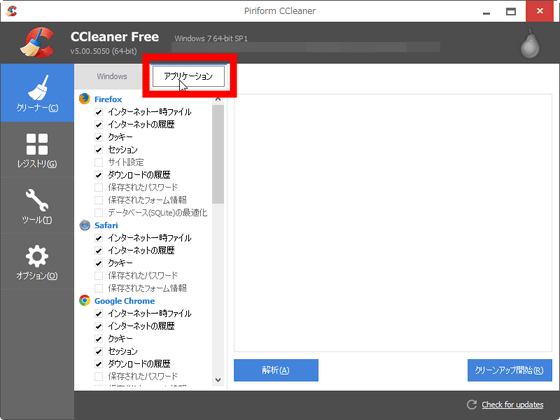 Of course, in addition to the web browser, the names of various applications are lined up, but since these are not written with the name of the data to be deleted like "temporary data" and "cookie" It may be a little uneasy. However, it is unnecessary data that accumulates in the PC by using the application, not the application itself, because it is deleted by checking it, so please check with confidence.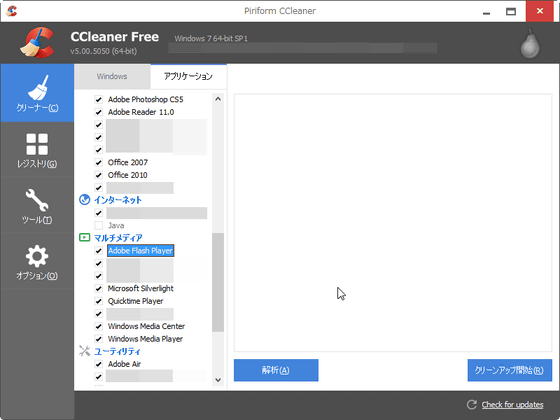 So when you finish checking the items you want to delete, click "Analyze".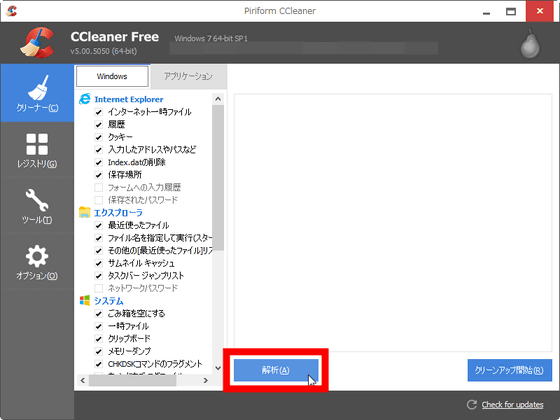 If you need to delete the data of the running application, the following notice will pop up and click "Yes".




When analyzed, the files to be deleted are displayed as slurry. According to CCleaner, these data are data corresponding to 3708 MB in total.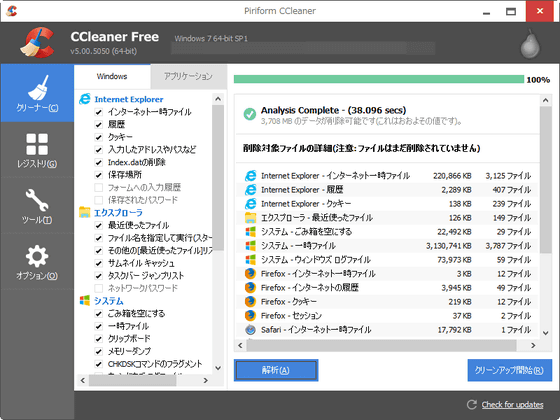 If you say "Is it okay to delete this data ...??", Click "confirm details" from the right click.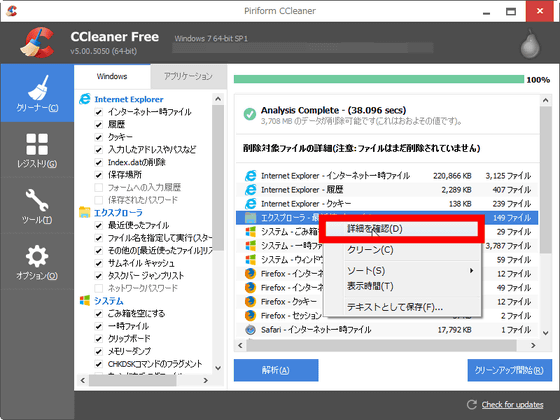 Then you can see where the file to be deleted is stored in the PC, so you can check the data directly.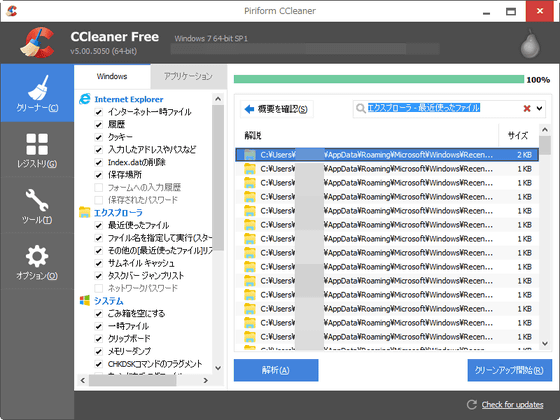 For that reason, click "Start Cleanup" to start deletion.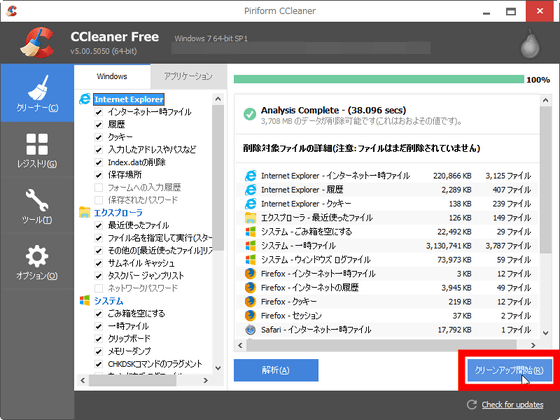 As this message shows a reliable and frightening message saying "This operation will permanently delete the detected file from your computer," click OK when you are ready.




Deleting. I was prepared to delete more than 3 GB of data, so it took me some time ... ...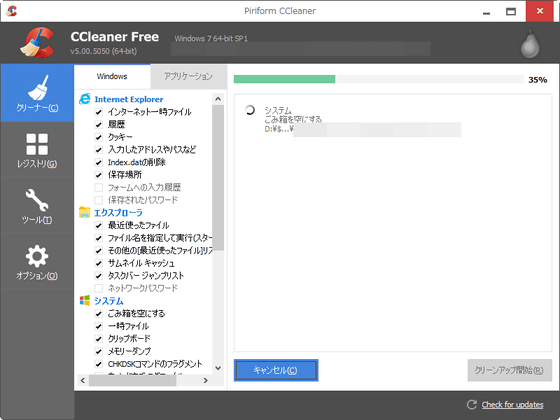 The deletion of all data was completed in just 13 seconds. The total amount of deleted data was 3863 MB. When it seems like this is done, it is a moment for CCleaner to erase the data once you have sorted out the data you want to delete, so you can clean up the inside of your PC at the explosion speed.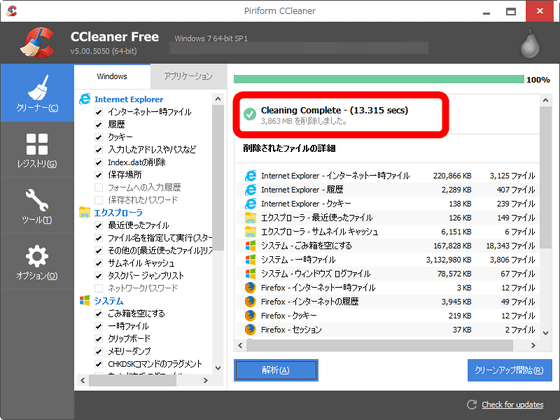 ◆ Other functions
To beautifully clean the inside of the PC, only the "cleaner" page that is open at startup is sufficient, but there are some other functions in CCleaner, and useful settings also exist.

By clicking "Registry", you can freely change the registry to be maintained.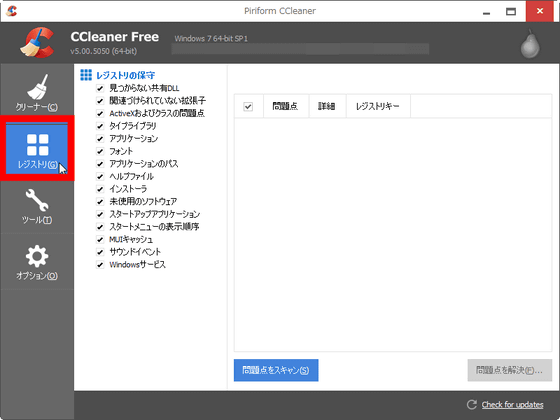 From "Tools" you can uninstall or repair the programs installed in the PC.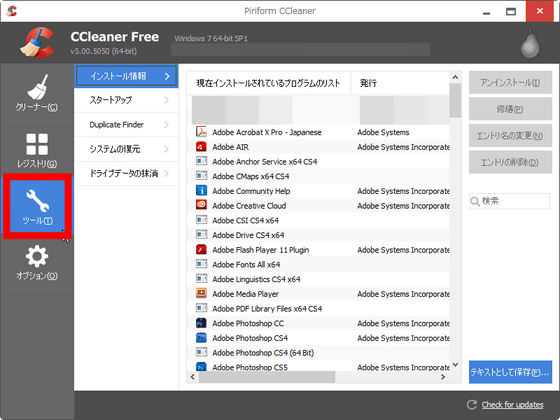 By clicking "Startup" of "Tool", it is possible to check the applications and extended functions that are supposed to be started automatically at the time of starting up the PC or starting up the web browser and enable or disable them.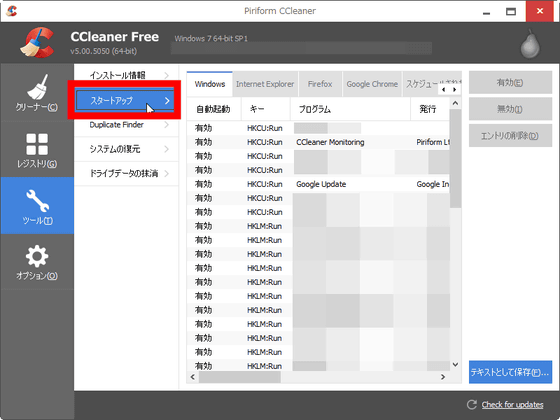 For example, click "Google Chrome" ... ...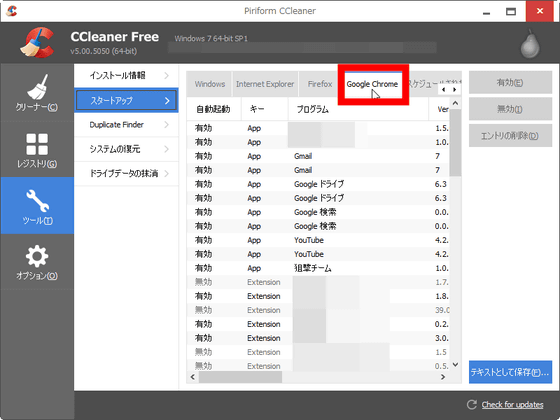 If you select unnecessary ones that are supposed to be started automatically when you start Google Chrome and click "Invalid", the selected application will not start up when Chrome starts up.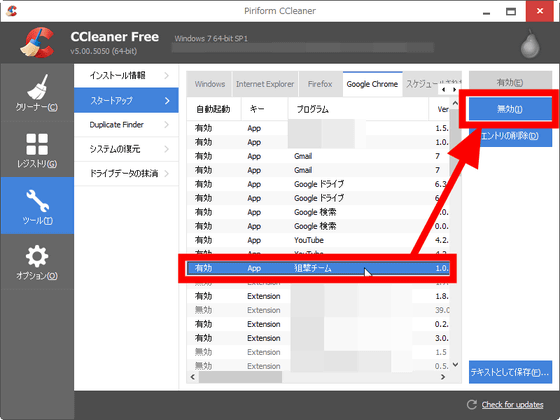 There are also other setting screens of "Duplicate Finder (duplicate file)" ......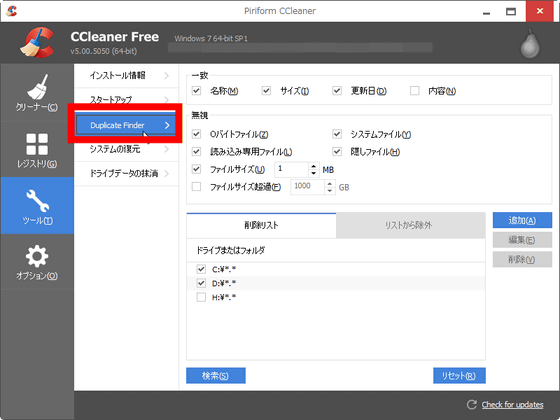 "System restore" and "erase drive data" etc. can also be done from "tool".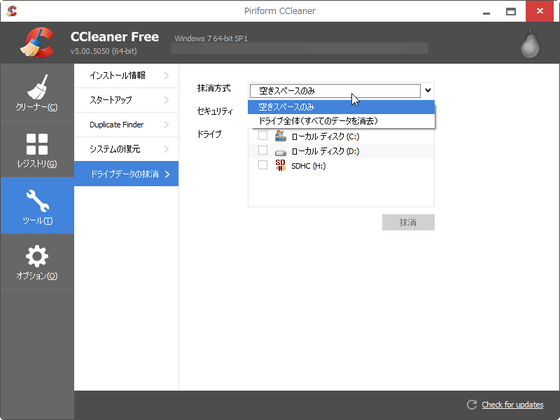 And "Option" allows CCleaner option setting as its name suggests.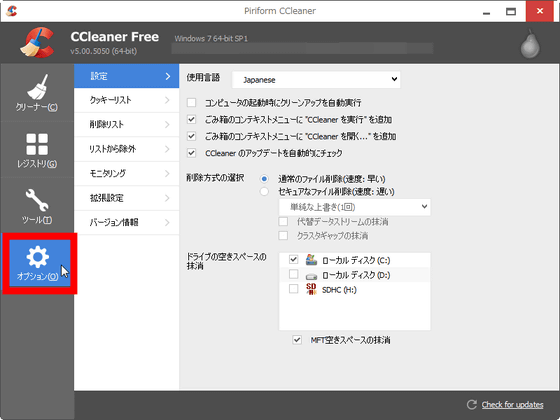 In "Cookie list" CCleaner sets cookies not to be deleted ......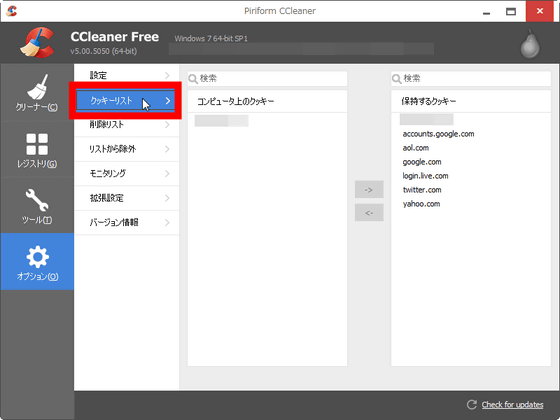 "Exclude from list" allows you to set the files, folders and registries you want to exclude from CCleaner deletion.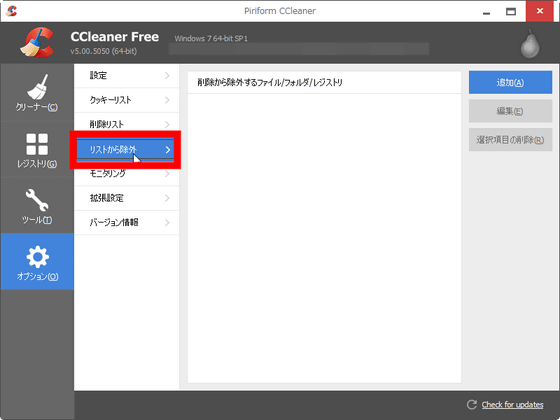 More advanced setting changes such as "Delete only files that have passed 24 hours in the trash can" or "Hide warning messages" are also available from "Advanced settings".



If you check "Add Run 'CCleaner to' Trash Can Context Menu 'and' Add CCleaner ... 'to Trash Can Context Menu" at installation, right click on the trash can You can start up and execute it.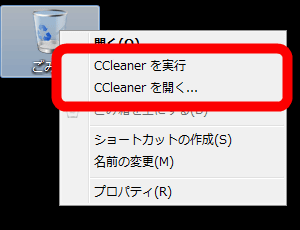 Data that can be deleted with CCleaner, such as caches and cookies, is something of a small size one by one. However, if you are using multiple web browsers or software, collecting unwanted unnecessary data will be huge amount unexpectedly, so if you say "Recently PC's operation is heavy ...", install CCleaner If you erase unnecessary data at once, you may get PC to operate lightly.