Results of doing the pricing "PWYW" "Please pay as much as you wanted to pay"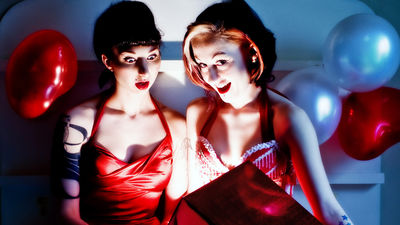 ByStuart Crawford

Although prices are set in advance for goods and services, it is common for consumers to pay the price equivalent to the price that the consumers have agreed, but it is common to leave price setting to the customer freelyPay What You Want (PWYW)The pricing method of being called attention as a novel idea. How can PWYW business create such a profit?The Gumroad BlogIt is summarized in.

The Gumroad Blog - Is Pay What You Want Pricing for You?
http://blog.gumroad.com/post/75707736685/is-pay-what-you-want-pricing-for-you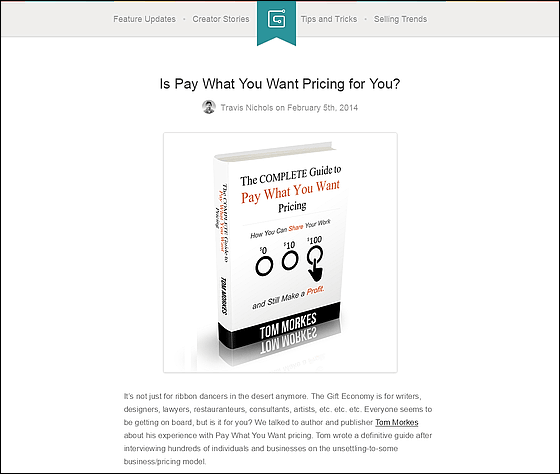 Mr. Tom Mokes who interviewed hundreds of overseas PWYW (asking price selling method) business practitioners, was able to practice PWYW which is not so realisticPWYW Complete GuideI am writing. In considering the PWYW business, the primary question is "Do you get enough benefits from PWYW products?" According to Mr. Mokes, profit from 60% ~ 200% from regular price by PWYW method It is possible to put it on top.

Mr. Mokus is a blog operated by himself "Tommorkes.com"I write a how-to article about innovative projects such as" creative entrepreneurial spirit "and" management strategy not caught by custom ". Mr. Mokus delivers those articles as podcasts and books and offers all contents free of charge, but the total donation received from 166 subscribers is $ 146,000 per year (about 1690 Ten thousand yen) to 219,000 dollars (about 25.3 million yen).

More American writersSeth · GodinWhen booking with Mr. 2 days, I am doing free offering of e-book to 166 regular subscribers of blog. What is important is to visualize the effort to provide the content and to be practical. Mr. Mokus set up a donation column and carried out book provision, resulting in a donation of 500 dollars (about 58,000 yen) in a month. If you did not adopt the PWYW system, the book price was assumed to be 3 to 5 dollars (about 350 to 580 yen), so the number of free books is about 3 times as much as that for each book, about $ 15 (about 1700 yen) That is why.

Mr. Experimentally sells its own content on a PWYW basis, and the newly released e-book "The Complete Guide to Pay What You Want Pricing" is $ 963 (about 11 million yen) in 10 days from the launch It is sold. The correct operation method of PWYW written in the complete guide is the following six points.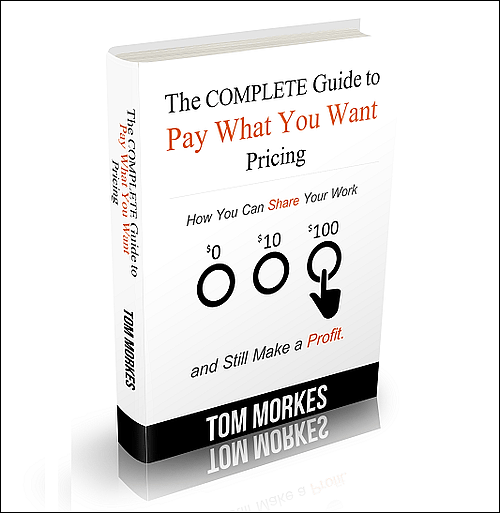 1: Clarify the presentation
It is difficult for people who do not know about you to receive donation, so it is necessary to clearly indicate what kind of product it is.

2: Show the customer you as a customer
Even if McDonald's does PWYW, no one will make a donation, but if a familiar bakery sells homemade bread in the PWYW way, the customer will be more likely to make a high price.

3: Create an ideal image
Since it is necessary for PWYW system to provide "reason for donation" to customers, it is effective to use words such as "generosity", "fate" and "fate". The thing to remember is that people buy a "story".

4: Indicates assumed price range
When selling PWYW products, it is easier for customers to think about the amount of donation if standards that can associate prices such as "very expensive" or "separate product prices" are displayed side by side. It is especially effective when selling one of several products as "premium product".

5: Drive customers
When the price range has settled, visualizing the average of the donation amount makes it easier for subsequent customers to donate.HumbleBundle.comIs successful by showing the lowest price per product along with the average price.

6: Add charity elements
Although PWYW can earn more revenue than fixed price, adding charity factor to customer's choice, such as "donate a part of donation money to charity organization" is more effective. Moreover, it is possible to obtain the effect of strengthening No. 3 "to make up the ideal image".

There are companies that practice "Pay What You Want (PWYW)" advocated by Mr. Mokus, and research servicesMattermarkWe are accepting preliminary reservations for PWYW experimentally "FY 2014 startup company report" which analyzed data of more than 1 million startup companies collected by our company.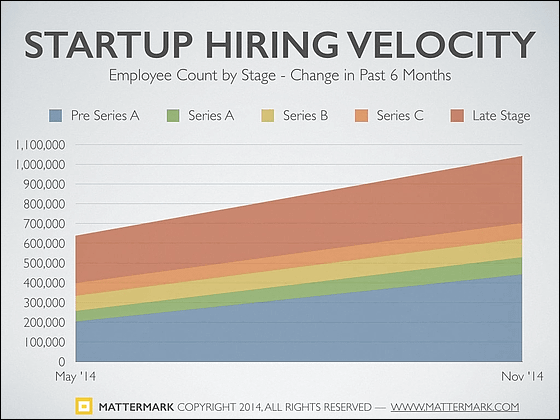 There are over 100 orders in 2 hours from the start, and the average amount per report is 10.5 dollars (about 1200 yen), which is nearly 10 times the assumed dollar (about 110 yen) ... apparently ...

Thoughts on Launching My First "Pay What You Want" Experiment Today - Medium
https://medium.com/@DanielleMorrill/thoughts-on-launching-my-first-pay-what-you-want-experiment-today-126cf20af684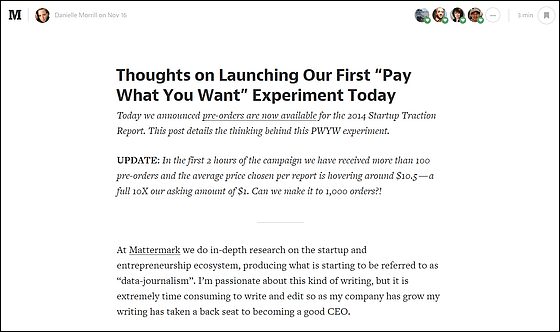 Because overseas donation systems are in place, it can be said that PWYW business is in an environment where it is easy to establish, but even in JapanRestaurants with similar systemHas appeared.
in Note, Posted by darkhorse_log