How did "Kindle Voyage" and "Fire HDX 8.9" evolve, compared to success models and competitors?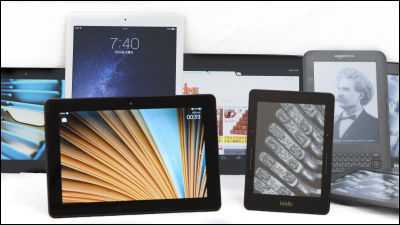 Amazon's newly released "Kindle Voyage" and "Fire HDX 8.9" are both motivated to be positioned at the high end of electronic books and tablet terminals at the company. GIGAZINE editorial department also get real machine reservationActual machine photo review, But now I decided to compare various models with the past series of the same series and other company models.

Kindle Voyage - an e-book reader built pursuing a blissful reading experience
http://www.amazon.co.jp/dp/B00EOEZJ90/

Fire HDX 8.9 tablet - premium tablet that can be used at work or at private
http://www.amazon.co.jp/gp/product/B00KQNTJ1W/

◆ Kindle Voyage
First of all, the past Kindle which was in the editorial department and the latest model "Kindle VoyageI arranged them side by side. From left: Kindle Keyboard 3G (2011), 4th generation Kindle (2011), Kindle Touch (2011), Kindle Paperwhite (1st Generation · 2012), Kindle Paperwhite (2nd Generation · 2013), Kindle ( 2014), and it is Kindle Voyage.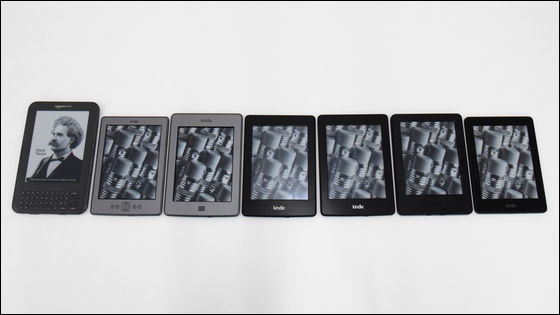 Furthermore, I tried to compare the performance with the latest three models. From the left Kindle Paperwhite (2nd Generation · 2013), Kindle (2014), Kindle Voyage. The size of the main body is 169 × 117 × 9.1 mm for Kindle Paperwhite, 169 × 119 × 10.2 mm for 2014 version Kindle, and 162 × 115 × 7.6 mm for Kindle Voyage, again the latest type Kindle Voyage fits most compactly You can see that it is. The display is 6 inches for each model, but the resolution is 212 ppi for Kindle Paperwhite, 167 ppi for 2014 Kindle, and 300 ppi at a stroke as the resolution becomes Kindle Voyage.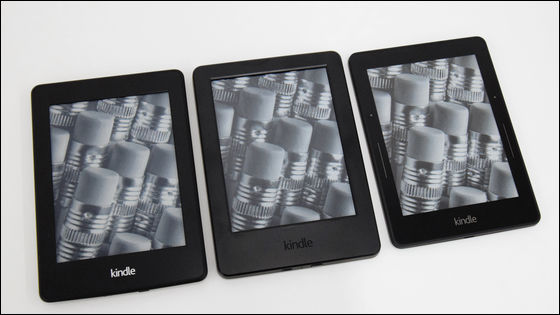 The back is like this. The Kindle Paperwhite has a matte coating, the 2014 version Kindle is subjected to grain processing on the plastic material, while the Kindle Voyage is a three-dimensional molding in which the surface is divided by lines, except for one surface All mat coating was applied, and the top surface was shiny black finish.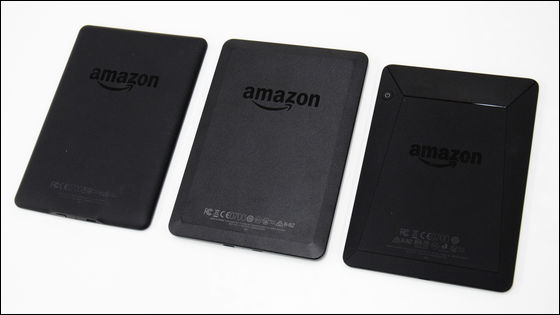 The big change in Kindle Voyage is the design process around the display. Kindle Voyage adopts a design which flattened the whole surface, whereas the conventional model had a recess in the display part. Glass material with micro etching etched on the surface is used, and it is said that ingenious measures to suppress reflected light are given.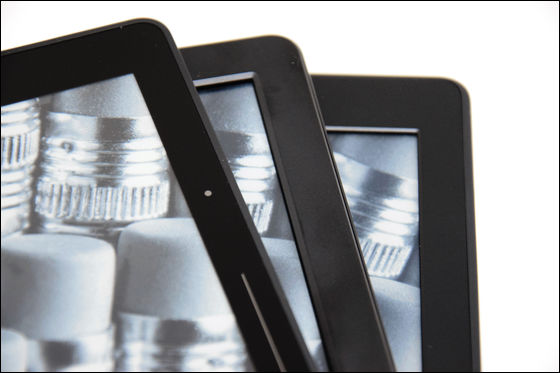 It is a big feature that it is changing to a design like a tablet terminal.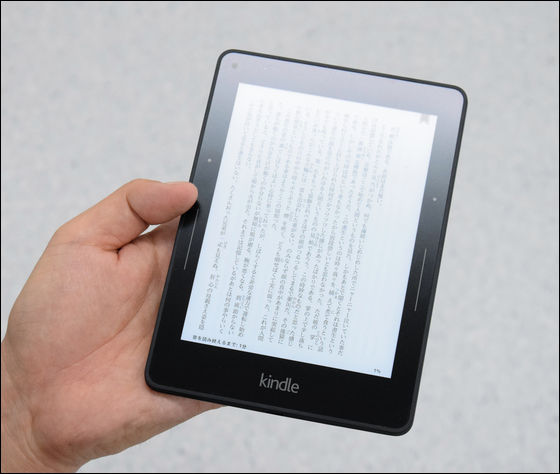 Kindle Voyage has a mechanism that is expressed as "Innovative Page Turning Button". Round dots and straight lines on the left and right of the screen are page turning buttons, and the operation is performed by holding down this part lightly. This is a similar operation method to the initial Kindle. Also, when the button is pressed, the built-in vibrator lightly vibrates and the response "Ku" comes back.

Kindle Voyage and the Kindle 2016 Model Federation Handwriting Miserable


It is also thought that this "feel" has little influence on the reading experience, "tactile" typified by the act of "turning over pages" lost in e-books has a great influence on the feeling of immersion in the story It is also considered to be. Every time we actually turn over the page, the feeling of "ku" is physically transmitted, so it seems that books that should have been reproduced in the virtual space on the screen seem to be a little realistic It was a fresh feel.

A little discovery of the content of the reading experience lost by transitioning to electronic books - GIGAZINE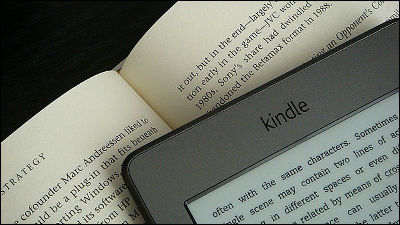 I tried stacking 3 models. It is Kindle Voyage (thickness 7.6 mm), 2014 version Kindle (10.2 mm), Kindle Paperwhite (9.1 mm) from the top, and the thinness of Kindle Voyage stands out.



The main body weight was 205 grams for Kindle Paperwhite, 190 grams for 2014 Kindle, 176 grams for Kindle Voyage, as measured values.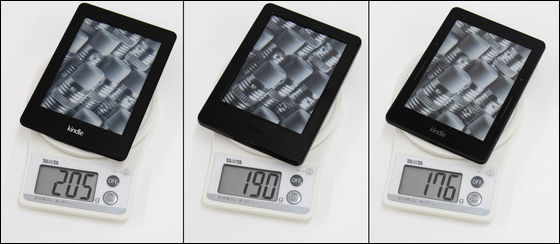 It is also characterized that the position of the power button has changed significantly. The power buttons of the Kindle series so far were on the bottom part side by side with the Micro-USB terminal ......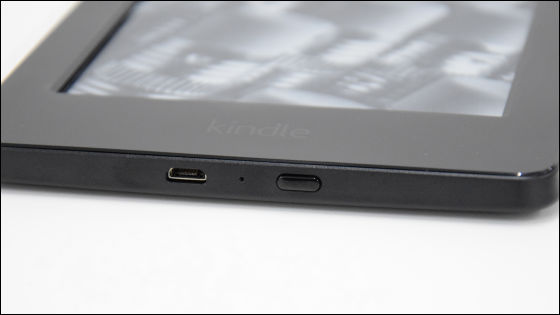 In Voyage, like the Fire series, the buttons were rounded and moved to the back of the body.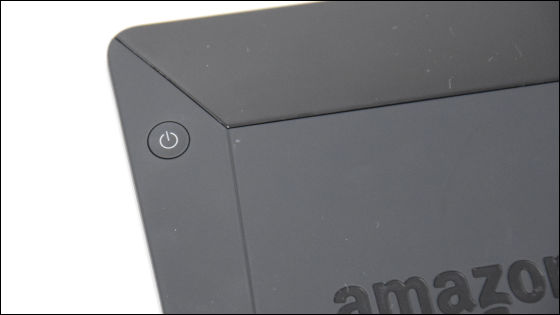 I compared the definition of the display. Kindle Paperwhite with a resolution of 212 ppi looks like this. Although it is almost clearly displayed, when it comes to fine kanji such as "ia", some tsubu is occurring.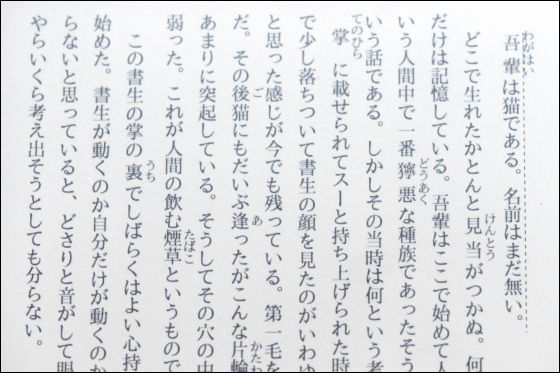 With 2014 version Kindle with resolution 167 ppi, roughness stands out at a stretch like this. Even if it sees it at once, it seems to be possible to think that it becomes difficult to keep reading once it is worrisome.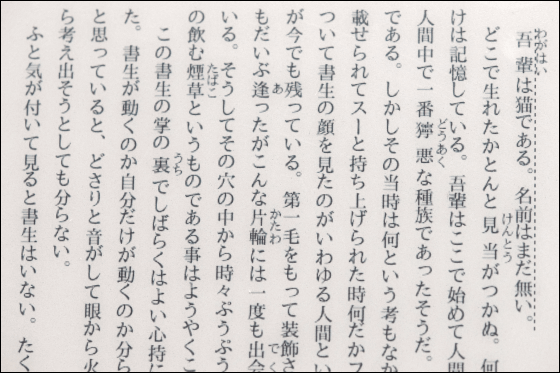 And Kindle Voyage is like this. It fully demonstrates the series top resolution 300 ppi, and clearly shows even letters such as "evil". Also, it can be said that the background color is the most clear white.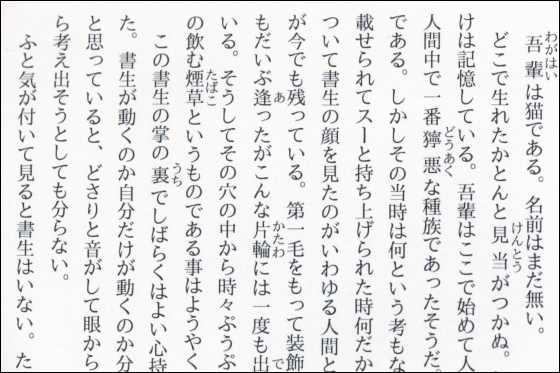 Comparison chart of 3 models compared this time is like this. As for the price, Kindle is 6980 yen, Kindle Paperwhite is 12 280 yen, Kindle Voyage is 21,1480 yen, content which can say that price difference appears in the performance as it is. Certainly Kindle Voyage is a price setting that can be said to be an exclusive aircraft, but it seems to be said that there is a performance that is different from that of the others only for a model that is said to be "the best reading experience".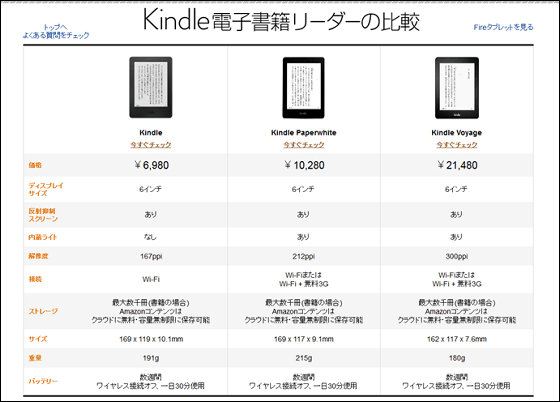 In this way, Kindle Voyage, which has been one step away from the traditional Kindle, has become a terminal that is likely to bring a sense of new e-books.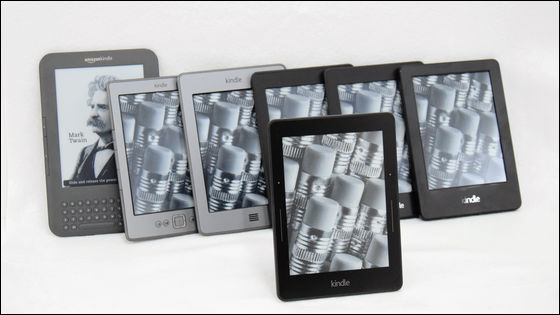 ◆ Fire HDX 8.9
Next, it was released in the same periodFire HDX 8.9We will compare it with past models and competitor models of the same class. There are a total of 4 models, in the rear row, iPad Air 2 and Nexus 10, the front row purchased Fire HDX 8.9 and the old model Kindle Fire HDX 8.9.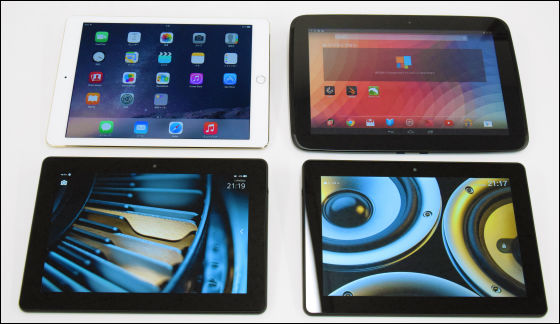 I tried stacking each model. The biggest one is 263.9 x 177.6 x 8.9 mm with Nexus 10 of 10 inch display. Then it was 240 x 169.5 x 6.1 mm iPad Air 2, and the most compact was 231 mm x 158 mm x 7.8 mm Fire HDX 8.9. Since Kindle Fire HDX 8.9 is the same size as Fire HDX 8.9, it is omitted.



Even when seen from the side, the difference is obvious at a glance.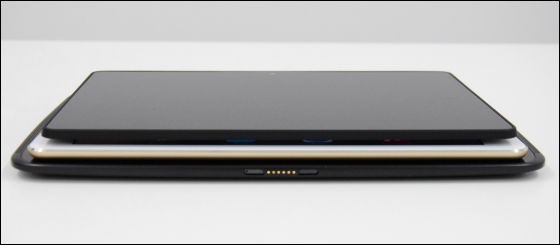 The measured weight is 370 grams for Fire HDX 8.9, 368 grams for Kindle Fire HDX 8.9, the lightest weight. IPad Air 2 was heavier than 437 grams and Fire HDX 8.9, and Nexus 10 was 595 grams of dignity.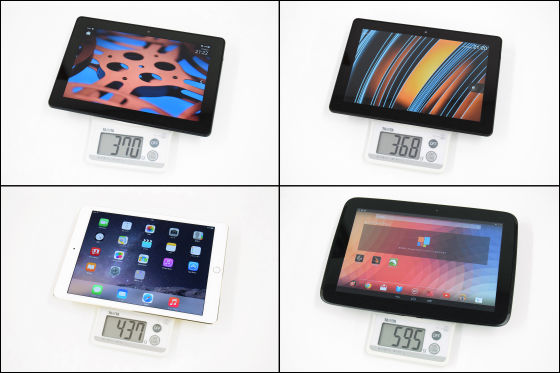 For each model, I tried to display the top page of Gigazine in portrait and landscape view. Fire HDX 8.9 was like this, and we were able to display articles in two rows in both length and breadth.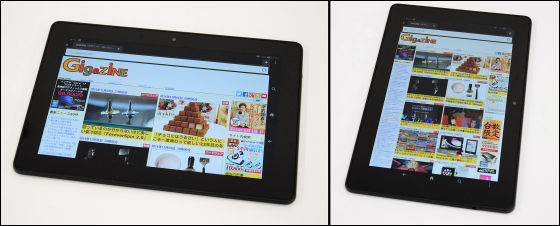 With Kindle Fire HDX 8.9, both vertical and horizontal display will be displayed. The version of the main unit OS is up to date ... ....




With iPad Air 2 it is possible to display in 2 rows.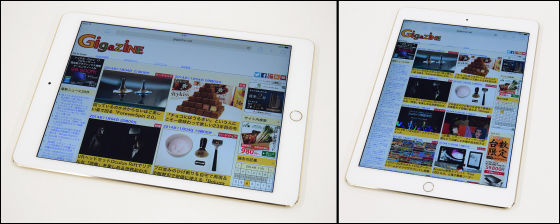 Nexus 10 was also capable of displaying two columns.




This movie is actually trying to operate Fire HDX 8.9. You can see how smooth operation is possible without strange snags.

Operability of Amazon "Fire HDX 8.9" is crisp and it looks like this


Fire HDX 8.9 is a model that is positioned as a "premium tablet" that uses a common body with the old model, but the contents are totally redesigned. It was a model that seems to be said to have operability and performance that does not take off even with other tablet terminals.

Amazon's price at Amazon as of the article creation date is 49,80 yen including tax for Fire HDX 8.9, Kindle Voyage with campaign information · Wi-Fi + free 3G model including tax including 26,680 yen.

Fire HDX 8.9 tablet - premium tablet that can be used at work or at private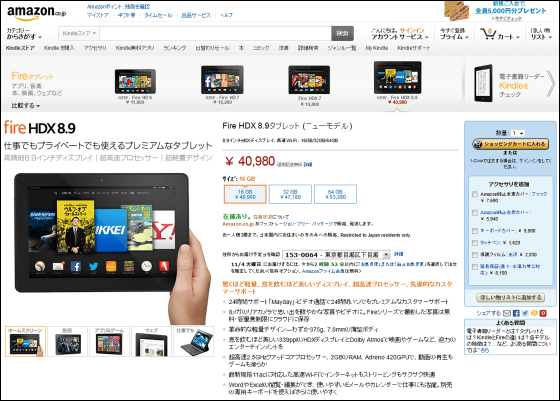 Kindle Voyage - an e-book reader built pursuing a blissful reading experience