"I think that being gay is one of the best gifts God has given me," reveals that Apple's CEO Tim Cook is gay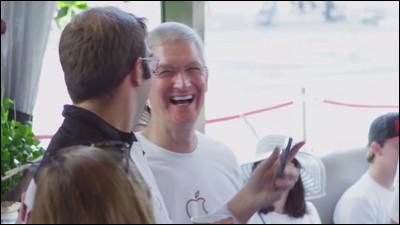 Be CEO of AppleTim CookIn an article published in the November 3 issue of Magazine Bloomberg Business Week, Mr. gave himself as a gay, "I believe that being gay is one of the best gifts God has given me" It is said that it is.

Tim Cook: 'I'm Proud to Be Gay' - Businessweek
http://www.businessweek.com/articles/2014-10-30/tim-cook-im-proud-to-be-gay

A complete Japanese translation version has already been published on the following site.

"Be proud of being a gay" - Apple's Cook CEO - Bloomberg
http://www.bloomberg.co.jp/news/123-NE956V6KLVRB01.html

According to Tim Cook, CEO of Tim Cook has never denied his sexual orientation until now, but has not declared that he is gay at public in terms of privacy from the viewpoint of privacy. But if he feels lonely by hearing the story that Apple 's CEO is gay, he seems to believe it is worth sacrificing privacy if comforted.

Tim Cook told the article, "Tell me exactly here, I am proud to be gay, being gay is to be one of the best gifts God has given me I believe that it is. "


By being gay, I can understand more about what belongs to the minority group. You can catch a glimpse of the challenges that other minority groups face every day. This enhances my ability to sympathize with other people, bringing a richer life to me. Sometimes it was difficult or uncomfortable, but I could feel confident in being selfish, going for my own path, beyond adversity and prejudice. The surface skin also became thick like a rhinoceros. This is convenient for Apple 's Chief Executive Officer (CEO).
"A lot of colleagues know that I am homosexual," Tim Cook told me he was participating in a gay parade held in San Francisco before.

Apple, Facebook, Google cheer on San Francisco Gay Pride parade | Reuters
http://www.reuters.com/article/2014/06/29/usa-gay-tech-idUSL2N0PA0IW20140629

Below are Apple official movies of the gay parade held in June 2014. You can see Tim Cook's CEO among thousands of Apple employees participating in the parade.

Pride Parade.


A rainbow-colored candy prepared in large quantities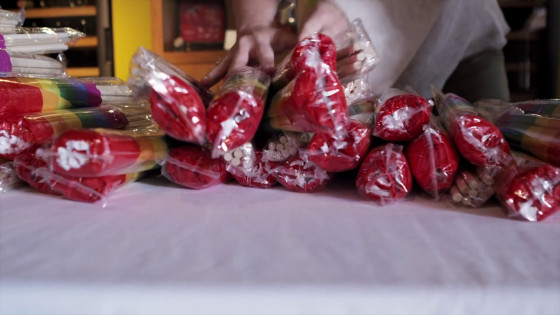 T shirt with Apple's logo mark a little different from usual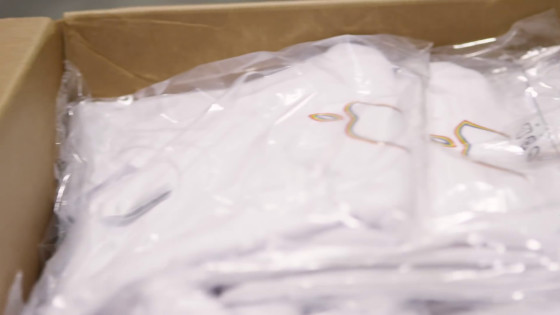 It is piled up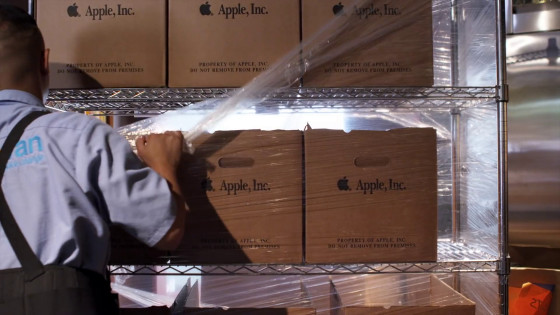 The rainbow-colored flag is "Rainbow Flag (LGBT)It is what is called "Lesbian gay bisexual transgender (LGBT) social movement".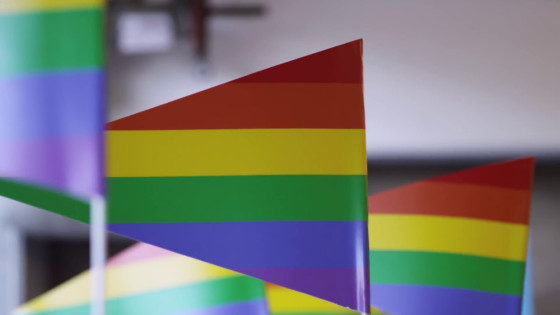 It will be decorated on a bicycle prepared in large quantity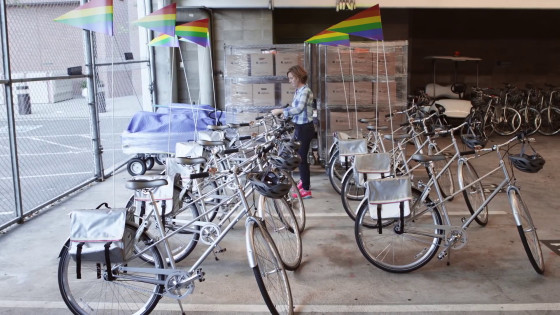 Rainbow flag handed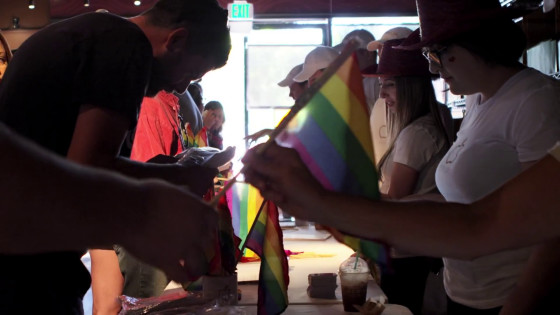 Apple employees wearing a rainbow-colored T-shirt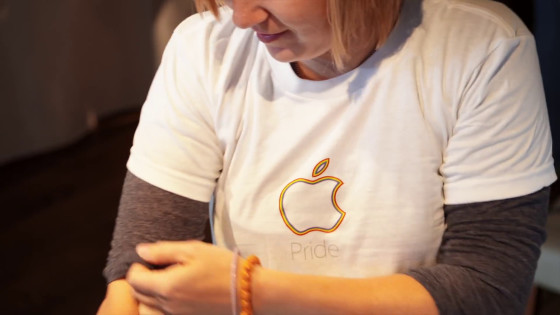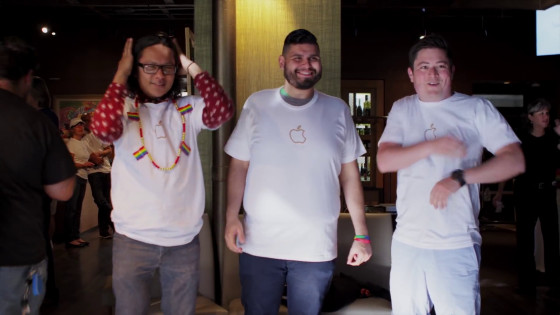 I found Tim Cook CEO in that. I am taking pictures with a smile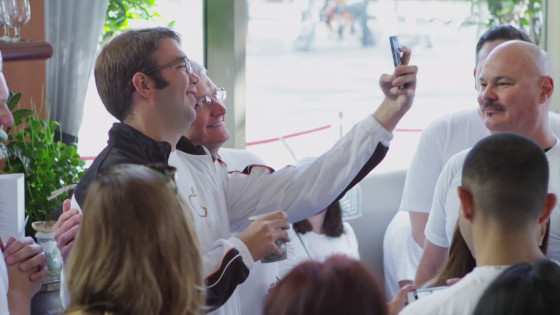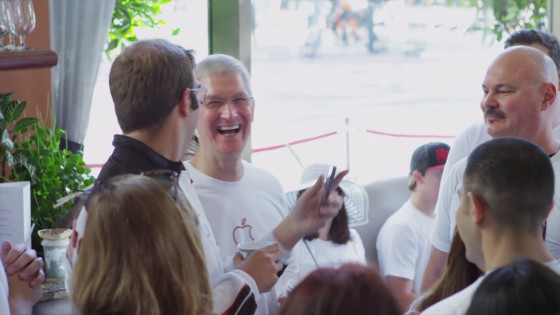 Rainbow flags are brought out one after another ... ...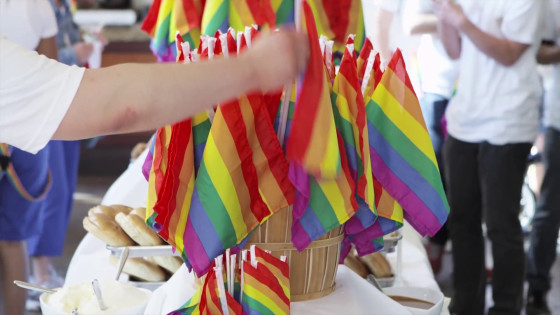 To the parade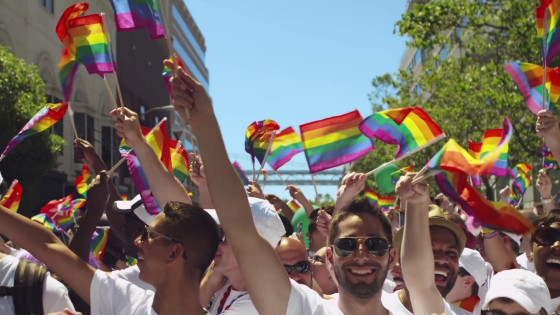 Promote Apple's logo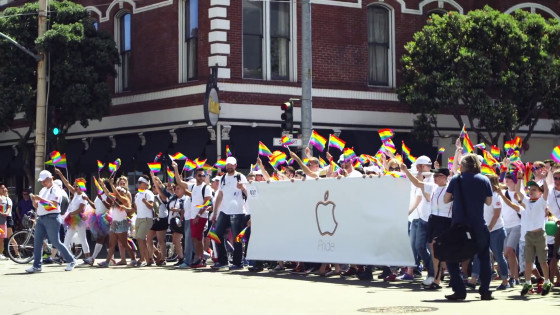 People holding hands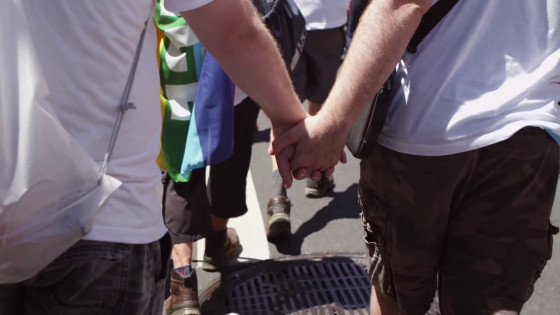 It is a tremendous number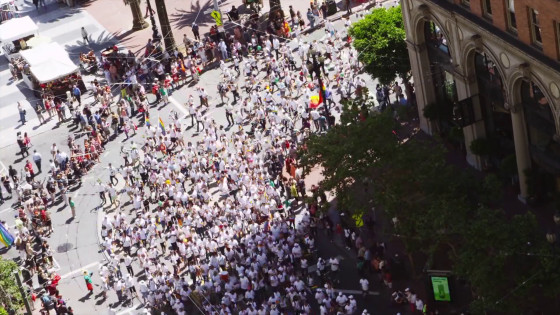 "Comprehension brings innovation", it seemed that Apple respecting diversity and equality participated in a gay parade held in San Francisco on June 29, 2014. Facebook and Google employees also participated in this parade, and Tim Cook was not involved in the parade itself, but suddenly appeared on the spot to surprise surrounding employees.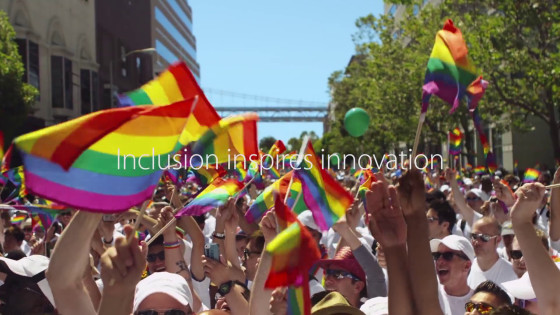 Apple has been supporting the gay · lesbian · bisexual · transgender community for a long time and has also protested against Arizona law bills that will allow gay people to refuse to enter. Tim Cook told the current situation on the American situation as follows.


There are still laws in many states that allow employees to be dismissed for reasons of only sexual orientation. There are plenty of places where you are forced to evict from the landlord because you are gay, visiting a sick partner or hampering heritage inheritance. Numerous people, especially children are faced with horror and abuse everyday for sexual orientation.
Mozilla's CEODue to the fact that I donated 1,000 dollars (about 100,000 yen) to an organization supporting the California State Constitutional amendment "Proposition 8" that included marriage between men and women and prohibiting same-sex marriage There are conflicts in thinking about homosexuality in America, such as resigning in about ten days from inauguration.

Tim Cook came to this contribution as "I believe the pastor of Martin Luther King," the most important question in life is "what am I doing for others"? ... apparently ...

According to the survey results obtained from 5979 faculty members belonging to nursery schools, kindergartens, elementary and secondary high schools as part of the Ministry of Health, Labor and Welfare research project in Japan,About 80% of sexual minorities never touched classes... apparently ...