What is the difference between "Microsoft Band" which finally comes out and the fitness band of another company?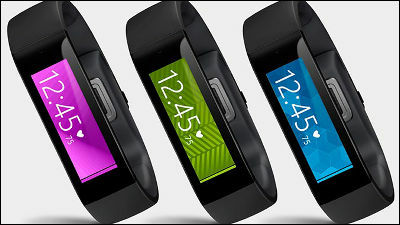 Microsoft announced on October 29, 2014,A health-care type wearable device that was previously rumored"Microsoft BandWe have already announced and sales have started in the US Microsoft Store. Apple's "Apple Watch"By Samsung ElectronicsGear Fit"Neowin of IT related media compares specs and publishes what is different from" Microsoft Band "such as terminal equipped with both fitness band and smart watch.

Microsoft Band, the smart band powered by Microsoft Health
http://www.microsoft.com/microsoft-band/en-us

Buy Microsoft Band - Microsoft Store
http://www.microsoftstore.com/store/msusa/en_US/pdp/productID.308308800?Icid=Homepage_Hero_1_MSB_102914

Spec-off: Microsoft Band vs Apple Watch vs Samsung Gear Fit vs Fitbit Surge - Neowin
http://www.neowin.net/news/spec-off-microsoft-band-vs-apple-watch-vs-samsung-gear-fit-vs-fitbit-surge

Microsoft Band has 10 sensors and measures the heart rate, the number of steps, the calorie expenditure, the sleep data, the walking data map creation, and the ultraviolet ray amount. Collected data is Microsoft's new fitness platform "Microsoft Health"The user can check the data at any time and analyze the health condition.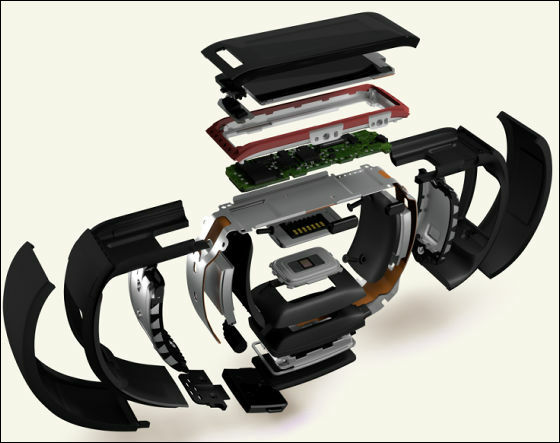 Microsoft Band's features are not limited to fitness. Like other smart watches, you can also set up push notifications and alarm timers for mails, phones, Twitter / Facebook, and schedules. In addition to Microsoft's Windows Phone, you can also link with iOS · Android terminal, you can see that Microsoft is not sticking to cooperation only with its own products. However, only when Windows Phone and Microsoft Band are linked, Microsoft's speech recognition assistant "Cortana"Will be available.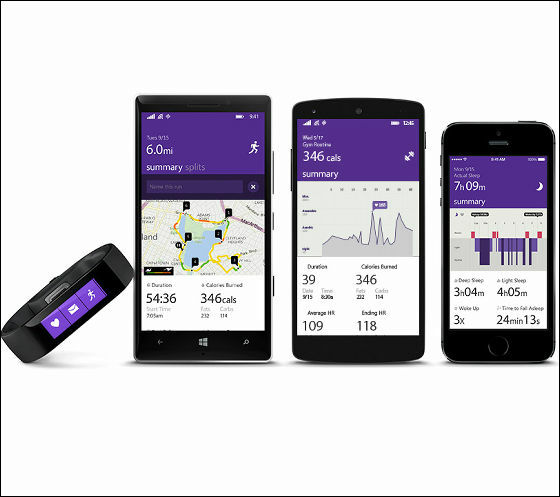 Products such as Apple's "Apple Watch" and Samsung Electronics's "Gear Fit", which multiplied smartwatch and fitness functions, will be released or released by other companies as well as Microsoft. It is natural that the appearance and OS installed differ from those of other companies, but the difference in specifications is anxious,List published by NeowinIf you look at, you can understand the difference in specifications by one shot.

From left to right in "Microsoft Band" "Apple Watch" "Gear Fit", noteworthy is battery life and full charge time. Battery life is Microsoft Band 2 days, Apple Watch 1 day, the full charge time is 90 minutes for Microsoft Band, Apple Watch is unknown. In other words, Microsoft Band has a 90-minute charge for 2 days and does not require charging every day.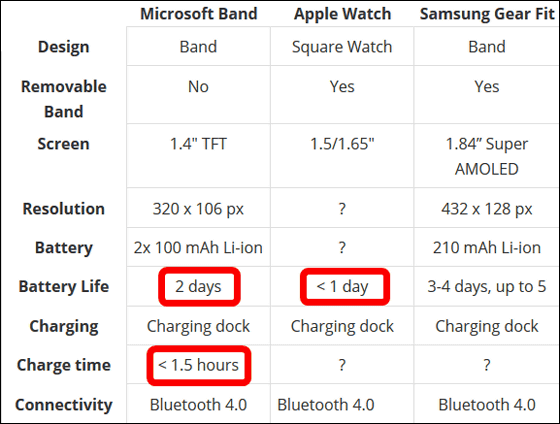 The difference in the three models that you can see from the table here is a sensor installed. Microsoft Band is equipped with skin temperature measuring sensor, UV sensor, galvanic skin reaction sensor not found in Apple Watch · Gear Fit, and there are more measurement data types than the other two models.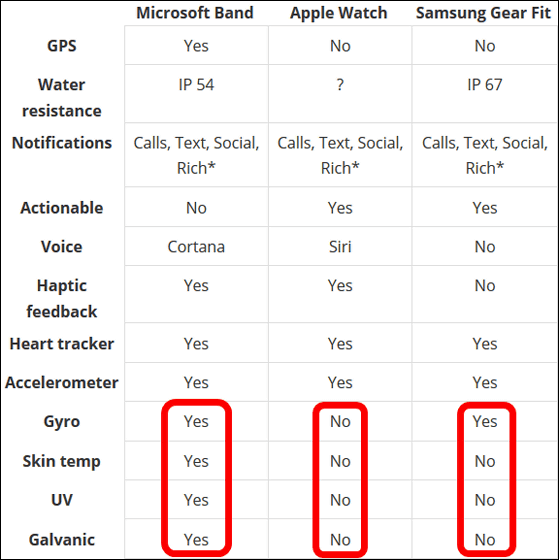 And the biggest difference is OS and price. Microsoft Band is only compatible with Windows Phone · iOS · Android. Apple only supports iOS, Gear Fit only supports Galaxy series with Android. Also, the price is $ 199 (about 21,000 yen) for Microsoft Band, while Apple Watch is $ 349 (about 38,000 yen) · Gear Fit is $ 149 (about 166 yen).




Microsoft Band is already in the USMicrosoft StoreSales are on sale started.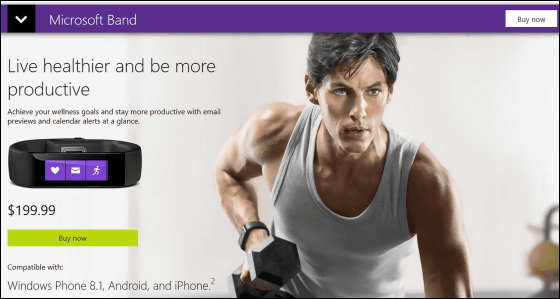 It is a concern as to whether or not it will be released in Japan, but Microsoft's Joe Belfiore is official Twitter "First, we will release the product in the US and will receive feedback of the product. Please be sure to release it in Japan as we tweeted it.

Folks asking about#MSBand- We're starting out in the US to learn and get feedback for a little while. Definitely stay tuned!

- joebelfiore (@ joebelfiore)2014, October 30